Rubio Campaign's Early State Strategy, Or Lack Thereof, Is Confusing Many Republicans
Marco Rubio has been getting a lot of love lately from both conservatives and so-called 'establishment' Republicans, but his seemingly meager ground game in early states is raising doubts about his campaign.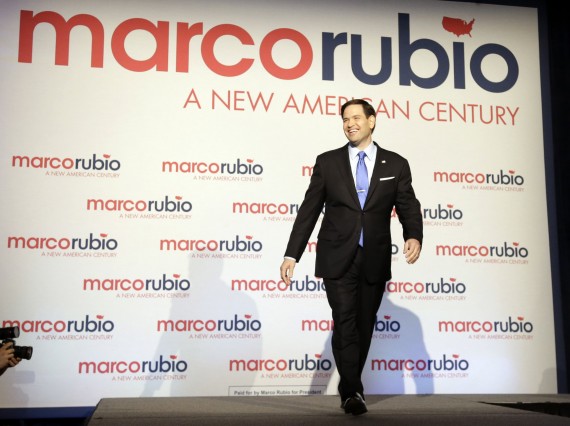 With Jeb Bush's campaign floundering, and John Kasich and Chris Christie not seeming to resonate anywhere outside of New Hampshire, many Republican insiders have been rallying around Florida Senator Marco Rubio as someone who could both attract conservative support thanks to his strained but still good relationship with base organizations like the Tea Party and attract support from the Republican establishment, The Senator is, for example, second only to Jeb Bush in endorsements from Republican Governors, Senators, and Members of Congress, and far outpaces both Ted Cruz and Rand Paul in that area, both of whom are fellow Senators who have chosen to run more as anti-establishment candidates. He has also seemed to attract support as the most viable alternative to Donald Trump even as Ted Cruz continues to rise in the polls in Iowa, a sign that many establishment and conservative leaders are as nervous about Cruz as they are about the billionaire real estate developer. Much of this comes after a summer during which Rubio's campaign seemed to flounder both in its poll numbers and its fundraising only to appear to revive as the debate season got under way. Given the fact that we're only now entering what could be called the closing phase of the campaign at least as far as Iowa and New Hampshire are concerned, Rubio's slow by steady upward momentum has been taken as a positive sign by supporters who have begin to rally more strongly around him, especially now that the seemingly inevitable battle between Rubio and Cruz has busted into the open.
Amid all these positive signs, though, Rubio's campaign faces questions in regard to just how well-prepared it is in the early primary states, and concerns that Rubio is following a particularly risky strategy that could end in disaster rather quickly:
WEST DES MOINES, Iowa — A nagging problem hovers over Senator Marco Rubio of Florida as he crisscrosses the country seeking support in the states with the first four nominating contests: With a month and a half until the voting begins, he still has not committed himself fully to trying to win any of them.'

That hedged, wait-and-see approach served Mr. Rubio well as he floated to the top tier of national polls, won the backing of influential Republican financiers and began drawing hundreds to his rallies. His aides, flouting age-old political wisdom, started suggesting that he might not even need to win Iowa or New Hampshire — that a second- or third-place finish could be enough.

But as the primary fight becomes fiercer, and Mr. Rubio's closest competitors start zeroing in on a single, must-win contest — like Iowa for Senator Ted Cruz of Texas and New Hampshire for Gov. Chris Christie of New Jersey — Mr. Rubio's all-things-to-all-people strategy is stretching his campaign thin, posing challenges in focusing his message and raising doubts among his supporters about his seriousness.

Some Rubio backers in the first four states to vote — Iowa, New Hampshire, South Carolina and Nevada — are voicing concern about whether Mr. Rubio is leaving voters there with the impression that he does not need them to win. And some of Mr. Rubio's own aides are now arguing privately that they should do more to push back against the belief that he is running an indifferent campaign before it becomes too widespread.

"The campaign efforts for Marco Rubio in Iowa can very easily be perceived as wanting to place in the top three in the caucus and not necessarily to win," said Kenney Linhart, a pastor in Des Moines who is supporting the Rubio campaign. Regardless of how serious Mr. Rubio is about trying to win the state, Mr. Linhart added, the belief that he is not is harmful: "Perception is as powerful as intent or will."

Most recent polls put Mr. Rubio in third place in Iowa, behind Donald J. Trump and Mr. Cruz. Though he is not in the lead in any of the states that vote first, he generally finds himself in the top three or four.

Indeed, Mr. Rubio's light footprint in Iowa has been the talk of the state's political community for months. He was unable to hire a local operative to run his campaign there, and instead brought in an Arkansas-based Republican strategist, Clint Reed, in September to oversee his Iowa campaign. And Mr. Rubio is relying on 31-year-old Eric Teetsel, who lives in Kansas, to handle outreach to social conservatives and evangelicals — rankling some Iowans used to a more neighborly outreach.

Inexperience and inattention to detail on the ground can have a tangible cost. Melody Slater is a former Lee County chairwoman for the now-defunct presidential campaign of Gov. Scott Walker of Wisconsin. Shortly after Mr. Walker dropped out, Mr. Rubio's campaign announced that Ms. Slater was one of several of Mr. Walker's backers who had signed on with them.

But now she says she is having second thoughts. "I had three campaigns call me that day — Huckabee, Cruz and Rubio," Ms. Slater said in an interview, explaining that she agreed to endorse Mr. Rubio only at his campaign's request. She said she still liked Mr. Rubio and may indeed caucus for him.

But she cautioned that she was also drawn to Mr. Cruz's Christian values.
Traditionally, Presidential campaigns have been careful to pay close attention to both Iowa and New Hampshire simply because of the fact that they are at the top of the primary calendar. To be sure, perfectly valid arguments can be, and have been made that both of these states get far more attention in Presidential politics than they ought to. After all, neither one of them are very representative of the nation as a whole demographically, although the fact that New Hampshire allows independents to vote in party primaries arguably makes it somewhat more representation. Iowa is similarly demographically unrepresentative and uses a caucus system that makes their process even more unrepresentative, antiquated, and in some sense unfair way for states to give voters the opportunity to voice support for which candidate should be the nominee. That being said, campaigns that attempt to forge a path to victory that ignores one or both of these states have generally never been successful, as Rudy Giuliani found out when he attempted to base his path to the nomination in 2008 on a Florida-based strategy that completely fell apart.
This time around, it's hard to figure out what the Rubio campaign's strategy actually is. At the very least, they seem to be eschewing the opportunity to build up an organization in Iowa that past practice suggests would seem to be necessary to perform well in the caucuses, and the ground game in New Hampshire appears to be built around the idea that finishing second would be "good enough," even as candidates like Chris Christie seem to be going on all-in in the Granite State in a way that could propel him past Rubio, pushing the Florida Senator into, at best third place:
[Rubio's] advisers are relying on a robust digital outreach program in the early-voting states and using local and national television to increase Mr. Rubio's visibility. When he campaigns, he tends to eschew small towns and venues for larger population centers and media markets.

"Exposure is Marco's friend," said his pollster, Whit Ayers. "And exposure is the enemy of a whole lot of the rest of these candidates."

Campaign advisers readily dismiss as superficial the older quantifiable signs of seriousness about Iowa's tradition-bound caucuses, like lining up endorsements in all 99 counties or dotting the state with campaign offices. They refused even to divulge the number of staff members on the campaign's payroll in Iowa, dismissing such details as the preoccupation of obsessives in the news media and on rival campaigns.

Yet, if Mr. Rubio's campaign styles itself as more attuned to a modern media age when more voters can be reached through Facebook and Fox News, there are plenty of people who prefer being wooed as if it were still a landline and postage-stamp era.

Mr. Rubio is not likely to decide where to make his move until sometime next month. His schedule this week — both in his public rallies and private meetings — shows what a broad appeal he is trying to make: After sitting down with the billionaire casino magnate Sheldon Adelson in Las Vegas before Tuesday night's debate, Mr. Rubio set off for Iowa where he continued his efforts to woo evangelical Christian voters. He will visit New Hampshire next and then South Carolina.

Every Republican nominee in modern times has won Iowa or New Hampshire at a minimum. But until now, at least, Mr. Rubio's strategy has pointed toward a test of whether a candidate who finishes no better than second in either could still manage to stay alive.

It is a risky gambit: Opponents are already attacking Mr. Rubio in New Hampshire for taking a lackadaisical approach there. And The New Hampshire Union Leader, an influential newspaper in the state, which has endorsed Mr. Christie, accused Mr. Rubio of "just going through the motions" in his visits to the state.
In Iowa in particular, Joshua Darr at FiveThirtyEight notes that a weak ground game in Iowa will probably cost him votes in the Hawkeye State, something that Tim Alberta and Elaina Johnson confirm in their reporting at National Review:
In a place where retail politicking remains paramount, conservative and evangelical leaders are complaining that the Florida senator hasn't given them enough attention since launching his White House campaign. While he has begun to attend their events and engage with their constituents, they say his team has not followed up to deepen relationships or organize additional meetings with them.

Establishment Republicans, meanwhile, have the same concerns about Rubio's organization, but worry that Rubio is flirting too aggressively with Iowa's social conservatives. They say that, thanks to Scott Walker's exit and Jeb Bush's decline, there exists in Iowa an enormous center-right vacuum that Rubio would be ideally positioned to fill, if only his team beefed up its field operation. In recent conversations with nearly a dozen unaffiliated Iowa GOP veterans, a consensus has emerged across the party's ideological spectrum: The state's caucus-goers are interested in Rubio, but his infrequent appearances and paltry field operation leave lingering doubts as to whether he is interested in them.

"It doesn't seem like he really wants to win Iowa," says Craig Robinson, the state party's former executive director, who is now editor of The Iowa Republican. "Of all the campaigns, he's probably done the least of getting around the state. There are plenty of people who would love to vote for him. . . . But I hear more excitement on the ground in Iowa about Chris Christie than I do about Marco Rubio. And it shouldn't be that way."

On the campaign trail, Marco Rubio is calling for a "new American century." He's also running a different type of campaign, one that eschews spending on policy staffers, field operations, and other traditional aspects of a winning bid in favor of television advertising and digital outreach. The campaign's light footprint on the ground has increasingly become a source of controversy in Iowa and New Hampshire, where prominent activists and Republican officials believe a robust ground operation is critical to wooing voters who want to interact with their presidential candidates, and who have become accustomed to doing so.

Stories abound of Rubio and his team missing easy opportunities to connect with voters: The time a line of people waited for him after an event, while his field staffers ate pizza backstage; the appearance he canceled at a major evangelical gathering for no apparent reason; the Saturday he spent here recently watching football with his state chairman, Jack Whitver, rather than holding public events.
The Rubio campaign seems to be arguing that the they are running a different kind of campaign, one that focuses more on performing well in the nationally televised debates, a strong and growing presence on local radio and television, and heavy use of digital outreach via social media and other means than it does on the type of traditional campaigning we've become used to in states like Iowa and New Hampshire. To be sure, these are all important methods of campaigning, and have become more so over the past several election cycles, but that doesn't mean they aren't still important today. Indeed, some might suggest that Rubio's explanation for the lack of a strong ground game in early states is really just a cover for a bigger problem, lack of money.
After a rather successful start for the fundraising quarter that ended June 30th, things seemed to go downhill over the summer.  For the quarter that ended September 30th, for example, Rubio's numbers were quite disappointing, especially given the fact that he was outraised by candidates such as Ben Carson, Jeb Bush, and Ted Cruz, and that Carly Fiorina raised nearly as much money as he did. Part of this, no doubt, is the fact that many of the fundraising sources that Rubio would be expected to rely on remained committed to Jeb Bush or were sitting on the sidelines trying to figure out which candidate would be best situated to take on Donald Trump. It also coincided, though, with a summer during which Rubio saw his poll numbers at the national and state level sink along with nearly everyone else's in the wake of the Trump tsunami. There's little word on what Rubio's fundraising has looked like since the last round of reports to the Federal Election Commission, but the suggestion that his campaign is really running a scaled back ground campaign because it doesn't have the resources for something more elaborate isn't one that should be ruled out. In any case, as Daniel Larison notes, the lack of a real ground game in states like Iowa, whether by the campaign itself or via the kind of church-based network that candidates like Mike Huckabee and Rick Santorum relied on in what were ultimately successful campaigns to win the Iowa Caucuses doesn't seem like a viable path to victory.
More recently, of course, the perception has been created that Rubio's fortunes have turned around thanks largely to a series of strong debate performances, capped most recently by Tuesday's debate in which the growing showdown between Rubio and Cruz came out into the open. Additionally, Rubio got somewhat of a financial boost thanks to the fact that he managed to win the endorsement of Paul Singer, a top Republican fundraiser and bundler who brings with him a strong network of top Republican donors. The Florida Senator has also seen a number of his Senate colleagues endorse him over either Senator Cruz or Senator Paul, although it's unclear just what value those endorsements have in a campaign where being anti-establishment seems to be the key to success in the Republican Party.
All that being said, it's far too early to say that Rubio's strategy, whatever it might be, isn't working. After a summer that saw him falling as far as fifth place or worse nationally and in the early states, Rubio is firmly in third place in national polling, as well as in Iowa and New Hampshire. He's also doing well in the polls in South Carolina and Florida, although the relative lack of recent polling in those states means that the 'bump' in polling he's seen from recent debates doesn't seem to be fully cooked into the polling averages quite yet. Given the fact that there is arguably still plenty of time for almost anything to happen, Rubio isn't exactly headed in the wrong direction. At the same time, though, if he's perceived as having not paid due attention to Iowa and New Hampshire voters then he could end up paying a price when February comes around that he will not be able to recover from.
Update: Commentary's Noah Rothman asks similar questions about Rubio's campaign in a post titled "Is Rubio Blowing His Moment?"