Time To Get Rid Of Caucuses
This is no way to pick a Presidential Nominee.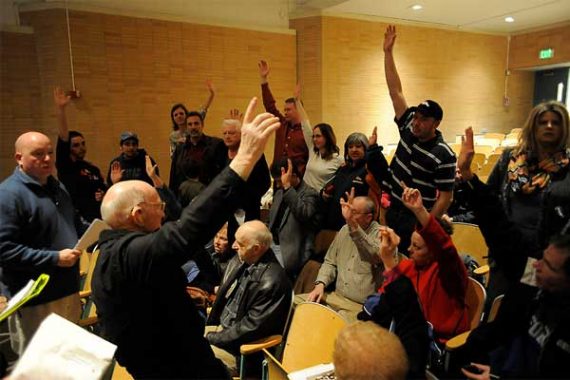 Echoing a theme that has been touched on here at OTB by both James Joyner and myself, John Avalon argues that it's time to stop using caucuses to pick Presidential nominees:
There's got to be a better way to pick a presidential nominee.

The high-stakes nature of each early caucus state—giving the initially declared winner momentum, media attention, and money—makes these apparently rampant bureaucratic errors unacceptable.

In addition, the caucus system is fundamentally unrepresentative, disproportionately dominated by semiorganized bands of activists, and leads to low turnout.

Even after the endless media hype surrounding the GOP primary contests this year, turnout was essentially flat in the Iowa caucuses between 2008 and 2012, despite the absence of a Democratic contest to siphon off participants. Turnout was dramatically down in caucuses in Nevada, Minnesota, and Colorado. In Maine, fewer than 6,000 voters bothered to participate—roughly 2 percent of the registered Republicans in the state. Overall, caucus turnout is averaging about 10 percent of registered Republicans in each state.

Moreover, those 10 percent who do turn out tend to be the most ideological and hyperpartisan—meaning that the winner of a caucus is increasingly a bad barometer of who might actually carry the state in a general election by being able to win over independents and centrist swing voters.

Primaries inspire a much higher turnout—and a more representative sample of the state electorate if it is an open primary—at least in part because of the minimized hassle factor. You get a secret ballot and swing by your polling station at any time on Election Day—or participate in early voting where it is available, or cast your ballot absentee. After all, unless you're a political consultant, the point is to have as many people vote as possible, right?
Not really, no. One of the unstated truths of political campaigns is that you can win an election by discouraging people from voting nearly as easily as you can by convincing people to get out to the polls and vote for you. Sometimes, this is done nefarious means such as the various attempts we've seen to trick certain voting blocs, usually minorities, that Election Day isn't on the it actually is (a tactic that I personally can't believe anyone is dumb enough to fall for), sometimes it's done just by hoping that it rains or snows in a particular part of the country or state on the day votes are being cast, thus making it less likely that certain voters will turn out to vote.
When you're dealing with caucuses versus primaries, the impact can be more easily seen. A caucus that's held starting at 7pm on a weeknight in the middle of winter is obviously going to draw far fewer voters than a primary where the polls are open for twelve to thirteen hours a day and where voters have an opportunity to vote absentee if they aren't going to be able to make it to the polls on primary day (as Ed Morrissey recently discovered in Minnesota, there is no such thing as absentee voting in a caucus).  Turnout for a primary is often low to begin with, but turnout for a caucus is even worse. Many people don't have the time to spend two or three hours on a work night sitting in a school gymnasium, firehouse, or meeting hall going through the often tedious process that ends with the (non-binding) straw poll that the cable news networks breathlessly report as the results of the caucus. This is especially true for people who work late, or have children. Those who do are going to tend to be older than the electorate as a whole and more committed to a particular candidate than many other voters might be. This is why candidates like Rick Santorum, Ron Paul, and before them Pat  Robertson tend to do well in caucus scenarios and poorly in primaries. A committed ideological core in a caucus state can have a far greater impact than in a primary because the people who attend are older, more ideologically committed, and in the case of Republican voters, more conservative than the electorate as a whole. How this helps the party choose a nominee representative of the party that is likely to win in November is beyond me.
To illustrate my point a little, let's just take a look at turnout in the four caucuses that have occurred so far this year:
That's 274,793 people participating in caucuses, only one of which (Nevada) is actually binding on the make up of delegates that will be sent to the 2012 Republican National Convention. In each case, it seems fairly apparent that participation would have been far greater. For evidence of that one need only look to the State of New Hampshire, which has a population more than 1,000,000 people smaller than Iowa, but where more votes were cast in its January 10th primary than in any single caucus state so far (in fact, the vote total in New Hampshire fell just 30,000 votes below the total for all five caucus states combined).
If the participation issues weren't reason enough to dump caucuses — and for any political party interested in picking a candidate best suited to appealing to a wide variety of candidates, it should be — the extent to which we've seen a simple thing like counting the votes screwed up in three states inside of a month in a manner that makes the State of Florida circa 2000 seem positively competent by comparison should be the final nail in the coffin for the caucus system. If we cannot rely on the results that are being reported when they are reported, and not two weeks later when the race has moved on through two or three different states, then there's no rational reason to give states like Iowa, Nevada, and Maine pride of place in the scheduling process. As I've said before on this topic, if they want to be taken seriously they need to abandon a method of choosing candidates that was best suited to choosing a Sheriff in 1912 but clearly isn't well-suited to picking a Presidential nominee in the 21st Century. This isn't a problem exclusive to Republicans, either. As one writer pointed out four years ago the Democratic caucus rules in Iowa violate what many consider one of the most important aspects of voting in modern America, the secret ballot. What's the point of keeping such an archaic system alive?
The states could solve this problem rather easily by passing laws that require political parties to use primaries to pick their nominees, and many states already have such laws. One reason for the reluctance to do so, of course, is the fact that primaries are generally paid for out of government revenues while caucuses and conventions (which are even less representative than caucuses) are run at the expense of the parties. While some states have laws requiring parties to compensate the state for the cost of a primary, the amount the parties are required to kick in is usually infinitesimal compared to the cost incurred. Other states try to make up for the cost by requiring candidates to pay extremely large filing fees to get on the ballot — in South Carolina, for example. you have to pay $25,000 to get on the primary ballot in a Presidential race. That raises problems of its own, of course, but at least its something.  Mandatory primary laws would also arguably discriminate against third parties, who have neither the cash nor the resources to assist in the financing of a primary election. However the states solve the problem, though, it's clear that we need to end the amateurish practice of the party caucus because it's really starting to get kind of silly.