Objective Journalism in an Objectively Uneven Contest
What if one of the candidates is Hitler?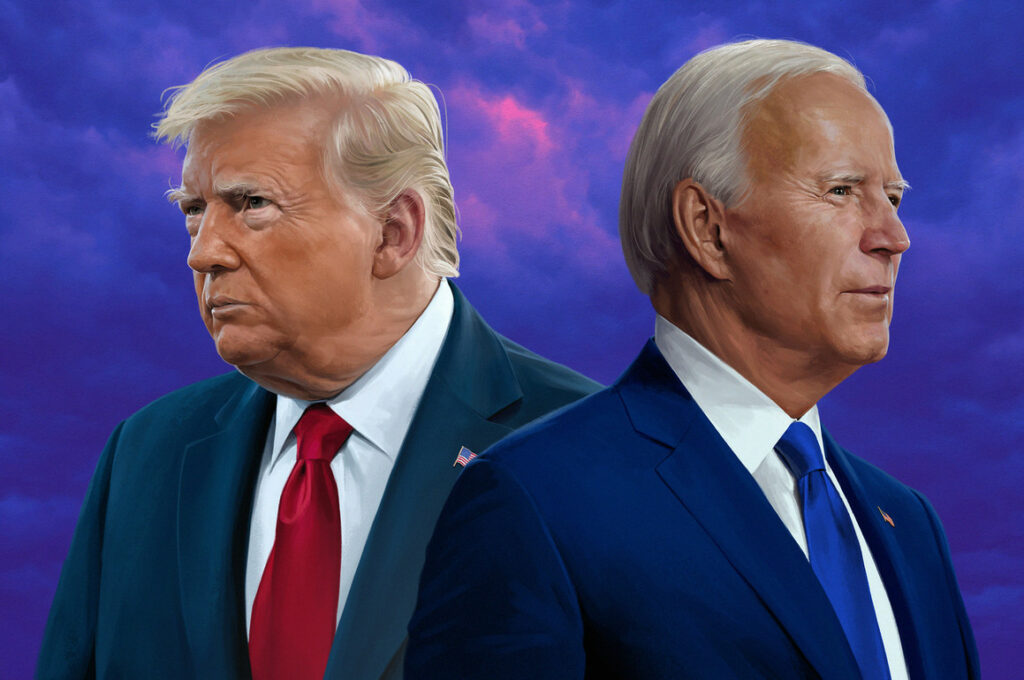 Donald Trump was a corrupt President with decidedly authoritarian tendencies. He fomented an insurrection in a failed attempt to steal an election he lost by 8 million votes. He's under multiple criminal indictments and has already been found liable for rape in a civil trial. And he's now calling his opponents "vermin" and routinely promising to punish his enemies if he's returned to office.
Joe Biden is, well, old.
This is an objectively uneven set of circumstances. And, for years now, critics—mostly from the left—have argued that the American elite press has failed to cover the news in a way that reflects that reality. This, even though all of them and most everyone who reads and comments on this blog have somehow come to the same conclusions about Trump as I have.
This critique is not new or infrequent. Some somewhat random examples from a quick Google search:
That's literally just from the first page. There have been hundreds, if not thousands, of articles on the topic. Perhaps dozens of them here, for that matter. (I'm not going to try to round those up.)
The latest, published yesterday morning but not in direct response to the "vermin" outrage, comes from Salon's Areeba Shah ("'Covering him as a normal candidate': Extremism scholars say TV news 'normalizing' Trump's threats").
Trump recently made alarming statements, including advocating for "ideological screening" of migrants, making divisive remarks about "liberal Jews," and praising Hezbollah, but his inflammatory remarks barely received any news coverage. 

Major TV news networks highlighted only about 22 minutes of coverage. Collectively, within the two weeks following each comment, major broadcast and cable news outlets provided less than two hours of coverage for the four comments combined, according to a new report by Media Matters for America.

The trend suggests the networks have become desensitized to Trump's frequent extreme comments even though they have covered such rhetoric in the past — like when Trump suggested the execution of Joint Chief of Staff head Mark Milley. Networks highlighted the former president's comments, but their infrequent coverage of his inflammatory statements raise questions about why certain comments are covered and some are not.

"If we don't call out the rhetoric as extreme, we risk making it normal and acceptable," Libby Hemphill, a professor at the University of Michigan's School of Information and the Institute for Social Research, told Salon. "Those are the downstream risks of desensitizing. Again, focusing on the impacts these statements have, like increasing antisemitic behavior generally or raising the temperature in the Middle East conflicts, helps people understand why they're dangerous, who they impact, and why speech matters."

Trump's recent comments about vowing to implement rigorous ideological screening of immigrants to the U.S., particularly suggesting he would turn away anyone who doesn't like "our religion," received little coverage. Broadcast news "totally ignored the comments," Media Matters pointed out. Meanwhile, cable news devoted just under seven minutes of coverage and CNN and MSNBC each devoted about three minutes, with Fox News devoting less than one minute.

Trump also made a statement on "liberal Jews" voting to "destroy America & Israel" during the Rosh Hashanah holiday and received criticism from advocacy groups for its incendiary language and association with antisemitic tropes. Broadcast news outlets, including MSNBC (covering it for 9 minutes), CNN (covering it for just over 3 minutes), and Fox (ignoring it), did not bring attention to the statement in the subsequent two weeks, Media Matters found.

"The coverage is normalizing extreme positions on issues and failing to challenge the dehumanization of migrants and 'bad' Jews that Trump paints as enemies," Donald Haider-Markel, a University of Kansas political science professor who studies domestic extremism, told Salon. "When his dehumanizing comments are not challenged by the news media, viewers go along. If the dehumanization sticks, it makes support of political violence against 'enemies' more likely."
Like others, we see the Catch-22 at work here. Because Trump is so much more rhetorically volatile than normal politicians, he gets constant media attention, often live coverage, which amplifies his remarks and drowns out the campaigns of his opponents. That's bad! Too much coverage! But, when he says truly outrageous things, the media is supposed to call them out. Otherwise, we normalize the outrageous.
As Steven Taylor noted in his post on the "vermin" speech yesterday, the initial New York Times headline on their coverage of the speech, at least in the online edition, was awful: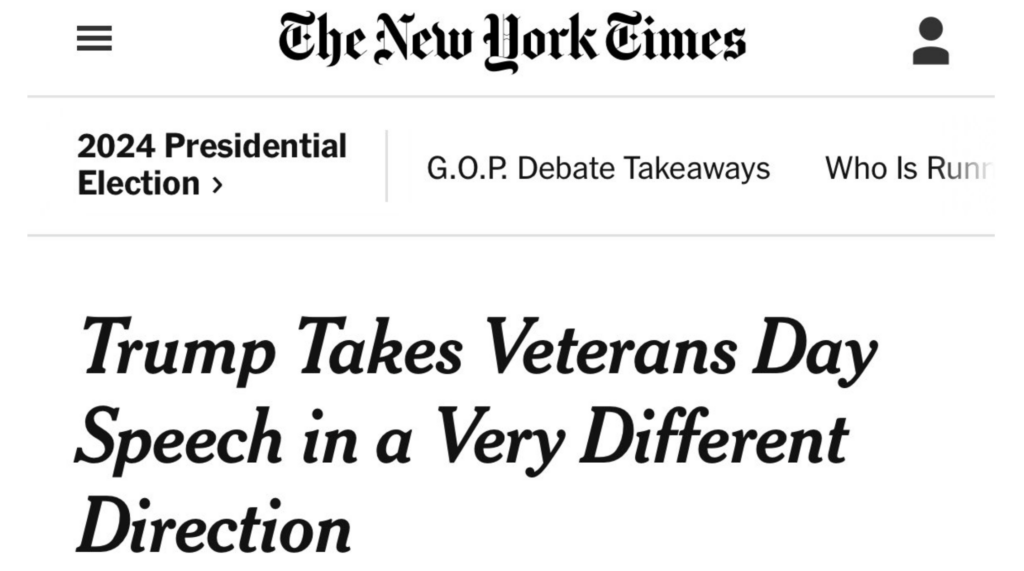 "Trump Takes Veterans Day Speech in a Different Direction" makes it sound like he said something whimsical, not outrageous. Most readers would think to themselves, "Well, there he goes again . . ." and chuckle before skipping over the story.
At the same time, I disagree with Norm Ornstein—and perhaps my co-blogger—that "Trump Echoes Hitler, Calls for Removing 'Vermin' from the Country" is an appropriate alternative. While I don't at all disagree that the comments echo fascist rhetoric and should alarm us, saying so is the job of opinion columnists and Trump's opponents, not the news department. (Although, increasingly, reporters simply find experts to make the Hitler charge for them and quote them prominently in the story.)
As I noted in a comment on that post this morning, WaPo's Marianne LeVine reported the news under the headline "Trump calls political enemies 'vermin,' echoing dictators Hitler, Mussolini" in a story published at 5:45 pm while NYT eventually changed the headline to "In Veterans Day Speech, Trump Promises to 'Root Out' the Left."
To me, the revised NYT headline is quite good but still falls short of conveying the full gravity of Trump's remarks. The headline absolutely needed the word "vermin." The original was too cold to the point of being misleading. The WaPo/Ornstein versions are too hot, assuming an editorial stance.
Yes, this is applying rules established more than a hundred years ago to a uniquely bad—I dare say, dangerous—candidate. But, again, I challenge you to find regular readers of NYT and WaPo who are not aware of—and, indeed, don't have strong opinions about—Trump's misdeeds and outrages.
Moreover, there's the real danger—if not certainly—that covering Trump as an American Hitler will simply backfire, putting the likes of the NYT and WaPo into the same camp as Fox News and Newsmax.
From the above-linked Forbes report:
Depending on who you believe, Donald Trump won the election because of Russian hackers, last-minute FBI announcements, fake news, or because Hillary Clinton was a bad candidate. A new study from the Harvard Kennedy School pins the blame on the news media—specifically the "overwhelmingly negative" tone of news coverage and the "extremely light" coverage of policy issues.

The study, from the Shorenstein Center on Media, Politics and Public Policy, examined print editions of the Los Angeles Times, The New York Times, The Wall Street Journal, The Washington Post and USA Today, the main newscasts on ABC, CBS and NBC, as well as CNN's The Situation Room and Fox's Special Report.

The report should be required reading for political journalists trying to understand Trump's victory. The study found that 62% of the coverage of Clinton and 56% of the coverage of Trump was negative in tone. These numbers actually overstate the amount of positive press the candidates received. Most of the "positive" stories here were about new poll numbers. Each one of these horse race stories was "good press" for one candidate and "bad press" for the other.

[…]

According to the study's author, Trump dominated the news because his behavior met the stories' demands. "The news is not about what's ordinary or expected," the study says. "It's about what's new and different, better yet when laced with conflict and outrage. Trump delivered that type of material by the cart load." Trump packaged news into easily digestible and deliciously controversial bites. As a result, his message ("make America great again") was simply heard more often than Clinton's ("stronger together").

The "overwhelmingly negative" tone of campaign coverage also helped normalize Trump. "When everything and everybody is portrayed as deeply flawed, there's no sense making distinctions on that score, which works to the advantage of those who are more deeply flawed." Countless voters viewed Clinton and Trump as equally flawed because of the media's bias towards negativity.
Likewise, the above-linked Harvard Gazette piece reflects the damned-if you-do, damned-if-you-don't nature of press coverage of Trump:
Over time the media has developed a response to Trump's penchant for eye-popping statements, and that is to highlight inaccuracies that they feel compelled to repeat. But it's been ineffective, [Harvard Kennedy School professors Thomas Patterson and Matthew Baum] agree.

Reporters have become more outspoken in directly pointing out untruths and inaccuracies, shifting from a once-widespread practice in journalism of hunting up an expert or other source to make the characterization. Now, reporters often simply say that a statement isn't true.

Patterson said that change is in some ways positive because it corrects the record. But it also carries a danger of turning the focus of a story to the reporter, fostering an acceptance of reportorial "me-ism" that has the potential to distort professional judgment.

The second danger, Patterson said, is of ordinary misstatements — natural for anyone who is a regular public speaker — being presented in the same category as intentional, damaging lies, like those of the 2020 election being stolen.

"If you talk a lot, you're going to make those kinds of mistakes. To draw attention to every one of those tells the audience that you can't trust anything politicians are saying," Patterson said. "A certain degree of caution about politics is important, but most of those people aren't lying, most of those are just inadvertent errors in memory. In Biden's case, they call it out and put it in the context of his age, and I'm sorry, but we all do it. We did it when we were 30, or 60, or 80. And journalists do it — they have errors in their stories — and no one accuses them of losing their minds or doing it maliciously."
Alas, they have no good answers for the problem.
Similarly, the creation of a separate "fact-check" piece has always been part of the journalistic tool kit, and its use has grown greatly. But Baum said they tend to be ineffective in countering the original statement — and have become increasingly popular with those looking to tar an opponent's reputation.

"Fact-checking is not a sufficient response," Baum said. "Journalists don't have an answer to this question, so they fall back on their routines and norms. But they're no good here. They don't work."

[…]

With everyday coverage, editors and reporters should understand the ordinary rules don't apply, Baum and Patterson said. They have to think hard and be more deliberate about whether coverage is warranted, and, if so, ensure it doesn't amplify false or damaging information.

"We're playing with fire when we cover Donald Trump like a regular political candidate. He carries with him the kinds of dangers to our politics that we haven't faced since the 19th century, and that are pretty huge and fundamental," Baum said. "We shouldn't just pretend this is a normal campaign — we do our job and put the camera up and let the American people decide — because that's not how human beings reason. If you assume that people are going to make dispassionate, rational judgments about the veracity of what politicians — who are expert communicators — say as they try to manipulate you, you're misunderstanding how typical people are likely to respond,"

Patterson said stories about Trump's tweets are a good example. During his presidency, it was routine that he would tweet something outrageous and the media would cover it, making national headlines. But a study of people who had viewed the tweets showed that 95 percent discovered them through media coverage, not Twitter.

"That's the stuff to avoid. That's just playing into his hands. They have to be really careful with Trump about not giving him these free opportunities to go off and do his thing," Patterson said. "This is a matter of judgment, and I think the judgment has been pretty poor, to be honest, about covering Trump."
But, again, this is highly problematic. Either the outrageous stuff Trump says is news or it's not. If the press only highlights things they're sure will hurt him, they're effectively Democratic operatives.
Ah, but that makes them Defenders of Democracy!
Perhaps. But it won't be perceived that way by anyone who doesn't already think a second Trump term would be disastrous.
To be clear: reporters should be more than mere stenographers. They should not simply feed readers the things candidates say and leave it at that. They very much owe readers, most of whom are not news junkies, context.
My preference, however, would be to follow the model used by AP's Jill Colvin in her report linked in my opening paragraph ("Trump's plans if he returns to the White House include deportation raids, tariffs and mass firings").
The headline, which I presume Colvin didn't write, is alarming—-but it isn't alarmist. It's factual and fair.
Ditto the lede:
A mass deportation operation. A new Muslim ban. Tariffs on all imported goods and "freedom cities" built on federal land.

Much of the 2024 presidential campaign has been dominated by the myriad investigations into former President Donald Trump and the subsequent charges against him. But with less than a year until Election Day, Trump is dominating the race for the Republican nomination and has already laid out a sweeping set of policy goals should he win a second term.

His ideas, and even the issues he focuses on most, are wildly different from President Joe Biden's proposals. If implemented, Trump's plans would represent a dramatic government overhaul arguably more consequential than that of his first term. His presidency, especially the early days, was marked by chaos, infighting and a wave of hastily written executive orders that were quickly overturned by the courts.

Some of his current ideas would probably end up in court or impeded by Congress. But Trump's campaign and allied groups are assembling policy books with detailed plans.
This is followed by a deep dive into Trump's policy proposals, gleaned from weeks, if not months, of speeches. There's no hyperbole in the report. While it's obvious to the reader that she would vastly prefer Biden's policies to Trump's, there is no editorializing. Not even through the back door by cherry-picking experts to say negative things about him. She simply compiles Trump's own words into a coherent picture.
Indeed, I suspect Trump, were he a reader, would very much approve of the report!