Trump Calls Political Rivals "Vermin" and Seeks to "Root Out" the "Threat from Within"
Leading candidate for Republican nomination deploys eliminationist rhetoric in Veteran's Day speech.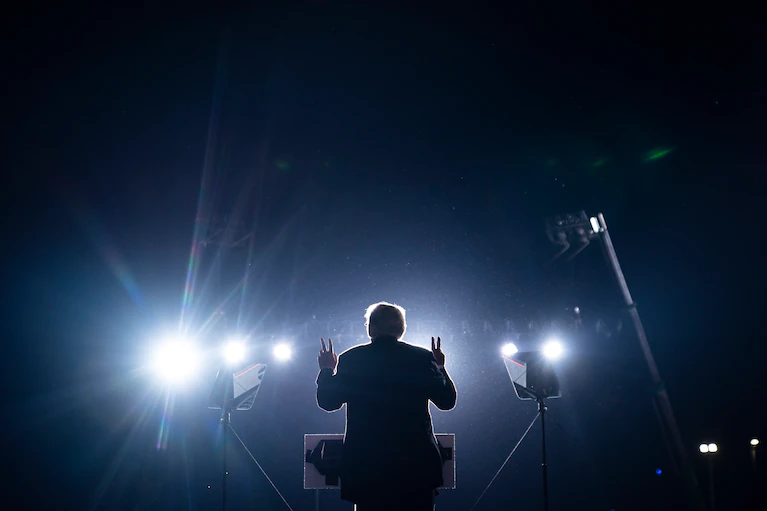 First, a note to the editors at the NYT, the above headline and subhead are the way you do it, not, "In Veterans Day Speech, Trump Promises to 'Root Out' the Left." Because, you see, "root out" sounds fairly anodyne. It is the kind of thing that normal politicians might say.
Last night, the following version of the headline was making the rounds, with an alternative proposal from Norm Ornstein.
Indeed, Forbes did a much better job: Trump Compares Political Foes To 'Vermin' On Veterans Day—Echoing Nazi Propaganda.
Side note: when Googling for coverage I noted that a lot of outlets used the NYT's original headline "Donald Trump's Veterans Day Message Was Very Different to Joe Biden's" because a lot of local outlets just carry the NYT newsfeed, which demonstrates further how these choices matter because they just get automatically replicated.
From the NYT piece linked above, here are the key elements:
Using incendiary and dehumanizing language to refer to his opponents, Mr. Trump vowed to "root out" what he called "the radical left thugs that live like vermin within the confines of our country."

"The threat from outside forces is far less sinister, dangerous and grave than the threat from within," Mr. Trump said Saturday in a nearly two-hour Veterans Day address in Claremont, N.H.
"Incendiary," indeed. In fact, directly echoes, and this is not at all hyperbole as Ornstein notes, the kind of rhetoric that came out of Hitler's mouth and the mouths of other Nazis.
I would note that the Holocaust Memorial Day Trust's Ten Stages of Genocide has dehumanization as step four, and specifically uses the term "vermin" as an example. See, also, the Philadelphia Holocaust Remembrance Foundation's page, Antisemitism Explained and the symbolism deployed.
So, you know, just a "very different direction" for a Veteran's Day speech, right?
I would further note that this rhetoric is coming out of Trump in the context of stories about plans to truly weaponize the Department of Justice (see, also, Trump himself saying so) and to create camps to deal with undocumented immigrants.
I cannot find the exact clip (which strikes me as yet another media failure despite reportage that his speech contained the words in question), so here's Trump via Truth Social: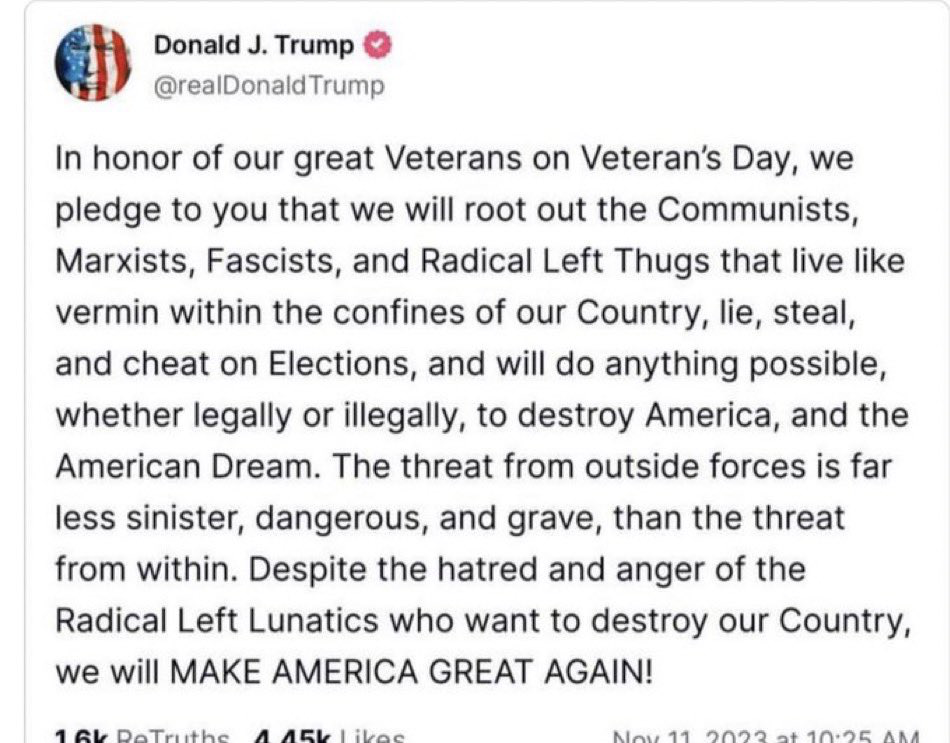 Look, I fully understand that there are a large number of my fellow Americans who see other human beings in this way when things like crime are involved. But we should expect our politicians to not feed into such dehumanizing views. Let me further stress that he is including in his "vermin" category, those who engage in legal activity and, further, those who claim that the 2020 election wasn't stolen. That last point alone puts pretty much anyone reading this into the "vermin" category. And let's not forget that in contemporary political rhetoric, run-of-the-mill liberals are often called Marxists.
it would be nice if the mass media started taking all of this more seriously instead of treating it all like normal horserace politics.
And if "her emails" and the relentless coverage of HRC's server issues really did influence the outcome of 2016 (and I think that there is empirical evidence that it did), then it is not unreasonable to think that accurately reporting when Trump's rhetoric is Nazi-like might likewise have some influence.
I would note that I had to search to find the NYT piece and I cannot find the story at WaPo. I did not look very hard, but I would like to think that a presidential candidate echoing Nazi rhetoric would warrant an easy-to-find story.