Rubio's Dubious Campaign Strategy
Marco Rubio's campaign strategy depends on a lot of hope, and no small degree of ignoring reality.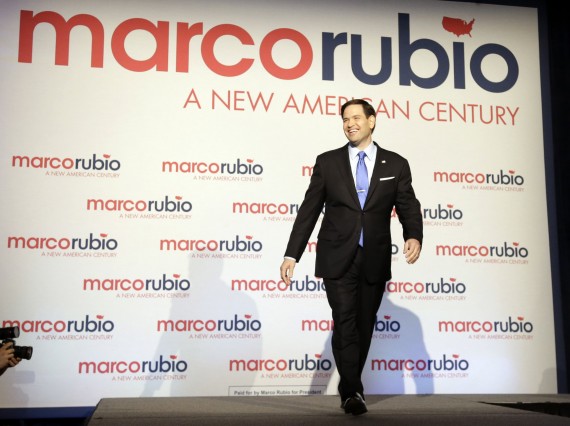 With Donald Trump and Ted Cruz battling it out for first and second place in the race for the Republican nomination, the fate of Marco Rubio is looking increasingly dubious. While the Florida Senator has done well when it comes to garnering endorsements from fellow Senators and Members of Congress, and has generally gotten positive reviews for his performances in recent debates, there has yet to be any evidence that he is breaking through with voters. In the national poll average, Rubio is in third place but he trails Donald Trump by 23 points and second place Ted Cruz by more than seven points. Rubio is also in third place in Iowa but again trails Trump by seventeen points and Ted Cruz by fifteen points. Perhaps most disappointing for the Rubio campaign is New Hampshire, where the candidate stands in fourth place behind Trump, Ohio Governor John Kasich, and Ted Cruz. Rubio's performance in New Hampshire right now may be the most problematic because it's the kind of primary state where one might expect a candidate like Rubio who appeals to both conservative voters and more moderate "establishment" Republican to do much better than he currently seems to be. Finally, in South Carolina, Rubio is in third place but once again its a third place that finds him trailing Trump by twenty-four points and Cruz by nine points. Beyond the numbers, the most important fact in all three of these early states is the fact that Rubio's numbers have been relatively flat going back to October and November when it first started to seem as though his breakthrough moment had arrived. Instead of breaking through, though, Rubio has basically stood still while Trump and Cruz have surged, and that leaves one to wonder if he's missed his moment and whether his current campaign strategy makes any sense at all.
Tim Alberta describes that strategy at National Review:
According to multiple Rubio allies recently briefed on campaign strategy, the senator's team has settled on an unconventional path to winning the GOP primary contest. The strategy, dubbed "3-2-1" by some who have been briefed on it, forecasts a sequence in which Rubio takes third place in Iowa on February 1, finishes second in New Hampshire on February 9, and wins South Carolina on February 20. From there, Rubio would be well-positioned in the long haul to win a plurality of voters, and ultimately a majority of delegates, in a three-way contest against Donald Trump and Ted Cruz.

This planning represents a concession from Rubio's brain trust that Cruz and Trump will take the top two spots in Iowa – most likely in that order – and that Trump will win New Hampshire. More boldly, it assumes that a Rubio victory will be possible in South Carolina even if he doesn't win either of the first two states. This would not be unprecedented; Newt Gingrich in 2012 won South Carolina after finishing fourth in Iowa and fifth in New Hampshire. But many GOP officials and rival campaign representatives believe that Cruz and Trump victories in the first two contests would generate a head-to-head battle for the nomination, depriving their also-ran opponents of political oxygen heading into South Carolina. Rubio's team is preparing for a different scenario. The senator's operation — both campaign and super PAC — is anchored by South Carolina veterans who long ago identified their state as his firewall because of their institutional and organizational advantages, and because they viewed it as the best fit for someone without a geographic or ideological foothold in either Iowa or New Hampshire. Rubio's supporters remain confident in their ability, even without a victory in the first two states, to deliver South Carolina. But to do so they must winnow the field. The way Rubio wins South Carolina, the thinking goes, is if he clears the establishment lane of competitors — Chris Christie, John Kasich, and Jeb Bush — so that center-right Republicans can consolidate behind him to defeat Trump and Cruz. But his team acknowledges that in order for that to happen, Rubio must finish ahead of Christie, Kasich, and Bush in both Iowa and New Hampshire, and by margins wide enough to discourage the continuation of their campaigns.

(…)

The scenario Rubio's team envisions is at once plausible and pocked with complications. He consistently polls third in Iowa's most recent surveys, and Republicans believe he has slowly edged out his establishment competitors here. New Hampshire is more problematic: Rubio ranks second in the RealClearPolitics polling average, but since the beginning of December he has been tightly bunched together with Christie, Kasich, and Bush. Cruz is essentially neck-and-neck with those four; a second-place finish could render the establishment battle irrelevant. Even if Rubio breaks away from the pack in Iowa and New Hampshire, there is hardly a guarantee of success in South Carolina. For one thing, Bush allies say their candidate has the resources, organization, and support there to stay in the race regardless of what occurs in the two earlier contests. (And they say he'll be further emboldened to stay through South Carolina after Lindsey Graham's endorsement.) Moreover, even if Rubio squeezes out his establishment rivals and secures a three-way showdown, Republicans believe there is a strong likelihood that Cruz and Trump will be coming off earlier victories in Iowa and New Hampshire, respectively, and riding momentum into South Carolina. Rubio at that point would find himself combating not just a pair of proven winning candidates, but a post-New Hampshire narrative of a two-man race.
In a conventional election year, Rubio's strategy arguably makes some degree of sense. There is a case to be made, for example, that the South Carolina primary is more important harbinger in the race for the Republican nomination than either New Hampshire or Iowa. Prior to the 2012 election, no candidate had won the Republican nomination without winning the South Carolina primary in a streak that goes back to Ronald Reagan's victory in the 1980 primary when Ronald Reagan won the state with 55% of the vote an event that essentially marked the end of the race for the nomination that year. (Source) Additionally, the fact that this year the South Carolina primary will be followed relatively shortly by the so-called SEC Super Tuesday Primary in early March when a wide swath of Southern states will vote on the same day means that a victory in the Palmetto State could provide momentum for a candidate headed into the rest of the region. Given all of that, a February that sees Cruz winning Iowa, Trump winning New Hampshire, and Rubio winning South Carolina would arguably set up a scenario where the race for the nomination is effectively reduced to three people and the GOP establishment is forced to choose a candidate. In that situation, Rubio would likely attract much of the establishment support as part of an effort to stop both Trump and Cruz.
The problem the Rubio campaign faces, though, is that 2016 is far from a traditional election year, For one thing, the size of the GOP field makes it less likely that Rubio would come out of Iowa and New Hampshire as the clear third man in the race  In Iowa, for example, the nature of caucuses can make the outcome so unpredictable that it's entirely possible that Rubio could end up finishing fourth behind a candidate who managed to get a lot of their supporters to the polls even though they are currently lagging in the polls, or that his own campaign's apparent lack of a real ground game could mean that Rubio supporters end up staying home instead of showing up on caucus night. In New Hampshire, meanwhile, other "establishment" candidates such as Jeb Bush, John Kasich, and Chris Christie have shown signs of life in recent polling that could indicate that they will surge in the final weeks before the Granite State votes and surpass Rubio into third place. Additionally, it's worth noting that there are only three percentage points separating Rubio, Bush, and Christie in the current New Hampshire polling average and that, as I noted above, Ohio Governor John Kasich remains in second place. We could end up in a situation where Rubio finishes in third place but finds Bush, Kasich, and/or Christie grouped so close to him in the final results that it isn't really a decisive finish. Finally, it's worth noting that Rubio's plan depends on Ted Cruz fading in New Hampshire notwithstanding the fact that he will have come off presumably winning the Iowa Caucuses, which seems unlikely. Alternatively, if it's Trump who manages to pull off the win in Iowa then Rubio's plan to make it to second place in the Granite State would seem to become impossible to achieve. In that case, it's unlikely that he'd have very much momentum heading into South Carolina. It's also worth noting that there is just about one percentage point separating Bush and Rubio in South Carolina, which essentially means they are tied for third place. Given that, it's entirely possible that it's Bush who surges in South Carolina rather than Rubio. At that point, Rubio would have been shut out of a win in each of the first three contests of 2016 and it's hard to see how his campaign recovers from that as Trump and Cruz sail on to a two-man race that seems increasingly inevitable.
The biggest issue with Rubio's strategy, of course, is that it requires everything to go perfectly in his favor. He needs to finish a clear third in Iowa without anyone challenging that position. He needs to come in second in New Hampshire notwithstanding the fact that polling indicates that he's likely stuck in third place at best. And, of course, he has to win in South Carolina even after two weeks in which Ted Cruz and Donald Trump will have dominated the headlines. The likelihood of that happening seems small and the slightest mistake on his part would probably make it impossible. More importantly, it doesn't appear that Rubio's campaign has any fallback plan for how they'd win the nomination without winning one of the first three contests. If one had to assign odds to the success of this Rubio plan, I'd put them at being very low at this point.