Trump Wins South Carolina, Rubio & Cruz Fight For Second, Bush Drops Out
Donald Trump racks up another big win, while Marco Rubio surges into second and likely saves his campaign for now.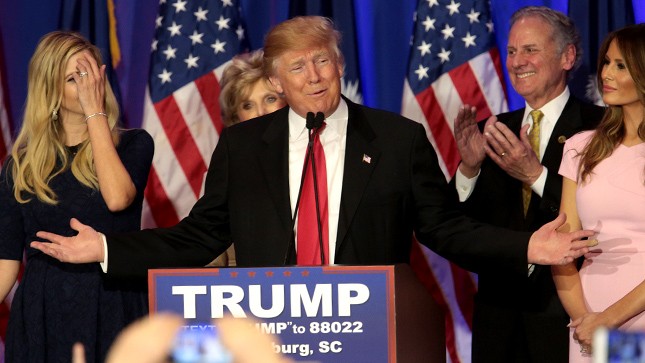 As pretty much every poll had been predicting for a week, Donald Trump scored a major primary victory in South Carolina, but it's what happened further down the ballot that is likely to make March a very interesting month in the race for the Republican nomination:
COLUMBIA, S.C. — Donald J. Trump rolled to a commanding victory in the South Carolina primary on Saturday, solidifying his position as the Republican presidential front-runner after a savage campaign that drove Jeb Bush, the son and brother of presidents, to quit the race.

Mr. Trump ran ahead of Senators Marco Rubio of Florida and Ted Cruz of Texas, who were locked in a battle for second place. Both have struggled to become the principal alternative to Mr. Trump, a larger-than-life candidate from outside the political system whose nomination would upend the Republican Party.

With 99 percent of precincts reporting, Mr. Trump had won 32 percent of the vote and led his nearest rivals by about 10 percentage points. He was likely to capture all 50 delegates at stake in the state.

Mr. Trump has benefited so far from the fractious group of candidates running against him. But the results in South Carolina began to narrow that field to a small and tenacious handful, who may give Mr. Trump a tougher challenge next month in a series of delegate-rich states like Texas, Virginia and Florida.

Celebrating his triumph before a raucous crowd in Spartanburg, Mr. Trump trumpeted the "incredible movement" his campaign had become and looked ahead to the March contests as a chance to lock up the nomination.

"Let's put this thing away and let's make America great again," he said.

Mr. Rubio sought to define the campaign as a contest purely among Mr. Trump, Mr. Cruz and himself. "This has become a three-person race, and we will win the nomination," he told cheering supporters in Columbia.

Surrounding himself with Gov. Nikki R. Haley, an Indian-American, and Senator Tim Scott, an African-American, Mr. Rubio, the son of Cuban immigrants, recounted their biographies and his own, seeking to portray the coming race as a choice between the new faces of the Republican Party and Mr. Trump's brand of resentment politics. Underscoring his frequent theme of generational change, Mr. Rubio declared that it was time for the "children of the Reagan revolution" to lead.

Mr. Bush, who has been on the receiving end of Mr. Trump's hectoring throughout the campaign, withdrew before 9 p.m. after placing a distant fourth.

Speaking in a subdued tone, and briefly choking up, Mr. Bush did not mention Mr. Trump but said it was essential that the next president be a person who would serve "with honor and decency."

If the most strenuous test of Mr. Trump's staying power is still to come, he proved in South Carolina that he would not be easy to stop. Using blunt and at times incendiary language, he found strong support from Republicans without a college degree, those who are angriest about the federal government and those who favor a hard line on illegal immigration, according to surveys of voters leaving the polls.

Mr. Trump's victory here was not as sweeping as the one in New Hampshire, and there were warning signs as he showed weakness among women and younger voters. But he still won among both independents and Republicans, and among self-described evangelical Christians. He also seemed to have built a coalition that will remain with him through adversity: More than half of voters who made their decisions over a month ago picked Mr. Trump, exit polls showed.

That support held through a tumultuous week in South Carolina, during which Mr. Trump encountered harsh attacks and invited controversy. He faced severe criticism for his past support of abortion rights and for trying to evict an elderly woman from her home to build a casino parking lot in Atlantic City. And he ridiculed President George W. Bush's handling of terrorism and the Iraq war, criticisms assumed to be ill-considered in any Republican primary, but particularly in a military-rich state that delivered victories to Mr. Bush and his father.

Jeb Bush brought his older brother, his mother, Barbara, and other relatives to South Carolina to campaign for him. But primary voters here indicated that whatever affection they had for the Bush family was largely nostalgic. Gov. John Kasich of Ohio also finished well behind the top three candidates, but was already seeking to make a case for continuing his candidacy by campaigning Saturday in Vermont and Massachusetts, which hold primaries on March 1, along with 11 other states and American Samoa. (South Carolina's Democratic primary is on Feb. 27.)

Nevada will hold its Republican caucuses earlier, this Tuesday. But with so little time for campaigning there, and a quarter of all national delegates up for grabs one week later, Super Tuesday looms as a crucial test of whether Mr. Trump will continue his once-unthinkable march to the nomination or will face a stiffer challenge from a culled field.

Seven of the March 1 states are either in the South or border that conservative-leaning region, making the next 10 days pivotal for Mr. Cruz, who has staked his candidacy on being able to consolidate party hard-liners.

Mr. Cruz performed well in South Carolina among voters calling themselves "very conservative" and those who said it greatly mattered to them whether a candidate shared their religious beliefs. But less ideological Republican voters continued to show little support for him.

Mr. Trump outperformed Mr. Cruz among self-described white evangelicals — who amounted to nearly seven in 10 voters — with Mr. Rubio not far behind Mr. Cruz.

If Mr. Cruz is not able to dominate among conservative Christians or broaden his coalition among more moderate Republicans, his campaign will be in jeopardy after Super Tuesday as the race turns to less religious states in the Northeast and Midwest. And Mr. Cruz may face a mortal test of his campaign before then, when his home state of Texas votes on March 1.

Mr. Cruz sought to put the best face on his disappointing finish in South Carolina, telling supporters that he was "effectively tied for second place." Plainly irritated by Mr. Trump's harsh assaults on him here, he bemoaned "nonstop personal attacks" and, while praising Mr. Bush, pointedly noted that he did not "go to the gutter."

(…)

Mr. Rubio appeared to recover his political footing in South Carolina after stumbling badly in the New Hampshire primary. By ending up well ahead of Mr. Bush and Mr. Kasich, he may well have secured his position as the safest choice of party leaders who remain totally opposed to Mr. Trump and Mr. Cruz.

But Mr. Rubio's performance in South Carolina also illustrates the possible limitations of his candidacy. Despite a series of late developments in his favor, including Ms. Haley's endorsement, Mr. Rubio was unable to derail either of his harder-line rivals or to loosen their grip on the party's most conservative voters.

Instead, he cobbled together support here from an assortment of relatively upscale and pragmatic groups, including people with college degrees and voters who said they were dissatisfied but not angry with the government. Most significantly, Mr. Rubio won nearly half of those who said their main concern was choosing a candidate who could win the general election.

But to compete with Mr. Trump and Mr. Cruz over the longer haul, Mr. Rubio will rapidly have to consolidate support from mainstream Republicans, even as he becomes a bigger target for attacks in the race.
More from The Washington Post:
COLUMBIA, S.C. — Donald Trump commandingly won the South Carolina primary on Saturday night, solidifying his position as the front-runner for the Republican presidential nomination while Sen. Ted Cruz of Texas and Sen. Marco Rubio of Florida were in a dead heat for second and bolstered their status as the two leading alternatives.

(…)

Bunched together about 10 points behind Trump were Cruz and Rubio, both Cuban American first-term senators jockeying to emerge as the top rival to the billionaire mogul.

Cruz, a Texas maverick who has pitched his faith-infused candidacy as the most ideologically pure conservative, lost evangelical voters to Trump and failed overall to finish even a decisive second, revealing a potential vulnerability as the contest hurtles toward big March primaries across the South.

Rubio rebounded from his New Hampshire stumble to unite South Carolina's new-guard Republican leaders and rally mainstream voters. He moved immediately Saturday night to fuse the party's establishment forces behind his candidacy. "This has become a three-person race," Rubio said, "and we will win the nomination."

But the gulf in vote share between Rubio and Trump highlighted the possible limits of the senator's uplifting message about generational change amid profound GOP unrest.

Trump overcame a tumultuous week in which he tangled with Pope Francis by tapping into the frustrations and economic anxieties of voters here with his red-hot rhetoric about combating terrorism and ending illegal immigration.

In his victory speech, Trump reveled in electoral validation for what he described as "an incredible movement with incredible people."

"When you win, it's beautiful, and we are going to start winning for our country because our country doesn't win anymore," Trump said, vowing to continue his victories from coast to coast. He congratulated Rubio and Cruz for "a really good job" but did not address Bush's departure from the race.

Cruz asserted in his remarks to supporters Saturday night that his candidacy has put "the Washington cartel in full terror." He said his was the only campaign that can defeat Trump.

"If you are a conservative, this is where you belong because only one strong conservative is in a position to win this race," Cruz said.

The voters' preferences on character traits brought the race's emerging fault lines into sharp relief. Cruz won among voters who said their most important quality was shared values; Rubio won among those who prioritized electability; Trump won among those who most valued change or a candidate who "tells it like it is," according to preliminary network exit poll data.

Trump's victory signaled a striking shift for the Republican Party. In a heavily military state, Trump disavowed the party's interventionist posture by condemning the 2003 Iraq invasion and accusing former president George W. Bush of lying about weapons of mass destruction there.

Trump's South Carolina win, coupled with his decisive victory in the New Hampshire primary, set up the celebrity businessman as the favorite heading into Tuesday's Nevada caucuses and the 11 states holding Super Tuesday primaries or caucuses on March 1.

Since 1980, every Republican who has won both the New Hampshire and South Carolina primaries has gone on to secure the nomination.

Still, Saturday's results indicate that the once-chaotic race could soon be reordered as a three-way contest at the top, representing a fresh threat to Trump's months-long dominance in the polls with pluralities but not outright majorities.
In the end, Trump's victory in South Carolina was fairly close to what the polls had been predicting in the final days of the campaign. The final RealClearPolitics numbers, for example, gave Trump a 31.8% average and an average lead over his second place opponent of thirteen points, while the final result as of this morning shows Trump with 33.8% of the vote and a roughly eleven point advantage over Marco Rubio, who continues to hold on to a narrow lead 0.2% over Texas Senator Ted Cruz at 22.5%. To the extent that Rubio and Cruz did better than the polls had predicting, it came at the expense of the men further down the ticket. Jeb Bush, who had been polling in fourth place with nearly 11% of the vote, ended up getting 7.8% while Ohio Governor John Kasich was close behind at 7.6%. This was a significant underperformance by both Bush and Kasich, but far more of a disappointment for Bush, who was hoping to do much better than this in order to revive a flailing campaign that has never lived up to the promise it seemed to have a year ago. This, along with the fact that there had already been reports that money was becoming tight for the campaign, is likely why Bush ended up taking the opportunity to use his concession speech to announce that he was dropping out of the race. No need to delay the inevitable, after all. In Kasich's case, meanwhile, this performance, while disappointing, was better than he had been doing in South Carolina until he finished second in New Hampshire so he arguably still has a reason to stick around until mid-March in the hope that he can make something out of the contests in Michigan and Ohio scheduled to take place at that point. Speaking of dropping out, Ben Carson's 7.2% was actually better than he had been polling in the Palmetto State but, in a rational universe, still not justification for him to continue a campaign that is looking more and more and more like a joke by the day.
As I noted yesterday, a Trump victory in the Palmetto State was rather expected given the size of his lead in the polls and, indeed, anything less than what we saw last night likely would have been a real political earthquake in the middle of the campaign. Because of the near certainty of his win, though, it seems as though Trump's win, and its potential significance, is being downplayed this morning in favor of coverage of the battle for second place between Marco Rubio and Ted Cruz. That would be a mistake. By all accounts, this week leading up to the primary did not necessarily go well for Donald Trump in that he allowed himself to get into a rhetorical battle over the legacy of George W. Bush in one of the few states where the former President is viewed relatively favorably and the Iraq War is not disdained. Then, he managed to find himself in a battle with the Pope while the same time repeating a discredited Internet meme that General John Pershing had once had Filipino Muslims executed using bullets dipped in pig's blood. Despite all of that, Trump's supporters stuck with him yet again, a result which should answer once and for all the questions that had arisen prior to New Hampshire about whether or not Trump could turn his support in the polls into votes. The answer to that question is clearly yes and the further we head into the race for the nomination the more important that becomes. As things stand right now, Donald Trump is the frontrunner for the Republican nomination and there seems to be very little that can stop him for the time being. Trump's victory was all the more impressive last night in that he won every region, and every Congressional District, in the state, an achievement which means he won essentially all of the delegates to the Republican National Convention that were up for grabs.
In addition to Trump, the other big winner of the night was Florida Senator Marco Rubio, whose solid second place finish is likely to guarantee him a path going forward notwithstanding the fact that Ted Cruz finished close behind him in third place. Going into this primary, Rubio needed nothing less than a second place to bounce back from his disappointing finish in New Hampshire, and from the start it was clear that he was campaigning hard in the Palmetto State. He did this all while taking slings While it's not easy to ascribe Rubio's last minute surge to any single event, it seems clear that the endorsements he received from South Carolina political leaders such as Nikki Haley, Tim Scott, and Trey Gowdy played a significant role in boosting Rubio's campaign. Additionally, Rubio was likely aided by the fact that Ted Cruz came under fire from many corners for what were clearly perceived to be lies and dirty tricks by his campaign directed at Rubio for the most part, but also other candidates. The most notable example of this was an anti-Rubio direct mail piece that photoshopped Rubio and President Obama into an image that was presented as fact. As in Iowa and New Hampshire, the Cruz campaign's creativity in messaging crossed the line, and it's likely the voters didn't like that.
With Rubio's strong second place finish, we are arguably back to the point we were at after Iowa where it appeared that the Republican race would come down to Donald Trump, Ted Cruz, and Marco Rubio. The viability of that prediction seemed to fall into doubt after Rubio's disappointing performance in New Hampshire, but it's a trio that seems to be very well established at this point. More importantly, it helps to set up what may ultimately be the story of the final battle for the GOP nomination, a battle between Donald Trump and Marco Rubio. This is the battle that the GOP establishment would like, of course, because the prospect of a Trump-Cruz battle means choosing between two truly unpalatable choices. If that's how it turns out, it would be quite an interesting race indeed. With Bush out of the race, there will be some question about where his support will go, and while some of it may temporarily go to Ohio Governor John Kasich, it would appear that Rubio ultimately stands to benefit the most from Bush dropping out, and that makes things more difficult for Ted Cruz, who has been unable to follow-up his win in Iowa with any other wins in the February primaries to date. If Cruz were to continue to falter, then his supporters will have to find another candidate as well, and in that case it's likely that we could see them almost evenly divide between Rubio and Trump. Ben Carson's voters, meanwhile, seem like they'd be more inclined to get behind Rubio than Trump.
There's still a long way to go before we get to that point, of course, and Rubio may yet stumble again along the way in a manner that brings an end to this narrative. As things stand now, it would appear that we'll have a five man race through Nevada on Tuesday, an probably through Super Tuesday on March 1st. This will work to Donald Trump's advantage given his loyal supporters and will likely allow him to continue to rack up wins that add to his momentum going forward. As it stands, it's worth noting that every Republican who has won both New Hampshire and South Carolina has gone on to win the GOP nomination. It's far too early to say whether or not that will apply to Donald Trump, but it is fair to say that Trump has the momentum now and it's hard to see him giving it up any time soon.