Des Moines Register Endorses Clinton, Rubio
Hillary Clinton and Marco Rubio have won the endorsement of the Des Moines Register, but it's unclear how much this will help their respective campaigns.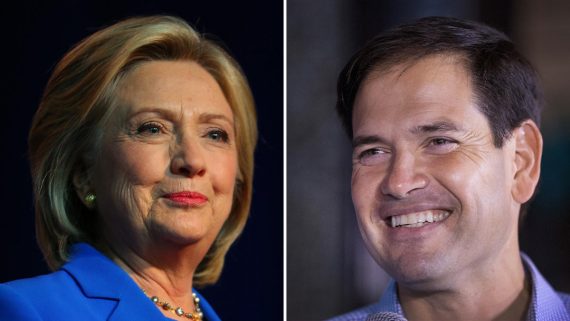 With just over a week to go before the Iowa Caucuses, the Hawkeye State's largest newspaper has issued its endorsements in both the Republican and Democratic nomination fights, but its unclear just how much of an impact they'll have on the race:
Democrat Hillary Clinton and Republican Marco Rubio on Saturday won the endorsement of the Des Moines Register, the most prominent daily newspaper in Iowa, with just over a week until voters caucus on Feb. 1 and begin the process of selecting their parties' presidential nominees.

In the dual editorials, the paper said Democrat voters had "one outstanding candidate deserving of their support," citing Clinton's "depth" of "knowledge and experience" and her ability to work across party lines as a New York senator, while stating that the "whip smart" Rubio could "chart a new direction" for the GOP.

The paper's editorial board acknowledged that Clinton is "not a perfect candidate," detailing her email furor and changing stance on gay marriage and immigration, but argued she was much the more qualified candidate than both Bernie Sanders and Martin O'Malley. Of Rubio, the paper argued that he still faces questions over his experience and ability to unite the party, but that he could offer above other GOP contenders "an uplifting message 'of a new American century.'"

Both campaigns quickly blasted out the respective editorials in emails to their supporters. But strategists and observers have raised questions about whether the paper's approval can do much to influence voters – and in some cases could even be counterproductive.

The Register has been endorsing candidates ahead of Iowa's presidential caucuses since 1988, but this cycle's blessings came amid an upside-down political atmosphere in which once-vaunted traditions have become unwelcome reminders of insiderdom.

The two Republican candidates likeliest to win the caucuses — Donald Trump and Ted Cruz — didn't even bother to court the paper's endorsement. And it's unclear if they would've have wanted it anyway. Republican strategists and political observers predicted that unlike in previous years, a Register endorsement is an instant talking point for rivals, proof that the winners are aligned with a mainstream media outlet's moderate-to-liberal lean .

"The Register's endorsement is like being endorsed by the Washington Post or NY Times, if you're a conservative," argued former Republican National Committee Chairman Michael Steele. "For Trump and Cruz it will give them a chance to sound off — to diminish any potential positive impact the endorsement could have —against the 'establishment' endorsing one of their own. In short it's like a car accident: 'move along, nothing to see here.'"

David Yepsen, who covered politics for the Register for 34 years, also predicted that the Republican endorsement could backfire.

"I think it will become a point to needle," said David Yepsen. "'See, we told you he was too liberal

The biggest benefit from an endorsement would likely occur outside of Iowa, argued one veteran Iowa Republican strategist. For Rubio — who is seeking to run as an establishment-oriented alternative to Trump or Cruz — the endorsement could signal to voters in New Hampshire and more moderate enclaves that establishment Republicans are coalescing behind him.

The endorsement enables him to say 'I'm the establishment pick,' and yeah, that's going to be really valuable," the strategist said. "That campaign is going to try to use it to say, 'Look at me East Coasters, this is the beginning of the meshing of the establishment behind me.'"

The Democratic endorsement, Yepsen noted, may be more influential since the paper's left-leaning editorial board tends to connect better with Democrats. The Register, he added, would have been hard-pressed to ditch Hillary Clinton, whom it backed over then-Sen. Barack Obama in late 2007. The paper that year described her "readiness" to lead the country "We believe as president she'll do what she's always done in her life: Throw herself into the job and work hard," the board wrote. "We believe Hillary Rodham Clinton can do great things for our country." [If Bernie wins, it probably turns this story upside-down, since that would be a big surprise.]

Clinton won the endorsement, Yepsen noted, even though the paper's editorial board has almost entirely turned over since her last campaign.

The Register's Saturday endorsements were its 10th and 11th since it first backed Democrat Paul Simon in 1988. They come in a year that has already featured outright hostility toward mainstream media institutions. Cruz, for example, has warred with the Wall Street Journal editorial board, long a paragon of conservativism. Trump on Thursday was targeted by conservative writers at National Review, prompting Trump to lash out in response. Trump has fought, too, with the Register itself. The paper wrote an editorial last year slamming Trump for sexist comments. In response, Trump's campaign denied press credentials to the Register for covering local events.

Though these days, candidates can afford to do battle with prominent outlets, in previous caucus years, endorsements were more meaningful because candidates didn't have 24/7 exposure and a trusted editorial board was an important liaison to voters, argued Ari Fleischer, a former press secretary to President George W. Bush. Today, they're only good for a positive news cycle or two.

"Endorsements are like fool's gold," he said. "You can spend them the day they come out to get good press, but they don't change voter behavior."
By that measure, Democrats have one outstanding candidate deserving of their support: Hillary Clinton. No other candidate can match the depth or breadth of her knowledge and experience.

As first lady, she worked tirelessly on health care reform and, with bipartisan support, created the Children's Health Insurance Program that provides coverage for 8 million children.

As a senator, she reached across party lines and joined forces with conservatives, including Sen. Lindsey Graham and former House Speaker Newt Gingrich, to fight for job creation and universal health care.

As secretary of state, she helped secure international sanctions against Iran and redefined her job by expanding America's diplomatic agenda to include poverty, women's rights, the environment and other issues.

She is not a perfect candidate, as evidenced the way she has handled the furor over her private email server. In our endorsement of her 2008 campaign for president, we wrote that "when she makes a mistake, she should just say so." That appears to be a lesson she has yet to fully embrace.

Her changing stance on gay marriage, immigration and other issues has invited accusations that she is guided less by personal conviction than by political calculations. She refutes that, and argues persuasively that a willingness to change one's thinking on specific issues, while remaining true to what she calls "the same values and principles," is a virtue, one lacking in most politicians.

Over the course of two meetings, Clinton spent more than three hours with the editorial board, answering questions in a direct and forthright manner. She exhibited an impressive command of the issues, though we'd have liked to hear more from her on the debt and the future of Social Security. She was somewhat prickly and defensive when discussing her emails, but overall she was gracious, engaging and personable.

(…)

In the final analysis, Iowa Democrats will have to choose between the lofty idealism of Bernie Sanders and the down-to-earth pragmatism of Hillary Clinton. For some, this will be a choice of whether to vote with their hearts or their heads.

Clinton has demonstrated that she is a thoughtful, hardworking public servant who has earned the respect of leaders at home and abroad. She stands ready to take on the most demanding job in the world.
And from the Rubio endorsement:
Republicans have the opportunity to define their party's future in this election. They could choose anger, pessimism and fear. Or they could take a different path.

The party could channel that frustration and pursue true reform. It could renounce its fealty to the economic elite and its fixation with tax cuts for the wealthy.

It could instead emphasize the interests of the middle class and promote policies, not just rhetoric, that champion workers, families and small businesses. It could be the party of opportunity and optimism.

It could be the party in which the son of an immigrant bartender and maid could become president.

Sen. Marco Rubio has the potential to chart a new direction for the party, and perhaps the nation, with his message of restoring the American dream. We endorse him because he represents his party's best hope.

That hope rests partly in the electoral calculus of the country. Republicans should have learned from 2012 that they cannot win with Republicans alone. Recent polling shows Rubio has higher favorability ratings among independents than all candidates but Ben Carson, as well as positive ratings among Latinos.

Rubio promises specific answers for the issues in these voters' lives. "It's been a long time since the Republican Party has talked to a single mother raising two children who is struggling at $15 or $14 or $13 an hour. It's been a long time since the Republican Party has had an agenda that talks to students," he told the Register's editorial board.

(…)

In two meetings with the editorial board, the whip-smart senator displayed an impressive grasp of public policy detail, reeling off four-point plans on foreign policy and other issues. He proposes overhauling higher education and promoting vocational training, helping workers threatened by automation acquire skills rewarded by a new economy.

Rubio would prime that new economy by embracing innovation. He would auction off portions of the wireless spectrum controlled by government, allowing freer flow of online traffic. He'd remove barriers to enable the next Uber to take off. He'd require a cost-benefit analysis of federal regulations.

(…)

At his best, Rubio offers an uplifting message of a "new American century." He shares his compelling story and calls for a referendum on the nation's identity.

"The fundamental question we're being asked is: Do we want America to remain special, or do we want it to become like anybody else? For America to remain special, people have to do for their families what my parents were able to do for mine," he told the editorial board in April.

Yet more recently, he has pandered to rising pessimism in his party. He talks gloomily about "a nation in decline," saying President Barack Obama "has deliberately weakened America." He wants to fight the battles of the past, such as the Supreme Court's same-sex marriage ruling.

We hope Marco Rubio and his party take a different path, one that can lead to the opportunity and optimism he so eloquently articulates.
The Clinton endorsement is entirely unsurprising. The Register endorsed the former Secretary of State back in 2008 when she was embroiled in a battle for a Caucus win in the state with Barack Obama and former Senator John Edwards. In that case, the endorsement didn't end up helping Clinton very much she ended up finishing in third place, behind not just Barack Obama but also Edwards, who had also come in second behind John Kerry in the Hawkeye State back during the 2004 election. This time around, Clinton faces a much smaller field  than she has in the past, and in reality only one serious challenger in the person of Vermont Senator Bernie Sanders, who has recently shown a renewed resurgence in the polling in Iowa, with one recent poll giving Sanders an eight point lead over the former Secretary of State. It should be noted, thought, that most other recent polling has shown that Clinton continues to maintain a lead, albeit a narrower one than she had prior to the holidays, and maintains a 6.4 point lead in the RealClearPolitics average for the Hawkeye State. Indeed, Clinton is in a far better position this time around in Iowa than she was eight years ago when it was already apparent that Obama was likely to pull off a surprise victory that would send the race for the Democratic nomination down an historically competitive path. Given that, conventional wisdom suggests that this endorsement will likely help Clinton to the extent that it helps her blunt the populist rise of Bernie Sanders and helps to motivate Clinton supporters to get out to the caucus a week from tomorrow.
The Register's endorsement of Marco Rubio is somewhat more surprising, but clearly an effort on the paper's part to nudge Republican voters away from the two most controversial candidates in the race. There was, of course, no chance that the Register would endorse Trump even if he had sought the endorsement. It was just a few months ago, after all, that the paper called on Trump to drop out of the race due to his anti-immigrant rhetoric, a move that led Trump's campaign to at least temporarily bar Register reporters from covering Trump campaign events in the state.  Ted Cruz was also an unlikely candidate for the Register endorsement not the least because his campaign showed no interest in pursuing it and chose not to sit down for the traditional meeting between the candidate and the Editorial Board. The same goes for Ben Carson, who has been fading the race in any case. That left the handful of "establishment" candidates in the race, a group that includes not just Rubio but also Jeb Bush, John Kasich, and Chris Christie. Of those, only Rubio seems truly competitive in the Hawkeye State given that he presently stands in a far better position in the polls than any of those other candidate. That being said, "better" doesn't necessarily mean good, and it's unclear just how much this endorsement will help Rubio. Presently, Rubio is in third in the RealClearPolitics average for Iowa. That's respectable, but it becomes less impressive when you notice that Rubio's 10.8 point average puts him nearly fifteen points behind Ted Cruz and twenty-two points behind Donald Trump. Additionally, since the beginning of the new year, Rubio has polled from a high of 15% to a low of 9% and there have been serious questions raised about just how well organized Rubio is in the state as well as his overall campaign strategy. Given all of that, it's possible that the endorsement may end up amounting to nothing at all.
Looking at the endorsement more broadly, Harry Enten isn't convinced that these endorsements will be game changers, but notes that Clinton could be helped by her endorsement given how close the Democratic race is. As Enten notes, the history of the paper's endorsements leaves a lot to be desired. On the Democratic side, none of the candidates that the paper has endorsed since starting the project in 1988 have gone on to win the caucuses, and none have won the party's nomination. On the Republican side, the record has done somewhat better in that three out of the five endorsed candidates went on to win the Caucuses and four out of the five went on to become the party nominee. Overall, the endorsement has resulted in an average of a 3.8 point increase in vote share for the endorsed candidate. As Enten goes on to note, that may help Clinton and Rubio to some extent, but it's unclear that it will be a game changer in the last week before Caucus Night:
[I]t may hold more sway for Democrats than for Republicans. All four of the Democrats who have gotten the endorsement have done better than projected, compared with three of the five Republicans. And this year it wouldn't be surprising, for instance, if the Des Moines Register's decision not to endorse Donald Trump doesn't affect his fortunes too much given that the paper already called on him to drop out of the race.

The Des Moines Register is the largest paper in the state. Even if newspaper circulations are down and most people aren't going to be swayed by an editorial page endorsement, it could help drive news coverage for days. Most important, both the Democratic and Republican races right now are very tight. Even though Rubio probably won't receive enough of a boost to win the Republican caucuses in Iowa, the endorsement could help him finish higher there, in turn helping him in the fight to win the title of "top establishment candidate" in the GOP race. Clinton could be put over the top, however, even if she receives only the 1.1 percentage point bounce she got after the paper's endorsement of her in 2008.
On the other hand, of course, it's possible these endorsements may have no impact at all, or even hurt the candidates who received them this time around. As we've seen for months now, there is a distinct anti-establishment tenor to the race in both political parties this time around. On the Republican side, it can be seen in the rise of Donald Trump and Ted Cruz, both of whom are distinctly anti-establishment and both of whom have used conservative disdain for the media to their advantage for months now. On the Democratic side, the success of Bernie Sanders can also be seen as an example of an anti-establishment passion on the left, and we've seen many occasions on which Sanders supporters have complained that their candidate is not getting the kind of coverage that the Clinton campaign has gotten. This, combined with the reduced overall impact of print media among many voters, could mean that a newspaper editorial endorsement, which is something that candidates eagerly sought in the past, is no longer seen as a positive. We'll see in the last round of polling that will come out this week how these endorsement have impacted the race but, of course, the real impact won't be known until Caucus Night itself.