Trump And Cruz Look To Be Headed For A Showdown In Iowa
Donald Trump and Ted Cruz have mostly avoided attacking each other, but if the polls are any indication that detente may be about to come to an end in the Hawkeye State.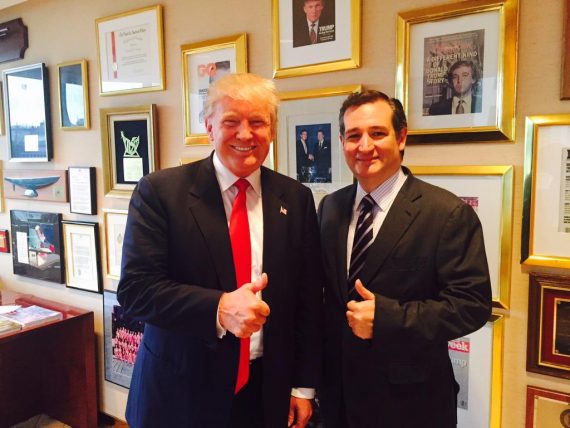 For most of the past five months, Donald Trump has gotten into verbal battles of one kind or another with virtually all of the Republican candidates for President who have spent at least some time on the main debate stage. He's called Jeb Bush "low energy" and even made disparaging comments about Bush's Mexican-American wife. He's attacked Marco Rubio a number of times on personal matters such as his finances and his stand on immigration. He's attacked Rand Paul, John Kasich, and Chris Christie several times, usually by pointing out their declining poll numbers. And, of course, Trump went after Ben Carson directly and seems to have been at least one of the reasons why Carson's numbers have declined and seem unlikely to recover. One candidate that Trump has avoided engaging directly, though, and who has in turn avoided engaging Trump, is Texas Senator Ted Cruz. The two men have generally not attacked each other, even when other candidates were doing the job, and even took the unusual step of holding a joint rally against the Iran nuclear deal in Washington in September. Many observers have taken the behavior as a calculation by both camps that in many cases they are competing for the same groups of voters, and that going to war at this point would not necessarily benefit either campaign. That detente may have to come to an end soon, though, because two new polls appear to show a battle shaping up in Iowa between Cruz and Trump that could make the next Republican debate quite interesting.
First up, a new Monmouth University released yesterday showed Cruz passing Trump in the Hawkeye State, something that only Ben Carson has been able to do in the past:
Stoked by evangelical and tea-party support, Ted Cruz has surged to first place in Iowa, according to the results of a Monmouth University poll released Monday surveying voters likely to participate in the Republican caucus on Feb. 1.

Cruz earned 24 percent of support among likely caucus-goers, with 19 percent opting for Donald Trump, whose polling advantage in the state has dwindled in recent weeks. In a Quinnipiac University survey conducted in mid-November, Trump held a slim 25 percent to 23 percent advantage over Cruz, while retired neurosurgeon Ben Carson finished with 18 percent.

In this survey, Florida Sen. Marco Rubio finished third with 17 percent, followed by 13 percent for Carson (a 19-point drop from October), 6 percent for former Florida Gov. Jeb Bush, 4 percent for Kentucky Sen. Rand Paul, 3 percent for former Hewlett-Packard CEO Carly Fiorina and 2 percent for New Jersey Gov. Chris Christie and former Arkansas Gov. Mike Huckabee. All other candidates finished with 1 percent or less support, with 4 percent undecided and 1 percent describing themselves as "uncommitted."

Cruz's advantage comes largely at the expense of Carson, who less than two months ago led the state's Monmouth poll by a 14-point margin over Trump.

This time, Texas senator commanded pluralities from evangelicals, with 30 percent supporting him, and 18 percent going for Trump. In October, Carson held a 36 percent to 18 percent advantage over Trump among that group. Cruz earned just 12 percent from evangelicals in the October Monmouth survey.

A plurality of 36 percent of tea party supporters also backed Cruz, with 20 percent for Trump, 17 percent for Carson and 11 percent for Rubio. Along gender lines, however, men prefer Cruz (29 percent) and Trump (24 percent) over Rubio and Carson (both at 12 percent). Among women, however, Rubio (23 percent) and Carson (19 percent) lead the way.

In terms of favorability, Cruz tied with Carson for the second-highest net-positive rating of 46 points (67 percent favorable to 19 percent unfavorable), while Rubio led with a net-positive rating of 54 points (70 percent to 16 percent). Elsewhere, Bush had a negative rating of 38 percent to 45 percent, while Trump earned a positive 18-point rating (54 percent to 36 percent).

With a little less than two months to go until the caucus, just 20 percent said they are completely decided on their choice, while 49 percent said they had a strong preference. Meanwhile, 18 percent said they had a slight preference, and 13 percent said they were undecided.
The fact of a poll showing someone passing Trump in any state, of course, is something that made a lot of news yesterday, and there has been at least some suggestion that part of the reason that Trump released his "Ban All Muslims" immigration plan late yesterday was to divert attention from an unfavorable poll result by proposing something that is likely to get a good reception from many segments of the evangelical community that plays such a large role in Iowa's Republican Caucuses. I can't read minds, of course, so I don't know what was motivating Trump to release that crazy plan, but I'm not sure it's fair to say that he did that solely because of this poll. In reality, though, it's not entirely surprising that Cruz would be doing well in a state like Iowa since he has always polled well among the types of voters that predominate in Iowa Republican politics. Furthermore, given the fact that Ben Carson has fallen in the polls it's only natural that many of the people who were backing him instead of Trump would get behind a candidate like Cruz.
Beyond Trump's immigration plan, the impact of this Monmouth poll was already undercut somewhat yesterday afternoon when CNN released a new CNN/ORC poll that showed Trump with a solid lead over Cruz in Iowa:
Donald Trump's support continues to grow among those who say they are likely to participate in February's Iowa presidential caucuses and Ted Cruz is on the rise while Ben Carson loses ground in the state, a new CNN/ORC Poll finds.

Overall, Trump has 33% support among likely GOP caucusgoers, followed by Cruz at 20% with Carson at 16%, Florida Sen. Marco Rubio at 11% and former Florida Gov. Jeb Bush at 4%. The new poll shows Trump up 8 points, Cruz up 9, while Carson has faded by 7 points, compared with the last CNN/ORC poll, conducted in late October and early November
Such a disparity between two polls of the same race released on the same day obviously raised eyebrows, but it turns out that the difference is explained by the manner in which the pollsters determined who a likely voter, or in this case a likely caucus voter might be:
The Monmouth poll interviewed a sample drawn from registered voter lists that primarily comprised those who had voted in state-level Republican primary elections in previous election years. Among those voters, Monmouth found Cruz and Rubio ahead of Trump and Carson. Among voters who were not regular GOP primary voters, however, the poll found Trump ahead, similar to the CNN/ORC poll's finding.

The CNN/ORC Poll drew its sample from Iowa adults, asking those reached about their intention to participate in their caucus, interest in news about the caucuses, and past participation patterns to determine who would be a likely voter.

But still, Trump's lead holds even among only those voters who express the most interest in attending the caucus or the most regular past participation in presidential caucuses. Among those in the CNN/ORC poll who say they definitely plan to attend the caucuses and are more interested in news about them than any other news story — a group which represents approximately 8% of Iowa adults — Trump's lead grows to a 42% to 23% advantage over Cruz, with Rubio at 11% and Carson at 9%.

And among those who say they have participated in almost all of the caucuses for which they have been eligible — about 10% of Iowa adults — Trump leads 38% to 21% for Cruz, with Carson at 12% and Rubio at 11%.
This difference in defining likely voters is one that pollsters have to deal with in every election, of course, but it's often particularly an issue in Caucuses where participation is generally substantially lower than in a traditional primary election due to the fact that its hard to predict who is going to be willing to invest the time and energy to appear at a caucus on a cold winter night during what could be inclement weather. That's one argument for giving primacy to those voters who have gone to caucuses in the past since they are invested in and familiar with the process. Additionally when a candidate like Trump comes along and draws a lot of support from people who haven't participated in many primaries or caucuses in the past, it's not known for certain how successful the campaign will be in getting supporters out on caucus night. All the polls in the world won't matter for Trump if the people supporting him don't show up, for example, so many pollsters are cautious about relying on those voters as part of a predictive model. At the same time, it's worth remembering that back in  2008 Barack Obama won the Democratic Caucuses in no small part thanks to a ground operation that got people who had not traditionally caucused before to show up on caucus night and give him the victory. Mike Huckabee did much the same thing that year on the Republican side, as did Rick Santorum in 2012. If Trump can repeat that work, then he just might be able to translate good poll numbers into a win in Iowa, or at least a better performance than whatever conventional wisdom might be at the time is expecting.
One thing the CNN poll does show, which we've seen recently in poll after poll lately, is that Donald Trump is seen by Republicans as the guy best able to handle the issues facing the nation:
One group that remains a challenge for Trump and which makes up a large share of Iowa's usual set of Republican caucusgoers is white evangelicals. Among that group, 26% back Cruz, 24% Trump, 20% Carson and 12% Rubio. In last month's poll, Trump trailed Carson 31% to 20% among white evangelicals, with Cruz at 15% and Rubio at 11%.

Trump is increasingly seen by likely GOP caucusgoers as the Republican with the best chance to win the 2016 general election: 42% say Trump has the best shot, followed by 17% for Cruz and 11% each for Carson and Rubio. Last month, 33% thought Trump had the best chance to win followed by Carson at 25% and Rubio at 17%. Cruz is up 9 points on this question.

As is the case nationally, Trump holds big advantages as the candidate more trusted to handle the economy and illegal immigration, with smaller though still substantial leads on handling ISIS and foreign policy (30% Trump to 21% Cruz, 13% Rubio and 9% Bush). On foreign policy, Trump has increased his advantage on that issue since the early-November poll, when 18% said they thought Trump would do the best job and 14% each Cruz, Rubio and Bush, with Carson at 11%

But Trump's advantage on foreign policy and handling ISIS is larger than his edge on handling the responsibilities of being commander-in-chief. There, Trump comes in at 28% with Cruz a close second with 22%, Carson follows at 13% with Bush at 10% and Rubio at 9%.

Trump remains somewhat vulnerable on social issues, where Carson (21%) is most trusted, but here, too, Trump has increased his support. In November's poll, 13% said Trump would do the best job on social issues, that's risen to 19%. Cruz follows Carson and Trump on this question with 17%. Trump and Cruz are also nearly even when caucusgoers are asked who best represents the values of Republicans like yourself (25% Trump to 22% Cruz, Carson fades 7 points to 18%).
Given the fact that Trump is leading in the polls, it's not surprising that Republicans would have a generally positive view of him at this point, of course, but these numbers do point out the fact that Trump is hardly an outlier in the GOP race supported by just a fringe group of people. Even by people who don't support him in the race, he's increasingly seen as the voice of the GOP on a number of topics.
Looking at the poll averages in the Hawkeye State, the coming Trump v. Cruz battle can be seen coming a mile away. In the RealClearPolitics average, Trump now has a 3.4 point lead over Cruz, who in turn has nearly a seven point lead over his closes competitor Ben Carson, who continues to sink and seems likely to be surpassed by Marco Rubio in the near future. In the broader Pollster average, gives Trump a larger seven-point lead over Cruz and Cruz a slightly smaller lead over Carson, but the trend in both averages is clear. Trump's numbers are mostly stable but slightly rising in the Hawkeve State, while Cruz's are rising much more quickly, largely at the seeming expense of Ben Carson. This would suggest that the two men are headed for an inevitable battle for first place in Iowa, and given the fact that they have yet to really go after each other it promises to be quite interesting to watch.