Another Trump Speech Leads To Another Round Of 'Is Trump Imploding?' Speculation
Donald Trump's latest tirade has led to another round of speculation as to whether or not he's 'gone too far' and reached the beginning of the end of his campaign. Don't count on it.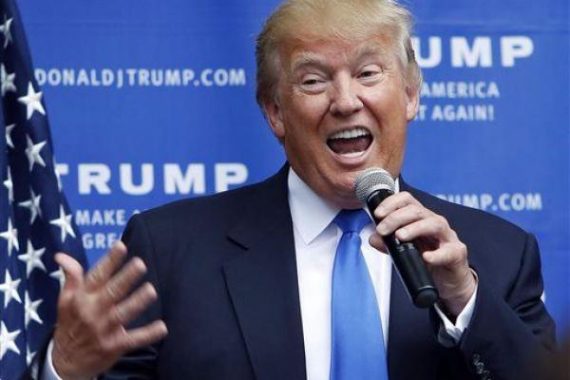 Once again, Donald Trump has political observers and pundits wondering if he's gone too far and sown the seeds of his own downfall after a speech in Iowa that lasted more than an hour and a half in which he went after Ben Carson harder than he has before and made what some may consider disparaging comments about Carson's Iowa supporters:
FORT DODGE, Iowa — As Donald Trump took the stage in a community college theater on Thursday night, something was off.

The usually punctual executive was nearly 40 minutes late. His voice was hoarse, his hair mussed, his tone defensive. He promised to take questions from the audience but instead launched into a 95-minute-long rant that at times sounded like the monologue of a man grappling with why he is running for president — and if it's really worth it or not. Even for a candidate full of surprises, the speech was surprising.

He scoffed at those who have accused him of not understanding foreign policy, saying he knows more about Islamic State terrorists "than the generals do." He took credit for predicting the threat of Osama bin Laden and being right on the "anchor baby situation," a position he says "these great geniuses from Harvard Law School" now back. He uttered the word "crap" at least three times, and promised to "bomb the s—" out of oil fields benefiting terrorists. He signed a book for a guy in the audience and then tossed it back at him with a flip: "Here you go, baby. I love you."

Trump called Republican rival Carly Fiorina "Carly whatever-the-hell-her-name-is," accused Democratic front-runner Hillary Rodham Clinton of playing the "woman's card" and said Sen. Marco Rubio (R-Fla.) is "weak like a baby." He then devoted more than 10 minutes angrily attacking his chief rival, Ben Carson, saying the retired doctor has a "pathological disease" with no cure, similar to being a child molester.

"If I did the stuff he said he did, I wouldn't be here right now. It would have been over. It would have been over. It would have been totally over," Trump said. "And that's who's in second place. And I don't get it."

For months, Trump has defied the traditional rules of politics, saying and doing things that would end the presidential ambitions of most candidates — and often to the chagrin of Republican leaders who can't believe that a billionaire reality television star has built such a dedicated following and dominated the polls for so many months. As some waited for an implosion of Trump's improbable campaign, the Republican front-runner began to show much more composure and control on the campaign trail. During the latest debate, he largely refrained from attacking those on stage with him, instead focusing on the policy questions asked.

But Trump appeared to unravel on stage Thursday evening before a crowd of roughly 1,500 in Fort Dodge, a small industrial town 100 miles northwest of Des Moines. Many in the crowd were community college students who have never voted in a presidential election, along with teachers, local politicians and a number of farmers from the area. Rather than sticking to his usual, tidy 60 minutes, Trump kept going and going. Campaign staffers with microphones had planned to solicit questions from the audience, but instead stood waiting in the aisles, then sat for a while, then stood again at attention. Those standing on risers behind Trump — providing a backdrop of Iowan faces — eventually gave up and sat down in a falling cascade.

At first, the audience was quick to laugh at Trump's sharp insults and applaud his calls for better care for veterans, to replace the Affordable Care Act, and to construct a wall along the Mexican border. But as the speech dragged on, the applause came less often and grew softer. As Trump attacked Carson using deeply personal language, the audience grew quiet, a few shaking their heads. A man sitting in the back of the auditorium loudly gasped.

The tirade came amid one of Trump's busiest weeks yet on the campaign trail. Trump hosted "Saturday Night Live" last weekend and then spent Sunday doing interviews. Monday night he had a rally in Illinois. Tuesday night was the fourth GOP debate in Milwaukee. Wednesday morning, after about 90 minutes of sleep, Trump attended a breakfast in New Hampshire. Thursday he arrived in Iowa for a tour of a factory, television interviews and the rally at the community college.

(…)

Trump described traditional politicians as "stupid" and told the crowd that he is "competent." That's why he got so angry when journalists forced him to share his strategy for fighting the Islamic State, even though he wanted to keep such plans secret so as not to tip off the enemy, he said. Journalists, he said, are "scum" and "garbage."

"I know more about ISIS than the generals do," Trump said. "Believe me."

Trump said he would go after the oil fields in Iraq and Syria that he says nets the terrorist group "millions of dollars a week."

"I would bomb the s— out of them," he said to raucous applause. "I would just bomb those suckers. And that's right: I'd blow up the pipes, I'd blow up the refineries. I would blow up every single inch. There would be nothing left."

The applause was nowhere near as strong as Trump launched into a lengthy critique of Carson, who is well-liked in Iowa and has at times beat Trump in polls here. The Iowa caucuses are often dominated by evangelicals, many of whom have been captivated by Carson, who talks endlessly about his faith.

Carson wrote in his autobiography that as a young man he had a "pathological temper" that caused him to violently attack others — going after his mother with a hammer and trying to stab a friend, only to have the blade stopped and broken by the friend's belt buckle. In recent days, those accounts have come under scrutiny, and Carson has had to clarify or correct some of the details.

Trump said Carson has a "pathological disease" with no cure, comparing it to the incurable mental conditions of child molesters.

"A child molester, there's no cure for that," Trump said. "If you're a child molester, there's no cure. They can't stop you. Pathological? There's no cure."

With his voice growing louder and louder, Trump questioned what sort of person would attack his mother. He questioned how a belt buckle could stop a blade, stepping away from the podium to demonstrate how such an attack might happen and how his own belt buckle wouldn't stay in place long enough to stop a knife.

"Anybody have a knife?" Trump asked the audience, which was screened by Secret Service agents who began protecting him this week. "You want to try it on me?"

Trump was flabbergasted: "How stupid are the people of Iowa? How stupid are the people of the country to believe this crap?"

And Trump said he doesn't believe that after just a few hours of reflection, Carson found God and overcame his violent temper.

"He goes into the bathroom for a couple of hours, and he comes out, and now he's religious," Trump said. "And the people of Iowa believe him. Give me a break. Give me a break. It doesn't happen that way. It doesn't happen that way. … Don't be fools, okay?"
Trump's attacks against Carson, who has clearly become his chief target in the race now to the exclusion of almost anyone else in the Republican field, continued today with a video on Instagram that continued the themes regarding Carson's violent past in which theme music from the Friday The 13th movie series plays in the background. For his part, Carson refused to engage with Trump when reporters caught up with him today, but the rant is causing many to renew speculation that Trump may have 'gone too far' and that his latest tirade will be the one that starts turning voters away from him, especially in Iowa. John Fund at National Review, for example, if this is Donald Trump's "jump the shark" moment that will be the beginning of the end of his downfall as a top tier candidate. Paul Mirengoff at Power Line wonders if this event, which took place in Fort Dodge Iowa should have more appropriately taken place in Waterloo one hundred miles to the East, obviously an analogy to the battle that marked the end of Napoleon Bonaparte. Kevin Drum, meanwhile, notes that Trump's comments, especially the portion I highlight in the excerpt above, could arguably be seen as deeply insulting to evangelical Christians, a powerful force in Iowa Republican politics for whom a profession of faith such as the one Carson talks about at the end of his story about his violent past is considered deeply personal and important. Speculation about the impact of Trump's remarks on his political fortunes has also been a prominent topic of conversation on the cable news outlets today, and will likely continue to be a topic heading into the weekend.
The supposed beginning of the end of Trump's Presidential aspirations has, of course, been something that has been predicted on an almost regular basis since he entered the race. The fact that he opened his campaign with a tirade against Mexican immigrants, for example, was seen by many as something that would doom his campaign from the start. However, while the comments did cost Trump to some degree in his business interests when companies like Macy's, NBC Universal, and others decided to sever business relationships with him because of his vitriolic comments, they had absolutely no impact on his standing in the polls. When Trump attacked John McCain by dismissing his military service and saying he preferred people who weren't captured in a war, there was another round of speculation that Trump's seeming attack on military service would hurt him. To the surprise of many, myself included, it had no real impact at all and Trump continued his upward trajectory. After the first Republican debate, Trump engaged in a series of personal attacks against popular Fox News Channel anchor Megyn Kelly that caused him to be uninvited to a conservative conference being held the weekend after the debate and led to more speculation that we'd see the beginning of the end of Trump. Once again, though, Trump suffered no real adverse impact from his remarks. Trump's next supposedly fatal moment came when he seemed to attack fellow candidate Carly Fiorina for her appearance, comments which led to sharp words from Fiorina at the debate, but once again while Trump's campaign moved onward. Trump did seem to dip somewhat in the polls after that second debate while Ben Carson started to rise, and that led to yet another round of 'the beginning of the end of Trump' speculation. As I warned back then, though, we'd seen this pattern before and declarations that Donald Trump was nearing the end of his novelty with Republican voters should be made with caution given the history of his campaign since the race started. As it turned out, Trump's decline was short lived and, while Carson is now in a stronger position than he was before, Trump is still at or near the top of the polls nationally, in Iowa, in New Hampshire, in South Carolina, and in Florida.
If there is one lesson from all of this then, it seems to be that, there is seemingly nothing so outrageous that Donald Trump can say that will lead to the implosion that everyone has been predicting.
Given this history, any prediction that Trump has damaged himself because of these remarks, or anything else, should be viewed skeptically. More so than any other candidate, Donald Trump is someone whose negatives are pretty much already baked into the minds of the voters, meaning that the people who don't like him aren't likely to change their minds and, more importantly, that those who are inclined to support him have already found a way to rationalize his outrageous comments and behavior in a way that makes it possible for them to continue supporting him. These people have already gotten behind his comments about Mexicans, his attacks on John McCain, Megyn Kelly, and Carly Fiorina, and the fact that he appeals to the worst aspects of American politics. The fact that they can continue supporting him after all of that suggests strongly that getting rid of Trump thanks to his own outrageous remarks won't be easy at all. Granted, Kevin Drum has a point when he suggests that Trump's dismissal of Carson's profession of faith could hurt him with Iowa Republicans, but it should be noted that Trump has made seemingly insulting comments about Christianity in general and Carson's faith in particular in the past and it hasn't really hurt him at all. Additionally, the fact that Trump equates Carson with a child molester is a big step across a seemingly forbidden line, but this is a line that Trump has crossed before to seemingly no negative effect. While this could be the proverbial straw that breaks the camels back, there's every reason to believe past history will repeat itself and that Trump won't suffer much at all for this latest tirade. What that says about Republican voters in Iowa and elsewhere I will leave for others to judge for the time being.
Anyway, if you're so inclined here's the video of Trump's hour-and-a-half long tirade: