Donald Trump On John McCain: I Like People Who Weren't Captured
Donald Trump stuck his foot in his mouth again.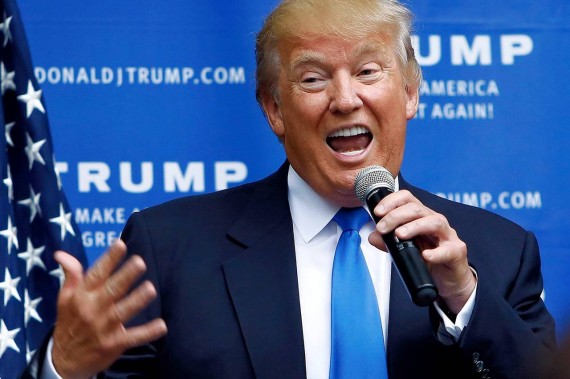 Speaking today at a gathering in Iowa, Donald Trump dismissed the idea that John McCain is a war hero and manged to set off a firestorm:
Donald Trump might finally have crossed the line.

Appearing on Saturday at the Family Leadership Summit in Ames, Iowa, the real estate mogul took his running feud with Arizona Sen. John McCain to a new level.

"He's not a war hero," said Trump. "He was a war hero because he was captured. I like people who weren't captured."

The remarks, which came after days of back-and-forth between McCain and Trump, were met with scattered boos.

McCain, a former Navy pilot, spent roughly five-and-half years in a notorious North Vietnamese prison known as the "Hanoi Hilton," where he was repeatedly tortured. He spent two of those years in solitary confinement.

Trump received four student deferments from military service between 1964 and 1968.

Republicans quickly distanced themselves from Trump's remarks — though not all of them condemned them directly.

"Advice to @realDonaldTrump: Apologize for this pronto. Otherwise beginning of end," Weekly Standard editor Bill Kristol, who is close to McCain, tweeted.
Here's the video:
There is a history between McCain and Trump that goes back to Trump's appearance in Arizona last week and McCain's criticism of his remarks about immigrants and immigration at that event. However, this comment strikes me as something that is just likely to get Trump in trouble. Especially since it's likely to revive the stories from the 2012 cycle regarding Trump's avoidance of the draft during the same Vietnam War that McCain served in. From my own perspective, I'm no fan of McCain for many reasons, but this strikes me as beyond the pale. It is true that Republicans have attacked Democrats who've served in the past, most notably John Kerry during the 2004 election and former Georgia Senator Max Cleland, but the fact that McCain isn't even a candidate for President makes Trump's attack seems gratuitous in addition to being disrespectful to McCain and every other American POW.
So far, the reaction that I've seen from conservatives online has been overwhelmingly negative, which is consistent because even though many on the right have been critical of McCain going all the way back to the 2008 Presidential campaign if not sooner, there has always been a reservoir of respect for him because of his military service and his time as a Prisoner of War during the Vietnam War. Additionally, the American right takes its devotion to the military very seriously, often to an unfortunate level, and comments like this are unlikely to go over very well with most conservatives. Already, several of Trump's opponents have denounced his statements — included Jeb Bush, Rick Perry (who also called on Trump to drop out of the race), Rick Santorum, Lindsey Graham, Bobby Jindal, and Scott Walker as well as the Republican National Committee. I'm sure we'll be hearing from more candidates as the day goes on, but the most interesting comments will be the ones from Texas Senator Ted Cruz. Over the past two weeks or so, Cruz has taken on the role of Trump's defender in the wake of all the criticism over Trump's remarks about immigrants. Earlier this week, Trump and Cruz met privately at Trump's office in New York for undisclosed reasons. Cruz has already been criticized for what many have characterized as his obsequious groveling before Trump, if he defends him this time it could end up harming him politically.
The question, of course, is whether this will hurt Trump in the polls. Chris Cillizza suggests that it may not hurt him much at all:
Given the increasing number of times Trump has made outlandish comments that have been disproven or rebuked — and that Trump has nonetheless steadily risen in the polls — it's easy to envision Trump not paying much of a price this time, either.

Among the conservative voters that rallied to Trump's side after his attacks on immigration, McCain is hardly a favorite. (Some laughter can be heard in the audience following Trump's comment.) But for less fervent voters who liked the idea of straight-shooting Donald Trump who was the only guy talking about immigration, the comments will likely cause some reconsideration of support. Average Republican voters support deporting illegal immigrants. They are far more likely, however, to support military service.
As I've said, the main reason Trump has been gaining support over the past month is because he is saying things that resonate with much of the Republican base and doing so with a populist anti-establishment message that appeals to a certain segment of voters. How will those people react this? I honestly don't know, but I have the suspicion that most of them are just going to cheering Donald Trump on and that's kind of depressing.