Ted Cruz Jumps To Double Digit Lead In Iowa In New Des Moines Register Poll
Ted Cruz surges to a lead in the latest Iowa poll, setting up a seemingly inevitable showdown between the Texas Senator and Donald Trump.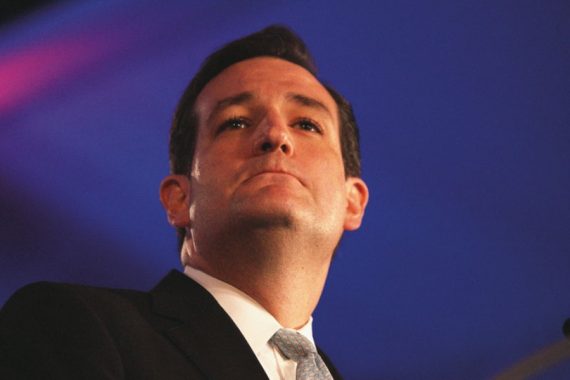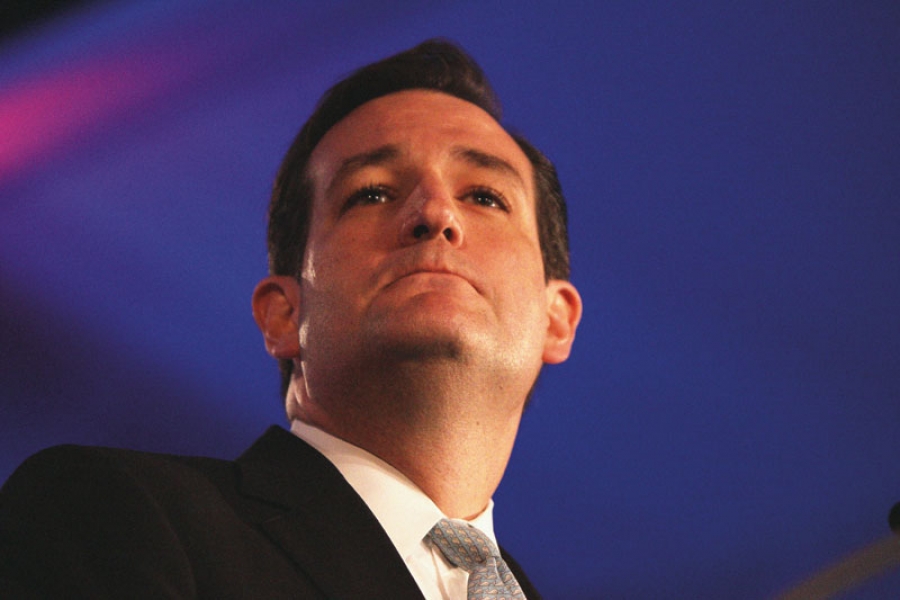 Seemingly confirming a trend we've seen developing for some time now, the latest Des Moines Register Poll shows Texas Senator Ted Cruz taking a double digit lead over Donald Trump in Iowa, setting a potentially interesting showdown for next Tuesday's final Republican Presidential debate of the year:
Seven weeks from the caucuses, Ted Cruz is crushing it in Iowa.

The anti-establishment congressional agitator has made a rapid ascent into the lead in the GOP presidential race here, with a 21 percentage-point leap that smashes records for upsurges in recent Iowa caucuses history.

Donald Trump, now 10 points below Cruz, was in a pique about not being front-runner even before the Iowa Poll results were announced Saturday evening. He wasted no time in tearing into Cruz — and the poll — during an Iowa stop Friday night.

Ben Carson, another "Washington outsider" candidate, has plunged 15 points from his perch at the front of the pack in October. He's now in third place.

"Big shakeup," said J. Ann Selzer, pollster for The Des Moines Register/Bloomberg Politics Iowa Poll. "This is a sudden move into a commanding position for Cruz."

Cruz, a Texas U.S. senator famous for defying party leaders and using government shutdown tactics to hold up funding for the Obamacare health care law and abortion provider Planned Parenthood, was the favorite of 10 percent of likely Republican caucusgoers in the last Iowa Poll in October. He's now at 31 percent.

Carson's zenith was 28 percent in the poll two months ago. Trump's highest support was 23 percent back in August, when he led the field by 5 points.

And there are signs Cruz may not have peaked in Iowa yet. Another 20 percent of likely caucusgoers say he's their current second choice for president. Cruz hits 51 percent support when first- and second-choice interest is combined, again leading the field.

With Cruz's popularity and his debate proficiency, "it's certainly possible that he could win Iowa big — very big," said Frank Luntz, a Nevada-based GOP focus group guru who follows the Iowa race closely.

But Trump, who has earned a reputation for upending pundits' predictions, still has healthy backing, at 21 percent, 2 percentage points higher than in the last poll.

And the New York real estate entrepreneur has won the confidence of likely caucusgoers in several key areas. In a four-way head-to-head match-up with Cruz, Carson and Marco Rubio, half of likely caucusgoers believe Trump would be best at managing the economy and think he'd do the most to solve the illegal immigration problem. Forty-nine percent believe Trump "knows the most about how to get things done," while only 22 percent say that of Cruz.

Carson, a mellow-voiced religious conservative who spent his career at the bedside of children who needed brain surgery, has dropped to 13 percent. Poll respondents interviewed by the Register said they want a president who will be tough on terrorism, and they have a trouble seeing Carson in this role.

Two establishment candidates' positions in the race remain largely unchanged.

Rubio, a Florida U.S. senator who has framed himself as someone who can deliver "a new American century," is in fourth place with 10 percent. He was in fourth with 9 percent in October.

And former Florida Gov. Jeb Bush, who presents himself as the steady hand who can best keep the nation safe from terrorism and improve the economy, remains in fifth (he was tied in fifth with Kentucky U.S. Sen. Rand Paul in October). Bush sits at 6 percent, up 1 point.

Three Republicans are tied at 3 percent: Paul, a watchdog for government overreach; former Arkansas Gov. Mike Huckabee, a torchbearer for Christian conservative morals; and New Jersey Gov. Chris Christie, a self-proclaimed messenger of hard truths.
The rest of the field is at 2% or less, but it's the rise of Ted Cruz, who has spent a lot of time building a ground operation in Iowa and has secured the endorsement of top Iowa Republican players such as Congressman Steve King and Bob Vander Plaats, president of The Family Leader, an influential evangelical organization in the state who is widely regarded as a "kingmaker" in the state after his 2012 endorsement of former Senator Rick Santorum helped push Santorum to a narrow win over Mitt Romney in the Iowa Caucuses. For much of the race, Cruz has performed strongly in the polls in Iowa, but wasn't really all that impressive in the face of the rise of Donald Trump and, later, Ben Carson, who for a time was leading or tied with Trump in the Hawkeye State. With Carson seemingly collapsing after what can only be called a disastrous November for his campaign, though, Cruz slowly began to rise and it started to become apparent in late November that he was moving to within striking distance of both Carson and Trump in the state. As the Register notes, though, his rise in the polls in such as short period of time has been quite impressive:
Just how stunning is Republican Ted Cruz's rise to the top?

No one else has made such an impressive leap in five caucus cycles, Iowa Poll records show.

In the Dec. 7-10 Des Moines Register/Bloomberg Politics Iowa Poll, the Texas U.S. senator has vaulted 21 percentage points since the last poll, in October.

The leggiest upward leap in the 2012 Iowa race was Republican Mitt Romney's 8-point move from 16 percent to 24 percent in the final poll before the vote.

The biggest collapse: Republican Newt Gingrich, who lost 13 points (dropping from 25 percent to 12 percent) in that same final poll.

During the 2008 race, Republican Mike Huckabee surged 17 points between an October poll and a late November poll, moving into a lead he did not relinquish.

In 2004, Democrat John Edwards jumped from 5 percent to 22 percent, also a 17-point leap, in the final poll before the vote. And Democrat John Kerry rose 10 points, from 15 percent to 25 percent.
As I said, this is not entirely surprising given both where the polls have been headed and the nature of the Republican electorate in Iowa. By late November, a Quinnipiac Poll was showing Cruz in a virtual tie with Donald Trump, seemingly setting up an inevitable confrontation between Cruz and Trump notwithstanding the fact that those two candidates had been at least 'playing nice' with each other for the past several months. Earlier this week, a Monmouth University poll, and a CNN/ORC poll out of Iowa that were released on the same day showed different results for who was in the lead but again confirmed that the new battle in Iowa would be one between Trump and Cruz. As the week went on, that became even more apparent notwithstanding the fact that Cruz for one didn't seem willing to engage the battle quite yet:
Sen. Ted Cruz and Donald Trump appear on the cusp of a more frank and open exchange of views. The two are at the top of the GOP polls, and there are new signs that the armistice that has prevailed between them may give way to something more pointed. Before this period begins, however, we should pause to note that Cruz has thus far managed the Trump relationship with considerable tactical restraint. He has a strategy and has stuck to it. Critics had once claimed he lacked this skill. It's an important one for a president to have.

Though Cruz and Trump have not attacked each other, it's obvious that they have criticisms in the drawer and prepared for use. This summer, Trump raised questions about Cruz's Canadian birth and whether he was constitutionally eligible to be president. I asked him about this last week. Would he bring that up again? "I'll only bring it up if he's a final two," said Trump.

The New York Times has audio of Cruz speaking at a recent fundraiser about Trump's lack of judgment. "People are looking for who is prepared to be a commander in chief," Cruz said in a portion of his remarks devoted to Trump and Ben Carson. "Who understands the threats we face? Who am I comfortable having their finger on the button? Now that's a question of strength, but it's also a question of judgment. And I think that is a question that is a challenging question for both of them."

Trump responded on Twitter in his trademark fashion. ".@tedcruz should not make statements behind closed doors to his bosses, he should bring them out into the open–more fun that way!"Trump tweeted Friday morning. He then added: "Looks like @tedcruz is getting ready to attack. I am leading by so much he must. I hope so, he will fall like all others. Will be easy!"

Cruz responded not with a knockout but with a nuzzle. "The Establishment's only hope: Trump & me in a cage match. Sorry to disappoint–@realdonaldtrump is terrific. #DealWithIt"

Cruz is trying to avoid a fight. He doesn't want to alienate Trump's voters, who he thinks will largely come his way eventually. (Polls show there is something to this.) He's also hoping to reframe all inevitable future conflict between the two of them as a gift to the GOP establishment. He's battling Trump to be the anti-establishment tribune, so this is both an attack and a shield. He's not going to give in to the establishment the way the Donald is by getting into a public fight. Should Trump continue to attack Cruz, the senator hopes it will be seen as a gift to the establishment.

The strategy is one Cruz articulated in that same fundraiser. "My approach, much to the frustration of media, is to bear-hug both of them and smother them with love," Cruz said. "I believe that gravity will bring both of those candidates down. I think the lion share of their supporters will come to us." Cruz will lay down like a lamb to get what's coming to the lion.

In sticking to this strategy, Cruz has demonstrated a protracted display of tactical restraint. He has relentlessly embraced Trump and avoided opportunities to attack him. Normally, Cruz is not shy about calling out apostates. He's done it on the Senate floor and at countless conservative gatherings. He's made a career of it. Were he running against Sen. Trump and not Front-Runner With Lots of Money Trump, Cruz, it's not hard to imagine, would be fileting Trump for his shifting positions on issues from taxes to abortion. (He's doing a version of that now to Sen. Marco Rubio.)
Cruz's strategy of not directly engaging against Trump, and attempting not to alienate Trump supporters in the hope that they will largely migrate toward him if Trump begins to collapse, is admittedly a politically smart one. It's not clear, however, whether it is a sustainable strategy. For one thing, it depends in no small part on how Donald Trump responds to the fact that the Texas Senator has risen in the polls to the point where he is now the leader in Iowa. In the past, Trump has shown no restraint at all in going after candidates that threaten him in the polling whether its Jeb Bush, John Kasich, Chris Christie, or Ben Carson. While it's true that he's had a more cordial relationship with Cruz than with some of the other candidates, there was a time before Carson started rising that Trump also basically treated the retired neurosurgeaon with kid gloves. If Trump starts going after Cruz full bore like he has the other candidates, either at Tuesday's debate or before there, it seems as though it will be difficult for Cruz to just stand there and take it without responding or taking Trump on head-to-head on his credentials as a conservative Republican, which would of course be the best grounds to go after him in Iowa. Additionally, the debate moderator and questioners on Tuesday will likely be eager to bring out some compare-and-contrast between the two candidates at the top of the polls in the first contest of the 2016 election cycle, and Cruz would arguably look weak if he demurred in the effort to argue why he would be a better choice for Republicans than Donald Trump. If either of those events sets off what seems like an inevitable battle between Trump and Cruz, it will be interesting to see how Iowa Republicans react.
Looking at the poll average, the new DMR poll puts Ted Cruz in a slight lead over Trump in Iowa in the RealClearPolitics poll average, with Ben Carson ten points behind Trump at 14% and Marco Rubio in fourth at 12.7%. After Rubio it's Jeb Bush at 5.3%, Rand Paul at 3,3%, and all the other candidates averaging below 3%. In the broader Pollster average, Trump is still in first place, but Ted Cruz is closing the gap there as well. The most important immediate impact of today's numbers, though, is what it means for who gets on the main stage for Tuesday's debate. As I noted earlier today, Kentucky Senator Rand Paul was on the bubble for getting a main stage invitation and, based on his 3% performance here it would appear that he will not get an invitation since he is not averaging 3.5% nationally, or 4% in either New Hampshire or Iowa. The final debate make-up will be announced tomorrow morning on CNN's State of the Union, so we'll see how that goes.
There are caveats worth taking into account when looking at this new poll, of course. First of all, as we saw with the huge difference between the Monmouth University and CNN/ORC polls released on Monday, a lot of what eventually happens in Iowa will depend on whether or not the respective campaigns are able to get their supporters to come out on caucus night. Since many of Donald Trump's supporters appear to be people who haven't regularly participated in the caucuses before, its' unclear just how strong his support will end up being. If he's able to mobilize those people, though, and get them to come out then he could pull off a surprise in February. Second, we are still more than fifty days away from the Iowa Caucuses, and there is a long train of historic evidence to show that Iowa voters don't necessarily make their final commitment to a candidate until as late as a week before the Caucuses, there's plenty of time for anything to happen. This is especially true since there will be three more debates, including two after the holidays, prior to the caucuses. Finally, it's worth noting that Iowa is not necessarily a relevant state when predicting who might win the Republican nomination for President, as Rick Santorum can attest. Of the seven contested Iowa Caucuses that have been held since 1976, the winner of the Iowa Caucuses has ended up winning the nomination only three times, and only one of those three, George W. Bush has gone on to win the Presidency. While this is admittedly a small universe of results from which to draw a conclusion, it contrasts with the Democratic side of the ledger where the winner of the ten contested caucuses since 1972 has won the nomination six times and the Presidency twice. (Source for both Democratic and Republican Iowa Results) Historically speaking at least, then, Iowa is far more relevant to the outcome of the Democratic race than the Republican race.
In any case, this latest poll sets up a new dynamic between Donald Trump and Ted Cruz just days before the find debate before the end of the year. It will be very interesting to see how that plays out as we head into the final week of campaigning before the holidays, when many voters are likely to tune out politics for at least a couple weeks.