Rand Paul Likely To Miss Main Stage In Next Week's Debate, And He's Not Happy About That
Rand Paul is likely to miss the main stage for next Tuesday's debate, so his campaign is already calling on CNN to change the rules.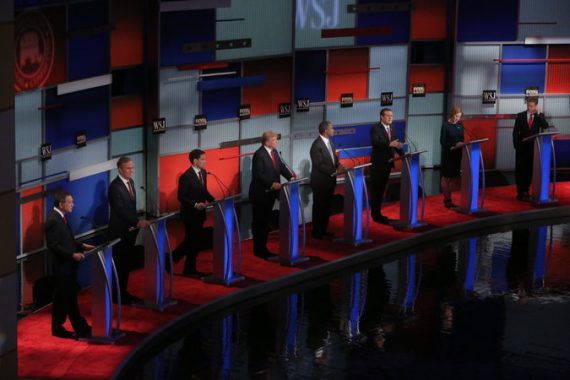 Thanks to poll numbers that have been declining for months now at the national level as well as in early primary states such as Iowa, New Hampshire, and elsewhere, Kentucky Senator Rand Paul faces the prospect of being booted from the main stage for the last Republican debate of 2015, which will be held next Tuesday in Nevada, and he's none too happy about it:
Sen. Rand Paul (R-Ky.), who is at risk at being cut from CNN's prime time Dec. 15 debate, hinted in a Fox News interview Friday night that he would fight to stay in.

"We think if they give us the same treatment that Carly Fiorina was given last time, that you measure from debate to debate, that we do meet the criteria," Paul told host Eric Bolling in an interview from New Hampshire, where is is campaigning this weekend. "We want the same in equal treatment. We have a first-tier campaign and we don't plan on being labeled by the mainstream media anything less."

The debate standards, announced by CNN last month, adopted onl we idea pushed for months by the "undercard" candidates. While prior debates included only the candidates who met a national polling threshold, next week's debate would allow anyone who averages at least 4 percent in New Hampshire or Iowa to join the candidates polling at 3.5 percent nationally.

In a RealClearPolitics average, Paul has hit the threshold only with a 4 percent showing in Iowa. But CNN's calculation finds Paul scoring less than that, and the 6 p.m. release of a Des Moines Register/Bloomberg poll tomorrow could push him either way.

That has left Paul's camp ready to contest any demotion, with Fiorina's successful protest of the first CNN debate's standards as its precedent. The network initially attempted to shrink the stage by inviting only the candidates who met a high-enough average over two long months. Fiorina protested, and CNN buckled, inviting any candidate who hit the top 10 in any national poll.

A "top 10" rule, if followed for the Las Vegas debate, would clearly bring Paul onto the main stage. But unlike Paul, Fiorina had many Republicans pulling for her to change the rules, and put a spotlight on the only woman in the primary. There's less obvious solidarity with Paul, a libertarian-leaning critic of the party's mainstream. And for some candidates, there is the potential of schadenfreude if Paul is relegated to a debate where Sen. Lindsey O. Graham (R-S.C.), former Pennsylvania senator Rick Santorum, and former New York governor George Pataki could rip into his views on the Patriot Act and national security.
It's understandable why Paul's campaign would be eager to fight for a spot on the main stage on Tuesday. As it is, Paul's campaign has been slipping into relative irrelevance over the past several months notwithstanding the fact that he has at least managed to remain on the prime time debate stage thanks to qualification criteria that have been slightly more generous than those that CNN is relying upon this time around. In terms of both poll numbers and fundraising, Paul is well behind candidates such as Ben Carson, Ted Cruz, Marco Rubio, Jeb Bush, and even Jeb Bush, Carly Fiorina, and Mike Huckabee. Even months ago, the Kentucky Senator's under-performance at the Presidential level was leading some Republicans back home in Kentucky to call on him to put the Presidential aspirations aside and concentrate on re-election to the Senate. While concerns about the vulnerability of his Senate seat have lessened after the outcome of the statewide elections in Kentucky that saw several top Democrats lose their bids for election, failure to qualify for the main stage debate less than two months before primary voting starts is likely to restart the calls for Paul to reconsider his plans for 2016.
As it stands, the Paul campaigns efforts to get CNN to reconsider the rules to allow Paul onto the main stage seem unlikely to succeed. Under the criteria CNN established originally, a candidate must have an average of 3.5% nationally in an average of the polls that the network is consulting which were taken during the period from October 29th to December 13th, or a 4.0% in an average of the recognized polls out of Iowa and New Hampshire during the same period. Paul does not meet the criteria under either measure. When CNN decided to modify its rules to allow Fiorina on the main stage in September, it did so by considering the polling from the period after the first debate, during which Fiorina's performance in the undercard debate led to a significant bump in the polls for her. The problem for Paul is that even if you take the polling nationally, in Iowa, and New Hampshire from the time of the last debate on November 10th, Paul still doesn't meet the criteria. That, of course, is why the Paul campaign is calling for a "Top Ten" rule. As I've noted before, though, having ten candidates on the debate stage just tends to make the debate chaotic and uninformative, which is why CNN's decision to tighten the criteria at this late stage of the campaign was a good idea. Additionally, it's arguably the case that such a drastic change to the criteria would be impermissible under Federal Election Commission regulations, which require " pre-established objective criteria to determine which candidates may participate in a debate." The change that CNN made to include Fiorina in the debate was not a major change, but changing to a "Top Ten" rule at this point would likely be considered such a change and could expose CNN and the RNC to charges of an FEC violation.
Paul isn't the only candidate facing relegation to the undercard debate, of course. Mike Huckabee's poll numbers have sunk so far that he will without question end up at the Kids Table again. Additionally, notwithstanding her performance in the recent WMUR poll in New Hampshire, Carly Fiorina remains below the cutoff at both the national and state level according to my estimation, which admittedly may be different from how CNN is calculating things. At the moment then, the only candidates who seem guaranteed to get an invitation to the main stage debate are Donald Trump, Ted Cruz, Ben Carson, Marco Rubio, Jeb Bush and, thanks to their performance in Iowa and/or New Hampshire, John Kasich and Chris Christie. That leaves us with a main debate stage of seven candidates, which seems far more manageable than what we saw when this whole debate process started.
In any case, we have one more day for any relevant polling to be released, and I suppose it's possible that Paul and/or Fiorina will do well enough to push them over the top. Based on the numbers right now, though, it doesn't seem likely.