Republicans Clash In Second Debate That Seemed To Last Forever
The Republican candidates for President took to the stage last night for a debate that seemed to last forever and accomplished nothing.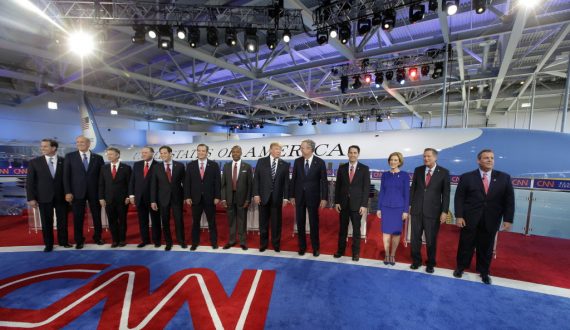 The fifteen Republican candidates for President faced off last night at the Ronald Reagan Presidential Library in the second debate of the election cycle, and the most notable difference from the first time they met in August was the fact that all of the candidates seemed intent on taking on a fronrunner who, so far, has been almost completely immune from attack:
SIMI VALLEY, Calif. — Determined to prove their mettle, several Republican presidential candidates showed new aggressiveness in lacing into Donald J. Trump on Wednesday night, seeking to elevate themselves as leaders of substance and shake up a race that Mr. Trump has dominated all summer.

While moderators at the CNN debate tried repeatedly to pit one Republican after another against Mr. Trump, the candidates fought to break out of that dynamic, with Carly Fiorinaemerging as an especially tenacious combatant who provided some of the few moments where Mr. Trump looked uncomfortable.

The debate covered a broad range of subjects — immigration, the nuclear deal with Iran, same-sex marriage, federal financing for Planned Parenthood — and was more inclusive than the first debate last month, allowing each of the 11 candidates to engage through a nearly three-hour forum that tested their endurance.

Still, some of the most memorable interactions centered on loaded confrontations with Mr. Trump. Mrs. Fiorina called him "an entertainer," and Senator Rand Paul of Kentucky labeled him "sophomoric" in the opening minutes of the debate at the Ronald Reagan Presidential Library here. Mr. Trump drew a stinging assault on his leadership abilities and character from Gov. Scott Walker of Wisconsin, one of several candidates who have declined in the polls as Mr. Trump has soared.

We don't need an apprentice in the White House — we have one right now," Mr. Walker said, invoking the name of Mr. Trump's former reality show. When Mr. Trump sharply criticized his record in Wisconsin, Mr. Walker hit back: "Just because he says it doesn't make it true. The facts are the facts."

Another struggling candidate, former Gov. Jeb Bush of Florida, who has been Mr. Trump's chief target, was initially slow to take him on, but then ripped into him for suggesting that Mr. Bush would be a puppet of his major donors. He accused Mr. Trump of using his enormous wealth to act like a "special interest" by lobbying for casino gambling in Florida when Mr. Bush was governor there.

"Totally false," said Mr. Trump, who rolled his eyes and feigned looks of shock as his opponents piled on.

"You wanted it, and you didn't get it because I was opposed," Mr. Bush shot back.

"More energy tonight. I like that," Mr. Trump quipped, drawing a look of fury from Mr. Bush, whose low-key manner he has lampooned all summer.

Several candidates tried to connect with voters on a personal level. Gov. Chris Christie of New Jersey spoke at length about his fears that his wife had been killed in the Sept. 11 attacks and that he might become a single parent. Senator Marco Rubio of Florida spoke about the importance of speaking Spanish in his family, and used national security questions about Russia and Syria to pledge that he had the experience to keep Americans safe. And Ben Carson, a retired neurosurgeon and a social conservative, said he loathed politics as much as many of the voters who have helped him and Mr. Trump emerge as the leading candidates in polls.

"When I entered this race, all the political pundits said, 'It's impossible; you can't do it because you're not connected with the money,' " Mr. Carson said. "We now have over 500,000 donations, and the money is coming in. But the pundits forgot about one thing, and that is the people. And they are really in charge."

The attacks from Mr. Bush and Mrs. Fiorina were expected, given how harshly Mr. Trump has jabbed at them in recent weeks. But perhaps more notable was that Mr. Walker, too, in an acknowledgment that he has to make up lost ground, repeatedly took on Mr. Trump.

At times, Mr. Trump responded to attacks with gusto, belittling Mr. Paul's appearance ("I never attacked him on his looks, and believe me, there is plenty of subject matter right there"), bashing Mr. Walker for his collapse in the polls in Iowa ("You went down the tubes") and treating Mr. Bush — as well as his brother George W. Bush — dismissively.

"Your brother's administration gave us Barack Obama, because it was such a disaster," Mr. Trump snapped at one point.

"You know what? As it relates to my brother, there's one thing I know for sure: He kept us safe," Mr. Bush said, drawing strong applause on a night when he often delivered sharp lines with an uneasy, obligatory tone — knowing he had to attack but seeming not to relish it.

Mr. Trump appeared cowed at only one moment, when a moderator noted that he had recently denigrated Mrs. Fiorina's appearance, saying: "Look at that face! Would anybody vote for that?" (He later claimed he had been referring to her persona.) Mrs. Fiorina was asked what she thought of Mr. Trump's persona.

"I think women all over this country heard very clearly what Mr. Trump said," she said pointedly.

Her riposte drew the loudest applause of the debate, and Mr. Trump waited until it died down to reply.

"I think she's got a beautiful face, and she's a beautiful woman," Mr. Trump said as Mrs. Fiorina looked on stonily.

Over and over, the discussion returned to Mr. Trump, who stood center-stage, his shoulders slouched forward, hands on lectern and lips pursed. He gladly took on his rivals, but was unable to bait the moderators into a spat and seemed not to enjoy the evening as much as he had at the first debate. As the night went on, he became quieter and, in an interview with CNN immediately after the debate, complained that it had gone on "too long" and said it had to have been the longest ever held.
In the end, the main stage debate lasted about three hours, which earned it the title of the "Debate From Hell" from Politico. While I don't know if that counts as the longest Presidential debate ever held, I would imagine that it certainly ranks up there in terms of the length. By the time the entire spectacle was over, it began to seem to as if some of the candidates, most notably Scott Walker, Rand Paul, and Mike Huckabee, had simply faded into the background or even just left the stage. On some level, that was a function of the fact that most of the debate moderators' questions were focused on the candidates at the top of the field as well as focused on CNN's already announced intention to use the questions to create opportunities for the candidates to engage each other. While this many have seemed like a good idea in theory, in execution it ended up accomplishing very little other than turning the entire debate into something resembling an argument in a junior high school cafeteria. Carly Fiorina was given the opportunity to go after Trump over the things he had said about her, for example, and while she declined to sink his level, the issue of the Trump v. Fiorina clash ended up setting the tone for all of their interactions as the debate worse on. Bush and Carson were given the same opportunity, and the same thing happened. To be fair, it should have been obvious that this would be where the debate would head when Donald Trump, after given an opportunity to respond to Fiorina in the first question, started out by attack Kentucky Senator Rand Paul, who hadn't even said a word yet. Later on in the debate, there were some times when the candidates actually engaged in real policy debates, but for the most part the tone of the entire affair was set in those opening minutes and neither the candidates nor the moderators really were able to do anything to bring the chaos under control.
The consensus this morning seems to be that Carly Fiorina was the candidate that did the best overall during the course of the debate. Howard Kurtz at Fox News noted that Fiorina not only stated her own case quite well but she also seemed to the candidate on the stage that was best able to score points against Donald Trump throughout the evening. As Dan Balz notes at The Washington Post, though, Fiorina wasn't the only candidate who managed to score points last night. Jeb Bush also managed to turn in a far better debate performance than what we saw in August, and both Chris Christie and Rand Paul did well on that mark as well. If there were any candidates in the main debate who did poorly, they were Scott Walker and Ben Carson. Walker in particular needed to do something to turn around a campaign that is quickly fading away, and while he got in a few zingers against Trump along with all the other candidates, it's clear that he didn't really manage to do that. At some point in the middle of the debate, as a matter of fact, it seemed as though Walker had faded into the background to the point where it was a surprise when he actually responded to a question. Carson, on the hand, got plenty of air time last night but largely used it to prove why he should not be taken seriously as a Presidential candidate. His responses to policy questions were disjointed and rambling, something made even worse by the fact that he is so naturally soft-spoken, and revealed yet again that he simply isn't up to speed on the issues facing the country. Elsewhere on the stage, candidates like Chris Christie, Mike Huckabee, Rand Paul, and Ted Cruz seemed to do reasonably well when responding to questions, but much like Walker they largely faded into the background while the majority of the debate was taken up by candidates like Trump, Bush, Fiorina, Carson, and to some extent Marco Rubio and John Kasich.
As far as policy goes, the night was about what you'd expect from a Republican debate, but there were some notable differences between the candidates. The Iran nuclear deal, for example, was universally condemned. However, there was significant difference on the stage between those candidates, such as John Kasich and Jeb Bush, who said that now that the deal was final the next President would need to work within its terms and those such as Ted Cruz and Mike Huckabee who said that they would tear the deal up the day they entered the Oval Office. There was also significant disagreement on immigration issues, especially the birthright citizenship question where Bush and Kasich seemed to be alone in defending the Fourteenth Amendment. Not unexpectedly, Mike Huckabee and Ted Cruz stood by their defense of Rowan County, Kentucky Clerk Kim Davis and her refusal to issue marriage licenses to same-sex couples, but several candidates, including Bush, Rubio, and Christie, pointedly disagreed with them. There were also plenty of other opportunities for the candidates to stake opposing positions on policy issues, but because the debate relied more on substance than style, those moments were largely lost in the cacophony.
Before the main debate had begun, there was an encounter earlier in the evening between the four candidates who didn't qualify for the main debate but yet were still invited to the debate. For some reason, former Virginia Governor Jim Gilmore, who is polling roughly the same as at least three of the men who were part of this consolation debate, was not invited to the debate and there doesn't seem to me to be any rational reason why that was the case. Additionally, it still puzzles why Rick Perry dropped out of the race last Friday rather than taking a chance and showing up at this debate. At most, it would have cost him a plane ticket and a hotel room, and given the fact that his campaign was already on its last legs there wasn't any rational reason not to give it one last shot. In any case, there isn't much to say about the early debate, because it's obvious that none of these candidates are going to be around for very long. Former New York Governor George Pataki and South Carolina Senator Lindsey Graham both did well, I think, but it's unlikely that either of them is going to see anything like the bump in the polls that Carly Fiorina did after last month's early debate. Bobby Jindal and Rick Santorum, meanwhile, provided ample proof that the polls showing them with 1% and less of the vote are perhaps overestimating the support that either of them deserve. This may be the last time we see any of these four candidates in a debate, so I hope their supporters were happy.
The big question going forward, of course, is what impact this debate will have on the race overall. As I said, it's unlikely that any of the candidates in the undercard debate will see their poll numbers increase, and in fact it's likely that this will just be the beginning of the end for all four of them. Over on the main stage, nothing that happened last night seems likely to change the overall narrative of the campaign that we've been dealing with for the past two months or more. Donald Trump's performance was as pathetic and substance-free as usual, and Jonathan Allen at Vox is among those branding him as the loser last night. Vacuous and substance-free is par for the course for Trump, though, and that it hasn't blunted his rise in the polls yet. While we may indeed see Donald Trump decline in the polls at some point, nothing suggests that his momentum will be blunted significantly in the foreseeable future. Ben Carson may see his poll numbers drop, though, after what can only be described as a disastrous performance on his part. In fact, I think it's probable that Carly Fiorina will end taking Carson's place as the chief rival to Trump for now. Her performance in the debate is being widely praised this morning both by Republican pundits and political analysts on the cable networks, and her obvious grasp of the issues was a stark contrast to people like Carson and Trump. Jeb Bush could see his poll numbers rise too, as may John Kaisch, but neither one of them seems likely to go very far as long as Republican voters are obsessing over "outsiders" with no government experience whose only skill seems to be saying things that people like it seems unlikely that they'll advance significantly. Of the candidates that needed to help themselves the most, Scott Walker failed miserably so we're likely to see his campaign continue to fade into nothingness. As for the rest, there simply wasn't enough from candidates like Huckabee, Paul, and Chris Christie for them to make much of an impression at all so it seems unlikely that they'll see their numbers rise much at all. In the end, then, there was nothing groundbreaking last night, and it's unlikely that Donald Trump's momentum is going to be slowed going forward.
Update: NPR has broken down the amount of time each candidate talked, as in the last debate Donald Trump was at the top of the list but the time division was much more equitable this time:
Final tally: Trump spoke more than twice as long as Huck, Walker @barbarasprunt @allymutnick http://t.co/CZkOE2EKmx pic.twitter.com/x4g3Fhy5IB

— Amita Kelly (@_amita_) September 17, 2015
Also, if you missed either debate, you can watch the first debate and the second debate on YouTube.