Scott Walker's Campaign Seems To Be In Serious Trouble
Scott Walker used to have a commanding lead in Iowa, now he's in 7th place. That's just another sign of the troubles facing his campaign.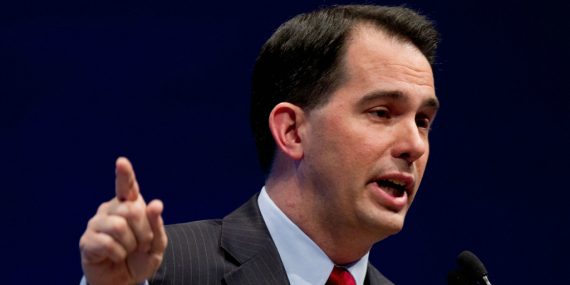 A new poll out of Iowa shows most of what we've been seeing in recent weeks with Donald Trump at the top of the pack followed by Ben Carson and none of the other candidates in double digits. The real headline out of the poll, though is the seeming collapse of Wisconsin Governor Scott Walker's Presidential campaign:
Scott Walker's summer plunge was put in stark relief on Friday, with a new Quinnipiac University survey showing the Republican presidential candidate polling near the bottom of the heap in Iowa.

Walker, the governor of neighboring Wisconsin, dropped 15 points in the state in the last two months in Qunnipiac's poll. In July, Walker led the pack at 18 percent. This time, he's near the bottom of the field of 17, at 3 percent. He earned similar support in last weekend's NBC News/Marist poll, at 5 percent.

The latest numbers underscore the cruel turn of events for Walker, who caught fire earlier this year with his plainspoken style and his track record of taking on and triumphing over the unions in Wisconsin. He has since tanked due to series of fumbles and a lackluster performance both on the campaign trail and in last month's first GOP debate.

The POLITICO Caucus, a weekly bipartisan survey of the top activists, last week named Walker the biggest loser of the summer in the Republican field, with 56 percent of insiders in Iowa saying the governor had lost the season.

"He can't seem to find his way on any given issue with a handheld GPS," one Iowa Republican said of Walker last week. "He's been on all three sides of every two-sided issue. For the last two months hasn't made a single policy pronouncement that he or his staff hasn't had to clarify or clear up within two hours. When you're reduced to saying 'yeah' doesn't mean 'yes,' you're in trouble. 'Unintimidated' has given way to 'uninformed' and 'unprepared.'"

Despite the rough top-line numbers in Friday's poll, Walker's favorability numbers in Iowa remain solid, at 62 percent to 15 percent, ranking fourth among candidates in terms of net positive sentiment in the Quinnipiac survey. Walker will return to the state for more campaign events this weekend, including a tailgate event at the annual Iowa-Iowa State football game on Saturday in Ames, where Donald Trump, among other candidates, will also be campaigning.
Walker's fall in Iowa is mirrored elsewhere around the country. Nationally, where he once had a 16.8% average and was near the top of the field, Walker is now in seventh place behind Carly Fiorina with a RealClearPolitics average of 4.8%. Similarly, in New Hampshire Walker is also in seventh place with a polling average of 5.0%. In Iowa, Walker fares a little better with a 5.8% polling average that puts him in fifth place, but that is largely a reflection of the fact that he was still doing relatively well in polling up until the two most recent Iowa polls. Even fifth place is quite a fall, though, considering the fact that Walker once had a seemingly insurmountable lead in the Hawkeye State that essentially began to collapse as soon as Donald Trump entered the race. Since the August 6th debate, Walker's numbers have only seemed to collapse further, which isn't entirely surprising since his performance in the debate was widely panned even by people who would tend to by sympathetic to him.
It's been quite a collapse for Walker over the past two months. Not only was he leading in Iowa and performing strongly in both nationally and in New Hampshire, but he was widely seen as a candidate that could appeal to both the conservative base of the Republican Party and the more moderate "establishment" and business wings. His rise to national prominence due to the showdown over public employee unions in Wisconsin, and his subsequent victories in not only getting his favored legislation passed but also pushing back against a recall effort that resulted from the union showdown and then wining re-election last years made him something of a national hero among Republicans and the calls for him to run for President began long before his re-election as Governor last November. Before the race for the Republican nomination really began, many analysts foresaw that Walker could be a strong competitor to former Florida Governor Jeb Bush, especially if he managed to do as well in the Iowa Caucuses as the early polls were indicating.
As time went on, though, it became clear that Walker was not as good a candidate as his Wisconsin experience and press clippings made it seem. Early on even before he got into the race, Walker got into hot water with conservatives over his hiring of Republican strategist Liz Mair to run his campaign's social media operation because, among other things, Mair had made comments on Twitter before being hired that were critical of the Iowa Caucuses as well as her personal position on immigration reform. Mair ended up resigning, but it was Walker who ended up coming out of the whole incident looking like someone who would cave to pressure over something as silly as a couple inoffensive tweets. Immigration quickly became the source of another problem for Walker when, although he had once supported immigration reform that included some form of what conservatives call "amnesty" for illegal immigrants, he was caught flip-flopping on the issue when campaigning in Iowa. Later, it was reported that Walker had told high level donors in a private meeting that he actually still did support some form of "amnesty" as party of an immigration reform effort. Walker's effort to get in the good graces of the hard right base of the party has extended to even making statements critical of legal immigration More recently, he has been caught taking our different positions on the issue of birthright citizenship over the course of seven days in the wake of Donald Trump's introduction of his immigration plan. All of this has led to the impression that Walker will say whatever he needs to whichever audience he is talking to, which is obviously a much harder thing to do in the era of the Internet and the ease with which someone can record a campaign appearance with their phone.
Paul Mirengoff at Power Line comments on Walker's collapse:
Walker has campaigned assiduously in Iowa. His collapse there is a massive indictment of his candidacy.

Even more damning, I think, is that the case for nominating Walker is in shambles. That case, which earlier in the year had me thinking he might well be my first choice, was based on the notion that he combined the best of "establishment" qualities — a record of serious, successful governing experience — with the best of "outsider" qualities — a record of successfully taking on special interests.

Walker still has his Wisconsin record. But he has undermined the case that he's a serious national figure through his propensity to dodge tough questions (calling them hypothetical)and/or waffle on them. "Good governance" Republicans will very likely look elsewhere for their candidate.

So will those who crave an outsider. For a significant chunk of the "anti-establishment" crowd, it is not enough never to have held office in Washington, DC. Even being governor makes one an insider — a member of the dreaded "political class."

This odd sentiment may subside as the campaign proceeds, but is likely to hold sway among Iowa caucus-goers. (In the Quinnipiac poll, the three candidates who never have held elective office command 53 percent of the support). And Walker needs to win in Iowa.

But put aside the craze for non-office holders. Put aside too the fact that Walker breathes fire only intermittently. A candidate as wishy-washy as Walker probably cannot become the anti-establishment choice in a field with so many alternatives.
Mirengoff's analysis is largely spot-on. Whatever logic their was the Walker's candidacy had died away in the face of his own flip-flopping and his refusal to take positions on controversial issues. Additionally, if his performance at the debate last month is any indication Walker does not seem to me to come across as a speaker who is likely to inspire passion in even those who still ardently support him. In more than one way, he reminds me of former Minnesota Governor Tim Pawlenty, who was seen in the early run-up to the 2012 election as a Midwestern conservative Governor who could pose a real challenge to Mitt Romney. Instead, Pawlenty's campaign collapsed largely because of his sub-par performance in the Iowa Straw Poll, but also because of the fact that he just didn't run a very good campaign. Walker seems to be making many of the same mistakes that Pawlenty did, and while he's likely to last longer than his Minnesota neighbor did, the trajectory of his campaign seems to be apparent. It is possible, of course, the Walker will be able to turn this all around. A good debate performance next month could be the beginning of that, but it would obviously also require that Donald Trump, Ben Carson, and Carly Fiorina lose their steam, which doesn't seem likely at the moment. Other than the debate, Walker's next big test will be fundraising, and while he did well in the quarter than ended June 30th, it's not at all clear that he's had similar success over the past two and a half months. By mid-October, we'll have those figures and we'll be able to tell if there's still life left in the Walker campaign, or if this is the beginning of the end.