Scott Walker Is Now Apparently Against Legal Immigration Too
Wisconsin Governor Scott Walker is now appealing to the worst aspects of economic populism on the right.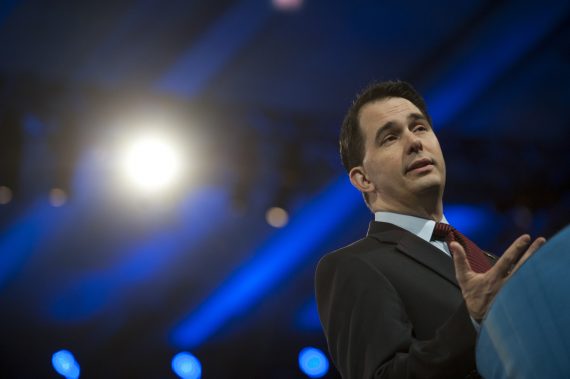 Scott Walker has not yet entered the race for the Republican nomination, but that hasn't stopped him from rising near the top of the polls, both nationally and in states like Iowa and New Hampshire. Notwithstanding that success, though, Walker's not-yet-a-campaign campaign has been marked by several missteps and bizarre statements on the part of the Wisconsin Governor, most notably on the subject of immigration reform. As I noted back in March, Walker had previously been supportive of immigration reform that included legalization for people here illegally, or as the GOP base calls it "amnesty," but had recently switched his position on the issue to put himself more in line with the party base. Now, Walker seems to have decided to double down on the Tea Party's anti-immigration position by, essentially, coming out against legal immigration:
WASHINGTON — Republicans often rail about undocumented immigrants. But Wisconsin Gov. Scott Walker, an expected GOP presidential candidate, took it a step further Monday by sounding some critical notes about the number of those who immigrate to the U.S. legally.

"In terms of legal immigration, how we need to approach that going forward is saying — the next president and the next Congress need to make decisions about a legal immigration system that's based on, first and foremost, on protecting American workers and American wages. Because the more I've talked to folks, I've talked to [Alabama Sen. Jeff] Sessions and others out there — but it is a fundamentally lost issue by many in elected positions today — is what is this doing for American workers looking for jobs, what is this doing to wages. And we need to have that be at the forefront of our discussion going forward," Walker said in an interview with Glenn Beck, according to Breitbart News.

Sessions, chairman of the Senate Judiciary Committee's immigration panel, has been one of the biggest opponents of President Barack Obama's immigration policies and frequently criticizes the administration over its so-called "amnesty" for undocumented immigrants. In a Washington Post op-ed on Friday, he argued that it was time to curb immigration flows into the country "so that wages can rise, welfare rolls can shrink and the forces of assimilation can knit us all more closely together."

By aligning himself with an immigration hawk like Sessions, Walker may be hoping to placate conservatives wary over his previous support for a pathway to citizenship for many undocumented immigrants. He has since reversed that position after, he said, "talking not just to citizens all across the country but to governors in border states who face real serious concerns about what's happening on our border and elsewhere."

Walker's strategy is somewhat reminiscent of then-Republican presidential candidate Mitt Romney, who, faced with similar questions over his devotion to the conservative cause in 2011, memorably tacked far right of his GOP rivals by endorsing "self-deportation." Yet not even Romney, who lost the Latino vote to Obama by more than 40 percentage points in November 2012, supported curbing legal immigration, a concept at the core of what it means to be American. Walker's pivot to the general election, if he makes it that far, could prove difficult, given that he will need to seek the votes of many Americans who immigrated here themselves — or whose parents or grandparents did so.
This isn't really anything new for Walker. He made similar comments during an interview with Sean Hannity last month in which he essentially stated that legal immigration was only acceptable if the laws ensured that "American workers" were "protected" and that their wages were going up.  His comments aren't very new, either. In addition to Senator Sessions, the populist anti-immigrant stance that Walker is taking here is one that has a long history in American politics, and not a very pleasant one either. Virtually from the beginning of the Republic, and most certainly beginning in the 19th Century with the first great wave of immigration from Europe, there have been those who have seen immigrants as a threat to the country and to the American worker because they end up "stealing" jobs that "belong to Americans." In it's worst form, these attitudes manifest themselves in prejudice and violence, but even in their most benign form they typically lead to the kind of ill-treatment that ethnic groups of all varieties have dealt with in the first generation after their arrival in the country. For the most part, though, this kind of position on immigration had become relegated to the fringes of American politics, with extremists on both the left and the right using the alleged threat posed by immigrants — to American workers, American culture, or what have you — to their political advantage. Recently, though, anti-immigrant sentiments like this have made their way back into the political mainstream, principally inside the Republican Party, and now they are being echoed by at least one serious contender for the party's Presidential nomination.
Economically, the position that Walker takes here simply isn't supported by the evidence. While the idea that immigrants "take American jobs" and depress the wages of American workers is one that seems to resonate well on a populist level, there's never been any empirical showing that this is actually the case. Instead, most mainstream economists agree that immigration is, on the whole, a net plus to the economy. Especially in the first generations that they are here, immigrants typically take jobs that American workers are unwilling to do, for example. Additionally, immigrants who are working and earning money become consumers who help to stimulate the economy as a whole. Finally, immigrants have long been in the forefront of establishing and running new businesses that end up employing others and further stimulating the economy. The rhetoric that Walker, Senator Sessions, Iowa Congressman Steve King, and others engage in on this issue may make for good sound bites, but it isn't rooted in anything other than the same kind of anti-immigrant nonsense that groups like the Know Nothing Party were  famous for in the Nineteenth Century.
Walker's comments aren't going without criticism inside the Republican Party. As David Weigel notes, his position puts him at odds with big Republican-leaning donors such as the Koch Brothers, who have previously been beneficial to Walker's election efforts in Wisconsin. Additionally, while Walker's comments were praised by Alabama Senator Jeff Sessions, they have come under criticism from other Republican Senators.  Moreover, as Philip Klein notes, Walker's apparent rightward shift on immigration doesn't really make much political sense:
Walker doesn't need to be the most conservative candidate in the race, as long as he remains broadly acceptable to conservatives and to the right of the establishment candidates. But it strikes me that there's plenty of room to the right of Jeb Bush on immigration without talking about restrictions on legal immigration to protect American workers. Walker, it seems, has decided that he wants to ensure nobody can get further to his right on immigration.

As Ben Domenech notes in his Transom newsletter (subscription required), Walker's new position "to my knowledge is held by none of the other presidential candidates (Ted Cruz is thought of as the hardliner on immigration, but he has worked to increase high-skilled legal immigration)."

The lack of political rationale behind this latest move suggests that Walker is just telling conservatives what he thinks they want to hear, without really understanding the broader philosophical or policy implications. And that's not very encouraging for those of us who were hoping he'd be able to make the transition to the big leagues.
The other possibility, of course, is that Walker's appeal to this kind of mindless, jingoistic populism will be just what's needed to push his naeceant campaign to new heights. Given the extent to which similar appeals to populism have become a normal part of discourse on the right, I wouldn't be surprised if that's what exactly happens. Both because of its economic illiteracy and because of its appeal to some of the worst moments in American history, it would be quite unfortunate if it did succeed.
Update: For the record, Walker's camp is denying that the Governor has changed his position on immigration based on these latest comments. Of course, given the fact that he had basically said the same thing to Sean Hannity last month, it's technically accurate that he hasn't changed position. That doesn't negate the fact that his appeal is economically illiterate and politically troublesome.
Update #2: The original version of this post included Wisconsin Senator Ron Johnson among the Republican Senators who had criticized Governor Walker. On further review, that appears to be in error and that portion of the relevant paragraph was deleted.