Attorney General Jeff Sessions Fired
President Trump has fired his Attorney General, a move than many are interpreting as the precursor to a move against Special Counsel Robert Mueller.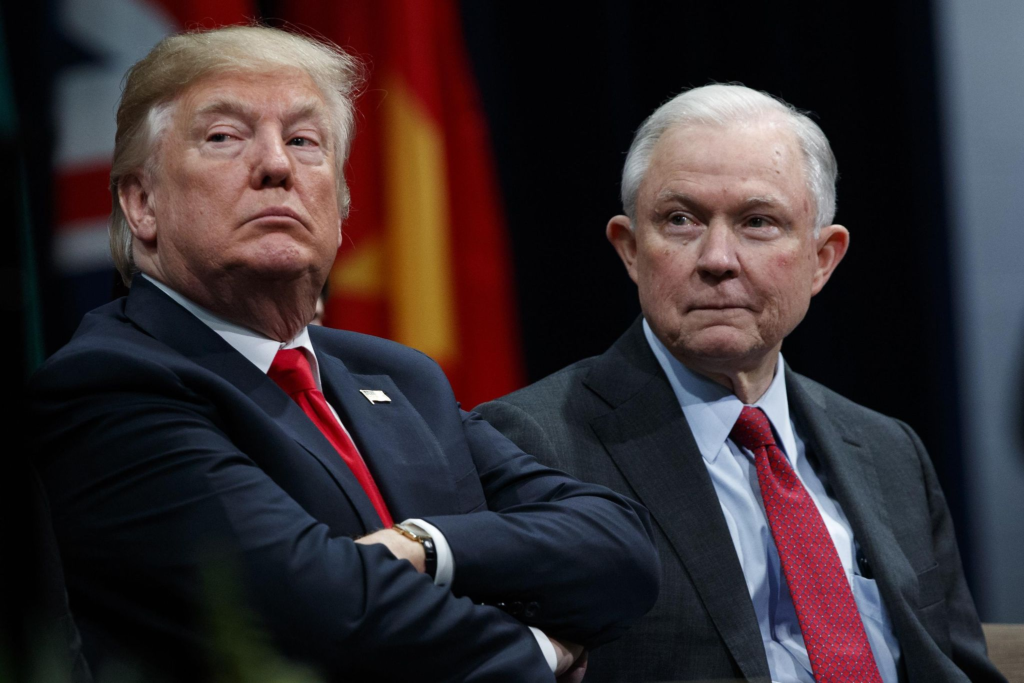 Less than twenty-four hours after the conclusion of the midterm elections, President Trump has fired Attorney General Jeff Sessions, although it is being formulated as Sessions "resigning":
WASHINGTON — President Trump forced out Attorney General Jeff Sessions on Wednesday, ending a partnership that soured almost from the start of the administration and degenerated into one of the most acrimonious public standoffs between a commander in chief and a senior cabinet member in modern American history.

Mr. Sessions's resignation, made at the president's request, was being delivered to John Kelly, Mr. Trump's chief of staff. It came just a day after midterm elections in which Democrats captured control of the House, but Republican success in holding onto the Senate and building their slim majority may make it easier for the president to confirm a successor.

"Dear Mr. President, at your request I am submitting my resignation," Mr. Sessions said in his letter.

Matthew Whitaker, Mr. Sessions's chief of staff, will take over as acting attorney general, Mr. Trump said in a tweet announcing the shake-up.

"We thank Attorney General Jeff Sessions for his service, and wish him well!" he wrote. "A permanent replacement will be nominated at a later date."

The president has regularly attacked the Justice Department and Mr. Sessions, blaming the attorney general for the specter of the special counsel investigation into ties between Mr. Trump's campaign and Russia.

Mr. Trump has said for months that he wished to replace Mr. Sessions, but lawmakers and administration officials believed that firing the attorney general before the midterm elections would have had negative consequences for Republicans in tight races. So it came as little surprise when Mr. Sessions's resigned the day after the midterms were over.

Mr. Trump blamed Mr. Sessions for recusing himself from overseeing the investigation in its early stages, leading to the appointment of a special counsel.

"He took the job and then he said, 'I'm going to recuse myself.' I said, 'What kind of a man is this?'" Mr. Trump said this year in a Fox News interview. "I wanted to stay uninvolved. But when everybody sees what's going on in the Justice Department — I always put 'justice' now with quotes."

The deputy attorney general, now Rod J. Rosenstein, would normally be in line to become the acting attorney general, but Mr. Trump has complained publicly about Mr. Rosenstein, too. Since Mr. Sessions is recused from all election-related matters, Mr. Rosenstein oversees the special counsel, Robert S. Mueller III, who is investigating the Trump campaign's interactions with Russia.
More from The Washington Post:
Attorney General Jeff Sessions resigned on Wednesday at President Trump's request, ending the tenure of a beleaguered loyalist whose relationship with the president was ruined when Sessions recused himself from control of the investigation of Russian interference in the 2016 presidential campaign.

In a letter to Trump, Sessions wrote he had been "honored to serve as Attorney General" and had "worked to implement the law enforcement agenda based on the rule of law that formed a central part of your campaign for the presidency." Trump tweeted that Sessions would be replaced on an acting basis by Matthew G. Whitaker, who had been serving as Sessions's chief of staff.

"We thank Attorney General Jeff Sessions for his service, and wish him well!" Trump tweeted. "A permanent replacement will be nominated at a later date."

A Justice Department official said Whitaker would assume authority over the special counsel probe into Russian interference in the 2016 presidential election — though his role could be reviewed by ethics officials. Because Sessions was recused, the special counsel probe had been overseen by Deputy Attorney General Rod J. Rosenstein, who also has had strained relations with Trump, but is considered safe in his position for the moment.

A legal commentator before he came into the Justice Department, Whitaker has mused publicly about how a Sessions replacement might reduce Mueller's budget "so low that his investigation grinds to almost a halt." He also wrote in a September 2017 column that Mueller had "come up to a red line in the Russia 2016 election-meddling investigation that he is dangerously close to crossing," after CNN reported that the special counsel could be looking into Trump and his associates' financial ties to Russia.

A White House official said Trump had been held at bay to demand Sessions's resignation until after the Tuesday's midterm elections, but he talked eagerly about ousting his attorney general as soon as the votes were tallied. The person said other Cabinet officials were also in jeopardy

Sessions received a phone call Wednesday morning from White House Chief of Staff John F. Kelly — before the president held a news conference — telling him the president wanted Sessions to resign, an administration official said.

The White House official said that Trump liked Whitaker, who was a "backslapping, football kind of guy" who had briefed Trump on many occasions.

Whitaker, a former U.S. attorney who ran an unsuccessful campaign for a Senate seat in Iowa, played college football at the University of Iowa.

"The president never wanted to see Jeff. So a lot of other people at DOJ got to see the president," the person said.

Two close Trump advisers said, though, that the president does not plan on keeping Whitaker permanently.

"I don't see him staying," said one Trump aide. "I think the president will be a lot more deliberate in interviewing potential replacements for Jeff Sessions."

Early in the administration, Sessions also gave Trump a resignation letter and let him hold onto it. The move deeply concerned White House aides, including then-Chief of Staff Reince Priebus, who told Sessions that Trump would use the letter to manipulate him.

"You have to get that letter back," Priebus told Sessions, according to people familiar with the conversation.

(…)

Sessions, 71, was the first U.S. senator to endorse Trump, and in many ways he had been the biggest supporter of the president's policies on immigration, crime and law enforcement.

But all of those areas of agreement were overshadowed by the Russia investigation — specifically, Sessions's recusal from the inquiry after it was revealed that he had met more than once with the Russian ambassador to the United States during the 2016 campaign even though he had said during his confirmation hearing that he had not met with any Russians.

Trump has never forgiven Sessions for that decision, which he regarded as an act of disloyalty that denied him the protection he thought he deserved from his attorney general. "I don't have an attorney general," he said in September.

Privately, Trump has derided Sessions as "Mr. Magoo," a cartoon character who is elderly, myopic and bumbling, according to people with whom he has spoken.

Trump also had repeatedly threatened or demanded Sessions's ouster behind closed doors, only to be convinced by aides that removing him could provoke a political crisis within the Republican Party, where many conservatives stayed loyal to the former senator.
Trump tweeted about the firing shortly after the conclusion of a bizarre, two-hour post-midterm press conference:
We are pleased to announce that Matthew G. Whitaker, Chief of Staff to Attorney General Jeff Sessions at the Department of Justice, will become our new Acting Attorney General of the United States. He will serve our Country well….

— Donald J. Trump (@realDonaldTrump) November 7, 2018
….We thank Attorney General Jeff Sessions for his service, and wish him well! A permanent replacement will be nominated at a later date.

— Donald J. Trump (@realDonaldTrump) November 7, 2018
And several Democrats have already responded:
It is impossible to read Attorney General Sessions' firing as anything other than another blatant attempt by @realDonaldTrump to undermine & end Special Counsel Mueller's investigation.

— Nancy Pelosi (@NancyPelosi) November 7, 2018
While the President may have the authority to replace the Attorney General, this must not be the first step in an attempt to impede, obstruct or end the Mueller investigation.

— Mark Warner (@MarkWarner) November 7, 2018
No one is above the law and any effort to interfere with the Special Counsel's investigation would be a gross abuse of power by the President.

— Mark Warner (@MarkWarner) November 7, 2018
Senators from both parties have repeatedly affirmed their support for Special Counsel Robert Mueller's investigation. Every one of them should speak out now and deliver a clear message to the President that the Special Counsel's investigation must continue without interference

— Mark Warner (@MarkWarner) November 7, 2018
Clearly, the President has something to hide. https://t.co/m1sQV9oBwl

— Chuck Schumer (@SenSchumer) November 7, 2018
Given his previous comments advocating defunding and imposing limitations on the Mueller investigation, Mr. Whitaker should recuse himself from its oversight for the duration of his time as acting attorney general.

— Chuck Schumer (@SenSchumer) November 7, 2018
https://twitter.com/SenSchumer/status/1060267805692620800This is hardly surprising, of course. Increasingly over the past several months, Trump has made his contempt for and annoyance with his Attorney General eminently clear. notwithstanding the fact that Sessions was the first Republican Senator to endorse him in a race that, at the time, was still very much up in the air. Additionally, regardless of what one might think of him, and my own opinions are generally negative due to his positions on important civil liberties issues, it is true that he did absolutely the right thing when he decided to recuse himself from supervision of the investigation into Russian interference in the election given what came to light regarding his meetings with the Russian Ambassador after he had endorsed Trump. Granted, he likely only did so because of the public outcry that developed once those meetings came to light, but in the end, he made the right choice and deserves some credit for that. Trump apparently sees this recusal as the start of the chain of events that led to Mueller's appointment as special counsel, but there's a good possibility that there would have been such an appointment even if Sessions had not recused himself due to the political reality of what had come to light between the time of his recusal and Mueller's appointment by Deputy Attorney General Rod Rosenstein. Most recently, it was reported that Trump openly humiliated Sessions in front of White House Staff and members of Trump's cabinet.
That reported dressing down wasn't the last time that Trump went after his own Attorney General. At several points during the summer as the Russia investigation has gotten closer to Trump's inner circle, Trump has attacked Sessions on Twitter and in interviews where he made it clear that he was upset about the fact that Sessions had recused himself from the Russia investigation. In July, there was even open speculation that Trump was on the verge of firing Sessions and replacing him with someone such as former New York Mayor Rudy Guiliani or New Jersey Governor Chris Christie. While that speculation proved to be unfounded, at least so far, it makes clear that the recusal continues to be something that bothers Trump specifically because he believes it is what led to Mueller's appointment and the expansion of the investigation.
All of this, of course, raises the obvious question of what happens to the Russia investigation being handled by Special Counsel Robert Mueller, who was appointed by Deputy Attorney General Rod Rosenstein in the wake of the President's decision to fire F.B.I. Director James Comey. This decision was made by Rosenstein because, as noted, Sessions had recused himself from any supervisory role over the Russia investigation due to his involvement in the Trump campaign and his own contacts with Russian officials. Ever since then, this President and his Administration has long fallen back on the idea that the entire Russia investigation is an example of so-called "fake news" and that there is no reason for either special counsel Robert Mueller or the Intelligence committees in either the House or the Senate to continue their investigation of the reports of Russian interference and allegations of collusion or coordination between people tied to the Trump campaign. We've seen this phenomenon manifest itself several times since Trump became President, not only in his Twitter feed but also in public comments and in actions such as when he asked F.B.I. Director James Comey if he could end the investigation of former Trump National Security Adviser Michael Flynn and later when he fired Comeyabruptly just days after he had testified about the investigation into Russia and the Trump campaign before a Senate committee. As we know now, Trump later openly admitted that he took that later action specifically because of the Russia investigation. In addition, Trump has asked his own intelligence chiefs to push back on the Russia investigation and asked members of the Senate to find a way to shut down the Senate Intelligence Committee's investigation, which has been far more extensive than that conducted by its counterpart.
In any case, it's clear why Trump took this step. The fact that Trump replaced Sessions with his Chief of Staff Matthew Whittaker is no mistake, especially since Whittaker wrote an Op-Ed calling for the Mueller investigation to be reigned just over a year ago. Even though there are valid policy reasons to object to Sessions' tenure as Attorney General, it's clear that this has no connection to Sessions being fired. Trump didn't disagree with Sessions on immigration policy, civil liberties issues, the rights of transgender Americans, the War on Drugs, or any other issue. And there is no other apparent basis on which to demand Sessions fire himself from Trump's point of view. The only reason there was a conflict between the two men was because of Sessions deciding to recuse himself from overseeing the Russia investigation, something that was entirely proper for him to do. Now, with an Acting Attorney General who is openly hostile to the investigation Trump has basically a free hand to move against, or limit, Mueller's investigation as he sees fit.
Here's Sessions letter to the Preident, take note of the first sentence, which clearly acknowledges that this was not a voluntary resignation:
Jeff Sessions Letter of Res… by on Scribd