Trump Looking To Replace Jeff Sessions With Rudy Giuliani?
Reports are indicating that Donald Trump may be looking to replace Attorney General Jeff Sessions with Rudy Giuliani.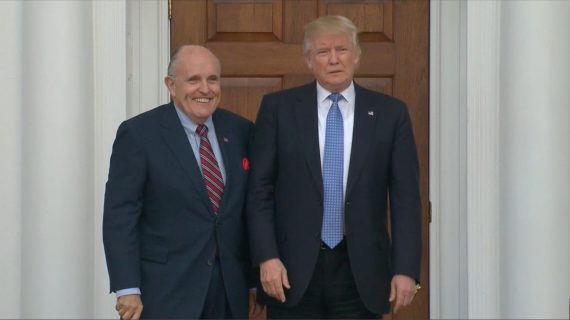 Reports are circulating this morning that President Trump is eyeing to replace Attorney General Jeff Sessions with former New York City Mayor Rudy Giuiliani:
President Trump has floated the possibility of replacing Attorney General Jeff Sessions with his steadfast ally Rudy Giuliani to serve in the top Justice Department post, Axios reported Monday.

Trump broached the idea in internal discussions about bringing in and surrounding himself with staunch supporters, sources within the West Wing told the news outlet.

Before The New York Times interview last week, Trump had already expressed anger and frustration at Sessions for recusing himself from the Russia investigation, Axios reports.

(…)

Axios reports that Trump regularly considers personnel switch-ups, but doesn't always act. Pondering about pulling in Guiliani may fall under this umbrella.

The report, however, comes after Trump tapped Anthony Scaramucci to serve as the White House communications director on Friday, leading Sean Spicer to resign as White House press secretary.
This report comes in the context of recent comments that Trump has made about the nation's top law enforcement officer, who of course was previously a Senator from Alabama who became one of Trump's top backers among Washington insiders rather early in the campaign. In an interview last week with The New York Times, for example, Trump expressed frustration with Sessions' decision to recuse himself from the investigation of Russian interference in the Presidential campaign after it was revealed that he had contacts with the Russian Ambassador to the United States that were previously unreported. That rather odd for anyone else but Trump attack on Sessions had what CNN called a "chilling effect" inside the West Wing and was followed up by a Tweet this morning in which Trump asked why his "beleaguered" Attorney General isn't investigating Hillary Clinton's ties to the Russians. As Ben Smith notes in his piece at Axios, there have been many reports about Trump mulling staff changes over the past six months, so it may not necessarily mean anything that he's talked about bringing someone like Giuliani into the Administration even if it is rather early for such changes to be taking place. Nonetheless, one must wonder at the rather uncomfortable position this puts Sessions in this early in his tenure.
Smith's report also notes that getting Giuliani confirmed may not be so easy notwithstanding Republican control of the Senate. For one thing, any future candidate for a Justice Department position under this President is likely to face sharp questions from both parties about their relationship with the President and the question of whether they would be loyal to the President or to the law if they to be confirmed. Additionally, many of Giuliani's own policies as New York Mayor, sich as the NYPD's "stop and frisk" policy, have proven to be controversial in retrospect. There would also likely be scrutiny of Giuliani's own contacts with Russian officials during the time he was a surrogate for the Trump campaign, to the extent any existed. Any future nominee for Attorney General would also likely face questioning about how they would respond if Trump attempted to order them to fire special prosecutor Robert Mueller, or to shut down the Russia investigation altogether. In the end, the odds that Giuliani would be confirmed seem to me to be far less certain than one might assume, a factor which may cause Trump to abandon any plan he may have to replace Sessions in the first place.