Trump Once Again Openly Humiliates His Attorney General
In an early morning Tweetstorm, President Trump said he would not have hired Jeff Sessions if he knew he'd recuse himself from the Russia investigation.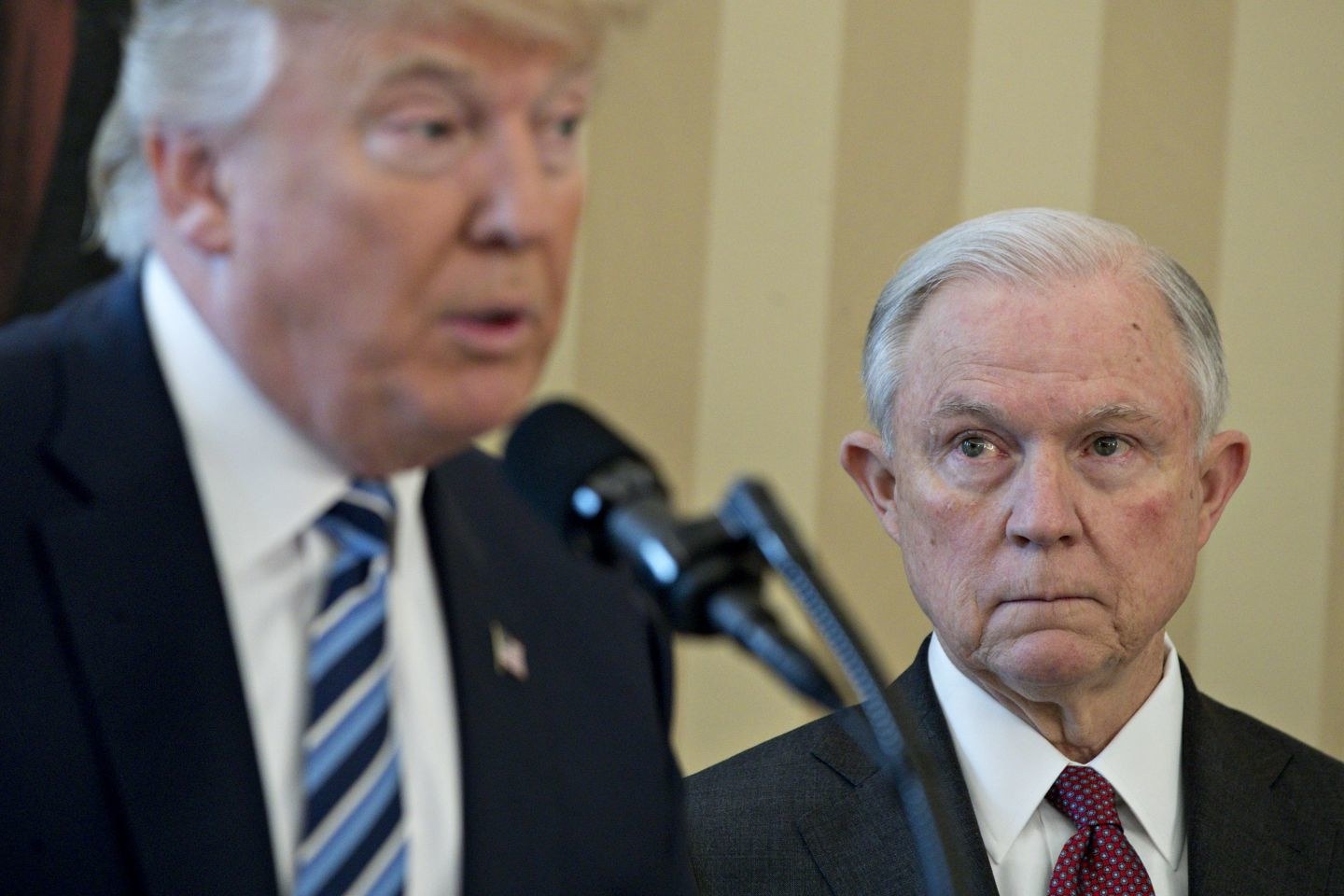 Returning to a familiar target, President Trump is now saying that he wishes he had never selected Jeff Sessions to be his Attorney General:
WASHINGTON — President Trump said on Wednesday that he wished he had chosen another lawyer to be his attorney general, instead of Jeff Sessions, who recused himself from the sensitive Russia investigation early in the Trump administration.

Mr. Trump was responding to an interview on CBS with Representative Trey Gowdy, Republican of South Carolina. Mr. Gowdy had said the president was justified in his frustration with Mr. Sessions because Mr. Sessions did not tell Mr. Trump he planned to recuse himself.

In the CBS interview, which aired Wednesday morning, Mr. Gowdy said, "There are lots of really good lawyers in the country, he could have picked somebody else!"

"I wish I did!" Mr. Trump said in a tweet later in the morning.

Since the recusal by Mr. Sessions in March 2017, the president has publicly and privately lashed out at the attorney general, and the sentiment on Wednesday was no surprise.

After Mr. Sessions recused himself, Mr. Trump asked his attorney general to reverse his decision — a request that has raised the interest of the special counsel, Robert S. Mueller III.

During the course of his Senate confirmation hearings early last year, as rumors circulated about an investigation into Russia's possible coordination with Mr. Trump's presidential campaign, Mr. Sessions was asked whether he would recuse himself. At the time, Mr. Sessions said he did not know of a specific reason as to why he should do so.

But he also said, "If a matter arose in which I believed my impartiality might reasonably be questioned, I would consult with department ethics officials regarding the most appropriate way to proceed."
More from The Washington Post:
President Trump said Wednesday that he wished he had picked someone other than Jeff Sessions to be attorney general, renewing a slight of the former senator who recused himself from the investigation of Russian interference in the 2016 presidential campaign.

In morning tweets, Trump quoted Rep. Trey Gowdy (R-S.C.), who during a Wednesday morning television interview on CBS voiced sympathy for Trump's past expressions of frustration with Sessions's recusal from the inquiry.

"If I were the president and I picked someone to be the country's chief law enforcement officer, and they told me later, 'Oh by the way, I'm not going to be able to participate in the most important case in the office,' I would be frustrated too," Gowdy said, according to Trump's tweets. "There are lots of really good lawyers in the country, he could have picked somebody else!"

After that, Trump added, in his own voice: "And I wish I did!"

A Justice Department spokeswoman declined to comment about Trump's assessment of Sessions. As president, Trump has the power to end Sessions's employment at any time.

Sessions, one of Trump's biggest boosters during the 2016 campaign, recused himself in March 2017 from any investigations related to the campaign. The announcement came a day after The Washington Post revealed that Sessions had twice met with Sergey Kislyak, the U.S. ambassador to the United States, during the campaign and did not disclose that to the Senate Judiciary Committee during his confirmation hearing in January.

Career lawyers at the Justice Department had advised Sessions, a former senator from Alabama, to step aside, citing ethics guidelines about impartiality and his role as a prominent Trump supporter.

Since then, Trump has repeatedly berated Sessions for his decision, at one point last summer calling it "very unfair" to him.

The New York Times reported Tuesday night that Trump, during a meeting at his Mar-a-Lago estate in Florida shortly after Sessions's announcement, lambasted Sessions and told him he should reverse his decision, but Sessions refused.

Since that encounter, Trump has called Sessions "beleaguered," among other derogatory terms, and questioned why the Justice Department has not been as aggressive about investigating Trump's Democratic opponent, Hillary Clinton, as it has his campaign.

Associates have said that Trump believes that if Sessions had not recused himself, a special counsel never would have been appointed to investigate possible coordination between Russia and Trump's campaign.

Trump's response to the inquiry also has raised the possibility of obstruction of justice charges, which special counsel Robert S. Mueller III is investigating.

Mueller was appointed by Deputy Attorney General Rod J. Rosenstein after Sessions recused himself.

Trump's tweets Wednesday come as he and his lawyers have been seeking to discredit Mueller's investigation and have cast doubt on whether Trump will voluntarily submit to an interview by Mueller's team.
Here are Trump's Tweets from this morning:
Rep.Trey Gowdy, "I don't think so, I think what the President is doing is expressing frustration that Attorney General Sessions should have shared these reasons for recusal before he took the job, not afterward. If I were the President and I picked someone to be the country's….

— Donald J. Trump (@realDonaldTrump) May 30, 2018
….chief law enforcement officer, and they told me later, 'oh by the way I'm not going to be able to participate in the most important case in the office, I would be frustrated too…and that's how I read that – Senator Sessions, why didn't you tell me before I picked you…..

— Donald J. Trump (@realDonaldTrump) May 30, 2018
….There are lots of really good lawyers in the country, he could have picked somebody else!" And I wish I did!

— Donald J. Trump (@realDonaldTrump) May 30, 2018
Trump's frustration with Attorney General Sessions isn't new, of course. Virtually from the time more than a year ago when Sessions first recused himself from supervision over the Russia investigation due to his own contacts with Russian officials while acting as a surrogate for the Trump campaign, Sessions has been the subject of continued attacks by the President who selected him. It's been reported, for example, that Trump was openly humiliating Sessions in front of aides and Cabinet officials in the wake of Deputy Attorney General Rod Rosenstein's decision to appoint Robert Mueller as Special Counsel shortly after the President fired James Comey as Director of the F.B.I. At other points during the summer of 2017, as the Russia investigation moved close to the President's inner circle, the President attacked Sessions on Twitter and in interviews where he made it clear that he was upset about the fact that Sessions had recused himself from the Russia investigation. In July of last year, there was even open speculation that Trump was on the verge of firing Sessions and replacing him with someone such as former New York Mayor Rudy Guiliani or New Jersey Governor Chris Christie. While that speculation proved to be unfounded, at least so far, it makes clear that Sessions' decision to recuse himself continues to be something that bothers Trump specifically because he believes it is what led to Mueller's appointment and the expansion of the investigation. All of this happened notwithstanding the fact that Sessions was the first Senator, and the first prominent figure in Washington, to endorse Trump's campaign for the Republican nomination back in 2016.
In theory, of course, there is nothing stopping Trump from either firing Sessions outright or demanding that he submit his resignation. Like the other Cabinet Secretaries, Sessions holds his position at the pleasure of the President and could be dismissed at any time. The fact that Trump has not done so given his rhetoric, is somewhat surprising but there's likely a practical explanation for that. Simply put, it's likely that Trump would not be able to get a new Attorney General confirmed if it appeared that he was firing Sessions with the intention of putting someone in his place who would seek to bring an early end to the Russia investigation or otherwise limit its scope. Many Republicans in the Senate, though, have made it clear that they would block any effort to confirm a replacement for Sessions in that situation, and Democrats would obviously do the same if such a thing were to happen if they take control of the Senate in November. This would mean that Deputy Attorney General Rod Rosenstein, who appointed Mueller in the first place, would become Acting Attorney General. If anything, that would be even worse from Trump's point of view.
The other possibility, of course, is that Sessions himself decides that he's had enough of this humiliation and resign of his own accord. While that could happen at any time, of course, it seems unlikely at the present time. At this point, Sessions appears to see himself as a bulwark against the President at the Justice Department at this point, and Rosenstein's own public comments demonstrate that he shares a similar view. Given that, neither one of them seem likely to be going anywhere anytime soon. As I noted on Twitter this morning, it would be ironic if Jeff Sessions would be the one coming out of this Trumpidian mess as a hero, but that certainly seems to be how it looks.