Trump Openly Humiliated Jeff Sessions After Mueller Appointment
President Trump reportedly openly humiliated his own Attorney General after learning of Bob Mueller's appointment.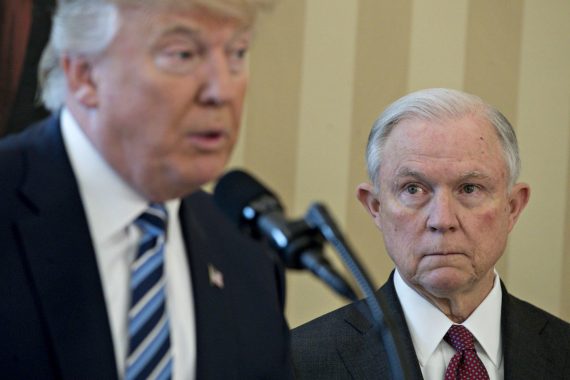 The New York Times is reporting that President Trump basically humiliated Attorney General Sessions in front of a number of White House aides and officials after he learned about the appointment of Robert Mueller as special counsel to investigate the issues surrounding Russian involvement in the 2016 election:
WASHINGTON — Shortly after learning in May that a special counsel had been appointed to investigate links between his campaign associates and Russia, President Trump berated Attorney General Jeff Sessions in an Oval Office meeting and said he should resign, according to current and former administration officials and others briefed on the matter.

The president attributed the appointment of the special counsel, Robert S. Mueller III, to Mr. Sessions's decision to recuse himself from the Justice Department's Russia investigation — a move Mr. Trump believes was the moment his administration effectively lost control over the inquiry. Accusing Mr. Sessions of "disloyalty," Mr. Trump unleashed a string of insults on his attorney general.

Ashen and emotional, Mr. Sessions told the president he would quit and sent a resignation letter to the White House, according to four people who were told details of the meeting. Mr. Sessions would later tell associates that the demeaning way the president addressed him was the most humiliating experience in decades of public life.

The Oval Office meeting, details of which have not previously been reported, shows the intensity of Mr. Trump's emotions as the Russia investigation gained steam and how he appeared to immediately see Mr. Mueller's appointment as a looming problem for his administration. It also illustrates the depth of antipathy Mr. Trump has had for Mr. Sessions — one of his earliest campaign supporters — and how the president interprets "disloyalty" within his circle of advisers.

Mr. Trump ended up rejecting Mr. Sessions's May resignation letter after senior members of his administration argued that dismissing the attorney general would only create more problems for a president who had already fired an F.B.I. director and a national security adviser. Mr. Trump once again, in July, told aides he wanted to remove Mr. Sessions, but for a second time didn't take action.

The relationship between the two men has improved marginally since midsummer, as Mr. Sessions has made a public display of hunting for the leakers among the administration's national security officials. His allies said that despite the humiliation, the attorney general has stayed in the job because he sees a "once-in-a-lifetime" opportunity as the nation's top law enforcement official to toughen the country's immigration policies.

But he may be losing that battle as well. Mr. Sessions played a prominent role announcing the end of the Obama-era program that provided protection to the children of undocumented immigrants, only to see his boss backtrack on the policy. On Thursday morning, Mr. Trump confirmed he had reached a deal with Democrats to provide protections for the so-called Dreamers.

This account is based on interviews with seven administration officials and others familiar with the interactions between Mr. Trump and Mr. Sessions in recent months who requested anonymity because they are not permitted to speak publicly about confidential conversations between the president and his aides. Politico first reported in July that Mr. Sessions had once offered his resignation letter, but the circumstances that prompted the letter — and Mr. Trump's dressing down of the attorney general — have not previously been reported.

Press officers for the White House and Justice Department declined to comment.

The president's outburst came in the middle of an Oval Office meeting that Mr. Trump had with top advisers on May 17 to discuss candidates to take over the F.B.I. after the president fired its director, James B. Comey, earlier that month. In addition to Mr. Sessions, Vice President Mike Pence; Donald F. McGahn II,; the White House counsel; and several other aides attended the meeting.

In the middle of the meeting, Mr. McGahn received a phone call from Rod J. Rosenstein, the deputy attorney general who had been overseeing the Russia investigation since Mr. Sessions recused himself from the inquiry months earlier. Mr. Sessions had stepped aside after it was revealed he had not provided accurate testimony to Congress about his meetings with the Russian ambassador during the presidential campaign.

In the telephone call to Mr. McGahn, Mr. Rosenstein said he had decided to appoint Mr. Mueller to be a special counsel for the investigation. Congress had been putting pressure on Mr. Rosenstein to appoint a special counsel to put distance between the Trump administration and the Russia investigation, and just the day before The New York Times had revealed that Mr. Trump had once asked Mr. Comey to end the F.B.I.'s investigation into Michael T. Flynn, the former national security adviser.

When the phone call ended, Mr. McGahn relayed the news to the president and his aides. Almost immediately, Mr. Trump lobbed a volley of insults at Mr. Sessions, telling the attorney general it was his fault they were in the current situation. Mr. Trump told Mr. Sessions that choosing him to be attorney general was one of the worst decisions he had made, called him an "idiot," and said that he should resign.

An emotional Mr. Sessions told the president he would resign and left the Oval Office. That evening, as the Justice Department publicly announced the appointment of Mr. Mueller, the attorney general wrote a brief resignation letter to the president that was later sent to the White House. A person familiar with the events raised the possibility that Mr. Sessions had become emotional because the impact of his recusal was becoming clear.

In the hours after the Oval Office meeting, however, Mr. Trump's top advisers intervened to save Mr. Sessions's job. Mr. Pence; Stephen K. Bannon, the president's chief strategist at the time; and Reince Priebus, his chief of staff, all advised that accepting Mr. Sessions's resignation would only sow more chaos inside the administration and rally Republicans in Congress against the president. Mr. Sessions, a former Alabama senator, served in the Senate for two decades.

The president relented, and eventually returned the resignation letter to Mr. Sessions — with a handwritten response on it.
The report goes on to note that the Oval Office berating was a particularly hard blow for Sessions, who had made no secret of his desire to possibly serve as Attorney General in a Republican Administration and who gave up what was arguably one of the safest seats in the U.S. Senate to take the job with Trump. Sessions also put his own credibility inside the Republican Party at risk when he became one of Trump's earliest and most outspoken supporters on Capitol Hill, and the first Republican Senator to endorse him in a race that, at the time, was still very much up in the air. Additionally, regardless of what one might think of him, and my own opinions are generally negative due to his positions on important civil liberties issues, it is true that he did absolutely the right thing when he decided to recuse himself from supervision of the investigation into Russian interference in the election given what came to light regarding his meetings with the Russian Ambassador after he had endorsed Trump. Granted, he likely only did so because of the public outcry that developed once those meetings came to light, but in the end, he made the right choice and deserves some credit for that. Trump apparently sees this recusal as the start of the chain of events that led to Mueller's appointment as special counsel, but there's a good possibility that there would have been such an appointment even if Sessions had not recused himself due to the political reality of what had come to light between the time of his recusal and Mueller's appointment by Deputy Attorney General Rod Rosenstein.
This reported dressing down wasn't the last time that Trump went after his own Attorney General. At several points during the summer as the Russia investigation has gotten closer to Trump's inner circle, Trump has attacked Sessions on Twitter and in interviews where he made it clear that he was upset about the fact that Sessions had recused himself from the Russia investigation. In July, there was even open speculation that Trump was on the verge of firing Sessions and replacing him with someone such as former New York Mayor Rudy Guiliani or New Jersey Governor Chris Christie. While that speculation proved to be unfounded, at least so far, it makes clear that the recusal continues to be something that bothers Trump specifically because he believes it is what led to Mueller's appointment and the expansion of the investigation.
More than anything else, this story demonstrates what kind of person Donald Trump is to work for, and it's largely consistent with reports that we've seen from people who worked closely with him over the years but have since left, or been shunned from, his inner circle. Without fail, these people described a person who was quite often impatient with aides and quick to yell at someone who wasn't doing what he thought they should be doing, who had openly disagreed with him, or who had been involved in a project that suffered difficulties even when it clearly wasn't their fault. He has also been someone who frequently berates even close aides openly and in front of others often in the same humiliating manner he did to Sessions as described in the Times report. Granted, some of these tales were being told by people who had left on bad terms and could have been exaggerations, but there were enough of them that it appeared to show that Trump behind the scenes is mercurial, inconsistent, and hotheaded and often someone who berates those close to him when something goes wrong even when, as here, they clearly had nothing to do with it.  It's also consistent with some of the more colorful leaks that have come out of the Administration over the past several months regarding Trump's behavior when the cameras are off. For example, there have been reports in the past of people such as Sean Spicer, Reince Priebus, and Steve Bannon being addressed in a similar manner and CNN reported in late August that Trump had not spoken with Senate Majority Leader Mitch McConnell since earlier in the month after a phone conversation where Trump went off on a tirade directed at Republicans on Capitol Hill in general and McConnell specifically. The only people who seem to be exempted from this treatment, at least as far as we know, are family members such as Ivanka Trump and Jared Kushner. Trump sycophants would argue that this is merely Trump being Trump and how business people in Trump's position often act, but it seems as though it's worse with Trump and that we're dealing with a guy who has a personality that clearly isn't suited to being President of the United States.
In any case, Sessions remains as Attorney General for now, but one wonders if anyone is safe with Trump as their boss.