Reports Of Hillary Clinton's Impending Political Demise Are Mostly Just Wishful Thinking
Even with a recent negative downturn in the polls, the reports of Hillary Clinton's impending political demise are largely wishful thinking on the part of conservatives.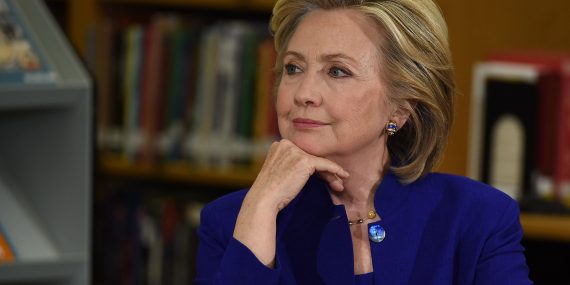 Megan McArdle contends that Hillary Clinton has nowhere to go but downhill:
I do think that Fred Barnes is right that as the polls narrow, we can expect to see some panic from the Democrats. By allowing Clinton to take the lion's share of the fundraising dollars and the media attention, the party has left itself without a plausible alternative candidate. That seemed dandy as long as she was easily trouncing Republicans in polls. But those polls were always going to narrow, because the early polls were basically measuring whether people recognized the candidate's name, not whether they were going to vote for her more than a year hence. As the GOP race sorts out, and the front-runners achieve more public awareness, you're going to see our highly partisan electorate lock into much narrower margins.

Moreover, Clinton will have less room to improve her margins than whoever the Republican is. The Clintons have been around for a long time, which is a help in many ways — great name recognition, a beloved politician who can campaign for her, the ability to promise that the boom times under her husband will come back if only we give her our vote. But it also means that the public's ideas about Clinton are pretty well fixed. A scandal can drive them down, but they are not going to suddenly soar as the public finds her surprisingly more likable than they expected.

When Democratic voters and pundits start to suspect that this race is not, in fact, going to be the easy walk they were expecting, they will probably start to look harder at alternatives. Realistically, so far what they've got is … Martin O'Malley, whose signature achievement as governor was hashing his state's Obamacare exchange so thoroughly that it had to be scrapped and replaced – along with his hand-chosen successor, who lost to a Republican in a very blue state.
Dave Schuler disagrees:
Quite the opposite of the "nowhere to go" view, I think that Sec. Clinton's favorability and unfavorability ratings have both floors and ceilings. I would also happily bet a shiny new dime that at no time between now and November 2016 will Hillary Clinton's favorability rating go over 60% or under 35%. If you gave me odds, I might be willing to tighten those margins a bit (but just a bit).
I tend to think that Dave is correct here, and that McArdle is displaying some of the same wishful thinking about the prospects of an opponent that you typically see from partisan pundits. Most recently, we have seen evidence that Clinton's favorability numbers are hitting some of their lowest levels ever, which is likely a result of coverage we've seen over the past several months of both the scandal involving her use of a private e-mail server and the issues surrounding donations to the Clinton Foundation during the time she was Secretary of State. At the same time, though, we haven't seen much evidence in polls taken in the wake of either story hitting the news that would indicate that Clinton is going to be permanently damaged by any of this to the extent that it will hurt her in either the Primaries or the General Election. On the first point, McArdle is simply grasping at straws with the idea that there is any challenger out there who has the ability to to take on Clinton the way they President Obama did eight years ago. Additionally, a new Fox News Poll shows that the vast majority of likely Democratic primary voters don't particularly care about the stories currently in the news. Is there some possibility that Clinton's campaign could implode, or that some health issue could arise that would derail her campaign? Yes, ether of those things is possible it's just that neither one of them is very likely to happen for two very good reasons.
First of all, there's the simple fact that there are at this point very few people who have an ambiguous opinion about Hillary Clinton. She has been a political figure ever since her husband became a candidate for President in late 1991, perhaps most memorably when she was at his side when he appeared on 60 Minutes in January 1992 to answer questions about the Genifer Flowers scandal. She was there when he became President and quickly became a political target all her own when she headed up a health insurance reform program that ended up being dubbed "Hillarycare." She was there for the Lewinsky scandal to blame the entire controversy on a "vast right wing conspiracy." And then she stepped out on her own as a Senator, Presidential candidate, and Secretary of State. To a large degree, whatever opinions people have about her are already set in stone and unlikely to change. If you hate her, you really hate her and if you like her, then it's likely the case that all of the "scandal" stories don't matter to you. What all of that suggests is that negative campaigning against Hillary Clinton isn't likely to be nearly as effective as some Republicans might like to think. This isn't to say that Clinton cannot be beaten, of course, but the fact that there are very few people who don't know who Clinton is or have an opinion about her is fairly small and that the negative stories that McArdle refers to aren't likely to have as big an impact as she might think.
The second factor that undermines McArdle's 'nowhere to go but downhill' argument, is the fact that Clinton has advantages heading into the General Election that will be hard for any Republican to counteract. As I've said before, the fact that she will be the first female Presidential nominee of a major political party is something that should not be discounted. It will be seen by many people to be as historic as Barack Obama's candidacy was in 2008 and that is likely to ensure that many of the people who will be inclined to vote for her  will be enthusiastic voters. Of course, there will also be some group of voters on the Republican side of the aisle who will be enthusiastic about voting against her, but I suspect the first group will be larger than the second. Additionally, Clinton will enter the General Election race with a significant cushion in the Electoral College. Theoretically, she could lose Florida, Ohio, and Virginia from among the states that Obama won in 2012 and still win the election. A Republican, meanwhile, would need to win all three of those states, plus those that Romney won, and one more just to get barely over the hump of 270 Electoral votes. Given these factors, and the fact that the Republican Party continues to have problems with the national electorate notwithstanding the results of the mid-term elections, putting the mark of doom on Clinton's campaign as McArdle seems to be doing is foolishly premature to say the least.