Polls Show Little Damage To Clinton From Reports About The Clinton Foundation
So far at least, there's little evidence in the polls that Hillary Clinton has been hurt by the news reports about the financial dealings of the Clinton Foundation.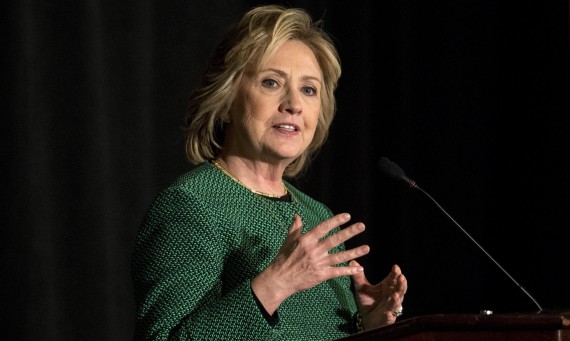 In the past several weeks, Hillary Clinton's campaign rollout has been met with headwinds in the form of questions and allegations regarding the dealings of the Clinton Foundation during the time when she was Secretary of State, as well as continued questions regarding her use of a personal email server for official correspondence during the time she was in office. The reports regarding the Foundation in particular have been picked up by the mainstream press as reports have come out regarding the Foundation's  failure to report donations from foreign sources while Clinton was Secretary of State, the Foundation's relationship to a multinational deal involving a Russian uranium company, and other information that seems to clearly indicate that the Foundation failed to comply with an agreement with the Obama Administration regarding disclosure of foreign donations. More recently, while the Clinton campaign has confined its responses to press releases, former Bill Clinton jumped to the defense of his Foundation with comments that were, to put it nicely, less than helpful. So far, though, it does not appear from the available polling that these reports are having much of an impact on Clinton herself.
First, in an NBC News/Wall Street Journal poll released yesterday, we see that while Clinton has taken somewhat of a hit from these reports, she remains in a very strong position politically:
Hillary Clinton's stature has been battered after more than a month of controversy over her fundraising and email practices, but support for her among Democrats remains strong and unshaken, a new Wall Street Journal/NBC News poll finds.

In just seven weeks, a period in which Mrs. Clinton formally began her presidential campaign, the share of people with a negative view of her jumped to 42% from 36% in last month's survey, and only a quarter of registered voters said they viewed her as honest and straightforward, down from 38% last summer.

But she remains highly regarded among Democrats, with 76% saying they viewed her favorably—a greater hold on party loyalty than any of her potential Republican rivals had in the poll taken between April 26-30.

In an early assessment of the still-emerging GOP field, Jeb Bush, the former Florida governor, drew the most support among GOP primary voters, with 23% naming him their top choice. But by some measures, Sen. Marco Rubio of Florida, Mr. Bush's onetime protégé, showed signs of broader strength. Nearly three quarters of GOP primary voters said they could see themselves supporting him, even if he wasn't their first choice, a larger share than claimed by any rival.

Mrs. Clinton is also a polarizing figure and has been buffeted in recent weeks by reports about her use of a private email server while serving as secretary of state, which critics see as an attempt to evade oversight. She and her husband, former President Bill Clinton, have been criticized for allowing their family's charitable foundation to accept donations from foreign governments, which critics say could allow those governments to influence Mrs. Clinton during her time in government or as a presidential candidate.

"She's had a very rocky two months, and we can see the impact," said Bill McInturff, a Republican pollster who directed the survey with Democratic pollster Fred Yang. "But all of this has played out—the emails, the Clinton Foundation—all of that made no fundamental difference to the Democratic primary voters."

Peter Hart, another Democratic pollster who worked on the survey, sees the results as a sign of Mrs. Clinton's political stamina. "America's 'Iron Lady' does not have a glass jaw," he said.

(…)

n assessing Mrs. Clinton, about half of those surveyed said she has the knowledge and experience to handle the presidency. Pluralities saw her as effective, compassionate, willing to find consensus and setting a proper moral tone. But she drew lower ratings when people were asked if she was inspirational and honest. Among Democratic primary voters, however, she drew far stronger marks, with 86% rating her as knowledgeable and experienced enough to serve in the White House. Only 14% doubted her honesty.

"I think she would be a good leader," said Sandra Burnett, a retiree in upstate New York who participated in the poll. Asked about the controversies over emails and fundraising, Ms. Burnett said, "It doesn't change my view of her. I think she is as honest and straightforward as any politician can be."

But the poll also found signs that negative views of Mrs. Clinton are growing among the swing voters she would need in the general election. Among independents, the share of people viewing her negatively grew to 48% from 34% last month.

"I used to be a very avid supporter of Hillary Clinton," said poll participant Don Friedman, an independent from California. Now, "I'm beginning to wonder. She doesn't seem to be open to the media about specifics about her plans for the administration, should she win."

One important source of strength for Mrs. Clinton is likely to be her appeal among women, including white women—a group Mr. McInturff said the GOP will have to win over to win the White House. In head-to-head matchups with four leading GOP candidates, the poll found Mrs. Clinton outpolled them among white women by 2 to 10 percentage points.

In those matchups against four potential rivals, Mrs. Clinton topped Messrs. Bush and Rubio by 49% to 43%, and she topped Mr. Walker by 50% to 40%. The GOP candidate who came closest to Mrs. Clinton was Sen. Rand Paul, who trailed by 47%-44%.
Clinton fares better in a CBS News/New York Times poll, which shows her favorability and leadership numbers at higher levels than previous surveys:
Hillary Rodham Clinton appears to have initially weathered a barrage of news about her use of a private email account when she was secretary of state and the practices of her family's foundation, an indication that she is starting her second presidential bid with an unusual durability among Democratic voters.

Americans now view Mrs. Clinton more favorably and more see her as a strong leader than they did earlier in the year, despite weeks of scrutiny about her ethics, a New York Times/CBS News poll has found. And nearly nine in 10 Democrats say the nation is ready to elect a woman president.

Republican voters showed the most openness to considering SenatorMarco Rubio of Florida and former Govs. Mike Huckabee of Arkansas andJeb Bush of Florida among their party's presidential contenders, the survey found.

Mrs. Clinton remains a polarizing figure — nearly the same percentage of Americans view her positively as negatively — but her favorability rating has improved by nine percentage points since the disclosure in late March that she did not use a government email account as secretary of state.

And the number of Americans who think Mrs. Clinton has strong qualities of leadership has risen by eight percentage points, to 65 percent from 57 percent, in that period. Still, Mrs. Clinton begins this campaign with fewer voters saying she possesses such qualities than did in July 2007, near the outset of her first presidential bid.

Mrs. Clinton has one primary opponent, Senator Bernie Sanders of Vermont, and more Democrats are likely to enter the race, but her party seems particularly unbothered by questions relating to the emails and to the foundation that she, her husband and their daughter oversee.

While roughly 48 percent of Americans say Mrs. Clinton is honest and trustworthy, about four of five Democrats think she has those traits — and about the same numbers of Democrats say she shares the values most Americans try to live by.

Fifty-two percent of Democrats said they knew nothing or very little about the Clinton Foundation, and only 10 percent said foreign donations to the foundation affected Mrs. Clinton's decisions while she was the nation's top diplomat. Just 9 percent of Democratic voters said they would not consider voting for Mrs. Clinton.

"I think the whole thing is political and it's going to wash away eventually," Herbert Levengard, 83, a Democratic retiree from Maryland, said in a follow-up interview. "There are always going to be people who mess around and look for things to yell about, but I don't care."
The last two paragraphs above are the one caveat to keep in mind on either of these polls, because so far it does not appear that most Americans are paying much attention to the reports that have been coming out regarding the Clinton Foundation's affairs during the time Hillary Clinton was Secretary of State. To a large degree, of course, this is because most Americans are not really paying much attention to the Presidential race, at least not in any significant detail. To the extent that they are getting bits and pieces of these stories about the Foundation, they are most likely tuning them out as just another example of the same kinds of things that they've heard about the Bill and Hillary Clinton for the past two decades. Until we see poll numbers that show that significant numbers of voters, and especially independent voters are paying attention to these reports, then it's hard to say what impact they're having on Clinton's political fortunes one way or the other. These reports may also not be resonating with the public because of the simple fact that to, a large degree, most people have already made their minds up about Hillary Clinton when it comes to issues such as favorability and trustworthiness. There are, I would imagine, very few people out there who don't have some opinion of her and her husband at this point, and given that it's unlikely that yet another story about questionable behavior by the two of them is going to have much of an impact unless there's something more substantial to the story, such as evidence of the quid pro quo that is presently lacking from the reports about the Clinton Foundation. In that sense, what we're seeing now isn't all that different from the relatively modest effect on Clinton's poll numbers that we saw in the wake of the initial reports about her use of private email servers while Secretary of State.
That isn't to say that Clinton doesn't have anything to worry about, though. The fact that both her favorability numbers and her trustworthiness continue to decline is certainly something that her advisers ought to be concerned about. It's unlikely to have any impact on the race for the Democratic nomination, of course, but it could become a problem when the General Election rolls around. Unless, of course, Republicans end up doing something to shoot themselves in the foot. Given how the last couple Presidential elections go, that's certainly a distinct possibility.