Bill Clinton's Response To Reports About His Foundation Is About What You'd Expect
Former President Clinton doesn't seem to get it. Or, does he?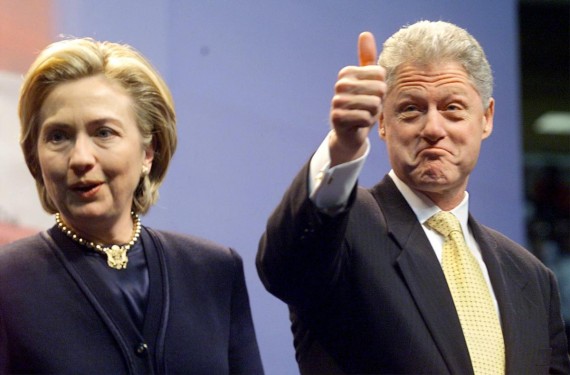 The Clinton Foundation has been taking it on the chin of late. Just in the past two weeks, we've seen reports that have come out regarding failure to report donations from foreign sources to the Clinton Foundation while she was Secretary of State, it's relationship to a multinational deal involving a Russian uranium company, and other information that has come out in anticipation of the release of an upcoming book. Outside of terse statements from Hillary Clinton's campaign and campaign surrogates, though there hasn't been the kind of aggressive push back that typically comes from the Clinton's in situations such as this, though. That changed today, thanks to former President Bill Clinton, but it's unclear whether he actually did anything to help his wife's cause:
Bill Clinton lashed out at critics of his family's foundation, saying the group has never done anything "knowingly inappropriate" in accepting foreign donations, and insisting his high speaking fees are justified because, "I gotta pay our bills."

Speaking with NBC News in Nairobi while on a Clinton Foundation trip to Africa, Clinton slammed what he called "political" attacks on the work of the foundation, a non-profit with a global focus that spans from obesity to climate change to economic opportunities.

"There is no doubt in my mind that we have never done anything knowingly inappropriate in terms of taking money to influence any kind of American government policy," the former president said.

The interview aired one day before the release of the hotly anticipated book "Clinton Cash: The Untold Story of How and Why Foreign Governments and Businesses Helped Make Bill and Hillary Rich," by conservative author Peter Schweizer.

The bulk of the book's allegations of questionable financial arrangements have trickled out in recent weeks, nagging Clinton's fledgling White House campaign as the candidate and her team have combated accusations that foreign entities used donations to curry favor with Clinton while she was secretary of state.

Schweizer himself says he does not have "direct evidence" of any improper conduct by the Clintons, but says "the smoking gun is in the pattern of behavior."

"I don't want to get into the weeds here. I'm not responsible for anyone else's perception," Clinton said in the interview aired on Monday. "I asked Hillary about this and she said, 'You know, no one's ever tried to influence me by helping you. No one has even suggested they have a shred of evidence to that effect.'"

Bill Clinton's defense of the foundation's work was his fullest yet, and it may offer a preview of the role he will play during his wife's campaign. It also highlighted some of the vulnerabilities of the power couple, who for decades have been accused of being tone deaf about money and of believing they play by a different set of rules.

Clinton said that although he is a wealthy man, he will not stop giving speeches, which reportedly come with fees that reach up to $500,000 or more.

"I gotta pay our bills," he said. "And I also give a lot of it to the foundation every year."

He also dismissed the notion that he and his wife don't believe they have to abide by the rules that apply to everyone else. He said the problem is that they're held to a higher standard.

"People should draw their own conclusions. I'm not in politics," Clinton said. "All I'm saying is the idea that there's one set of rules for us and another set for everybody else is true."
Here's the interview that aired this morning:
This, of course, is a typically Clintonian response that we have seen before in response to any of the number of reports and allegations that have been made about them, their business dealings, or their personal lives, over the past twenty-three years or more. Rather than directly responding to the allegations, most especially the seemingly irrebuttable claim that the Foundation failed to report thousands of foreign donations over the course of the four years that Hillary Clinton was Secretary of State, the former Clinton is engaging in an attack on the people making the charges themselves, and asserting that they are somehow held to different standards from other people. Given the fact that the Clinton's have largely emerged victorious from every political scandal that has touched them since Bill put his hat in the ring in 1991, that last claim is somewhat laughable. Any other politician would have likely not survived any one of the stories that emerged about the Clintons, whether it's Whitewater, the stories about Hillary's astounding for an amateur success at trading highly risky cattle futures, the questions regarding the influence of health care industry lobbyists during the time that the Administration's health care plan was being drafted behind closed doors, or Clinton's personal life, never mind survived all of them and manged to leave office with approval ratings nearly as high as those Ronald Reagan had when he left office in 1989. Far from being unfairly scrutinized, one could argue that the Clintons have been incredibly lucky in the way they've managed to survive things that would have ended the career of any other politician.
Indeed, as Chris Cillizza notes, Clinton's comments today demonstrate that he still doesn't get it:
This is Bill Clinton in self-pitying mode; people treat us so unfairly and we do so much good and so on and so forth. Feeling bad for yourself is never an attractive look for a politician but especially in this case.  At issue is a family that includes the former president of the United States and the heavy favorite to be the next Democratic presidential nominee. By dint of those titles, the Clintons operate in a different space than normal people and even normal politicians.  Do they get more scrutiny than some? Sure. Do they get lots of benefits from their status? Absolutely yes.

The truth is that the Clinton Foundation, the nonprofit group that Bill, Hillary and Chelsea head, has been the main vehicle for Hillary and Bill Clinton's activities since she left as secretary of state following the 2012 election. Given that, it makes perfect sense that the Clinton Foundation would be subject to questions — even if it hadn't admitted to not adhering to its own established donation practices a few weeks ago.

Stories like this one by WaPo's Roz Helderman, which details the relationship between the Clintons and a single donor who has given upwards of $100 million to the foundation, are totally fair game — and should be.

Bill Clinton, for some reason, doesn't get that.
Unlike Cillizza, I don't believe that former President Clinton doesn't understand why the stories about the Clinton Foundation have become something more than just the latest Fox News/talk radio conspiracy theory about the Clinton. Whatever else you might say about him, Bill Clinton has demonstrated over the decades that he is an astute and talented politician and it would be quite surprising if he had actually convinced himself of the truth of what he's saying. Instead, I would suggest that the former President realizes just how big a story the Clinton Foundation reports have the potential to become. Going forward it is obvious that Hillary Clinton intends to rely upon her time as Secretary of State as one of the main bulwarks of her campaign, and a demonstration of both her experience and of how she would act if she were elected President. The Clinton Foundation reports, though, tend to undermine that narrative because they bring the whole messy issue of personal integrity into the mix as well as reviving memories of all the old stories about the Clintons and the political mess that created for virtually the entire time that Bill Clinton was President. That's why he's trying to characterize it as an "unfair" attack against him and his family rather than something that needs to be dealt with on the merits. On some level, it's as if he is trying to shame the reporters into not treating the allegations seriously and, most importantly, the fact that he granted his interview so that it would air on the day before the book that everyone has been talking about comes out cannot be considered to be coincidental. Obviously, the former President is trying to pre-empt the coverage that will inevitably come once the book comes out and, apparently, more allegations regarding the operation of the Clinton Foundation are made public.
In anticipation of the release of the book, Megan McArdle is somewhat surprised that the Clinton's would let themselves get into this situation:
The great mystery that remains is how this could have happened.  The Clintons have known for a long while that Hillary would be running in 2016.  And they ought to have known that accepting foreign donations, from folks who wanted things from the State Department, would become a problem for her candidacy. They certainly should have been aware that funneling all of her State Department e-mails through a private server, and then destroying them, would create terrible optics for her campaign and fuel any subsequent scandals. Why, then, did two such tenacious, wily campaigners proceed with this nonsense?

It looks to me like the answer is that they somehow didn't know the things that they should have known. They certainly act surprised. The campaign machine that used to blast away at incipient scandals with the white-hot fury of a thousand suns now lets them fester for weeks before offering a lame response: Hillary's press conference about the e-mails gave critics more fodder, and Bill's non-response response to questions about foundation finances is even worse.  The former president told NBC that he has to keep giving high-priced speeches all over the world because "I gotta pay our bills." Coming from a man reputed to be worth tens of millions, who gave his daughter a multi-million-dollar wedding, this seems a bit … off.

Which makes me wonder if the famed Clinton campaign skills aren't a little bit out of date.  The Clintons just don't seem prepared for the modern media world and its tendency to relentlessly pry away at the smallest details.  In the end, this may be a bigger problem for the Clinton campaign than whatever Schweizer's book reveals.
This is certainly an interesting question. As McArdle notes, it's been obvious virtually from the moment that the 2008 campaign ended that Hillary Clinton would likely be a candidate for President again in 2016. She came close to winning the first time she ran, and neither the former President nor his wife come across as people willing to let an ambition like becoming the first husband and wife team to serve as President of the United States individually fall by the wayside. Additionally, when Hillary took office as Secretary of State in 2013 it was fairly obvious that the Clinton Foundation, and specifically the donations it receives from foreign sources, were a potential problem area. In fact, after it was clear that Barack Obama had won the Democratic nomination in 2008, reports were indicating that the Clintons waived off the idea of Hillary being considered as his running mate in no small part because of reluctance to open up their personal and Foundation finances up to the kind of vetting that consideration for that post would have necessitated. In any case, it was enough of an issue in 2013 that the Foundation and the Obama Administration entered into an agreement that was negotiated by some of the most high-profile attorneys in Democratic politics that was supposed to cover the issue of foreign donations during the time that Mrs. Clinton was in office at Foggy Bottom. Working again on the assumption that these are not dumb people, it's somewhat puzzling that the Foundation was so lax in its reporting of foreign donations after the agreement was signed.
The same could be said about the other issue that continues to dog the Clinton campaign, Hillary Clinton's use of a private email server for her official correspondence during the time that she was Secretary of State. To be completely honest about it, the explanation that she gave for doing this, that she didn't want to have to use two different mobile devices for personal and official communications just doesn't come across as credible. On top of that, the decision after she left office to use her personal aides to determine what constituted official rather than personal correspondence, and then delete from the server all of the emails not turned over to the State Department, doesn't make a whole lot of sense from a political point of view. Had Clinton simply used the State Department's email system for her official correspondence, there would be no story here. Because she didn't, and because her explanation for why she did it just doesn't make much sense, it's an issue that will not go away as long as she's in the race. Given the Clinton's political skills, you think they would have been able to anticipate that.
The Clinton's have been the targets of many political attacks over the years, both fair and unfair, but this time they've really got nobody but themselves to blame.