Clintons Most Successful, Most Controversial 'Power Couple'
A series of mini-scandals point to the conflicts of interest around the Clintons.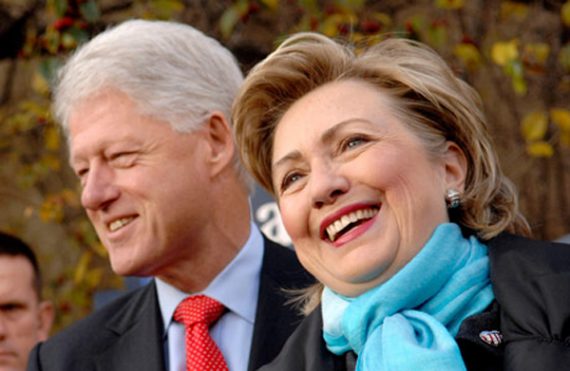 New York magazine's Jonathan Chait argues in "The Disastrous Clinton Post-Presidency" that Bill Clinton is the reverse Jimmy Carter.
The qualities of an effective presidency do not seem to transfer onto a post-presidency. Jimmy Carter was an ineffective president who became an exemplary post-president. Bill Clinton appears to be the reverse. All sorts of unproven worst-case-scenario questions float around the web of connections between Bill's private work, Hillary Clinton's public role as secretary of State, the Clintons' quasi-public charity, and Hillary's noncompliant email system. But the best-case scenario is bad enough: The Clintons have been disorganized and greedy.

The news today about the Clintons all fleshes out, in one way or another, their lack of interest in policing serious conflict-of-interest problems that arise in their overlapping roles:

The Clinton campaign is batting down the darkest and most conspiratorial interpretation of these stories, and where this all leads remains to be seen. But the most positive interpretation is not exactly good.
Chait isn't some Republican hack; he's a very respected journalist on the left, although his political stances aren't easy to categorize. Still, even as one who has reflexively disliked the Clintons going back to their arrival on the national scene a quarter century ago, none of this individually or collectively seems like a game-changer.
The notion that Clinton's post-presidency is some sort of "disaster" is bizarre. The Clinton Global Initiative is, alongside the Gates Foundation, among the most successful newish charitable organizations on the planet. And, of course, he's not only gotten enormously rich as one of the most in-demand public speakers but he's helped propel his wife into a remarkably successful politician in her own right.
That CGI fundraising is going to be a modest issue for Hillary Clinton's campaign is not new news. I'm skeptical that it's going to amount to much, though, given the lack of a serious primary challenger and the fact that this will all be extremely old news by next November. Beyond that, as I wrote back in February, "nonprofits inevitably take money from people of questionable motivation and character" and there's a general sense that the Initiative is doing good work. Indeed, I share that view.
The seeming conflict of interest between the activities of the CGI and Hillary's role as Secretary of State are troubling. They took some reasonable steps to mitigate some of the conflicts but, short of shutting it down or transferring operational control during her tenure, I don't see how they could have fixed some of these problems.
The Ukraine deal sounds rather unsavory. But, reading the NYT report, we see that "the deal had to be approved by a committee composed of representatives from a number of United States government agencies. Among the agencies that eventually signed off was the State Department." That means that, even if Hillary knew about the connection and was motivated by sheer personal greed—and there's no evidence presented for either—others also approved of the deal. Frankly, the bigger deal would seem that the Clintons were taking in half a mil from the Russians, period, while she was Secretary.
That Bill got $26 million in speaking fees from donors to CGI is perhaps a sign of greed. But I don't see where there's any corruption in it.
The fact that the likes of CISCO, Mars, Coke, TOM's, and P&G both gave money to CGI and got nominated for awards by State doesn't strike me as particularly interesting. There's some general incestuousness in the "public-private partnership" relationship between US overseas aid programs, non-profits, and major corporate donors. That State and CGI have significant overlap isn't surprising; I suspect that continues under Kerry's tenure and also occurred during the Bush administration.
There may be legs to the Reuters story on the tax returns:
The charities' errors generally take the form of under-reporting or over-reporting, by millions of dollars, donations from foreign governments, or in other instances omitting to break out government donations entirely when reporting revenue, the charities confirmed to Reuters.

The errors, which have not been previously reported, appear on the form 990s that all non-profit organizations must file annually with the Internal Revenue Service to maintain their tax-exempt status. A charity must show copies of the forms to anyone who wants to see them to understand how the charity raises and spends money.

The unsettled numbers on the tax returns are not evidence of wrongdoing but tend to undermine the 990s role as a form of public accountability, experts in charity law and transparency advocates told Reuters.

"If those numbers keep changing – well, actually, we spent this on this, not that on that – it really defeats the purpose," said Bill Allison, a senior fellow at the Sunlight Foundation, a government transparency advocacy group.

For three years in a row beginning in 2010, the Clinton Foundation reported to the IRS that it received zero in funds from foreign and U.S. governments, a dramatic fall-off from the tens of millions of dollars in foreign government contributions reported in preceding years.

Those entries were errors, according to the foundation: several foreign governments continued to give tens of millions of dollars toward the foundation's work on climate change and economic development through this three-year period. Those governments were identified on the foundation's annually updated donor list, along with broad indications of how much each had cumulatively given since they began donating.
It doesn't look good and the explanations offered thus far are eye-rolling:
"No charity is required to disclose their donors," he said. "However, we voluntarily disclose our more than 300,000 donors and post our audited financial statements on our website along with the 990s for anyone to see."

Separately, the Clinton Health Access Initiative (CHAI), the foundation's flagship program, is refiling its form 990s for at least two years, 2012 and 2013, CHAI spokeswoman Maura Daley said, describing the incorrect government grant break-outs for those two years as typographical errors.

CHAI, which is best known for providing cheaper drugs for tens of thousands of people with HIV around the world, began filing separate tax returns in 2010, and has previously refiled at least once both its 2010 and 2011 form 990s. For both those years, CHAI said its initial filings had over-reported government grants by more than $100 million.

Some experts in charity law and taxes said it was not remarkable for a charity to refile an erroneous return once in a while, but for a large, global charity to refile three or four years in a row was highly unusual.

"I've never seen amendment activity like that," said Bruce Hopkins, a Kansas City lawyer who has specialized in charity law for more than four decades, referring to the CHAI filings.
Still, I doubt it will have much an impact on the race. Accounting practices make most people's, mine included, eyes glaze over.
The Clintons are, in a real sense, the country's first true "power couple," in the sense that they independently had major careers. (Yes, her post-his-presidency career is almost entirely a product of his presidency. But she's been a US Senator, serious contender for the presidency, Secretary of State, and again serious contender for the presidency regardless of the circumstances that brought her to fame.) We haven't figured out how to deal with the inherent conflicts that arise from that and it's going to be a bigger problem over time as highly successful men will mostly marry highly successful women and vice versa as we go forward.
Chait's take is pretty dark:
When you are a power couple consisting of a former president and a current secretary of State and likely presidential candidate, you have the ability to raise a lot of money for charitable purposes that can do a lot of good. But some of the potential sources of donations will be looking to get something in return for their money other than moral satisfaction or the chance to hobnob with celebrities. Some of them want preferential treatment from the State Department, and others want access to a potential future Clinton administration. To run a private operation where Bill Clinton will deliver a speech for a (huge) fee and a charity that raises money from some of the same clients is a difficult situation to navigate. To overlay that fraught situation onto Hillary's ongoing and likely future government service makes it all much harder.

And yet the Clintons paid little to no attention to this problem. Nicholas Confessore described their operation as "a sprawling concern, supervised by a rotating board of old Clinton hands, vulnerable to distraction and threatened by conflicts of interest. It ran multimillion-dollar deficits for several years, despite vast amounts of money flowing in." Indeed, as Ryan Lizza reported in 2012, Bill Clinton seemed to see the nexus between his role and his wife's as a positive rather than a negative:

Regardless of Bill Clinton's personal feelings about Obama, it didn't take him long to see the advantages of an Obama Presidency. More than anyone, he pushed Hillary to take the job of Secretary of State. "President Clinton was a big supporter of the idea," an intimate of the Clintons told me. "He advocated very strongly for it and arguably was the tie-breaking reason she took the job." For one thing, having his spouse in that position didn't hurt his work at the Clinton Global Initiative. He invites foreign leaders to the initiative's annual meeting, and her prominence in the Administration can be an asset in attracting foreign donors. "Bill Clinton's been able to continue to be the Bill Clinton we know, in large part because of his relationship with the White House and because his wife is the Secretary of State," the Clinton associate continued. "It worked out very well for him. That may be a very cynical way to look at it, but that's a fact. A lot of the stuff he's doing internationally is aided by his level of access."

The Obama administration wanted Hillary Clinton to use official government email. She didn't. The Obama administration also demanded that the Clinton Foundation disclose all its donors while she served as Secretary of State. It didn't comply with that request, either.

The Clintons' charitable initiatives were a kind of quasi-government run by themselves, which was staffed by their own loyalists and made up the rules as it went along. Their experience running the actual government, with its formal accountability and disclosure, went reasonably well. Their experience running their own privatized mini-state has been a fiasco.
That the Clintons, Bill in particular, are shameless by even the standards of American politics is a large part of my dislike of them. They've always skirted the edges of legality and propriety in their dealings, with the one not currently in office cashing in on the connections provided by the other's power but without quite crossing the line into provable illegality. They've always acted as if the rules that apply to the rest of us don't apply to them.  That makes them polarizing but certainly hasn't stopped them from being inordinately successful.
They've been quite fortunate, indeed, that their political foes have constantly over-reacted to non-scandals such as "Travelgate," engaged in bizarre conspiracy theories about murders and rapes, and gone overboard on even legitimate scandals like the Lewinski affair and surrounding perjury. Because of that, almost any new incident–including real issues like the e-mail story–are received with a "here we go again" skepticism.
I continue to think that it will be a bigger problem for Hillary's candidacy than it was for Bill's simply because she's rather low on the charm scale by presidential aspirant standards whereas he's off the charts. But it looks like she's going to sail to the nomination unopposed, having taken so big a lead on the field that nobody of significance is going to bother to challenge her. If she's defeated in the general, it's extremely unlikely to be because of any financial scandals.