Clinton Foundation Not Really a Charity
It's complicated. And probably not a scandal.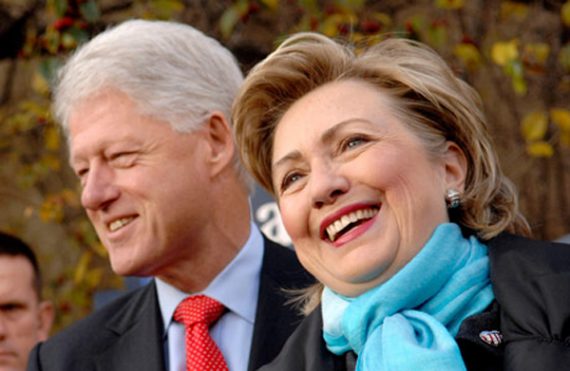 Dave Schuler points me to a Jonathan Tobin piece titled, "Is the Clinton Foundation Really a Charity?" It won't shock you to note that Tobin argues in the negative. The key 'graphs:
Sean Davis highlighted the discrepancy between the 88 percent figure and the reality of the Clinton Foundation spending ten percent on charity in a recent Federalist article. He followed up with another, skewering a claim by the left-wing Punditfact site that this claim was "mostly false." As he wrote, the only way to come to such a conclusion was to simply ignore facts, including, most importantly, the filings of the Clinton Foundation that made it clear that it spent very little of its money on good deeds. But Punditfact says we should ignore these basic facts because of "the unusual business model" of the foundation which causes it to spend the lion's share of the vast sums raised on its behalf on conferences, travel, and staffing.

The two largest items on its list of charitable expenditures are support for the Clinton Presidential Library and paying for the Clinton Global Initiative.

The Library is, like those edifices built to house the papers and glorify the memory of other presidents, a not-altogether-worthless endeavor. But it is a monument to the vanity and the legacy of the Clintons, not the sort of "good work" helping the impoverished of the Third World, as well as the women and the girls, Hillary Clinton is always telling us she's out to save. It may be a non-profit institution but it is not a charity.

The Clinton Global Initiative is also not a charity. According to the New York Times, it's a "glitzy annual gathering of chief executives, heads of state and celebrities." Those who attend it may do charitable work. But their main purpose in attending is to see and be seen talking about being charitable. The same can be said of the event itself.
Schuler's answer to Tobin's question is pithier still: "No, it isn't. It's a personal holding company, something it has been held should be taxed at personal income rates for most of the last century."
Tobin, an excellent writer, is a neoconservative who can easily be dismissed as reflexively anti-Democrat. Schuler, a Scoop Jackson Democrat, not so much. Politically, I'm positioned between Tobin and Schuler, albeit much closer to the latter. Having spent a number of years working in the nonprofit sector—albeit at a think tank that didn't pretend to be a "charity"—I'm not especially scandalized by the report as fascinated by it.
The line in the excerpt from Tobin above that really stands out to me is, "It may be a non-profit institution but it is not a charity." That, in my judgment, is exactly right. Tobin's follow-on analysis is, well, less than charitable.
The business model here is all about the show of charity and, as our Abe Greenwald wrote on Monday, primarily interested in lauding a "class of global VIP celebrating its good works." That doesn't help many poor people, but it did aid the Clintons in their effort to attract wealthy, self-interested donors who preferred to give to a foundation that could advance their personal political and economic agendas rather than aid the poor.

Technically speaking this isn't a scam, since the Clintons' donors know exactly what they are getting. Indeed, many of them may well have gotten their money's worth of influence by giving money to the ex-president and a sitting secretary of state and would-be president. If so, that is a scandal and one that ought to disqualify Hillary Clinton for consideration for the presidency.

But though it may not be illegal, it is not quite the noble cause to which we're all supposed to pay homage. What's more, the "mistakes" the foundation has made in its filings are leading to reasonable suspicions that we have just started to scratch the surface of its questionable dealings. Those liberals that are dedicating themselves to rationalizing and apologizing for the foundation may find that they have taken on a task that is in the process of becoming a full-time and increasingly impossible job.
My take is less harsh. There's no need for the "technically" and "may" qualifiers here: there's nothing even remotely problematic legally here and Tobin is quite right that the "donors know exactly what they are getting." It's an access game, with the Clintons selling both their celebrity and their power. While that might be ethically problematic in a different environment, it's not obviously different from any of the rest of the selling of access that's part and parcel of American national politics. Candidates and incumbents alike spend a great deal of their time schmoozing with the wealthy in order to finance their careers. That bothers me substantially but it's not fixable at acceptable cost.
Additionally, my strong hunch is that the various Clinton charity-like institutions are not much different from those run by non-political celebrities like Bono's ONE Foundation or Lance Armstrong's Livestrong Foundation, which spend next to nothing on the causes they purportedly support. For that matter, the vast majority of charities are scams by Tobin's standard, in that most of them spend virtually everything they raise on salaries, events, self-promotion, and the like and very little on feeding the poor, curing cancer, and other activities around which they fundraise. A CNN report from a couple years back:
— The 50 worst charities in America devote less than 4% of donations raised to direct cash aid. Some charities gave even less. Over a decade, one diabetes charity raised nearly $14 million and gave about $10,000 to patients. Six spent no cash at all on their cause.

— Even as they plead for financial support, operators at many of the 50 worst charities have lied to donors about where their money goes, taken multiple salaries, secretly paid themselves consulting fees or arranged fund-raising contracts with friends. One cancer charity paid a company owned by the president's son nearly $18 million over eight years to solicit funds. A medical charity paid its biggest research grant to its president's own for-profit company.

— Some nonprofits are little more than fronts for fund-raising companies, which bankroll their startup costs, lock them into exclusive contracts at exorbitant rates and even drive the charities into debt. Florida-based Project Cure has raised more than $65 million since 1998, but every year has wound up owing its fundraiser more than what was raised. According to its latest financial filing, the nonprofit is $3 million in debt.

— To disguise the meager amount of money that reaches those in need, charities use accounting tricks and inflate the value of donated dollar-store cast-offs – snack cakes and air fresheners – that they give to dying cancer patients and homeless veterans.
Many of the above are outright scams. But even venerable charities like the United Way run into scandals over how they spend their money. Very few give nearly as much money to the causes around which they're ostensibly centered that their donors believe. And many simply focus their efforts on "awareness" rather than actually solving problems.
My sense is that the Clinton foundations are an admixture. Bill, in particular, is genuinely interested in applying his considerable talents in helping solve real problems. He's also not above using his celebrity, former office, wife's past and possible future offices, and the aura of a global "charity" to keep his profile high and rake in big bucks. That the foundations, speech circuit, and campaigns are all part of a seamless web is a feature, not a bug, to the Clintons' interests and ambitions, if somewhat inconvenient for the active campaign season. Then again, reading the discussion threads on several postings here pointing to questions about the various Clinton nonprofits, I'm quite sure that few people predisposed to like the Clintons much care.