Whatever Happened To That $6,000,000 Donald Trump Raised "For The Troops?"
A month after raising $6,000,000 for "the troops,," questions are being asked about where the money Donald Trump raised for veterans causes actually is at this point.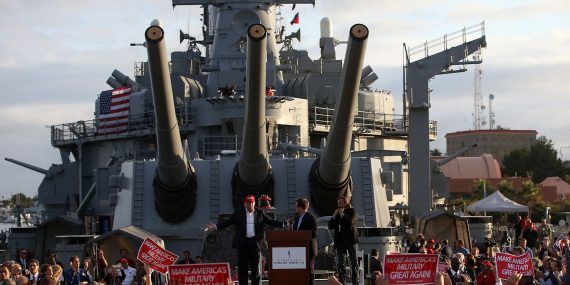 As you may recall, back in late January Donald Trump skipped the last debate before the Iowa Caucuses due to alleged unfair treatment by Fox News Channel, the host for the debate. Instead, Trump held a rival event in Des Moines less than five miles from the debate site that raised some purported $6,000,000 "for the troops." So far though, only a small portion of that money has actually been distributed to the charities identified by Trump as the eventual recipients of the money:
Several of the nearly two-dozen veterans charitable organizations that were promised donations by Republican presidential front runner Donald Trump have yet to receive any money nearly a month after Trump first made the pledge, the FOX Business Network has learned.

Trump made the pledge at a January 28 press conference after he announced he was not attending a debate sponsored by the Fox News Channel, the sister network of FOX Business. Trump said he had received pledges to raise $6 million for 22 charities focused on veterans, including $1 million of his own money.

"Our Veterans have been treated like third-class citizens and it is my great honor to support them with this $1 million dollar contribution – they are truly incredible people. We are going to strengthen our military, take care of our Vets and Make America Great Again," Trump said in a press release at the time.
But nearly a month after Trump made the pledge, at least three, and possibly more, of the 22 charities haven't received any money yet, according to interviews conducted by FOX Business. Meanwhile, seven of the 22 charities told FOX Business they have received checks totaling $650,000, while the remaining organizations either declined to say whether or not they received the money or didn't return repeated calls for comment.

"Mr. Trump personally contributed $1 million dollars to the cause and raised an additional $5 million before the one-hour event concluded, totaling more than $6 million dollars," the press release added. "The night benefited twenty-two different organizations, a number of which are Iowa based Veterans groups. Mr. Trump has been a major supporter of Veterans organizations throughout his life and has made strengthening our military, reforming the VA and taking care of our great Veterans cornerstones of his campaign."

Still, the failure to deliver some of the promised money after a well-publicized press conference where Trump touted the fact that fellow billionaires like financier Carl Icahn would contribute as well, has raised some eyebrows among watchdogs that follow charities. Michael Thatcher, president of Charity Navigator, a non-profit that evaluates charities, said "it's reasonable to be expecting that all the money would be delivered by this time" because Trump made a "highly publicized promise."

"It is totally reasonable to question why some have gotten money and some haven't," Thatcher said. "When you make a promise like he has there is an expectation for timely delivery."

Thatcher said much of the delay in disbursing funds to charities often involves vetting organizations' non-profit status and other issues. But Trump appeared to have vetted the veterans' charities beforehand and provided a list of organizations that would receive the money.

"With that, there's even less reason for any money to be delayed," Thatcher said.

In a telephone interview, Trump Campaign Manager Corey Lewandowski maintains that Trump has and will fully deliver on his promise to deliver the $6 million to the veterans groups. He added that the $650,000 that FOX Business has determined was distributed to charities is significantly below the actual number, but he declined to provide a full accounting of how much of the pledged money has been distributed or how many of the 22 charities have received cash.

Lewandowski added that it isn't unusual for charities to receive such pledges even a month after being promised the money.

"He's distributed multi-millions of dollars…It was money that was pledged, and we are still collecting it," Lewandowski said. "We are continuing to follow up with people who pledge donations." Additionally, he said: "We've added another couple dozen organizations to the list of veteran organizations that will receive donations."

Some of the charities contacted by FOX Business agreed with Lewandowski's assessment on the timing of when they should receive their money.

"We haven't received any money yet, but [we] do expect to get it. It's not unusual when someone or an organization has an event, for it to take weeks or even months before we receive a check, " said Kerri Childress, vice president of Fisher House, one of the 22 veterans charities on the Trump list that hasn't received money as of publication of this story.

Childress added: "We haven't heard how much or when we might be receiving the money."

Trump's charitable donations have become a campaign issue as he has solidified his lead for the 2016 GOP presidential nomination. Speaking to Neil Cavuto on the Fox News Channel, 2012 GOP presidential nominee Mitt Romney criticized Trump for not releasing his tax returns, and questioned his charitable giving.

"I think in Donald Trump's case, it's likely to be a bombshell [in not releasing his tax returns]," Romney said. "Perhaps he hasn't been giving money to the veterans or to the disabled like he's been telling us he's been doing. I think that's the reason there's a bombshell [in his returns]."
This report from Fox Business Network comes after a report last week that was published in the conservative magazine The Weekly Standard regarding the status of the pledged donations that reached similar conclusions. This report also raised questions about precisely what was happening with the distribution of the funds from Trump's event, including the rather important question of who, if anyone, was monitoring disbursement of the funds. The Weekly Standard's reporter, Michael Warren, for example found that several of the organizations listed as recipients of funds from the fundraiser had received funds directly from The Trump Foundation, a Foundation that Trump established which apparently directs all of his charitable donations. Other entities had received checks from third-parties and were told that the donation was related to the money that had been pledged to the Trump effort in January. Still other entities received checks from the Trump Foundation that appeared to have been directed or handled by people associated with Trump's Presidential campaign. All of this is rather confusing and suggests that there may not be one central authority keeping track of the distribution of these funds intended for charitable purposes, something that could potentially violate Federal and State laws regarding the collection and distribution of charitable donations.
The fact that only about ten percent of the funds that Trump claimed to have raised in connection with his event have been distributed more than a month after it occurred is certainly concerning. Perhaps it is the case that this is in the normal course of operation for charitable giving, that's something that I can't speak to. At the same time, though, given the ostentatiousness with which Trump raised these funds, it certainly seems as though Trump, his campaign, and his Foundation, owe the public at least some accounting for what has been distributed, what has yet to be collected out of funds that were pledged, and exactly how it is determining that the funds are going to organizations that will benefit veterans rather than waste the money as far too many of these "veterans" charities seem to do. This is especially true since Trump threw this fundraiser in a way that was obviously meant to boost his own political fortunes. It's good to see that at least some in the media are starting to ask questions.