New York Attorney General Sues Trump And His Family, Alleging Charity Fraud
The Attorney General of New York has filed a Complaint against President Trump and several members of his family alleging widespread fraud in the operation of Trump's charitable Foundation.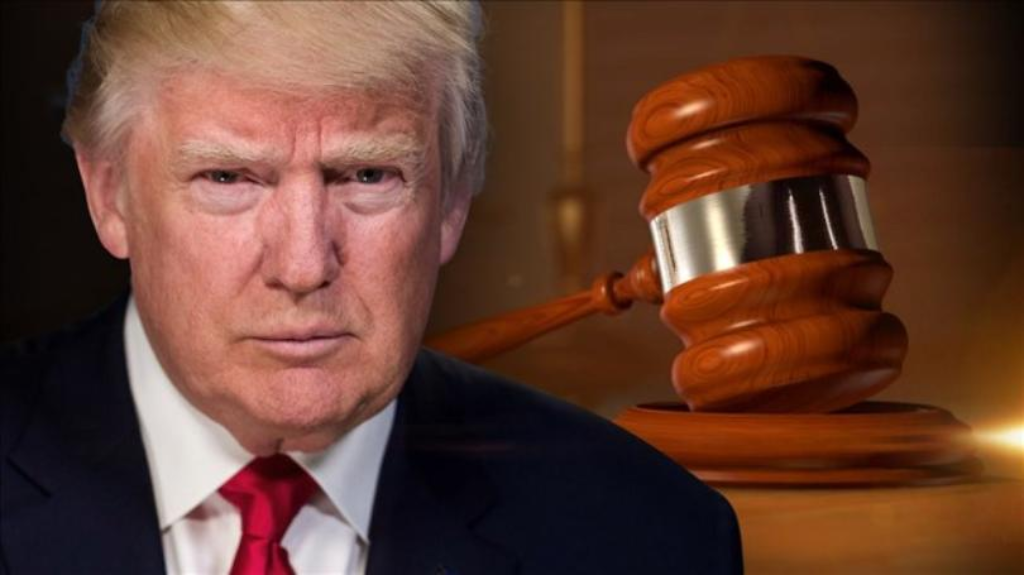 The Attorney General of New York has filed a scathing Complaint against President Trump, his two oldest sons,  daughter Ivanka Trump, and the Trump Foundation alleging that they operated Trump's charitable foundation in what amounts to a fraudulent manner:
The New York State attorney general's office filed a scathingly worded lawsuit on Thursday taking aim at the Donald J. Trump Foundation, accusing the charity and the Trump family of sweeping violations of campaign finance laws, self-dealing and illegal coordination with the presidential campaign.

The lawsuit, which seeks to dissolve the foundation and bar President Trump and three of his children from serving on nonprofit organizations, was an extraordinary rebuke of a sitting president. The attorney general also sent referral letters to the Internal Revenue Service and the Federal Election Commission for possible further action, adding to Mr. Trump's extensive legal challenges.

The lawsuit, filed in State Supreme Court in Manhattan, culminated a nearly two-year investigation of Mr. Trump's charity, which became a subject of scrutiny during and after the 2016 presidential campaign. While such foundations are supposed to be devoted to charitable activities, the petition asserts that Mr. Trump's was often used to settle legal claims against his various businesses, even spending $10,000 on a portrait of Mr. Trump that was hung at one of his golf clubs.

The foundation was also used to curry political favor, the lawsuit asserts. During the 2016 race, the foundation became a virtual arm of Mr. Trump's campaign, email traffic showed, with his campaign manager Corey Lewandowski directing its expenditures, even though such foundations are explicitly prohibited from political activities.

Mr. Trump immediately attacked the lawsuit, characterizing it in a Twitter post as an attempt by the "sleazy New York Democrats" to damage him by suing the foundation, vowing not to settle the case.

The $10,000 portrait was one of several examples of the foundation being used in "at least five self-dealing transactions," according to the attorney general's office, violating tax regulations that prohibit using nonprofit charities for private interests.

In 2007, to settle a dispute between the City of Palm Beach and Mr. Trump's Mar-a-Lago resort, the foundation paid $100,000 to the Fisher House Foundation, another charity.

In 2012, a man named Martin B. Greenberg sued the Trump National Golf Club after he made a hole-in-one at a fund-raising golf tournament that had promised to pay $1 million to golfers who aced the 13th hole, as he did. As part of a settlement, the charitable foundation paid $158,000 to a foundation run by Mr. Greenberg.

The foundation also paid $5,000 to one organization for "promotional space featuring Trump International Hotels," and another $32,000 to satisfy a pledge made by a privately held entity controlled by Mr. Trump to a charitable land trust.

The foundation lawsuit, and the referrals to the federal agencies, are the latest of Mr. Trump's voluminous legal challenges, starting with the ongoing investigation by the special counsel, Robert S. Mueller III, into ties between Mr. Trump, his associates and Russia. Earlier this week, Mr. Trump's longtime fixer, Michael Cohen, scrapped his own legal team, as he faces an investigation by the United States attorney's office in Manhattan.

The attorney general's action is also likely to embolden critics who have accused Mr. Trump of flouting legal norms. Mr. Trump has suggested he might pardon himself in the Mueller investigation and has repeatedly assailed the Federal Bureau of Investigation.

"As our investigation reveals, the Trump Foundation was little more than a checkbook for payments from Mr. Trump or his businesses to nonprofits, regardless of their purpose or legality," said Barbara D. Underwood, New York's attorney general, who has been on her job little over a month. "This is not how private foundations should function and my office intends to hold the foundation accountable for its misuse of charitable assets."'
The Washington Post, first reported on the allegations regarding apparent improprieties which in the operation of Trump's charitable foundation back in October 2016, has more on the details of the lawsuit and Post reporter Amber Phillips details the implications of these allegations:
What's so striking about this lawsuit is how much wrongdoing it alleges.  The lawsuit's takeaway slams you in the face: Trump's use of the charity was unethical and illegal. His primary motivation, according to the lawsuit, was to enrich himself rather than helping others. Read another way, the state of New York is alleging that the president's charity was a sham.

New York attorney general Barbara Underwood, a career official with decades of distinguished legal work, alleges that Trump and his children engaged in "persistently illegal conduct" with the charity.

Trump's core message to voters was that he could clean up a political system filled with people who are only in public service for themselves. A thorough, nonpartisan investigation by state officials just alleged that for decades, Trump used his own charity, set up to help others, to knowingly help himself. That's as swampy as it gets.

The Post's David Fahrenthold first highlighted many of the misuses of funds, like using charity money to decorate one of his golf resorts with a $10,000 portrait of Trump. He reports on the lawsuit: "[B]ehind the scenes, Underwood said, the foundation was essentially one of Trump's personal checkbooks."

"Foundations may spend money only to further their charitable missions, but Trump used the foundation as a personal piggy bank," said Melanie Sloan, an ethics expert and Trump critic.

Of course, Trump is facing numerous ethical and legal inquiries — from his business practices as president, to his fidelity to his wife and payments to women to allegedly keep them quiet, to whether he forcibly kissed and groped women, to whether he tried to obstruct an FBI investigation into his campaign's ties to Russia.

But to date, most of the allegations and lawsuits only incrementally chip away at the president's conduct. And he has plenty of plausible deniability to try to convince his supporters that he's being wrongly attacked.

(…)

This New York lawsuit feels different. It's much harder to separate the person from the actions. It alleges that he used the charity's money over the past decade to settle legal disputes involving his for-profit business.

And the lawsuit alleges that when he was running for president, things got worse, not better. It alleges that he used the money to donate to certain veterans' charities that could be politically beneficial to him, for example.

The lawsuit alleges that this wasn't just a mistake on his staff's part, or bad apples in his campaign acting on their own. Trump had been using the charity to enrich himself consistently for decades. He knew what he was doing when he used it to run for president.

Underwood: "Mr. Trump's wrongful use of the Foundation to benefit his Campaign was willful and knowing."

In other words, Trump knew he was acting unethically and maybe even illegally. And he did it anyway. Over and over again.
As a preliminary matter, it's worth noting that this is a civil matter rather than a criminal one. To be sure, the allegations of charitable fraud that are made in the Verified Complaint, which I have embedded below, are serious enough that they could pose the basis for a criminal case. This is especially true in New York, which has some of the most stringent laws and regulations regarding the operation of charities and the obligations of those operating those charities. Additionally, the issue of charitable fraud is one that the New York Attorney General's office has been rather vigorous and aggressive dating back to well before the tenure of Ms. Underwood or her predecessor Eric Schneiderman, who was forced to resign earlier this year amid allegations of sexual impropriety. Of course, it's unclear as a matter of law if a state can file indictments against a sitting President of the United States or if their power to do so is as limited as that of a Federal prosecutor pending the President's impeachment and removal from office.
In any case, instead of pursuing this as a criminal manner Attorney General Underwood instead chose to go the civil route, thus avoiding the Constitutional issues that a criminal indictment would bring up. That doesn't mean that Trump is out of the woods, though, In the Complaint, Underwood is seeking a number of civil remedies against the President and his three eldest children that would severely curtail their ability to be involved with similar charitable foundations in the future. Specifically, the damages sought in the case include a judgment of $2.8 million against the President himself related to alleged fraudulent transfers to and from the foundation. The Complaint also seeks an order barring the President, Donald Trump, Jr, Eric Trump, and Ivanka Trump from being affiliated with any charitable foundation that is based in or does business in New York State regardless of where the charity is located, The suit would also force Trump's children to essentially end their involvement in relationships with other organization, including their own foundations. In that regard, it's worth noting that Ivanka Trump has her own charitable foundation that claims to be dedicated to "economic empowerment for women and girls. Additionally, Eric Trump had his own foundation but distanced himself from the organization after the election when it was reported that the foundation was under investigation amid allegations that it was illegally shifting resources to The Trump Organization, the holding company that controls the President's for-profit businesses. (I wrote about the allegations against Eric Trump's foundation last year, here and here.) Suffice it to say, then, that these are fairly serious allegations notwithstanding the fact that they are civil in nature rather than criminal.
Not surprisingly, the President has lashed out against the allegations on Twitter:
The sleazy New York Democrats, and their now disgraced (and run out of town) A.G. Eric Schneiderman, are doing everything they can to sue me on a foundation that took in $18,800,000 and gave out to charity more money than it took in, $19,200,000. I won't settle this case!…

— Donald J. Trump (@realDonaldTrump) June 14, 2018
….Schneiderman, who ran the Clinton campaign in New York, never had the guts to bring this ridiculous case, which lingered in their office for almost 2 years. Now he resigned his office in disgrace, and his disciples brought it when we would not settle.

— Donald J. Trump (@realDonaldTrump) June 14, 2018
Additionally, Trump's foundation issued a statement, although it came from a Trump Organization email address, a move that seems to support the allegation that Trump was essentially operating his foundation as just another business enterprise:
NOTABLE: The TRUMP FOUNDATION statement pushing back on the @NewYorkStateAG lawsuit alleging the Trump Organization improperly controlled the Trump Foundation came from a Trump Org email address. pic.twitter.com/ddpItwipti

— Kenneth P. Vogel (@kenvogel) June 14, 2018
Notwithstanding the President's tweets, it's fairly clear, as Phillips notes, that these are serious allegations against the President and his family that are of a different nature than others we've seen so far. Previous claims against this President, such as the harassment lawsuit filed by former Apprentice contestant Summer Zarvos or the allegations made by former adult film star Stormy Daniels and former Playboy model Karen McDougal, have touched upon his personal behavior. The allegations being investigated by Special Counsel Robert Mueller, meanwhile, remain allegations at this point and while they may prove to bear fruit at some point we have not reached that point yet. This Complaint, though, goes at the very heart of the way that Trump conducted his private affairs before becoming President and quite plainly and boldly accuses him of acting in an unethical and illegal manner. If proven in a court, these allegations could prove to be fairly problematic for the President and his family going forward even if they don't directly lead to something as severe as impeachment and removal from office. Obviously, of course, a Complaint is not proof of the allegations set forth therein, and Trump and his attorneys are likely to fight this matter vigorously in Court. Based solely on the Complaint, though, this doesn't look good for the President.
Here's the Complaint:
New York v. Trump Et Al by Doug Mataconis on Scribd