Stormy Daniels Talks To 60 Minutes
Stormy Daniels spoke to 60 Minutes last night about her relationship with Donald Trump and the agreement that was made on the eve of the 2016 election to keep her quiet.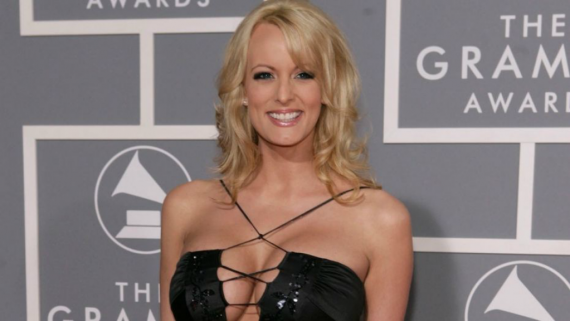 In what was likely one of the most anticipated editions of CBS's long-running newsmagazine 60 Minutes, Stephanie Clifford, who goes by the professional name Stormy Daniels she adopted when she was an adult film actress, spoke with correspondent Anderson Cooper about her 2006 affair with Donald Trump, an alleged threat made to her not to speak about the relationship, and the circumstances behind the agreement entered into in October 2016 under which she received $130,000 in exchange for her silence:
The pornographic film star Stephanie Clifford told "60 Minutes" that she struck a $130,000 deal for her silence about an alleged affair with Donald J. Trump in the final days of the 2016 campaign because she was worried about her safety and that of her young daughter.

That concern, she told "60 Minutes" in an interview broadcast on Sunday night, was based on a threat she received in 2011 from a man who approached her in Las Vegas. She said the threat came after she sold her story about Mr. Trump for $15,000 to Bauer Publishing, which finally published the interview in its magazine InTouch early this year. Bauer had initially decided not to run it after Mr. Trump's personal lawyer, Michael Cohen, threatened to sue.

"I was in a parking lot going to a fitness class with my infant daughter," she told the "60 Minutes" correspondent and CNN host Anderson Cooper. "And a guy walked up on me and said to me, 'Leave Trump alone. Forget the story.' And he leaned around and looked at my daughter and said, 'That's a beautiful little girl, it would be a shame if something happened to her mom.' '

Ms. Clifford's interview — which made for the most anticipated episode of "60 Minutes" in recent memory — was something of a national event, one marked by viewing parties and "Dark and Stormy" cocktail specials at bars, a nod to her professional name, Stormy Daniels.

And it was a quintessential moment of the Trump presidency — a tabloid-ready scandal and must-see television — that carried potential legal implications for Mr. Trump and his longtime lawyer and personal fixer, Michael Cohen. Until Sunday's broadcast, Ms. Clifford had kept her public appearances to the strip club circuit — what she called her "Make America Horny Again" tour. But, in speaking with Mr. Cooper, she chose businesslike attire that was in keeping with the seriousness of the legal case she is making, that she had been silenced in a cover-up effort to protect the presidential prospects of Mr. Trump.

Ms. Clifford is one of two women who have recently filed suit seeking to get out of agreements they said they entered during the last stretch of the 2016 campaign to give up the rights to their stories about what they have said were affairs with Mr. Trump. The other woman, a former Playmate named Karen McDougal, sold her rights to the company that owns The National Enquirer — which never published it — and spoke to Mr. Cooper on CNN on Thursday. Representatives for Mr. Trump have denied that he had an affair with either woman.

Both cases present potentially consequential legal challenges for Mr. Trump, forming the basis of complaints that have been filed with the Federal Election Commission and the Justice Department saying that the payments constituted illegal campaign contributions.

Ms. Clifford's appearance on "60 Minutes" showed that the effort to keep her story from public view had failed spectacularly — just as statements from Mr. Cohen that he would seek millions of dollars in damages from her for violating a hush agreement had not kept her from appearing on what is often the highest-rated program in television news.

Shortly after "60 Minutes" aired, a lawyer for Mr. Cohen, Brent H. Blakely, sent a cease-and-desist letter to Ms. Clifford's new lawyer, Michael Avenatti. It accused him and Ms. Clifford of defaming Mr. Cohen in relation to the threat she says she received and demanding a public apology.

"Mr. Cohen had absolutely nothing whatsoever to do with any such person or incident, and does not even believe that any such person exists, or that such incident ever occurred," Mr. Blakely wrote. "You and your client's false statements about Mr. Cohen accuse him of criminal conduct and constitute, among other things, libel per se and intentional infliction of emotional distress."

During the interview Mr. Cooper asked Ms. Clifford why she was taking the legally risky route of sitting for a nationally televised interview. "I was perfectly fine saying nothing at all, but I'm not O.K. with being made out to be a liar," she said.
Naturally, the interview did get into some of the details of the relationship between Daniels and Trump, although given the forum the details were not particularly lurid. In any case, it appears that the relationship between the two does not seem as though it was as long-lasting as the one which former Playboy centerfold Karen McDouglas talked to Cooper about during an appearance last week on CNN. The two relationships do appear, though, to have occurred at roughly the same time and coincided with the period during which Trump's wife Melania was pregnant with his fifth child, Barron Trump. Like McDougal, Daniels describes at one point being taken by a driver to the Beverly Hills Hotel where she met Trump again and ended up watching part of the Discovery Channel with him rather than having sex. In any case, it appears that there was little contact between the two after that, or that if there was it wasn't discussed during the interview or didn't make it to the final cut that aired last night.
Daniels also provided some details about the circumstances that led to the agreement she entered into shortly before the 2016 election:
[W]hen her story threatened to surface again in 2016, Ms. Clifford said, her lawyer, Keith Davidson, called her. "I think I have the best deal for you," she said Mr. Davidson told her, presenting Mr. Cohen's offer. (Mr. Davidson had also represented Ms. McDougal.)

When Mr. Cooper said some viewers would be skeptical that Ms. Clifford had made her decision because of a threat made years earlier, she said she "didn't even negotiate" and "just quickly said 'yes,' to this very, you know, strict contract, and what most people will agree with me, extremely low number." Ms. Clifford also said that she had "turned down a large payday multiple times."

Ms. Clifford said that she can remember the man's face to this day and would recognize him immediately. Mr. Avenatti said earlier this month that she had been threatened, although he did not provide any details. At the time, the White House press secretary, Sarah Huckabee Sanders, said, "Obviously we take the safety and security of any person seriously, certainly would condemn anyone threatening any individual."

When the story about the payoff first broke earlier this year, Ms. Clifford had signed a statement emphatically denying that an affair had taken place. She told Mr. Cooper that she had been told that if she failed to sign it, "they can make your life hell in many different ways." That sentiment, she indicated, was based on the terms of the agreement, not on any new threat of physical violence, though, she said, she felt both "intimidated" and "bullied."

Lawyers for Mr. Cohen have said that Ms. Clifford faces $20 million in penalties for violating an agreement to remain quiet and that the agreement was still binding.

Ms. Clifford's suit hinges on Mr. Avenatti's argument that the agreement is invalid because Mr. Trump had not signed it. Mr. Cohen signed the agreement, representing the Delaware shell company Essential Consultants, through which he paid Ms. Clifford.
As I've said before, the fact of whether or not Trump had an affair with Daniels is not really the important story here even though it is likely to be the part of the story that draws the most public attention. The details are lurid, of course, and the fact that Trump was apparently having some kind of affair with at least two women while his wife was pregnant certainly doesn't speak well to his character or integrity. In reality, though, we already knew what we were getting with Donald Trump long before he ran for President. Additionally, it's worth remembering that the payment to Daniels came around the same time that we learned of the Access Hollywood tape and the claims of nineteen women who alleged they had been harassed and even apparently assaulted by Trump in the past. While Trump took a temporary hit in the polls when those stories came out, he still ended up winning the election. Given that, the revelation that he'd apparently had a consensual affair with a porn star likely would not have harmed his campaign at all and it's not likely to hurt him going forward.
However, as I've said before, while the details of Trump's relationship are not particularly important, the same cannot be said about the remainder of her story. This includes the threat that was allegedly made against her in 2011, which she didn't get into too much detail during the interview, and the circumstances surrounding that agreement entered into in October of 2016 that led to the $130,000 payoff engineered by longtime Trump lawyer Michael Cohen. Specifically, the important questions are what, if anything, Trump or anyone associated with the campaign knew about this payment, who the actual source for the payment was, whether Cohen's claim that he used his own money is true and whether he was reimbursed. Buzzfeed's Chris Geidner gets into detail about some other questions raised by last night's interview. Depending on the answers to these questions, we could be looking at potential violations of Federal election laws, money laundering, mail fraud, wire fraud, and tax fraud. In other words, as Deep Throat told Woodward & Bernstein, follow the money.
In any case, if you missed the interview you can watch it online, or read the transcript.