Trump Finally Speaks On Stormy Daniels, Denies Knowing About Agreement
Donald Trump broke his silence on Stormy Daniels. That was a bad idea.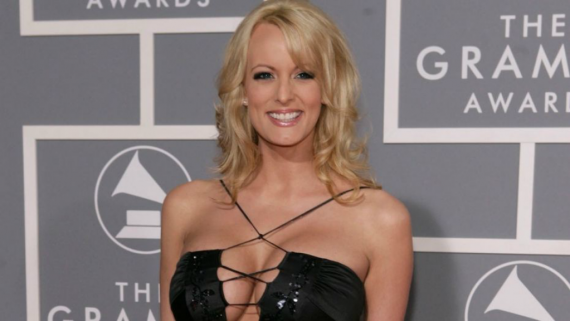 After a long period of atypical silence, President Trump finally spoke on the Stormy Daniels case, and what he said raises some interesting questions:
WASHINGTON — President Trump denied on Thursday knowing of a $130,000 payment his lawyer made to a pornographic film actress who claims to have had a sexual encounter with him, an assertion that threatened to complicate his legal battle against her.

Mr. Trump made his first public remarks about the matter aboard Air Force One as he returned to Washington from White Sulphur Springs, W.Va., where he had held a round table on tax cuts. Asked by a reporter if he knew about the payment to the actress, Stormy Daniels, whose given name is Stephanie Clifford, he said, "No."

Asked why Michael D. Cohen, his personal lawyer, had made the payment, Mr. Trump said: "You'll have to ask Michael Cohen. Michael is my attorney, and you'll have to ask Michael Cohen."

The president said he did not know where the money had come from, and ignored a question about whether he ever set up a fund Mr. Cohen could draw from.

Ms. Clifford has said that she was paid $130,000 before the 2016 election to buy her silence. She is now suing Mr. Trump to abrogate a nondisclosure agreement that was supposed to prevent her from discussing the relationship. She claims the agreement is null and void because Mr. Trump never signed it.

The president's comments on Thursday could create a predicament for him and his legal team. Ms. Clifford's case is based on the notion that the confidentiality agreement is invalid because Mr. Trump was not a party to it. By saying he was not aware of the agreement, Mr. Trump appeared to confirm that argument, which would mean neither party is legally bound by it, thus potentially paving the way for Ms. Clifford to break her silence without consequences.

Ms. Clifford's pugnacious lawyer, Michael J. Avenatti, quickly issued a statement to respond to Mr. Trump's claim. He said that the president's professed ignorance of the payment would improve his client's case, suggesting that he would use legal discovery to expose the back and forth around the payment.

"Our case just got that much better," Mr. Avenatti said in the statement. "We very much look forward to testing the truthfulness of Mr. Trump's feigned lack of knowledge concerning the $130,000 as he stated on Air Force One."

"As history teaches us, it is one thing to deceive the press and quite another to do so under oath," he added.

Later, Mr. Avenatti appeared to exult on Twitter about what he suggested were undisciplined comments by Mr. Trump that would give Ms. Clifford the upper hand in the legal dispute.

"Good (actually GREAT) things come to those who wait!!!" Mr. Avenatti wrote. "The strength of our case just went up exponentially. You can't have an agreement when one party claims to know nothing about it. #nodiscipline."

Mr. Cohen did not respond on Thursday to requests for comment. Charles Harder, a lawyer representing Mr. Trump in his legal wrangling with Ms. Clifford, also did not respond to requests for comment on the president's remarks and how they could affect his case.

(…)

"If the president didn't know anything about the payment, then he obviously didn't know anything about the agreement, in which case you can't have an agreement," Mr. Avenatti said in an interview on MSNBC. "And then there is no such thing as an NDA," he added, referring to a nondisclosure agreement.

"Now if, on the other hand, what he said on Air Force One is not accurate — and I, for one, have serious questions as to its veracity or accuracy — they've got a whole host of problems," Mr. Avenatti said.

The president and his lawyers have been working to prevent Ms. Clifford, who sat for a lengthy interview that aired on "60 Minutes" last month, from making further public statements.

In February, she said that she believed that Mr. Cohen had violated the agreement and that she, as a result, was no longer bound by it. Mr. Cohen secretly obtained a restraining order late that month to prevent her from speaking.
Trump speaking at all about this matter is surprising to say the least. Up until now,  Trump had managed to stay silent about the issue both on Twitter and in response to the numerous attempts by White House reporters to get him to comment on the matter. Given the fact that the President is hardly a man known for remaining silent in the face of people making claims against him, the silence here has been notable and likely a reflection of the fact that he had been advised by attorneys that speaking at all about the matter could open legal doors for him that could prove to be publicly embarrassing and potentially legally troublesome for him and for Michael Cohen, most especially in their effort to shut down the lawsuit that Daniels has filed against the two of them seeking to vitiate the arbitration and non-disclosure provisions of the underlying agreement.
Taken in the light most favorable to Daniels, one could argue, as does Judd Legum does at Think Progress, that Trump saying he was unaware of the agreement provides strong support for the argument that the agreement as a whole is invalid because it means that those provisions of the agreement that only Trump could agree to were void since he didn't about them. This is no doubt the primary argument that the attorney for Stormy Daniels will make in future court proceedings and filings, and it could very well succeed. After all, as Legum notes, there are provisions and representations made throughout the agreement that do not make sense unless Trump is also a party to the agreement. Since it doesn't appear as if he ever signed the agreement and has now stated for the record, albeit not under oath, that he was not aware it existed that arguably means that the entire agreement is invalid.
One could also argue, though, that Trump's comments and the fact that he was allegedly unaware of the agreement does not necessarily mean that the agreement as a whole doesn't exist, or that an agreement in some form that Daniels and the Cohen LLC doesn't still exist.. As I noted in response to a comment to another post by Michael Reynolds, even taking Trump's representations here as true, it's possible to argue that there was still an argument that a sufficient agreement remained such that the agreement as a whole was not void or that a court could still construe the existence of a contract of some kind between Daniels and the LLC notwithstanding the fact that one of the intended parties did not sign off on the agreement. This is especially true since it appears to be the case that Daniels did receive $130,000 from the LLC.
As a general rule, all that's necessary for a contract of some kind to exist is an offer, acceptance, and consideration. Even if we take Trump out of the equation entirely, I think those three elements still exist here. Daniels was offered $130,000 in exchange for remaining silent about her relationship with Trump. That offer was made, at least as far as the underlying written contract is concerned, between the LLC that Cohen set up and Daniels. Under that agreement, the LLC agreed to pay Daniels $130,000 and Daniels agreed to remain silent about her relationship with Trump. Daniels clearly accepted those terms and accepted the $130,000, which was paid to her. Under the law, it strikes me that this is sufficient to create an agreement of some kind between Daniels and the LLC to which Trump is, at best, a third-party beneficiary.
Leaving that argument aside, though, the fact that Trump spoke out at all on this issue could end up being problematic for him and for Cohen, and I doubt that either Cohen or the attorneys advising Trump with regard to the Daniels case are very pleased that he chose to break his atypical silence on the matter. For one thing, speaking at all about the matter has the potential to open the door much wider on the acceptable boundaries of any discovery that the attorney for Daniels may do in the case now pending in Federal Court. This is important because Trump and Cohen have responded to the lawsuit that Daniels filed by removing it to Federal Court and seeking to have it referred to arbitration pursuant to the terms of the agreement. If Trump didn't know about the agreement, though, it's hard to see how he would have the standing to argue that the matter should be referred to arbitration at all.
Additionally, the law on which Trump and Cohen are relying in support of their motion to refer the case to arbitration, the Federal Arbitration Act, provides among other things that the party opposing the effort to compel arbitration has the right to demand a jury trial on the enforceability of the arbitration provisions of the agreement and to conduct discovery regarding the underlying validity of the agreement. This includes the right to seek a deposition of the parties involved. Trump speaking out now about the agreement opens himself up to be put under oath and questioned about his knowledge regarding the agreement, his relationship with Cohen at the time of the agreement, and his knowledge about negotiations between Cohen and Daniels and/or anyone representing Daniels. He could also potentially be deposed on his relationship with Daniels herself, which she has already spoken about during her 60 Minutes interview.
Finally, Trump's comments here raise some potentially serious legal issue for Cohen, who is already subjected to serious legal vulnerability for what appears for all the world to be an illegal in-kind contribution to the Trump campaign on the eve of the 2016 election. If Cohen was purporting to act on behalf of Trump without his knowledge, for example, then he may have violated several ethical rules that could put his law license at risk. If it turns out that Trump is lying and he was aware of what Cohen was doing and somehow reimbursed him under the table for the payment that was made to Daniels, then this raises potential claims of money laundering, fraud, and mail fraud. And this is just thinking off the top of my head. Suffice it to say, though, that by choosing to break his silence on this issue Trump has probably made this Stormy Daniels case even more stormy for both him and for Cohen.