Rudy Giuliani: Sure, Trump Reimbursed Cohen For That Stormy Daniels Payment
Rudy Giuliani threw a live grenade into the middle of the Stormy Daniels affair last night, and he's made things much, much worse for his client.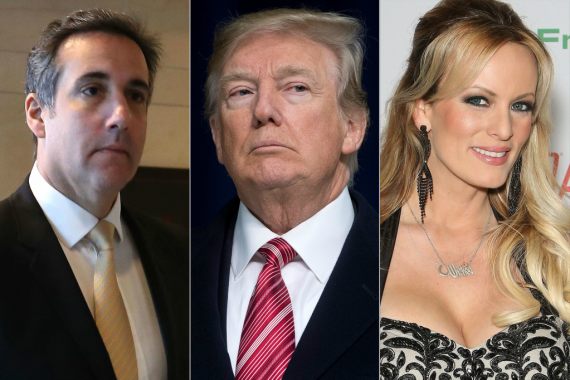 After months of denying that there was any connection between President and the payment that Michael Cohen made to adult film actress Stormy Daniels in October 2016 to keep her silent about her relationship with Donald Trump, one of the President's newest attorneys now says that Trump reimbursed Cohen for the payment:
WASHINGTON — President Trump reimbursed Michael D. Cohen, his longtime personal lawyer, for a $130,000 payment that Mr. Cohen has said he made to keep a pornographic film actress from going public before the 2016 election with her story about an affair with Mr. Trump, according to Rudolph W. Giuliani, one of the president's lawyers.

That statement, which Mr. Giuliani made Wednesday night on Fox News, contradicted the president, who has said he had no knowledge about any payment to the actress, Stephanie Clifford, to keep quiet before the election.

Asked specifically last month by reporters aboard Air Force One whether he knew about the payment, Mr. Trump said, "No," and referred questions to Mr. Cohen. He was then asked, "Do you know where he got the money to make that payment?"

"No," Mr. Trump responded. "I don't know."

In an interview with The New York Times shortly after his Fox News appearance, Mr. Giuliani, the former New York mayor and longtime Trump confidant who recently joined the president's legal team, said that he had documentation showing that Mr. Trump had personally made the payment. Mr. Giuliani indicated that the goal was to conclusively demonstrate that there was no campaign finance violation involved.

"That removes the campaign finance violation, and we have all the documentary proof for it," he said. Mr. Giuliani added that when the initial payment was made, Mr. Cohen did it "on his own authority."

"Some time after the campaign is over, they set up a reimbursement, $35,000 a month, out of his personal family account," Mr. Giuliani said. He added that over all, Mr. Cohen was paid $460,000 or $470,000 from Mr. Trump through those payments, which also included money for "incidental expenses" that he had incurred on Mr. Trump's behalf.

Mr. Giuliani said that he had spoken with the president before and after his interview on Fox News, and that Mr. Trump and other lawyers on the team were aware of what he would say.

The president has repeatedly denied that he had an affair with Ms. Clifford, who has described having intimate contact with Mr. Trump before he became president.

Mr. Giuliani's comments are also in direct contrast to what Mr. Cohen has been saying for months — that he used his own money to pay Ms. Clifford, whose stage name is Stormy Daniels. Mr. Cohen is under investigation by the F.B.I., which raided his home and office last month and seized documents that included information about the payment to Ms. Clifford.

"They funneled through a law firm, and the president repaid it," Mr. Giuliani told Sean Hannity, the Fox News host. After Mr. Hannity asked for clarification, Mr. Giuliani insisted: "That was money that was paid by his lawyer. The president reimbursed that over the period of several months."

The source of the $130,000 payment is at the center of several legal disputes involving Mr. Trump, Mr. Cohen and Ms. Clifford. That includes whether the payment to Ms. Clifford was in effect a contribution to Mr. Trump's campaign aimed at preventing a negative article from surfacing just before Election Day.

Mr. Giuliani said that Mr. Cohen had "settled several problems for" Mr. Trump, and that the payment related to them. Another person familiar with the payment confirmed that that was the mechanism used to repay Mr. Cohen.

Mr. Giuliani said that he was "not clear that" Mr. Trump was aware of the payment to Ms. Clifford at the time it was made, and he said that his understanding was that the president did not learn about the payment to her until recently.

"I don't think he did" know "until now," Mr. Giuliani said.

The comments on Fox sent a jolt through Washington and New York, including the legal teams working on behalf of the president, Mr. Cohen and Ms. Clifford, who has sued Mr. Cohen in an attempt to be released from the nondisclosure agreement that accompanied the $130,000 payment in October 2016.
Here's the video of Giuliani's statements on Hannity's show last night:
Giuliani spoke with The Washington Post's Robert Costa shortly after the Hannity interview and revealed even more about Trump's payments to Cohen, including the fact that he apparently reimbursed his longtime lawyer and "fixer" for as-yet-unexplained matters in amounts that exceed $30,000:
Later, Giuliani said in an interview with The Washington Post that when Cohen paid the settlement to actress Stormy Daniels, he knew he would eventually get paid back by Trump, as he was for other expenses.

Giuliani said it was his understanding that repayment from Trump came in a series of transactions after the election that he believes were completed in 2017 but could have included a reimbursement in 2018.

"The president was always going to make sure he got it back, and enough money to pay the taxes," Giuliani said. "There probably were other things of a personal nature that Michael took care of for which the president would have always trusted him as his lawyer . . . and that was paid back out of the rest of the money, and Michael earned a fee out of it."

Giuliani said that even though Trump reimbursed Cohen, he does not know when the president learned of the nature of the payment Cohen had made to Daniels. Giuliani said the president didn't learn many of the details about the settlement until the past two weeks, in the wake of an FBI raid on Cohen's office and residence.

"I don't know if he distinguished it from other things Cohen might have done for him during the campaign," Giuliani said, adding, "He trusted Michael, and Michael trusted him."

Last month, a reporter on Air Force One pressed Trump about the payment, asking him, "Did you know about the $130,000 payment to Stormy Daniels?"

Trump responded, "No."

The reporter then asked, "Then why did Michael Cohen make [the payment], if there was no truth to her allegations?"

"You'll have to ask Michael Cohen," Trump said. "Michael's my attorney, and you'll have to ask Michael."

Another reporter asked the president, "Do you know where he got the money to make that payment?"

"No," Trump said. "I don't know."

Federal prosecutors in New York are investigating Cohen's business practices, including whether there were any crimes committed as part of a possible pattern or strategy in 2016 of buying the silence of people who could have damaged Trump's candidacy, according to people familiar with the probe.

Cohen has said he arranged the financing of the settlement with Daniels through his home-equity line of credit. In a statement earlier this year, he did not mention any role by Trump.

"Neither the Trump Organization nor the Trump campaign was a party to the transaction with Ms. Clifford, and neither reimbursed me for the payment, either directly or indirectly," Cohen said, using Daniels's real name, Stephanie Clifford.

(…)

"Everyone in Trump world will see this as a total unforced error and further affirmation that hiring Rudy wasn't the best idea," said one presidential adviser, who requested anonymity to speak candidly about the internal dynamics.

However, Giuliani told The Post that he and Trump discussed the fact that he planned to disclose that Trump reimbursed Cohen.

"Oh, yeah, yeah," he said. "Sure, sure. He was well aware that at some point when I saw the opportunity, I was going to get this over with."
In another follow-up interview with Buzzfeed, Giuliani stated that the repayment to Cohen was made over the course of several months in the amount of $35,000 per month and that they were made out of President Trump's personal funds. This would mean that the payments were made over the course of a roughly four-month period. While Giuliani didn't specify when the repayments were made, this would mean that the majority of payments were made while Trump was President. The most interesting thing about both the Buzzfeed interview and the interview with Costa, though, is the fact that Rudy implied that the reimbursements to Cohen involved more than just the Daniels payoff, but also other matters as well as "the taxes," whatever that means. It can't be a reference to the Daniels payment itself because Cohen would not be on the hook for any taxes. Instead, it suggests that there were other matters that Cohen had handled for Trump, perhaps during the course of the campaign and perhaps matters that payoffs to other people to buy their silence during the course of the Presidential campaign.
The President tweeted about Giuliani's statements this morning and essentially confirmed everything that Giuliani said, while at the same time opening himself up to further claims against him by Daniels:
Mr. Cohen, an attorney, received a monthly retainer, not from the campaign and having nothing to do with the campaign, from which he entered into, through reimbursement, a private contract between two parties, known as a non-disclosure agreement, or NDA. These agreements are…..

— Donald J. Trump (@realDonaldTrump) May 3, 2018
…very common among celebrities and people of wealth. In this case it is in full force and effect and will be used in Arbitration for damages against Ms. Clifford (Daniels). The agreement was used to stop the false and extortionist accusations made by her about an affair,……

— Donald J. Trump (@realDonaldTrump) May 3, 2018
…despite already having signed a detailed letter admitting that there was no affair. Prior to its violation by Ms. Clifford and her attorney, this was a private agreement. Money from the campaign, or campaign contributions, played no roll in this transaction.

— Donald J. Trump (@realDonaldTrump) May 3, 2018
Michael Avenatti, the attorney representing Stormy Daniels in her ongoing legal matters, responded to Giuliani's statements last night:
1/2. We predicted months ago that it would be proven that the American people had been lied to as to the $130k payment and what Mr. Trump knew, when he knew it and what he did in connection with it. Every American, regardless of their politics, should be outraged…

— Michael Avenatti (@MichaelAvenatti) May 3, 2018
2/2. …by what we have now learned. Mr. Trump stood on AF1 and blatantly lied. This followed the lies told by others close to him, including Mr. Cohen. This should never be acceptable in our America. We will not rest until justice is served. #basta

— Michael Avenatti (@MichaelAvenatti) May 3, 2018
The extent to which what Giuliani said last night, and what the President tweeted this morning,  contradicts everything that Trump, the White House, and Michael Cohen have all said regarding the payment to Daniels and the circumstances behind the October 2016 agreement that formed the basis for that payment. Up until now, the President has specifically denied that he knew anything about Cohen's dealings with Daniels, that he knew nothing about the payment to Daniels, and that he did not reimburse Cohen for the payment. The line from the White House and the Trump legal team mirrored what the President was saying. As for Cohen, before he stopped speaking to the press after his office and home were searched by the F.B.I., Cohen was stating that Trump knew nothing about the payment to Daniels and that he made the payment on his own without the expectation of reimbursement, and that he was in fact never reimbursed.
What Giuliani said last night completely contradicts all of that. It contradicts what Trump has said in the past, what the White House has said in the past, and what Cohen has said in the past. Based on Trump's tweet's this morning it's clear that what Giuliani said last night is true, and that everything we've heard for the past several months from the Trump/White House/Cohen side of the aisle has been a bald-faced lie. Besides, Giuliani is now Trump's attorney, and it's inconceivable that he would make statements like this without clearing them with the President.
All that being said, it seems rather obvious that Giuliani has made things much, much worse for his client. Based on his statement to Hannity, Giuliani seems to think that the fact that no money from the campaign was used to reimburse Cohen for the payment to Daniels means that there were no campaign finance laws violated and that there are other potential violations of the law involved in the payment. This is so wrong is hard to even know where to begin.
The issue with the Cohen payment has never been about whether money from the Trump campaign was used to pay Stormy Daniels. The question has been whether the payment could qualify as an illegal undisclosed in-kind contribution to the Trump campaign. While it would have also been a violation of campaign finance laws for the campaign to have reimbursed Cohen out of campaign funds without disclosing it, the in-kind contribution issue is separate and apart from that. Giuliani's admission seems to me to make it more likely than not that the payment to Daniels was, in fact, an in-kind contribution to the campaign in that its purpose was to benefit Trump's campaign by buying Daniels' silence on the eve of this election. In this respect, it doesn't even matter if the allegations that Daniels was making were true or not, the issue is that Cohen decided to buy her silence for the express purpose of benefiting the campaign.
Rick Hasen comments on the campaign finance law issues at Slate:
If what Giuliani says is true, and if the payments were made to help the campaign and not (just) to help Trump personally, the campaign may be implicated in illegal activity. If Trump knew that Cohen was advancing him a $130,000 loan for campaign purposes, that would have to be reported by the campaign, as would the payments Giuliani said Trump made in installments to Cohen. These would be campaign expenditures that the committee has to keep track of. As Philip Bump notes, if the Trump Organization facilities were used to help make these payments, then there may be additional campaign violations related to the use of corporate resources for campaigns.

Although many campaign finance violations are handled just as fines, as Giuliani seemed to suggest in his Hannity interview Wednesday night, that's not true for willful violations of campaign finance law, especially those implicating the public interest. Those can lead to criminal liability. If there was an unreported six-figure loan to the campaign to pay off someone who had an affair with a presidential candidate, with repayments facilitated through corporate resources, that seems like a serious enough violation to merit review by the Justice Department.
In addition to the campaign law violations, which wouldn't necessarily lead to criminal charges, Giuliani's admission also opens up the potential that the payment to Daniels could give rise to other potential criminal charges. The fact that Cohen was apparently reimbursed surreptitiously for the payment to Daniels, among other things, raises potential money laundering issues, for example. Additionally, since Cohen has said in the past that he took out a bank loan for the purpose of making the payment to Daniels raises the possibility that there could be bank, wire, and mail fraud issues could be implicated by this payment. Finally, there is the fact that even though Trump's past statements about Daniels and the payment completely contradict what Giuliani said last night, and what the President tweeted this morning this could nonetheless have a serious impact on the President's credibility in any legal proceedings related to this matter going forward. Rather than make things better for his client, Giuliani has made things much, much worse both from a legal and a public relations point of view.
On a final note, Trump himself dug the hole even deeper with his own tweets this morning. As I noted yesterday, Stormy Daniels has already filed a defamation lawsuit against the President for his claim that she had fabricated the claim that she had been threatened to remain silent about her relationship with Trump by an as-yet-unidentified man who confronted her in the parking lot. This morning, Trump accused Daniels of lying about the underlying allegations she has made regarding their relationship in 2005 and 2006. This could potentially give Daniels another ground for a defamation claim, which I'm sure her already aggressive attorney is already thinking about.
It's not even nine in the morning on the East Coast, folks, and this has already turned into an entirely surreal news day.
Update: Giuliani appeared on Fox & Friends this morning and appeared to dig the hole even further:
A day after contradicting Donald Trump's and longtime Trump general counsel Michael Cohen's claims that the president knew nothing about Cohen's payments to Stormy Daniels, Rudy Giuliani contradicted himself in a Fox & Friends interview.

The former New York City Mayor and current Trump legal team member insisted that the payments were personal, not political — but moments later demonstrated that they were indeed campaign related.

On Thursday morning, Giuliani first said that the payment was to protect the Trump family from a "six year old, false allegation" that Donald Trump had had an extramarital affair.

"If we had to defend this as not being a campaign contribution, I think we could do that," he said. "This is for personal reasons. The was the president had been hurt personally, not politically, personally so much — and the first lady — by some of the false allegations.  That one more false allegation six years old, I think [Cohen] was trying to help the family. For that he's treated like some kind of villain."

Giuliani added that the $130,000 payment was "to save not so much their marriage, as much as their reputation."

But then moments later, Giuliani noted the political reason for the payment. "Imagine if that came out of October 15, 2016, in the middle of the last debate with Hillary Clinton…" he said. "Cohen made it go away. He did his job."

If Cohen indeed made the payment — either as a gift or even as a loan without interest — to aid Trump politically, it could be considered an illegal and unreported campaign contribution in excess of the $2,700 federal contribution limit that was in effect for the 2016 campaign.
Here's the video of Giuliani on Fox & Friends:
Again, rather than helping his client, Giuliani has made things much, much worse.