Trump Knew About Payment To Stormy Daniels Before He Denied Knowing About It
The facts in the Stormy Daniels affair continue to move in a direction that doesn't look good for the President.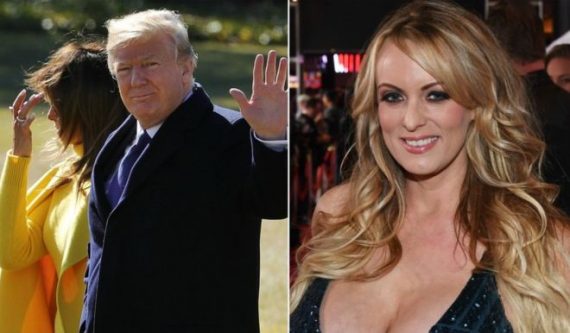 The New York Times is reporting that President Trump knew about Michael Cohen's payment of $130,000 to adult film actress Stormy Daniels well before he denied it to reporters, seemingly confirming what his attorney Rudy Giuliani told Fox News Channel in two separate incidents earlier this week:
WASHINGTON — President Trump knew about a six-figure payment that Michael D. Cohen, his personal lawyer, made to a pornographic film actress several months before he denied any knowledge of it to reporters aboard Air Force One in April, according to two people familiar with the arrangement.

How much Mr. Trump knew about the payment to Stephanie Clifford, the actress, and who else was aware of it have been at the center of a swirling controversy for the past 48 hours touched off by a television interview with Rudolph W. Giuliani, a new addition to the president's legal team. The interview was the first time a lawyer for the president had acknowledged that Mr. Trump had reimbursed Mr. Cohen for the payments to Ms. Clifford, whose stage name is Stormy Daniels.

It was not immediately clear when Mr. Trump learned of the payment, which Mr. Cohen made in October 2016, at a time when news media outlets were poised to pay her for her story about an alleged affair with Mr. Trump in 2006. But three people close to the matter said that Mr. Trump knew that Mr. Cohen had succeeded in keeping the allegations from becoming public at the time the president denied it.

Ms. Clifford signed a nondisclosure agreement, and accepted the payment just days before Mr. Trump won the 2016 presidential election. Mr. Trump has denied he had an affair with Ms. Clifford and insisted that the nondisclosure agreement was created to prevent any embarrassment to his family.

Mr. Giuliani said this week that the reimbursement to Mr. Cohen totaled $460,000 or $470,000, leaving it unclear what else the payments were for beyond the $130,000 that went to Ms. Clifford. One of the people familiar with the arrangement said that it was a $420,000 total over 12 months.

Allen Weisselberg, the chief financial officer of the Trump Organization, has known since last year the details of how Mr. Cohen was being reimbursed, which was mainly through payments of $35,000 per month from the trust that contains the president's personal fortune, according to two people with knowledge of the arrangement.

One person close to the Trump Organization said people with the company were aware that Mr. Cohen was still doing "legal work" for the president in 2017, but another person familiar with the situation said that Mr. Weisselberg did not know that Mr. Cohen had paid Ms. Clifford when the retainer agreement was struck and when the payments went through.

Mr. Weisselberg's knowledge of the retainer agreement could draw Mr. Trump's company deeper into the federal investigation of Mr. Cohen's activities, increasing the president's legal exposure in a wide-ranging case involving the lawyer often described as the president's "fixer" in New York City.

In interviews on Wednesday and Thursday, Mr. Giuliani insisted that the president had reimbursed Mr. Cohen for the $130,000 hush payment — and then paid him another $330,000, if not more — which was in direct conflict with the longstanding assertion by Mr. Trump and the White House that he did not know about the hush money or where it came from.

In an interview with The New York Times on Friday, Mr. Giuliani sought to clarify his statements by saying that he did not know whether Mr. Trump had known that some of the payments to Mr. Cohen had gone to Ms. Clifford. "It's not something I'm aware of, nor is it relevant to what I'm doing, the legal part," Mr. Giuliani said.

Mr. Giuliani acknowledged that "politically," it could be troublesome. "Politically, everything matters, but I don't see a problem here, at least not" legally, he said.

A lawyer for the Trump Organization declined to comment, and a spokeswoman for the organization did not respond to an email about Mr. Weisselberg.

The president has said that he would view any investigation into his finances or those of his family as "a violation," though he was referring to the investigation into Russia by the special counsel, Robert S. Mueller III; the investigation into Mr. Cohen is being run by federal prosecutors in the Southern District of New York.

The payment to Ms. Clifford is a part of that investigation.
All of this comes, of course, in the wake of the statements that Rudy Giuliani, who recently signed on as a member of the Trump legal team, made regarding the payment arrangement between Cohen and Daniels that appeared to break that case wide open. Previously, of course, Trump, Cohen and the White House all appeared to be on the same page regarding that arrangement. Trump and the White House, of course, maintained that they were totally unaware of the agreement Cohen entered into in October 2016 notwithstanding the fact that the original agreement was intended to be between Daniels, a Delaware Limited Liability Company opened by Cohen for seemingly the sole purpose of making the payment to Daniels, and Trump. Cohen went on to claim that he had made the payment of $130,000 on his own and that he obtained the proceeds by taking out a personal loan and that he was never reimbursed for this payment. In interviews on both Hannity and on Fox & Friends, Giuliani said that Trump reimbursed Cohen in full for the payment and apparently went on to reimburse him for other as-yet-unspecified payments totaling as much as an additional $300,000 on top of the payment to Daniels. Giuliani attempted yesterday to "clarify" those statements, but in the end, he did nothing to refute the central claims that he made in his appearance, and this report seems to indicate he was telling the truth.
The payment to Daniels has gotten attention largely thanks to the salacious details that Daniels has revealed about her relationship with Trump and the fact that the President's statements on the matter have been, shall we say, inconsistent. However, as I've noted in the past, there are potentially serious legal consequences involved here as well that could come back to bite both Cohen and Trump. Additionally the recent revelations about what the President may have known about the payment from Cohen to Daniels, when he knew it, and the apparently now established fact that he ultimately reimbursed Cohen for the payment could give investigators grounds to expand the investigation of Trump's personal and business finances both in connection with the Cohen investigation in New York and the investigation being led by Robert Mueller into Russian interference with the 2016 election and ties between the Trump campaign and Russian official.
The most paramount legal implication comes from the potential violation of campaign finance laws. If it can be established that the payment to Daniels was made primarily out of the fear that her allegations could become public immediately prior to the 2016 election then that payment could be interpreted as being an illegal in-kind campaign contribution. In that regard, Giuliani has tried to clarify his initial claims by saying that the primary motive for the payment was to prevent the story from becoming public and embarrassing the President and his wife. However, this contradicts statements that Giuliani himself had made on Wednesday night and Thursday morning that made it clear that the primary motive for the payment was to protect the campaign. Additionally, the fact that this agreement was suddenly entered into some ten years after the alleged Trump-Daniels relationship had ended and just about two weeks prior to the 2016 election seems to be a fairly strong indication of what the true intent of the payment actually was.
In addition to potential violations of campaign finance laws, there are also other potential legal issues that could be implicated by the way the payment to Daniels was structured, and the way the reimbursement to Cohen was structured. These include potential money laundering charges as well as fraud charges related to the failure to reveal the true source of the payments. Since Cohen apparently used a loan to get the initial funds to pay Daniels, then there could also be potential bank fraud charges as well as income tax issues that could have implications for Cohen, Daniels, and Trump. Finally, the manner in which Cohen acted in connection with this transaction seems to clearly violate several provisions of the disciplinary rules that govern attorneys licensed to practice law in New York, most especially those that prohibit attorneys from advancing anything other than costs of litigation (i.e., filing fees, deposition costs, expert witness fees, etc) on behalf of their client. This isn't an issue for Trump, of course, but it is another potential headache for Cohen that could factor into any decision on his part about whether or not he should cooperate with prosecutors and enter into some kind of plea agreement.
In addition to these potential legal charges, these latest revelations about the President's knowledge regarding the Cohen-Daniels transaction and the fact that The Trump Organization could have been involved in funneling the reimbursement payments to Cohen raises the prospect that investigators in both New York and Washington could end up looking even further into Trump's personal and business finances. Previously, Trump has said that he would consider any investigation of his personal or business finances to be a "red line" that could lead him to try to fire Robert Mueller or other Justice Department officials. Notwithstanding that, it's already been reported that Mueller has begun looking into some aspects of Trump's finances, including details regarding Trump Organization business and, potentially, Trump's tax returns, which he has previously refused to make public. The revelation that Trump not only knew about the Cohen-Daniels transaction but that he reimbursed Cohen for that payment and that he may have used The Trump Organization for that reimbursement, then that could give both Mueller and the investigators in the Southern District of New York grounds to look even further into Trump's finances, and there's no telling what they could find there. This latest report just seems to add more weight to any argument these investigators would need to make to support their applications for search warrants applicable to those matters.