Robert Mueller Crosses Trump's "Red Line" By Seeking Information About Trump's Finances
Mueller crosses Trump's "red line."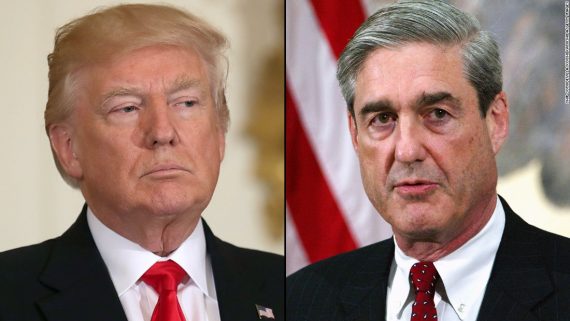 The past two months have seen several major developments in special counsel Robert Mueller's investigation of Russian interference with the 2016 election and possible collusion between the Trump campaign and Russia. This includes the indictments of Paul Manafort and his associate Rick Gates and the plea deals that were reached with Trump campaign aide George Papadopoulos and former National Security Adviser Lt. General Michael Flynn. President Trump, the Administration, and Trump's own legal team have responded to these developments with a combination of dismissal and the claim that these events mean that Mueller is nearing the end of his investigation. Most serious legal analysts, of course, have dismissed the latter argument as absurd, especially given the fact that Friday's announcement of the Flynn plea deal suggests that Flynn, who was close to Trump right up to the day he was dismissed from the White House and may have been in frequent contact with the President after that according to some reports, has information that Mueller finds valuable to his investigation and which is likely to lead him to expand it rather than draw it to close. That conclusion is further supported by new reports that Mueller has subpoenaed records from Deutsche Bank regarding Trump's personal and business finances:
A U.S. federal investigator probing alleged Russian interference in the 2016 U.S. presidential election asked Deutsche Bank for data on accounts held by President Donald Trump and his family, a person close to the matter said on Tuesday.

Germany's largest bank received a subpoena from Special Counsel Robert Mueller several weeks ago to provide information on certain money and credit transactions, the person said, without giving details, adding key documents had been handed over in the meantime.

Deutsche Bank, which has loaned the Trump organization hundreds of millions of dollars for real estate ventures, said it would not comment on any of its clients.

Mueller is investigating alleged Russian attempts to influence the election, and potential collusion by Trump aides. Russia has denied U.S. intelligence agencies' conclusion that it meddled in the campaign and Trump has said there was no collusion with Moscow.

The German bank is one of the few major lenders that has lent large amounts to Trump in the past decade. A string of bankruptcies at his hotel and casino businesses during the 1990s made most of Wall Street wary of extending him credit.

A U.S. official with knowledge of Mueller's probe said one reason for the subpoenas was to find out whether Deutsche Bank may have sold some of Trump's mortgage or other loans to Russian state development bank VEB or other Russian banks that now are under U.S. and European Union sanctions.

Holding such debt, particularly if some of it was or is coming due, could potentially give Russian banks some leverage over Trump, especially if they are state-owned, said a second U.S. official familiar with Russian intelligence methods.

"One obvious question is why Trump and those around him expressed interest in improving relations with Russia as a top foreign policy priority, and whether or not any personal considerations played any part in that," the second official said, speaking on the condition of anonymity.

During his White House campaign, Trump said he would seek to improve ties with Russian President Vladimir Putin, which had been frequently strained during President Barack Obama's administration.

There was no immediate response to the Deutsche Bank subpoena from Trump's lawyers.

(…)

Trump had liabilities of at least $130 million to Deutsche Bank Trust Company Americas, a unit of the German bank, according to a federal financial disclosure form released in June by the U.S. Office of Government Ethics.

The Deutsche debts include a loan exceeding $50 million for the Old Post Office, a historic property he redeveloped in downtown Washington, mortgages worth more than $55 million on a golf course in Florida, and a $25 million-plus loan on a Trump hotel and condominium in Chicago, the disclosure shows.

All of those loans were taken out in 2012 and will mature in 2023 and 2024, according to the disclosure.
Previously, President Trump has hinted that Mueller would be crossing a red line if he extended his investigation into the President's personal and business finances. This occurred more explicitly during a July 9th interview with The New York Times during which Trump acknowledged that an investigation into his personal or business finances, or any of his family member's finances could be considered a "red line" for him. This admission came after months of reports that Trump had been forced to rely on loans that were at least partly backed by Russian banks in the early 90s when his personal and business finances were particularly strained due to the string of business bankruptcies and other financial setbacks he had experiences. It was well-known, for example, that Deutsche Bank had become one of the few major banks willing to underwrite Trump's real estate deals in those years and that Deutsche Bank had a reputation for working closely with banks in Russia interested in being parts of projects around the world. Additionally, both of Donald Trump Jr. and Eric Trump, who were already serving in high-ranking positions in The Trump Organization even back then, had been quoted by reporters as saying in an almost braggadocious manner that the real estate developer was getting a lot of money from Russian banking interests. Finally, several news outlets have reported that Trump has a long history with Russian banking interests, including banks owner by individuals known to be within the inner circle of Russian President Vladimir Putin, that raise serious questions about whether or not he has a conflict of interest regarding U.S. relations with Russia in general and Putin in particular.
Remarks such as these led to a summer of speculation about whether or not Trump would seek to fire Mueller or make some other move to remove him from his position. This included speculation that the President could move Attorney General Jeff Sessions from his current position and make him the head of the Department of Homeland Security, a position that was vacated when retired General John Kelly was named White House Chief of Staff in the wake of the departure of Reince Priebus from the White House. Another possibility floated was that Trump would simple fire Sessions outright, especially amid reports that the President had become angry about the fact that Sessions had recused himself from overseeing the Russia investigation given his role in Trump's campaign and the fact that he was one of the people close to Trump who had meetings with the Russian Ambassador to the United States during the course of the campaign. It was in the wake of that recusal and the firing of F.B.I. Director James Comey, which Trump later admitted was due to the bureau's role in the Russia investigation, that Deputy Attorney General Rod Rosenstein made the decision to name Mueller special counsel and give him the job of carrying out and overseeing the investigation. In Trump's mind, Sessions' recusal is what led directly to Mueller's appointment and that replacing him with someone unconnected campaign would give the President the opportunity to hobble the investigation by directing that Mueller be fired. While none of this has occurred, the implication that it could has been the talk of Washington for months.
With Mueller now having obtained subpoenas for Trump's personal and business dealings with Deutsche Bank, one can assume the same thing is likely to happen with regard to any other financial institutions that Trump has had dealings with in the past. Given the President's long-standing reluctance to reveal anything of substance regarding his finances, most exemplified by his refusal during the campaign to release copies of any of his tax returns, this move on the special counsel's part is no part particularly grating. These reports may also indicate why, according to numerous reports and as evidenced by Trump's often seemingly irrational Twitter rants in recent weeks, Trump has seemingly increased his efforts to undermine the investigations into the Russia matter by both Mueller and the relevant House and Senate committees. None of those efforts have succeeded, of course, and each successive move on Trump's part leads back to one question. If the Russia investigation is, as Trump has claimed repeatedly, "Fake News" then why is he investing so much effort in trying to undermine it? What have you got to hide, Mr. President?