Trump Administration Seeking To Undermine Robert Mueller's Investigation
Robert Mueller seems to be getting closer to the President, and the Administration is responding by seeking to undermine his investigation.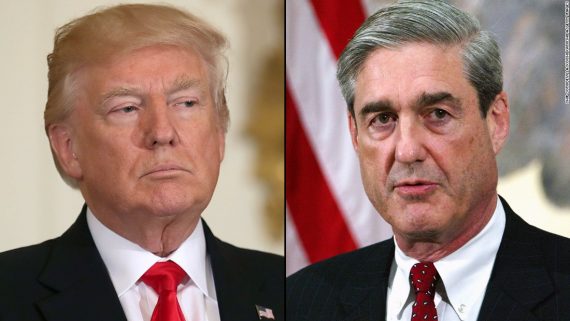 A pair of reports that dropped yesterday evening raise the prospect that the Trump Administration is seeking to undermine special counsel Robert Mueller's investigation of Russian interference in the 2016 election and the links between the Trump campaign and Russian officials during the campaign, and both raise the prospect that Trump could be considering even bolder moves as the investigation seems to get closer and closer to him.
First up, The New York Times is reporting that Trump's team of advisers and lawyers is seeking information about Mueller and his team in an effort to undermine his investigation:
WASHINGTON — President Trump's lawyers and aides are scouring the professional and political backgrounds of investigators hired by the special counsel Robert S. Mueller III, looking for conflicts of interest they could use to discredit the investigation — or even build a case to fire Mr. Mueller or get some members of his team recused, according to three people with knowledge of the research effort.

The search for potential conflicts is wide-ranging. It includes scrutinizing donations to Democratic candidates, investigators' past clients and Mr. Mueller's relationship with James B. Comey, whose firing as F.B.I. director is part of the special counsel's investigation.

The effort to investigate the investigators is another sign of a looming showdown between Mr. Trump and Mr. Mueller, who has assembled a team of high-powered prosecutors and agents to examine whether any of Mr. Trump's advisers aided Russia's campaign to disrupt last year's presidential election.

Some of the investigators have vast experience prosecuting financial malfeasance, and the prospect that Mr. Mueller's inquiry could evolve into an expansive examination of Mr. Trump's financial history has stoked fears among the president's aides. Both Mr. Trump and his aides have said publicly they are watching closely to ensure Mr. Mueller's investigation remains narrowly focused on last year's election.

During an interview with The New York Times on Wednesday, Mr. Trump said he was aware that members of Mr. Mueller's team had potential conflicts of interest and would make the information available "at some point."

Mr. Trump also said Mr. Mueller would be going outside his mandate if he begins investigating matters unrelated to Russia, like the president's personal finances. Mr. Trump repeatedly declined to say what he might do if Mr. Mueller appeared to exceed that mandate. But his comments to The Times represented a clear message to Mr. Mueller.

"The president's making clear that the special counsel should not move outside the scope of the investigation," Sarah Huckabee Sanders, a White House spokeswoman, said during a news briefing on Thursday.

Joshua Stueve, a spokesman for the special counsel, declined to comment.

For weeks, Republicans have publicly identified what they see as potential conflicts among Mr. Mueller's team of more than a dozen investigators. In particular, they have cited thousands of dollars of political donations to Democrats, including former President Barack Obama, made by Andrew Weissmann, a former senior Justice Department official who has expertise in fraud and other financial crimes. News reports have revealed similar donations by other members of Mr. Mueller's team, which Mr. Trump's allies have cited as evidence of political bias. Another lawyer Mr. Mueller has hired, Jeannie Rhee, represented the Clinton Foundation.

To seek a recusal, Mr. Trump's lawyers can argue their case to Mr. Mueller or his boss, Deputy Attorney General Rod J. Rosenstein. The Justice Department has explicit rules about what constitutes a conflict of interest. Prosecutors may not participate in investigations if they have "a personal or political relationship" with the subject of the case. Making campaign donations is not included on the list of things that would create a "political relationship."

The examination of Mr. Mueller's investigators reflects deep concerns among the president's aides that Mr. Mueller will mount a wide-ranging investigation in the mold of the inquiry conducted by the independent counsel Kenneth W. Starr during the 1990s. Mr. Starr's investigation into President Bill Clinton began by reviewing an Arkansas land deal and concluded several years later with the president's impeachment over a lie about a sexual affair.

By building files on Mr. Mueller's team, the Trump administration is following in the footsteps of the Clinton White House, which openly challenged Mr. Starr and criticized what Mr. Clinton's aides saw as a political witch hunt.

Mr. Trump's advisers are split on how far to go in challenging the independence of Mr. Mueller, a retired F.B.I. director and one of the most respected figures in law enforcement. Some advisers have warned that dismissing Mr. Mueller would create a legal and political mess.

Nevertheless, Mr. Trump has kept up the attacks on him. In his interview with The Times, which caught members of his legal team by surprise, he focused on the fact that Mr. Mueller had interviewed to replace Mr. Comey as the F.B.I. director just a day before Mr. Mueller was appointed special prosecutor, saying that the interview could create a conflict.

"He was sitting in that chair," Mr. Trump said during the Oval Office interview. "He was up here, and he wanted the job." Mr. Trump did not explain how the interview created a conflict of interest.

In addition to investigating possible collusion between Russia and Mr. Trump's advisers, the special counsel is examining whether the president obstructed justice by firing Mr. Comey. Some of Mr. Trump's supporters have portrayed Mr. Mueller and Mr. Comey as close friends. While they worked closely together in the Justice Department under President George W. Bush and are known to respect each other, associates of both men say the two are not particularly close.

Mr. Mueller's team has begun examining financial records, and has requested documents from the Internal Revenue Service related to Mr. Trump's former campaign chairman, Paul J. Manafort, according to a senior American official. The records are from a criminal tax investigation that had been opened long before Mr. Trump's campaign began. Mr. Manafort was never charged in that case.

Federal investigators have also contacted Deutsche Bank about Mr. Trump's accounts, and the bank is expecting to provide information to Mr. Mueller.
The Washington Post, meanwhile reports that Trump's team is looking into everything from undermining the investigation to attempting to undercut it by doing things such as issuing pardons, including the possibility that the President could pardon himself:
Some of President Trump's lawyers are exploring ways to limit or undercut special counsel Robert S. Mueller III's Russia investigation, building a case against what they allege are his conflicts of interest and discussing the president's authority to grant pardons, according to people familiar with the effort.

Trump has asked his advisers about his power to pardon aides, family members and even himself in connection with the probe, according to one of those people. A second person said Trump's lawyers have been discussing the president's pardoning powers among themselves.

One adviser said the president has simply expressed a curiosity in understanding the reach of his pardoning authority, as well as the limits of Mueller's investigation.

"This is not in the context of, 'I can't wait to pardon myself,' " a close adviser said.

With the Russia investigation continuing to widen, Trump's lawyers are working to corral the probe and question the propriety of the special counsel's work. They are actively compiling a list of Mueller's alleged potential conflicts of interest, which they say could serve as a way to stymie his work, according to several of Trump's legal advisers.

A conflict of interest is one of the possible grounds that can be cited by an attorney general to remove a special counsel from office under Justice Department regulations that set rules for the job.

Responding to this story on Friday after it was published late Thursday, one of Trump's attorneys, John Dowd, said it was "not true" and "nonsense."

"The President's lawyers are cooperating with special counsel Robert Mueller on behalf of the President," he said.

Other advisers said the president is also irritated by the notion that Mueller's probe could reach into his and his family's finances.

Trump has been fuming about the probe in recent weeks as he has been informed about the legal questions that he and his family could face. His primary frustration centers on why allegations that his campaign coordinated with Russia should spread into scrutinizing many years of Trump dealmaking. He has told aides he was especially disturbed after learning Mueller would be able to access several years of his tax returns.

Trump has repeatedly refused to make his tax returns public after first claiming he could not do so because he was under audit or after promising to release them after an IRS audit was completed. All presidents since Jimmy Carter have released their tax returns.

Further adding to the challenges facing Trump's outside lawyers, the team's spokesman, Mark Corallo, resigned on Thursday, according to two people familiar with his departure. Corallo did not respond to immediate requests for comment.

"If you're looking at Russian collusion, the president's tax returns would be outside that investigation," said a close adviser to the president.

Jay Sekulow, one of the president's private lawyers, said in an interview Thursday that the president and his legal team are intent on making sure Mueller stays within the boundaries of his assignment as special counsel. He said they will complain directly to Mueller if necessary.

"The fact is that the president is concerned about conflicts that exist within the special counsel's office and any changes in the scope of the investigation," Sekulow said. "The scope is going to have to stay within his mandate. If there's drifting, we're going to object."

Sekulow cited Bloomberg News reports that Mueller is scrutinizing some of Trump's business dealings, including with a Russian oligarch who purchased a Palm Beach mansion from Trump for $95 million in 2008.

"They're talking about real estate transactions in Palm Beach several years ago," Sekulow said. "In our view, this is far outside the scope of a legitimate investigation."

The president has long called the FBI investigation into his campaign's possible coordination with the Russians a "witch hunt." But now, Trump is coming face-to-face with a powerful investigative team that is able to study evidence of any crime it encounters in the probe — including tax fraud, lying to federal agents and interference in the investigation.

"This is Ken Starr times 1,000," said one lawyer involved in the case, referring to the independent counsel who oversaw an investigation that eventually led to House impeachment proceedings against President Bill Clinton. "Of course, it's going to go into his finances."

Following Trump's decision to fire FBI Director James B. Comey — in part because of his displeasure with the FBI's Russia investigation — Deputy Attorney General Rod J. Rosenstein appointed Mueller as special counsel in a written order. That order gave Mueller broad authority to investigate links between the Russian government and the Trump campaign, as well as "any matters that arose or may arise directly from the investigation" and any crimes committed in response to the investigation, such as perjury or obstruction of justice.

Mueller's probe has already expanded to include an examination of whether Trump obstructed justice in his dealings with Comey, as well as the business activities of Jared Kushner, Trump's son-in-law.

Trump's team could potentially challenge whether a broad probe of Trump's finances prior to his candidacy could be considered a matter that arose "directly" from an inquiry into possible collusion with a foreign government.

The president's legal representatives have also identified what they allege are several conflicts of interest facing Mueller, such as donations to Democrats by some of his prosecutors.

(…)

Currently, the discussions of pardoning authority by Trump's legal team are purely theoretical, according to two people familiar with the ongoing conversations. But if Trump pardoned himself in the face of the ongoing Mueller investigation, it would set off a legal and political firestorm, first around the question of whether a president can use the constitutional pardon power in that way.

"This is a fiercely debated but unresolved legal question," said Brian C. Kalt, a constitutional law expert at Michigan State University who has written extensively on the question.

No president has sought to pardon himself, so no courts have reviewed it. Although Kalt says the weight of the law argues against a president pardoning himself, he says the question is open and predicts such an action would move through the courts all the way to the Supreme Court.

"There is no predicting what would happen," said Kalt, author of the book, "Constitutional Cliffhangers: A Legal Guide for Presidents and Their Enemies." It includes chapters on the ongoing debate over whether presidents can be prosecuted while in office and on whether a president can issue a pardon to himself.
Any hint of a President seeking to undermine an investigation of his own Administration by an independent counsel raises obvious comparisons to the Watergate scandal and President Nixon's infamous decision to fire Archibald Cox on a Saturday night in October 1973. That move, of course, was resisted by Nixon's own Attorney General Elliot Richardson and Richardson's top deputy William Ruckelshaus, both of whom refused to comply with Nixon's order to fire Cox. That led to Nixon firing both Richardson and Ruckelshaus and relying on then Solicitor General Robert Bork to fire Cox. In the end, of course, firing the outside prosecutor looking into the Watergate scandal did nothing to stop the investigation. Cox was replaced by Leon Jaworski, who continued to pursue the investigation of Nixon and his associates, an investigation that eventually led to the Supreme Court ruling that required the President to hand over tapes of conversations between the President and his top advisors that included conversations about the events surrounding the Watergate break-in and the Administration's effort to cover up that plot and various other nefarious actions surrounding the 1972 election. Cox's firing also did nothing to stop the ongoing Congressional investigations, which ultimately led to the drafting of Articles of Impeachment against Nixon that would have easily passed the House and led to his conviction and removal by the Senate if Nixon had not resigned from office.
Nothing in these reports indicates that we're actually anywhere close to those events forty-four years ago, of course, but the fact that the Trump Administration is even discussing the possibility of undermining Mueller's investigation at this early stage suggests that the President and people around him are growing concerned that he is getting close to something that could embarrass or undermine the President and those close to him. The reports also come amid reports, some of which are alluded to by the reports in the Times and the Post, that Mueller's investigators are seeking to expand the investigation to include a look at the financial records of the President and the people around him to determine if there were any compromising links to Russian banks or financiers, something that has been alleged in the past by many who have looked into Trump's finances. Whether these reports about the expanding scope of the investigation are accurate or not, the reports from sources inside the White House seem to indicate that they are the catalyst for Trump becoming increasingly unnerved by Mueller, someone whose reputation in Washington is seemingly above reproach. Given that, any effort by Trump to try to undermine Mueller's investigation is likely to be perceived in much the same way that his decision to fire James Comey was, as an effort to undermine an investigation that seems to be coming dangerously close to things that Trump doesn't want to see made public.
The same can be said about the issue of Presidential pardons. As an initial matter, it's worth noting that all that's being reported is that Trump's lawyers are researching the issue, there's no indication that the President is actually seriously considering exercising such powers to protect those around him or even himself. It's also worth noting that Trump's lawyers have responded to these reports by denying that anyone is talking about pardons, but of course, that doesn't mean they aren't at least researching the issue. If they did so, however, they'd discover that even a Presidential pardon wouldn't necessarily stop an investigation that could do real damage to the Trump Presidency. First of all, in addition to being a potential criminal investigation, Robert Mueller's investigation is also a counter-intelligence and fact-finding investigation with the mission of uncovering the extent to which Russia was able to undermine and influence the 2016 election. That aspect of the investigation would not be impacted by any Presidential pardons and could actually be made easier due to the fact that someone who has already been pardoned would have no real legal basis for exercising their Fifth Amendment rights against self-incrimination. Second, pardons will do nothing to stop the ongoing Congressional investigations into the same matters that Mueller is looking at, and also makes those investigations somewhat easier to the extent it would mean that potential witnesses would not be able to refuse to answer questions from the relevant committees. Finally, without even getting to the somewhat bizarre question of whether or not a President can pardon himself, it's worth noting that the pardon power does not apply to cases of impeachment.
Where we go from here depends in large part on what the Trump Administration does next. If they really do try to publicly undermine Mueller's investigation or, more radically, try to have him removed from office, though, it would seem clear that any such move would only be more likely to increase the level of suspicion already surrounding this President. If the President has nothing to hide as his spokespersons and supporters have contended then the logical conclusion would seem to be that there would be no reason for him to seek to undermine an independent investigation whose professional reputation would be above reproach. Therefore, just as it did with regard to James Comey, the Administration's efforts to undermine Mueller have to be interpreted as an indication that there's something they don't want to see become public knowledge. So, don't be surprised if Trump moves against Mueller some time in the near future.