The Russia Investigation And The Comey Firing: Coincidences, Or Something More?
Was Jim Comey fired in an effort to impede the Russia investigation? Trump's own words are making it sound more and more likely.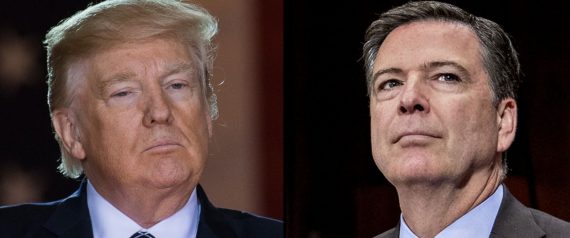 In a week that has been filled with shifting explanations from the Trump Administration for why former F.B.I. Director James Comey was fired, last night Donald Trump himself seemingly contradicted everything his own staffers had been saying and suggested that it was indeed the Russia investigation that prompted him to fire Comey:
[After White House spokespersons] spent nearly two days emphasizing that this was a decision Trump arrived at after receiving a memo and recommendation from Deputy Attorney General Rod J. Rosenstein, Trump just blurted out that he was going to fire Comey all along. Basically, he admitted the memo was a ruse and a political ploy.

And he even seemed to suggest he may have fired Comey because of the Russia investigation — which only makes his decision more controversial and runs counter to the suggestions of everyone who has spoken on his behalf in recent days.

Here's what Trump told NBC News's Lester Holt (emphasis mine):
HOLT: Did you ask for a recommendation?

TRUMP: What I did is, I was going to fire Comey. My decision. It was not . . .

HOLT: You had made the decision before they came in the room.

TRUMP: I was going to fire Comey. There's no good time to do it, by the way.

HOLT: Because in your letter, you said, 'I accepted their recommendation.' So you had already made the decision.

TRUMP: Oh, I was going to fire regardless of recommendation.
As Washington Post reporter Philip Rucker noted last night, Trump also said this during the interview:
Trump to NBC: "When I decided to [fire Comey], I said to myself, you know, this Russia thing with Trump and Russia is a made up story."

— Philip Rucker (@PhilipRucker) May 11, 2017
CNN has more of the interview:
LESTER HOLT: Monday you met with the deputy attorney general, Rod Rosen—Rosenstein

DONALD TRUMP: Right.

LESTER HOLT: Did you ask for a recommendation?

DONALD TRUMP: Uh what I did is I was going to fire Comey—my decision, it was not [OVER TALK]

LESTER HOLT: You had made the decision before they came in the room?

DONALD TRUMP: I—I was going to fire Comey. Uh I—there's no good time to do it by the way. Uh they—they were [OVER TALK]

LESTER HOLT: Because you letter you said I—I, I accepted their recommendation, so you had already made the decision.

DONALD TRUMP: Oh I was gonna fire regardless of recommendation.

LESTER HOLT: So there was [OVER TALK]

DONALD TRUMP: He made—he made a recommendation, he's highly respected, very good guy, very smart guy, uh the Democrats like him, the Republicans like him, uh he made a recommendation but regardless of recommendation I was going to fire Comey knowing, there was no good time to do it. And in fact when I decided to just do it, I said to myself, I said you know, this Russia thing with Trump and Russia is a made up story, it's an excuse by the Democrats for having lost an election that they should have won.
In the interview, Trump also claimed that he had a private dinner with Comey in January that occurred at Comey's request. According to Trump, the purpose of the meeting was because Comey "wanted to say on," a claim that was already lacking in plausibility since at the time there were still more than four years left in a ten-year term that began in September 2013 and Trump had made no suggestion during the campaign or after the election that Comey's job was in jeopardy. This claim has been disputed by sources close to Comey who are telling reporters that it was Trump who summoned Comey to dinner, that Comey was initially reluctant to accept the invitation because of the appearance of impropriety given the ongoing investigation, but that he ultimately decided to go because it's generally not proper form to refuse an invitation from the President not matter who he is. These sources also dispute Trump's claim that Comey ever told Trump that he was not a target of an investigation. This is also consistent with responses that Comey gave to members of the Senate Judiciary Committee during his testimony last week when he was asked similar questions by members of the panel. Without fail, Comey's response was that he could not and would not respond with a "yes" or "no" to the question of who was a target or potential target of any investigation until that investigation was concluded. Given that, it is implausible that he would have responded differently to a similar question from the President. In fact, as Steven Taylor noted this morning, the sources close to Comey are saying that the conversation went quite differently than Trump claims: 
WASHINGTON — Only seven days after Donald J. Trump was sworn in as president, James B. Comey has told associates, the F.B.I. director was summoned to the White House for a one-on-one dinner with the new commander in chief.

The conversation that night in January, Mr. Comey now believes, was a harbinger of his downfall this week as head of the F.B.I., according to two people who have heard his account of the dinner.

As they ate, the president and Mr. Comey made small talk about the election and the crowd sizes at Mr. Trump's rallies. The president then turned the conversation to whether Mr. Comey would pledge his loyalty to him.

Mr. Comey declined to make that pledge. Instead, Mr. Comey has recounted to others, he told Mr. Trump that he would always be honest with him, but that he was not "reliable" in the conventional political sense.

The White House says this account is not correct. And Mr. Trump, in an interview on Thursday with NBC, described a far different dinner conversation with Mr. Comey in which the director asked to have the meeting and the question of loyalty never came up. It was not clear whether he was talking about the same meal, but they are believed to have had only one dinner together.

By Mr. Comey's account, his answer to Mr. Trump's initial question apparently did not satisfy the president, the associates said. Later in the dinner, Mr. Trump again said to Mr. Comey that he needed his loyalty.

Mr. Comey again replied that he would give him "honesty" and did not pledge his loyalty, according to the account of the conversation.

But Mr. Trump pressed him on whether it would be "honest loyalty."

"You will have that," Mr. Comey told his associates he responded.

Throughout his career, Mr. Trump has made loyalty from the people who work for him a key priority, often discharging employees he considers insufficiently reliable.

As described by the two people, the dinner offers a window into Mr. Trump's approach to the presidency, through Mr. Comey's eyes. A businessman and reality television star who never served in public office, Mr. Trump may not have understood that by tradition, F.B.I. directors are not supposed to be political loyalists, which is why Congress in the 1970s passed a law giving them 10-year terms to make them independent of the president.

Mr. Comey described details of his refusal to pledge his loyalty to Mr. Trump to several people close to him on the condition that they not discuss it publicly while he was F.B.I. director. But now that Mr. Comey has been fired, they felt free to discuss it on the condition of anonymity.

(…)

The dinner described by Mr. Comey's associates came in the early days of Mr. Trump's administration, as the F.B.I. was investigating Russian meddling in the election and possible ties to Mr. Trump's campaign. That investigation has since gained momentum as investigators have developed new evidence and leads.

Mr. Trump had met Mr. Comey for the first time in January, during the transition, when, along with the intelligence chiefs, the F.B.I. director presented him with evidence of that intervention. Mr. Comey was tasked by his fellow intelligence directors to also pull Mr. Trump aside and inform him about a secret dossier suggesting that Russia might have collected compromising information about him.

The dinner at which the conversation Mr. Comey related took place was on Jan. 27, almost a month later. CNN reported on Thursday that Mr. Comey never gave Mr. Trump an assurance of his loyalty.

Mr. Comey's associates said that the new president requested the dinner he described, and said that he was wary about attending because he did not want to appear too chummy with Mr. Trump, especially amid the Russia investigation. But Mr. Comey went because he did not believe he could turn down a meeting with the new president.

During the meal, according to the account of the two associates, Mr. Comey tried to explain to Mr. Trump how he saw his role as F.B.I. director. Mr. Comey told Mr. Trump that the country would be best served by an independent F.B.I. and Justice Department.
These conflicting accounts of what occurred between Comey and Trump mean, of course, that Comey is now a witness in the investigation regarding everything that's going on in the Trump Administration right now. At some point, he is going to be asked to answer questions about his discussions with the President, especially anything with regard to the Russia investigation by both the relevant Congressional committees and by the investigators at the F.B.I. who are apparently continuing their work notwithstanding the fact that he was dismissed earlier this week. At the very least, we need to know if Trump really asked Comey about whether or not he was a target of an investigation and how Comey responded to that question if he did. Additionally, the purported request by the President for a 'loyalty' pledge from Comey is not only inappropriate but also potentially an illegal attempt to influence an ongoing investigation at the Bureau. Whether it's voluntary or not, though, it was a highly improper question for the President to ask, and it would have been equally improper for Comey to give Trump the response that he claims he received from the former Director. The same is true about the claim that Trump asked Comey for his loyalty. While it's perhaps justified for a President to expect that from the people who work in the White House, it is not the type of thing that he can or should expect from someone in the Justice Department who heads the Bureau charged with investigating wrongdoing, including, potentially, wrongdoing on the part of a sitting President. Just as with the allegations regarding the Trump campaign's potential ties to Russia, this is a serious question that the public deserves to know the truth about.
Finally, the biggest revelation to come out of last night's interview with Lester Holt and Trump, though, was his apparent admission that he had the Russia investigation on his mind when he decided to fire Comey. This is in direct contradiction to what his own spokespeople have been saying since Monday when the White House released its initial statement about Comey's firing and claimed that it was due to the case laid out in the memorandum from Deputy Attorney General Rod Rosenstein, which largely focused on complaints about Comey's handling of the Clinton email investigation that sounded as if they came from Hillary Clinton herself. Given the fact that, during the campaign, Trump was one of the leading people saying that Clinton should go to jail for her alleged mishandling of classified information — remember the chants of "Lock her up!" at his rallies? — and that he openly praised Jim Comey in October when the letter to Congress advising of the discovery of new emails that may be connected to the Clinton server was released to the press. The idea that Trump would suddenly turn around and fire the F.B.I. Director because of that investigation strained credulity when it was first suggested and now has been made utterly implausible by the President's own words.
Does this mean that we have an admission that Trump fired Comey in an effort to somehow impede the Russia investigation? Not really, because Trump also said during the Lester Holt interview that he had already made up his mind to fire Comey before he got the memo from Rosenstein. However, given what we know so far there certainly as grounds to ask the question. First of all, Trump says in this interview that he had already made up his mind to fire Comey before meeting with Attorney General Sessions and Rosenstein to discuss the matter. Second, we know from press reports quoting sources inside the White House that Trump was "fuming" about Comey's testimony last Wednesday where he acknowledged for the first time that the Bureau was indeed investigating connections between Russia and Trump associates as part of the Russian election interference investigation. Third, the announcement that Trump was firing Comey came less than a week after that testimony and was made seemingly in haste since it was on a day when Comey wasn't even in Washington but was rather visiting the F.B.I. field office in Los Angeles. We have Trump's seeming acknowledgment that the Russia investigation was on his mind when he made the decision to fire Comey. And, finally, there's the fact that, notwithstanding Trump's claim that he had made the decision months earlier, Comey was fired less than a week after Comey's testimony.
It's possible that these are all just coincidences and that Trump didn't intend to disrupt the investigation at all, but there's a quote from Elim Garak, a character on Star Trek: Deep Space Nine that seems appropriate here. "I believe in coincidences. Coincidences happen every day. But I don't trust coincidences." Should we trust the coincidences here? I don't know, but they surely ought to be investigated further because the conclusion they point to is one with serious implications for this President, and the country.