Comey Unloads On President Trump, Guarantees That Russia Investigation Will Expand
James Comey's testimony today wasn't the end of the Russia investigation. Indeed, we are only at the beginning of the beginning, and it's likely to get worse for the President before it gets better.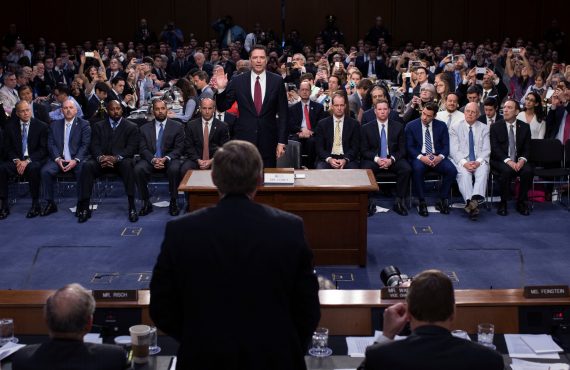 Former F.B.I. Director James Comey appeared before the Senate Intelligence Committee this morning and, as the opening statement released yesterday made clear that he would, laid out in detail his conversations with President Trump regarding the Russia investigation in a hearing that is likely to reverberate for some time to come:
WASHINGTON — James B. Comey, the recently fired F.B.I. director, said Thursday in an extraordinary Senate hearing that he believed that President Trump had clearly tried to derail an F.B.I. investigation into his former national security adviser and that the president had lied and defamed him.

Mr. Comey, no longer constrained by the formalities of a government job, offered a blunt, plain-spoken assessment of a president whose conversations unnerved him from the day they met, weeks before Mr. Trump took office. His testimony to the Senate Intelligence Committee provided an unflattering back story to his abrupt dismissal and squarely raised the question of whether Mr. Trump tried to obstruct justice.

Answering that falls to the Justice Department special counsel, Robert S. Mueller III. Mr. Comey revealed that he gave all of the memos he wrote on his interactions with the president to Mr. Mueller's investigators, the first suggestion that prosecutors would investigate Mr. Comey's firing last month.

Republicans who came to Mr. Trump's defense argued that he had been making a suggestion, not ordering Mr. Comey to drop the investigation into the former adviser, Michael T. Flynn. Mr. Comey demurred on whether the president's actions had amounted to a felony, but said the intent was clear: "I took it as a direction." If Mr. Trump had had his way, Mr. Comey said, "We would have dropped an open criminal investigation."

In the month since he fired Mr. Comey, Mr. Trump has faced a crush of damaging news stories about the nature of their private conversations. During his testimony on Thursday, Mr. Comey revealed that he had helped feed that coverage.

Two days after Mr. Comey was ousted, The New York Times reported that Mr. Trump had asked him to pledge loyalty to him. The president then tweeted that Mr. Comey had "better hope that there are no 'tapes'" of their meetings.

That post inspired Mr. Comey, who responded by allowing a friend to read portions of a memo about his interactions with the president to The Times. Mr. Comey said Thursday that he had hoped to spur the appointment of a special counsel. He succeeded. A day after The Times revealed the contents of that memo, which described the conversation about Mr. Flynn, the Justice Department appointed Mr. Mueller to take over the investigation.

The White House has not commented on whether recordings exist. But Mr. Comey repeatedly baited Mr. Trump to produce them if they did. "Lordy, I hope there are tapes," he said at the hearing. He added: "The president surely knows if there are tapes. If there are, my feelings aren't hurt. Release the tapes."

Mr. Trump has offered a changing explanation for why Mr. Comey was fired. The original justification was Mr. Comey's controversial handling of last year's investigation into Hillary Clinton's use of a private email server. The White House said that Mr. Comey had lost the support of his agents and that the F.B.I. was in disarray.

"Those were lies, plain and simple," Mr. Comey said Thursday. Mr. Comey said the president had defamed him, an apparent reference to Mr. Trump's calling him a "nut job" in a private meeting with Russian diplomats.

Mr. Trump ultimately acknowledged that he was thinking about the Russia investigation when he fired Mr. Comey.

Mr. Comey confirmed that Mr. Trump had not been personally under investigation but said agents would certainly review his activities as part of a broad investigation into possible collusion between Russian operatives and Trump campaign officials. As F.B.I. director, he assured Mr. Trump several times that he was not under investigation.

In a statement after the hearing, Mr. Trump's personal lawyer, Marc Kasowitz, portrayed Mr. Comey as a leaker who had tried to undermine the Trump administration. He said Mr. Trump had never sought a loyalty pledge from Mr. Comey. And he flatly denied that the president had tried to end he Flynn investigation.

"The president never, in form or substance, directed or suggested that Mr. Comey stop investigating anyone," Mr. Kasowitz said.
Matt Zapotosky at The Washington Post contends that Comey laid out facts that essentially make out a case that the President sought to obstruct justice in connection with the Flynn investigation:
Former FBI director James B. Comey on Thursday essentially laid out an obstruction of justice case against President Trump and suggested senior leaders in the bureau might have actually contemplated the matter before Trump removed him as director.

Comey did not explicitly draw any legal conclusions. Whether justice was obstructed, he said, was a question for recently appointed special counsel Robert Mueller. But he said Trump's request to terminate the FBI's investigation into former national security adviser Michael Flynn left him "stunned," and senior FBI officials considered it to be of "investigative interest."

Of particular concern, Comey said, was that Trump asked other officials to leave him alone with his FBI director in the Oval Office before saying of Flynn: "He is a good guy. I hope you can let this go."

"Why did he kick everybody out of the Oval Office?" Comey said. "That, to me as an investigator, is a very significant fact."

Legal analysts have said previously that there was reason to believe Trump might have obstructed justice — both in asking him to shut down the probe into Flynn and then, later, in firing Comey. Comey's testimony, they said Thursday, clarified and bolstered the case.

Comey testified that he was skeptical of Trump almost from the outset, and he decided to document their interactions because he was "concerned [Trump] might lie about the nature of our meeting."

His concerns were realized almost immediately. In a meeting just after Trump took office, Comey said, Trump brought up his job as FBI director and asked for loyalty. Comey said he felt Trump was "looking to get something in exchange for granting my request to stay in the job." The FBI director is generally appointed to a 10-year term to avoid political influence.

The next month, after a counterterrorism briefing, Comey testified that Trump asked him to stay for a one-on-one conversation. He said both Attorney General Jeff Sessions and Trump's son-in-law and close adviser Jared Kushner lingered behind — in Comey's view, because they were leery of what might happen next.

When they left, Comey said, Trump said he hoped Comey would shut down an investigation of Flynn. At the time, Comey said, Flynn was "in legal jeopardy," as agents were investigating him for his contacts with Russians and "whether there were false statements made to government investigators."

Comey said — as he did in written testimony — that the president had not asked him to shut down the broader probe of possible coordination between the Trump campaign and the Kremlin to influence the 2016 election. But he said the request on Flynn was nonetheless "very disturbing" and other officials in the bureau were "as shocked and troubled by it as I was."

Comey allowed, under questioning from Sen. James E. Risch (R-Idaho), that Trump did not outright give him an order.

"He did not direct you to let it go?" Risch asked.

"Not in his words, no," Comey said.

But Comey later said he took the president's assertion as akin to a command.

"I took it as a direction," Comey said. "This is the president of the United States, with me alone, saying 'I hope this.'"

Comey also noted that he was fired — by the president's own account — because of the Russia investigation.4
If you were looking for a hearing that would bring the Trump Presidency to a quick end, then this hearing was probably disappointing. As Zapotosky notes in his piece, the facts as related by Comey do seem to relate a case of at least attempted obstruction of justice by the President of the United States, a serious charge that warrants further investigation going forward by both special counsel Robert Mueller and the relevant Congressional Committees. Throughout his testimony, Comey came across as a credible, reliable witness who was testifying truthfully about the conversations he had with the President of the United States, conversations that stretch back to when Trump was still just President-Elect. It was in a conversation in New York at that time that Trump first asked Comey for a pledge of loyalty that, at least in some sense, Comey took to be some kind of requirement on Trump's part for his agreeing to keep Comey on as F.B.I. Director. Comey, of course, declined to make such a pledge and it was immediately after that meeting that Comey began his practice of memorializing his conversations with the President due to the fact that he was concerned that the incoming President would lie abut the coming of their Presidents. Comey made clear that his interactions with Trump made it clear to him that he could not trust the President, and emphasized that of the three Presidents he has worked with, which have included all three of the men who have been President since 2001, Trump is the only one he believed he could not trust and the only one he met or spoke with on more than a handful of occasions. It also explains why Comey told Attorney General Sessions that he did not want to be alone with the President in the future.
In his testimony, Trump contradicted public claims that the President has made on a number of points regarding both the nature of their conversations and the Russia investigation itself. First of all, Trump has claimed he never asked Comey for his loyalty. As noted, Comey says that this was among the first things that they discussed in their first meeting in early January and that he told the President that he will always be honest with the President. Trump has also claimed that he never asked Comey to take any action regarding the investigation of former National Security Adviser Michael Flynn while Comey says that this was the subject of their third meeting, which took place in the Oval Office the day after Flynn had been fired after Trump had asked everyone else in the room to leave so he could speak to Comey alone, an act which suggests that Trump had at least some knowledge that what he wanted to discuss was improper or at least should not be shared with others. Finally, Trump claimed in interviews that it was Comey who asked to have dinner with the President in late January after the Inauguration. Comey said that it was the President who invited him and that it was during this meeting that Trump again brought up the issue of a loyalty pledge as if he were probing Comey for some clue as to what was happening with the Russia investigation. Added together, and taking into account the fact that there's nothing that's been made public so far that calls Comey's honesty into question, that's at least three instances where the President has told a lie regarding his interactions with Comey.
On top of all of this, of course, is the fact that Comey was ultimately fired. From the context of his conversations, it seems clear that his refusal to pledge loyalty to the President, the fact that he didn't back off the investigation of Michael Flynn, and the ongoing Russia investigation were the primary motivations for that decision rather than the rationale that was initially claimed by the Administration. All of this fits into what we already knew, of course. Shortly after Comey was fired, it was reported that the President had become frustrated with the Russia investigation in the weeks before Comey was fired, something that Trump himself later confirmed. Then, we learned that the President had told the Russian Foreign Minister and Russian Ambassador to the United States that he had fired Comey due to the Russia investigation when he met with them in the Oval Office the day after he fired Comey, and that he had referred to Comey as a "nut job" and remarked that the Russia investigation was hampering his Administration. Since then, there have been additional revelations, including today's reports that Trump asked Director of National Intelligence Dan Coats and C.I.A. Director Mike Pompeo to get Comey to "back off" the Flynn investigation. Taken together, this seems to clearly make out a case that the President was trying to interfere improperly in the Russia investigation.
Where all this leads is anyone's guess, but this is hardly the end of things. If anything, it seems likely that Mueller's investigation of Russian interference and contact between Trump officials and the Russian government will be expanded, possibly to even include the motivations behind the President's decision to fire Comey and his efforts to get Comey to "back off" the investigation of Michael Flynn. The Congressional investigations are likely to expand into these areas as well in both the House and the Senate. So, instead of bringing the investigation to a halt, or slowing it down, it seems clear that Trump's actions have only guaranteed that they will expand and that they will be hanging over his Administration for some time to come.
If you missed Comey's testimony, you can watch it here: