Comey Memos Of Meetings With President Trump Released
Former F.B.I, Director James Comey's memos regarding his meeting with Donald Trump early in 2017 have been released, and they corroborate everything Comey has said about those conversations.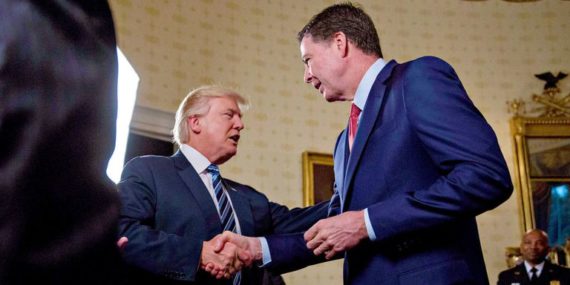 Late yesterday, redacted (to omit classified information) copies of the memos that former F.B.I. Director James Comey made of his meetings with President Trump in the early part of 2017 have been made public:
WASHINGTON — President Trump spoke in intimate and candid terms to the former F.B.I. director James Comey about some of the most sensitive matters before the agency, including the salacious dossier detailing Mr. Trump's ties to Russia and the investigation into Michael T. Flynn, the president's first national security adviser, according to Mr. Comey's closely guarded memos.

The redacted and declassified memos — running 15 pages in total, and sent to Congress from the Justice Department on Thursday night — detail a series of phone calls and encounters between the two men in the months leading up to Mr. Comey's firing. They offer an extraordinary look at the private interactions among leaders at the highest levels of government.

Mr. Trump seized on the memos in a Twitter message posted late Thursday to repeat what has become a constant refrain, that there was "NO COLLUSION and NO OBSTRUCTION."

"Will the Witch Hunt continue?" he added.

In one previously undisclosed exchange, according to copies of the memo obtained by The New York Times, Mr. Trump told Mr. Comey that he had reservations about Mr. Flynn: "The guy has serious judgment issues."

Mr. Trump shared an anecdote that shortly after the inauguration, a prominent foreign leader had called to congratulate him. Mr. Flynn told the president that he had scheduled a return call for the next Saturday — far too late in Mr. Trump's estimation.

The Times reported at the time that Mr. Trump was irritated at Mr. Flynn for delaying such a call with President Vladimir V. Putin of Russia.

Mr. Flynn was eventually fired for misleading Vice President Mike Pence and others about the details of a conversation with a Russian ambassador. Soon after, Mr. Comey was again at the White House for another meeting. This time, he wrote that Mr. Trump told him that Mr. Flynn "hadn't done anything wrong" in calling the Russians and asked him to wrap up his inquiry.

"I hope you can see your way clear to letting this go, to letting Flynn go," Mr. Trump said, according to the memo.

Mr. Flynn has since pleaded guilty to lying to the F.B.I. about those conversations and is cooperating with investigators for the special counsel who inherited the investigation from Mr. Comey.

That exchange and other broad outlines of the memos, which were first published by The Associated Press, have already been reported by The Times, and were relayed by Mr. Comey in testimony before the Senate and in his recent memoir, "A Higher Loyalty."

But they are believed to be evidence in a possible obstruction of justice case against Mr. Trump being pursued by the special counsel, Robert S. Mueller III.

The memos are exacting in their specificity, including details about who was sitting where, the precise times that conversations began and their durations. In some cases, Mr. Comey shared his accounts with others immediately afterward.

These details add credibility to Mr. Comey's account of events. Mr. Trump has disputed some parts, including asking Mr. Comey to shut down an investigation into Mr. Flynn.

"What follows are notes I typed In the vehicle Immediately upon exiting Trump Tower on 1/5/17," Mr. Comey writes at the beginning of his first memo, sent the next day to his deputy director, chief of staff and the F.B.I.'s chief counsel.

(…)

The memos include other previously undisclosed conversations that shed light on the F.B.I.'s Russia investigation and Mr. Trump's views of it.

In a Feb. 8 meeting with Reince Priebus, then the White House chief of staff, for example, Mr. Comey writes that Mr. Priebus asked about the contents of the salacious dossier produced by a former British spy that lays out a vast conspiracy between the Trump campaign and Russia to sway the election. In the days before the inauguration, Mr. Comey briefed Mr. Trump about the document and its contents, including a supposed encounter between Mr. Trump and Russian prostitutes.

Portions of that section of the memo were redacted, but in speaking with Mr. Priebus, Mr. Comey made clear that the bureau was taking the allegations seriously.

"I explained that the analysts from all three agencies agreed it was relevant and that portions of the material were corroborated by other intelligence," Mr. Comey wrote. He then defended his decision to share it with Mr. Trump, saying again that "much of it was consistent with and corroborative of other intelligence."

Later in the conversation, Mr. Priebus asked Mr. Comey if their discussion was private. When the director replied that it was, the White House chief of staff asked whether the F.B.I. had ever wiretapped Mr. Flynn.

Mr. Comey told Mr. Priebus that the question was inappropriate and should be directed through other channels. His response was redacted.

The two men then proceed to the Oval Office, where Mr. Comey said Mr. Trump denied that he had consorted with Russian prostitutes, as the dossier claimed.

"The president said 'the hookers thing' is nonsense, but that Putin had told him, 'We have some of the most beautiful hookers in the world,'" Mr. Comey wrote. He said Mr. Trump did not specify when the conversation with Mr. Putin took place.

Other memos add new details to well-known exchanges. In the same meeting in which Mr. Trump asked Mr. Comey to end the Flynn investigation, the men bonded over leaks of sensitive government information.

"I said I was eager to find leakers and would like to nail one to the door as a message," Mr. Comey wrote. But, he explained, prosecuting journalists "was tricky" for legal reasons.

Mr. Trump told Mr. Comey to talk to "Sessions," referring to Attorney General Jeff Sessions, "and see what we can do about being more aggressive."

Mr. Trump asked Mr. Comey on two separate occasions whether his deputy, Andrew G. McCabe, "had a problem with him" and mentioned a large donation made to his wife's political campaign by an ally of Hillary Clinton.

Mr. Comey defended Mr. McCabe as a "true pro" and said Mr. Trump would come to agree.
By and large, the memos, which I have embedded below, track almost word-for-word with the manner in which Comey has discussed his conversations with the President since being fired as Director of the F.B.I. in May of last year. The redactions, for the most part, are minimal and mostly appear to consist of leaving out the identification of specific individuals other than the President, former White House Chief of Staff Reince Priebus, other members of the White House Staff and Trump Administration that Comey had interacted with and, of course, Comey himself. In some cases, it's fairly easy from the context of the memos to guess at what was being left out such as the identification of Vladimir Putin as the foreign leader who Trump was annoyed with Flynn for scheduling a return call several days after the original call. Additionally, there were several points at which the author of the dossier that has been a focus of Trump's attention for much of the past year is clearly being discussed. That person, of course, is former MI6 agent Christopher Steele, who has served as a source for American intelligence for several years. Another name that comes up quite frequently is Andrew McCabe, who served as the No. 2 man at the F.B.I. under Comey and his successor Christopher Wray before being dismissed earlier this year just days before he would have been eligible for his pension.
One thing that does stand out from the memos is the extent to which the President, and to some extent, Reince Priebus, was apparently obsessed with certain topics. One of those topics was the more salacious allegations made by the Steele dossier regarding Trump's alleged interactions with Russian prostitutes, something that the President denied repeatedly. On several occasions, including at meetings between the two men on topics entirely separate from the dossier or issues personal to the President, Trump voluntarily brought the dossier's allegations up and stated repeatedly how he thought the allegations were hurtful to his wife. Other subjects that come up repeatedly in Comey's memos include the investigation of Hillary Clinton's use of a private email server and the aforementioned Andrew McCabe. On the first issue, Trump seems to come across as being complimentary toward Comey for the way he handled the Clinton investigation, including his press conference in July 2016, the letter he sent to Congress in October of that year reopening the investigation and the subsequent letter saying that the emails found on Anthony Weiner's laptop did not contain any new information that warranted reopening the investigation. On the second issue, Trump comes across as oddly obsessed with what McCabe thought about him and about the manner in which he and his wife had been attacked by Trump and his surrogates during the campaign.
On the whole, I would not say that there's much of anything new in these memos and certainly nothing that adds up to a "blockbuster." They are important, however, to the extent that they tend to corroborate Comey's accounts of his meetings with Donald Trump both before and after Inauguration Day. Additionally, the memos include details not just of the contents of Comey's meetings with the President and Reince Priebus but also additional anecdotes about the events that surrounded those encounters. This last bit is important because it tends to lend credence to the veracity of the memos themselves and, by extension, to Comey's testimony and public disclosures about those conversations. While the memorandums are not evidence in and of themselves, they are significant from an evidentiary perspective because they corroborate what Comey has said about his contacts with the President and others thereby making his overall testimony regarding those matters more credible. From a legal perspective, the documents themselves would be admissible in Court as evidence notwithstanding the hearsay rule because they fall within the definition of a "recorded recollection," one of the exceptions to that rule. Of course, given the fact that Comey would presumably be available to testify in any relevant legal proceeding it's unlikely that the memos would ever need to be used as evidence unless they were used to refresh Comey's recollection or, perhaps, in rebuttal to a contention that Comey is lying about his conversations with the President and other officials.
Not surprisingly, the President is reacting to the release of the memos on Twitter:
James Comey Memos just out and show clearly that there was NO COLLUSION and NO OBSTRUCTION. Also, he leaked classified information. WOW! Will the Witch Hunt continue?

— Donald J. Trump (@realDonaldTrump) April 20, 2018
This is a line that Republicans are apparently going to go with going forward. In reality, of course, it's utter nonsense. Nobody in their right mind believed that the memos in and of themselves would either prove or disprove the existence of any collusion between the Trump campaign and Russia or any effort by the President or those around him to obstruct justice or otherwise undermine the Russia investigation. Both collusion and obstruction are legal conclusions that can't be proven or disproven by documents such as these memos. All these memos do, and all they were ever intended to do, is corroborate what Comey has testified to regarding his conversations with the President and others, They make Comey seem more credible, not less, and they do not exonerate the President or anyone associated with him in any way, and that's because they were never intended to be documents that prove or disprove anything other than what is recorded therein.
So General Michael Flynn's life can be totally destroyed while Shadey James Comey can Leak and Lie and make lots of money from a third rate book (that should never have been written). Is that really the way life in America is supposed to work? I don't think so!

— Donald J. Trump (@realDonaldTrump) April 20, 2018
As is typical for the President, this tweet makes no sense whatsoever. The only observation I'll make in response is, just as he has done in the past, Trump is falling back on the idea of defending Flynn even though Flynn is now an admitted liar who has pled guilty to the same in connection with his plea deal with Robert Mueller's office. Why the President continues to defend him is a question I cannot answer.
In any case, as I stated, these memos aren't groundbreaking in and of themselves. They do, however, corroborate everything that Comey has been saying to date and if nothing else that makes the former F.B.I. Director appear to be far more credible than the man who fired him.
Here are the memos:
James Comey Memos by Doug Mataconis on Scribd