F.B.I. Investigating New Emails That May Or May Not Be Connected To Hillary Clinton
A late Friday news dump by the Director of the F.B.I. has thrown a confusing curve ball into the race.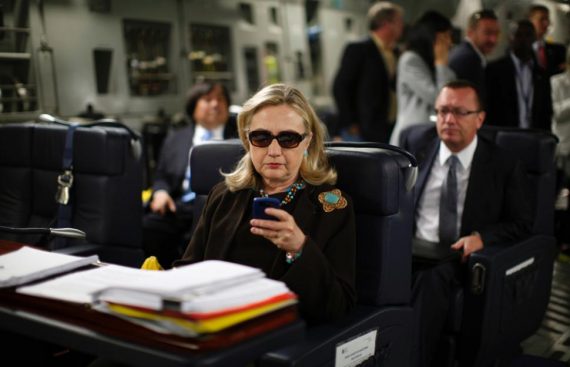 In a letter sent to Congress late this afternoon, F.B.I. Director James Comey informed Congress that the bureau was examining new emails that may or may not be connected to the previous investigation and Hillary Clinton's use of a private email server while serving as Secretary of State:
WASHINGTON — Federal law enforcement officials said Friday that the new emails uncovered in the closed investigation into Hillary Clinton's use of a private email server were discovered after the F.B.I. seized electronic devices belonging to Huma Abedin, a top aide to Mrs. Clinton, and her husband, Anthony Weiner.

The F.B.I. is investigating illicit text messages that Mr. Weiner sent to a 15-year-old girl in North Carolina. The bureau told Congress on Friday that it had uncovered new emails related to the Clinton case — one federal official said they numbered in the thousands — potentially reigniting an issue that has weighed on the presidential campaign and offering a lifeline to Donald J. Trump less than two weeks before the election.

In a letter to Congress, the F.B.I. director, James B. Comey, said that emails had surfaced in an unrelated case, and that they "appear to be pertinent to the investigation."

Mr. Comey said the F.B.I. was taking steps to "determine whether they contain classified information, as well as to assess their importance to our investigation." He said he did not know how long it would take to review the emails, or whether the new information was significant.

The announcement comes as Mr. Trump has fallen behind Mrs. Clinton in most national polls and in many battleground states. Polls have been tightening in recent days, however, amid the daily release of hacked Clinton campaign emails published by WikiLeaks.

Mr. Trump seized on the F.B.I. action on Friday at a rally in New Hampshire. To cheers of "lock her up" from his supporters, Mr. Trump said: "Hillary Clinton's corruption is on a scale we have never seen before. We must not let her take her criminal scheme into the Oval Office."

After deriding the F.B.I. for weeks as inept and corrupt, Mr. Trump went on to praise the law enforcement agency.

"I have great respect for the fact that the F.B.I. and the D.O.J. are now willing to have the courage to right the horrible mistake that they made," Mr. Trump said. "This was a grave miscarriage of justice that the American people fully understand. It is everybody's hope that it is about to be corrected."
NBC News has more:
The FBI revealed Friday it was reviewing a new batch of emails that "appear to be pertinent" to its previous investigation into Hillary Clinton's use of a private server — and sources said they came from electronic devices of her trusted aide Huma Abedin and her scandal-scarred husband Anthony Wiener.

Those devices were seized in September by the feds two months after FBI Director James Comey announced that they found no evidence to warrant charging Clinton with a crime for using the server while she was secretary of state, the sources said.

In his letter to the Senate Judiciary Committee announcing the discovery of the emails, Comey made no mention of Abedin or Wiener, a former New York City congressman who resigned in disgrace in a sexting scandal and who is now separated from his wife.

"In connection with an unrelated case, the FBI has learned of the existence of emails that appear to be pertinent to the investigation," Comey wrote. "I agreed that the FBI should take appropriate investigative steps designed to allow investigators to review these emails to determine whether they contain classified information, as well as to assess their importance to our investigation."

A senior law enforcement official told NBC News Friday that the Comey letter was sent to the Hill "out of an abundance of caution" and to be extra-thorough.

The official said the emails were discovered "on another device."

There's no indication, the official said, that Clinton, her campaign or the State Department was withholding information. But the emails were not held by someone who was investigated in the Clinton email case, the official said.

The politically explosive revelation, which came just 11 days before Election Day, appeared to catch the Clinton campaign by surprise.

Campaign chairman, John Podesta, in a statement on Friday said Comey should "provide the American public more information than is contained in the letter he sent to eight Republican committee chairmen."

"Already, we have seen characterizations that the FBI is 'reopening' an investigation but Comey's words do not match that characterization. Director Comey's letter refers to emails that have come to light in an unrelated case, but we have no idea what those emails are and the Director himself notes they may not even be significant," he said. "It is extraordinary that we would see something like this just 11 days out from a presidential election."
When this story first broke based on Comey's rather vague letter to Congress, there was a rather understandable frenzy in the media in reaction to the news. Not the least because it is, to say the least, highly unusual for the bureau to be making statements like this that could have an impact on the outcome of an election, especially this close to an election. This is especially true given the fact that it seems unlikely that whatever investigation the bureau is undertaking against these unspecified emails is likely to not be complete by the time of the election. What is clear, though, is that any characterization that the bureau is "reopening" its investigation of Clinton's email server and her handling of email that it has already reviewed is quite simply not true, and that the initial reports that this was the case were, at the very least seriously misinterpreting what it was that Comey is saying in his letter. Instead, what apparently has happened is that the bureau's investigation of the Weiner case, which I wrote about in September, turned up email that may be related to the Clinton investigation. If the reports that the "unrelated case" that Comey speaks of is the investigation into Weiners communications with an underage girl, communications that continued even after she told him she was only fifteen years old, and that suggests that what we're talking about here are likely communications of some type between Weiner and his now-estranged wife Huma Abedin, who is one of Clinton's closest aides. Some reports indicate that we could be talking about as few as three emails, but that hasn't been confirmed and that they do not involve any of the email that was found on the Clinton server either by Clinton aides or by FBI investigators. Additionally, in a report on television, NBC News's Pete Williams reported that one of the devices that was seized in the course of the Weiner investigation included a laptop that both Weiner and Abedin used and that one or more of the emails found appears to include communication from Abedin, possibly to Hillary Clinton  Given all of that, the media hysteria that initially followed the release of Comey's letter seems to be vastly overblown to say the very least.
The big question, of course, is what impact all of this is going to have on the election as a whole. Understandably, Republicans are reacting with no small degree of glee to the news not the least because it gives them something to hit Clinton with over the next week or more for which Clinton is unlikely to be able to respond completely unless the F.B.I. gives further details about what it's looking at. At the same time, though, the lack of specifics is likely to lead many voters to simply file this away along with every other bit of pre-election news. My guess is that, absent further details, it's unlikely that this will have a major impact on the election at least at the Presidential level. It may help to energize Republican voters to some extent, or at least to give them some hope in the wake of several weeks of poll numbers that appear to point to a seemingly inevitable loss on November 8th, but it may also help to energize Democrats who see it as another example of Clinton being subjected to undue scrutiny in a manner reminiscent of the 1990s. Ideally, of course, the FBI owes it to the nation to be more specific about what is going on here given how close the election is, but that's unlikely to happen given that it is in the nature of law enforcement to keep investigations like this secret. So, voters will just have to decide for themselves what this all means.
Here's Director Comey's Letter to Congress:
FBI Letter to Congress by Doug Mataconis on Scribd