Comey To Testify That Trump Repeatedly Pressured Him On Russia Investigation
Based on his just released opening testimony, tomorrow's testimony by Former F.B.I. Director James Comey is likely to be explosive.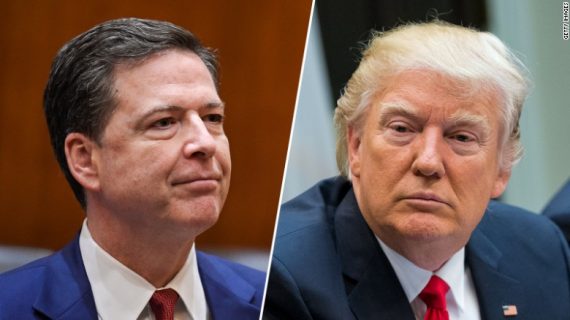 Former F.B.I Director James Comey will be testifying tomorrow before the Senate Intelligence Committee, and based on the text of his opening statement that has been released to the press, he will say that the President repeatedly pressured him  to state publicly that Trump was not a focus of the investigation and to back off the investigation of Michael Flynn, Trump's former National Security Adviser:
WASHINGTON — The former F.B.I. director, James B. Comey, plans to testify on Thursday that President Trump repeatedly pressured him to publicly announce that he was not personally under federal investigation in connection with the Justice Department inquiry into Russian meddling in last year's election.

Mr. Comey will say that he told Mr. Trump on at least one occasion in January that he was not under investigation at that time. Mr. Comey has said that investigators are looking into possible links between associates of Mr. Trump and the Russian election interference.

Mr. Trump, in a previously undisclosed phone call on March 30, also asked Mr. Comey what could be done to "lift the cloud" over Mr. Trump from the investigation, according to remarks written by Mr. Comey and published Wednesday by the Senate Intelligence Committee, before which he will appear. During the call, the president told Mr. Comey that the Russia investigation was hurting his ability to govern.

"I did not tell the president that the F.B.I. and the Department of Justice had been reluctant to make public statements that we did not have an open case on President Trump for a number of reasons, most importantly because it would create a duty to correct, should that change," Mr. Comey said in the prepared testimony.

It was unclear why the committee released the testimony before the highly anticipated appearance by Mr. Comey, who was abruptly fired last month by Mr. Trump.

Mr. Comey wrote a series of memos documenting his interactions with the president, some of which have been described to The New York Times by people who have read them. In one, he told of Mr. Trump asking him to end the investigation into his former national security adviser, Michael T. Flynn.

Mr. Comey will tell senators that he wrote his first memo shortly after he first met Mr. Trump on Jan. 6, during the presidential transition. In that meeting, Mr. Comey briefed the president-elect on the contents of a dossier of salacious allegations that a former British spy believed the Russian government had collected on Mr. Trump.

"To ensure accuracy, I began to type it on a laptop in an F.B.I. vehicle outside Trump Tower the moment I walked out of the meeting," Mr. Comey said. "Creating written records immediately after one-on-one conversations with Mr. Trump was my practice from that point forward."

Mr. Comey, who was confirmed in 2013, said that he had not written similar memos for his interactions with President Barack Obama, whom he met privately with twice when he was in office.

Mr. Comey said the last time he had spoken with Mr. Trump was on April 11. Mr. Trump called to ask again when Mr. Comey planned to put out word that Mr. Trump was not under investigation.

Mr. Comey responded that he had passed the request on to his bosses at the Justice Department but had not heard back.

"He replied that 'the cloud' was getting in the way of his ability to do his job," Mr. Comey wrote in his written testimony.
Further details from The Washington Post:
Fired FBI Director James B. Comey said President Trump told him at the White House "I need loyalty, I expect loyalty" in their private White House dinner conversation in January, according to written testimony prepared by Comey.

In written remarks submitted to the Senate Intelligence Committee on Wednesday — a day before his much-anticipated testimony — Comey said he remembered nine separate private conversations with President Trump. Three were in person and six on the phone.

Comey said the president called him at lunchtime on Jan. 27 to invite him to dinner.

"It was unclear from the conversation who else was going to be at the dinner, although I assumed there would be others," Comey wrote. "It turned out to be just the two of us, seated at a small oval table in the center of the Green Room. Two Navy stewards waited on us, only entering the room to serve food and drinks."

The president began the conversation, Comey wrote, by asking him if he wanted to stay on as FBI Director, "which I found strange because he had already told me twice in earlier conversations that he hoped I would stay, and I had assured him that I intended to."

The president replied, according to Comey, that lots of people wanted his job and "he would understand if I wanted to walk away."

Comey's instincts, he wrote, were that both the setting and the conversation "meant the dinner was, at least in part, an effort to have me ask for my job and create some sort of patronage relationship. That concerned me greatly, given the FBI's traditionally independent status in the executive branch."

The president then made his demand for loyalty.

"I didn't move, speak, or change my facial expression in any way during the awkward silence that followed," Comey wrote. "We simply looked at each other in silence. The conversation then moved on, but he returned to the subject near the end of our dinner."

When prompted again on the subject of loyalty, Comey said he replied, "You will always get honesty from me."

Comey said that once before Trump's inauguration, and again at the January dinner, he assured the president that he was not personally under investigation. He also told the president later on that he had shared that information with congressional leaders.

In essence, Comey's written testimony confirms a key claim that Trump has made — that three times, Comey told the president he was not under investigation.

But it also paints a portrait of a strained, awkward relationship between the two men, in which the president frequently expressed his displeasure about the Russia probe in ways that alarmed the FBI director.

The written testimony also recounts a face-to-face conversation the two men had on February 14 — Valentine's Day — at the Oval Office, where many senior officials had gathered for a counterterrorism briefing.

After the meeting, the president asked everyone to leave. Attorney General Jeff Sessions and senior adviser Jared Kushner lingered in the room, but the president told them to leave, too, according to Comey.

When the door by the grandfather clock closed, Comey wrote, the president said "I want to talk about Mike Flynn" — the former national security adviser who was forced out after disclosures about his conversations with the Russian ambassador to the U.S., Sergey Kislyak. Flynn had resigned a day earlier.

"I hope you can see your way clear to letting this go, to letting Flynn go. He is a good guy. I hope you can let this go," the president said, according to Comey. The FBI director replied only that "he is a good guy."

In that conversation, the president repeatedly complained to the FBI director about leaks, and Comey said he agreed with him about the harm caused by leaks of classified information.

Comey said he understood the president to be asking for him to "drop any investigation of Flynn in connection with false statements about his conversations with the Russian ambassador in December. I did not understand the president to be talking about the broader investigation into Russia or possible links to his campaign."

The former FBI director wrote that he found the conversation "very concerning, given the FBI's role as an independent investigative agency."

Later, Comey complained to Sessions that he should not have been left alone with the president, and Sessions did not reply, according to the written testimony.

Then, in late March, Trump called Comey at the FBI. In that conversation, the president called the Russia probe "a cloud" hanging over his ability to lead the country.

He also expressed continued frustration that unsubstantiated allegations in a private dossier about him had become public, including lurid claims of sexual activity while in Russia.

"He said he had nothing to do with Russia, had not been involved with hookers in Russia, and had always assumed he had been recorded when in Russia," Comey wrote.

"He asked what we could do to 'lift the cloud.' I responded that we were investigating the matter as quickly as we could, and that there would be great benefit, if we didn't find anything, to our having done the work well. He agreed, but then re-emphasized the problems this was causing him," Comey wrote.
The opening statement, which I have embedded below, isn't necessarily the smoking gun of obstruction of justice that many might have expected based on previous reports. However, it is strong evidence in support of that idea and reinforces the allegations of Democrats and the public perception that Trump was at the very least acting inappropriately in his conversations with Comey over the course of four months. between the Inauguration and Trump's abrupt decision to abruptly fire Comey. It also tends to further corroborate the idea that Trump fired Comey as part of an effort to hobble the Russia investigation, or at least to remove from office an F.B.I. Director was proving to be less pliable on the issue than Trump desired. Originally, of course, the Administration claimed that Comey was fired due to his supposed mishandling of the investigation into Hillary Clinton's private email server, specifically
Originally, of course, the Administration claimed that Comey was fired due to his supposed mishandling of the investigation into Hillary Clinton's private email server, specifically the press conference Comey held last July and the letter he sent to Congress in October regarding reopening the investigation due to the apparent discovery of new emails. It quickly became apparent, though, that there may have been ulterior motives for the decision to fire Comey. Reports became to circulate that the President was becoming increasingly frustrated with the Russia, something that Trump himself later confirmed.. At the same time, Trump made a threat directed at Comey with the implication that there may be 'tapes' of the conversations between Trump and Comey. Then, we learned that Trump asked Comey to drop the investigation into Flynn  Finally, roughly two weeks after Comey was fired it was reported that Trump had told the Russian Foreign Minister and Russian Ambassador to the United States that he had fired Comey due to the Russia investigation when he met with them in the Oval Office the day after he fired Comey. Since then, there have been additional revelations, including today's reports that Trump asked Director of National Intelligence Dan Coats and C.I.A. Director Mike Pompeo to get Comey to "back off" the Flynn investigation.  During testimony today before the Senate Intelligence Committee today that was originally called to discuss general issues about the Foreign Intelligence Surveillance Act, those individuals declined to answer specific questions regarding their conversations with the President, saying that they would not do so in a public forum or before discussing the matter with Robert Mueller, who has been appointed as special counsel to investigate the Russia matter. It also comes on the same day that The New York Times reports that Comey told Attorney General Sessions that he did not want to be alone with the President in the future. Taken together, all of these reports seem to make out a clear case that the President of the United States was seeking to hobble an investigation that was, at the very least, causing him political problems and making it difficult to and advance his agenda.
As is always the case, the devil will be in the details and we can expect that Comey will get into the details of the conversations discussed in this opening statement during tomorrow's hearing. However, as I said it seems fairly clear that we are about as close as you can get to a case of obstruction of justice based on the summary alone. On several occasions, Trump directly asked Comey to halt the investigation of Michae Flynn and baldly stated to him that the broader Russia investigation was becoming a problem for his Administration. This comes after Trump's first meeting with Comey prior to Inauguration Day in which the President-Elect repeatedly asked the F.B.I. Director for a pledge of loyalty and Comey responded that he would pledge that he will aways be honest with Trump while he is in office. While this isn't a direct order it is at the very least a troubling thing for a sitting President to say to an F.B.I Director, especially given the context that the two men had previously had discussions about whether Comey would continue in his position while Trump was in office. Additionally the fact that Trump only had these conversations with Comey one-on-one, including at least one occasion where he asked everyone else to leave the room while he talked to Comey individually demonstrates at least some knowledge on Trump's part that what he was asking of Comey was something that he should not be asking, which goes to the issue of Trump's intent in making these inquiries of him. This doesn't mean that Trump is guilty of anything, of course, but it does raise serious questions and likely indicates that the investigation in the Russia and the Trump campaign will likely expand, and that it's not going to end for some time.
In any case, the fireworks begin tomorrow at 10am Eastern. The hearing at which Comey is testifying will be broadcast live on all of the cable news networks, on C-Span, and on most if not all of the broadcast television networks. It will also be available via C-Span's streaming service, which you can access via their website, or C-Span's mobile app, which is available for both Android and Apple iOS. It's going to be a very interesting day.
Here is Comey's opening statement:
James Comey Testimony by Doug Mataconis on Scribd