No Charges Against Clinton Despite 'Extremely Careless' Safeguarding of Classified Information
The presumptive Democratic nominee for president won't be going to jail. But we knew that.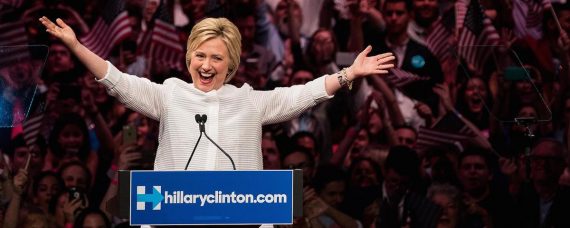 The presumptive Democratic nominee for president won't be going to jail. But we knew that.
NYT ("F.B.I. Recommends No Charges Against Hillary Clinton for Use of Personal Email")
The F.B.I. director, James B. Comey, said on Tuesday that the bureau would not recommend criminal charges in Hillary Clinton's handling of classified information, lifting an enormous legal cloud from her presidential campaign, hours before her first joint campaign appearance with President Obama.

But Mr. Comey rebuked Mrs. Clinton as being "extremely careless" in using a personal email address and server for sensitive information, declaring that an ordinary government official could have faced administrative sanction for such conduct.

To warrant a criminal charge, Mr. Comey said, there had to be evidence that Mrs. Clinton intentionally sent or received classified information — something that the F.B.I. did not find. "Our judgment is that no reasonable prosecutor would bring such a case," he said at a news conference.

The Justice Department is highly likely to accept the F.B.I.'s instruction. Attorney General Loretta Lynch said on Friday that she would accept the recommendation of the F.B.I. and career prosecutors in the case, after questions were raised about an impromptu meeting between her and former President Bill Clinton at an airport in Phoenix.

Mr. Comey's statement came three days after F.B.I. investigators interviewed Mrs. Clinton, a sign that the case was winding down. He described an elaborate yearlong investigation, in which the F.B.I. examined multiple servers, read 30,000 emails and interviewed dozens of people.
The Hill ("FBI recommends no charges against Clinton"):
The FBI will not recommend criminal charges against Hillary Clinton for her private email setup, Director James Comey said Tuesday in an announcement that immediately roiled the race for the White House.

Despite evidence that the presumptive Democratic presidential nominee and her senior aides were "extremely careless" with government secrets during her time as secretary of State, Comey said investigators had concluded there was not sufficient evidence to recommend an indictment against Clinton.

"Although there is evidence of potential violations of the statutes regarding the handling of classified information, our judgment is that no reasonable prosecutor would bring such a case," Comey said in dramatic comments from the FBI's headquarters in downtown Washington.

"We are expressing to Justice our view that no charges are appropriate in this case."

Comey dinged the former Secretary of State for careless handling of the information, noting that a person in her position "should have known that an unclassified system was no place for that conversation."

"Although we did not find clear evidence that Secretary Clinton or her colleagues intended to violate laws governing the handling of classified information, there is evidence that they were extremely careless in their handling of very sensitive, highly classified information," Comey said. Read Comey's statement here.

The decision all but clears Clinton of the federal investigation that has loomed over her presidential campaign for nearly a year, since Attorney General Loretta Lynch had pledged to accept the recommendation of the FBI and career prosecutors.

Comey's announcement comes just three days after the former secretary of State sat for a 3.5-hour interview with the FBI on Saturday, and just a few hours before President Obama is set to campaign with Clinton in Charlotte, N.C. It also comes about a week after Lynch met on an Arizona tarmac with Clinton's husband, former President Bill Clinton.

The juxtaposition is likely to inflame White House critics, who have insisted that political pressures would prevent any chance of an indictment for Clinton, regardless of the damage to national security.
Comey's full remarks are here.
It would have been highly unusual to bring criminal charges here.  None were brought against Sandy Berger or John Deutsch for arguably more egregious violations.  It's true that David Petraeus did receive modest punishment for his transgressions, which in many ways are less severe, but at least specific intent to hand classified information to someone who had no Need to Know was provable in that case.
Clinton clearly intended to skirt both policy and law here and in doing so she exposed highly sensitive information to our enemies. But that was a byproduct of her reckless disregard for the rules that govern lesser people, not an intended outcome. We simply don't prosecute former senior administration officials for that sort of thing.
As MSNBC notes, the findings are nonetheless fairly damning:
110 emails sent or received on Clinton server contained classified information. Eight of those were top secret, the highest level of classification.
It's possible that "hostile actors" gained access to Clinton's personal email account. "She also used her personal e-mail extensively while outside the United States, including sending and receiving work-related e-mails in the territory of sophisticated adversaries," Comey said.
Clinton has repeatedly insisted that she never sent classified information on her private server. That's simply not true.  Her flouting of the rules here is in fact a big deal.  Lesser mortals would indeed have been severely sanctioned for such conduct.
Still, there's likely to be little political fallout from this. To her supporters, the fact that she didn't commit a provable crime will be taken as an indication she did nothing wrong. To die-hard Trump supporter, that she wasn't charged is just further evidence that the game is rigged.
As for me, the findings pretty much confirm what I already understood as the facts in the case. She remains someone that I believe not worthy of the role of Commander-in-Chief. Alas, she has the good fortune to have the only alternative being someone even less worthy of the role.
UPDATE:  Benjamin Wittes, a legitimate expert on these issues and hardly a rabid partisan, does an excellent job going through the speech and pulling out the issues most likely to be political fodder.  Most notably:
For example, seven e-mail chains concern matters that were classified at the Top Secret/Special Access Program level when they were sent and received. These chains involved Secretary Clinton both sending e-mails about those matters and receiving e-mails from others about the same matters. There is evidence to support a conclusion that any reasonable person in Secretary Clinton's position, or in the position of those government employees with whom she was corresponding about these matters, should have known that an unclassified system was no place for that conversation. In addition to this highly sensitive information, we also found information that was properly classified as Secret by the U.S. Intelligence Community at the time it was discussed on e-mail (that is, excluding the later "up-classified" e-mails).

None of these e-mails should have been on any kind of unclassified system, but their presence is especially concerning because all of these e-mails were housed on unclassified personal servers not even supported by full-time security staff, like those found at Departments and Agencies of the U.S. Government—or even with a commercial service like Gmail.
Says Wittes:
This will be a politically damaging finding—as well it should be. It's not uncommon for high-ranking officials to treat classification rules with a lack of deference. That said, it's upsetting every time it happens. And notably in this case, this is not—as some prior reporting suggested—merely a case of Clinton's passively receiving New York Times articles that contained, in an unmarked fashion, classified material. Comey makes clear that she both sent and received classified material and that "any reasonable person" in her shoes would have known better than to have such conversations.

These are strong words. And this paragraph will make for a lot of Republican talking points over the next few months. In all honesty, Clinton deserves these talking points every time. She should have known better.
His ultimate conclusion strikes me as eminently fair:
Put it all together and you get a pretty damaging case in the political arena. Clinton behaved in a fashion a reasonable person would not have with respect to discussing highly sensitive material in a non-secure setting. We know that "hostile actors" gained access to the systems of her correspondents. And we can't rule out that her own system was compromised. It's not a pretty picture.

And that said, it's very clearly not the sort of thing the Justice Department prosecutes either. For the last several months, people have been asking me what I thought the chances of an indictment were. I have said each time that there is no chance without evidence of bad faith action of some kind. People simply don't get indictment for accidental, non-malicious mishandling of classified material. I have followed leak cases for a very long time, both at the Washington Post and since starting Lawfare. I have never seen a criminal matter proceed without even an allegation of something more than mere mishandling of senstive information. Hillary Clinton is not above the law, but to indict her on these facts, she'd have to be significantly below the law.

Comey's recommendation in this regard is unambiguous: "our judgment is that no reasonable prosecutor would bring such a case."

His reasoning, at least in my judgment, is clearly correct: "In looking back at our investigations into mishandling or removal of classified information, we cannot find a case that would support bringing criminal charges on these facts. All the cases prosecuted involved some combination of: clearly intentional and willful mishandling of classified information; or vast quantities of materials exposed in such a way as to support an inference of intentional misconduct; or indications of disloyalty to the United States; or efforts to obstruct justice. We do not see those things here."

Comey's full statement is a peculiar document because it is simultaneously emphatic that Clinton and her staff behaved inappropriately and equally emphatic that no reasonable prosecutor would want to bring a case against them. His reputation for personal probity and apolitical behavior is such that both statements must be taken seriously. The former should be profoundly embarassing to Clinton. The latter should put to rest the notion that she should face charges. If she is to face accountability for her email server, that accountability will and should be in the political realm.
I concur in that judgment. And, as I've said earlier in the post and in previous mentions, her conduct here is disqualifying. Except that she's running against someone who disqualifies himself for the office on a near-daily basis.