Hillary Clinton's Server and Sensitive Compartmented Information
Clinton's wanton disregard for the rules had predictable consequences.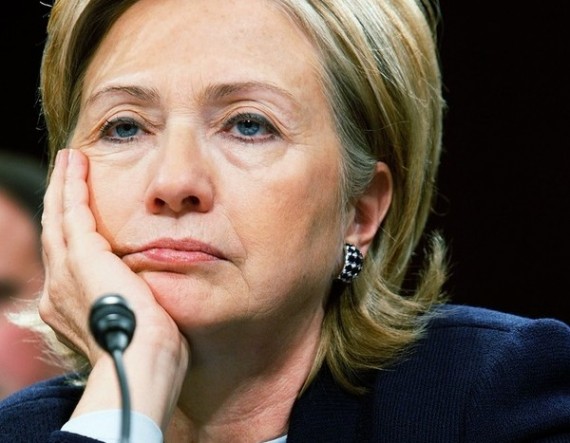 Hillary Clinton received the highest levels of classified information on her personal server because she skirted the law.
The NYT ("F.B.I. Tracking Path of Classified Email From State Dept. to Hillary Clinton"):
F.B.I. agents investigating Hillary Rodham Clinton's private email server are seeking to determine who at the State Department passed highly classified information from secure networks to Mrs. Clinton's personal account, according to law enforcement and diplomatic officials and others briefed on the investigation.

To track how the information flowed, agents will try to gain access to the email accounts of many State Department officials who worked there while Mrs. Clinton was secretary of state, the officials said. State Department employees apparently circulated the emails on unclassified systems in 2009 and 2011, and some were ultimately forwarded to Mrs. Clinton.

They were not marked as classified, the State Department has said, and it is unclear whether its employees knew the origin of the information.

The F.B.I. is also trying to determine whether foreign powers, especially China or Russia, gained access to Mrs. Clinton's private server, although at this point, any security breaches are speculation.

Law enforcement officials have said that Mrs. Clinton, who is seeking the 2016 Democratic nomination for president, is not a target of the investigation, and she has said there is no evidence that her account was hacked. There has also been no evidence that she broke the law, and many specialists believe the occasional appearance of classified information in her account was probably of marginal consequence.

A spokesman for Mrs. Clinton said in a statement on Friday that she "took the handling of classified information very seriously."

"She always received classified materials in secure settings, either by phone, videoconference, on paper or in person," said the spokesman, Nick Merrill. "If, however, some material unknowingly ended up somewhere on the State Department's unclassified email system, we want to continue to be as helpful as possible in getting to the bottom of that."

[…]

This week, the inspector general of the nation's intelligence agencies, I. Charles McCullough III, informed members of Congress that Mrs. Clinton had "top secret" information, the highest classification of government intelligence, in her account.

Some of that information, according to a memorandum the inspector general sent to the heads of the Senate and House intelligence and judiciary committees, may have come from a program called Talent Keyhole, which relies on satellite intercepts of conversations or imagery data. The program involves some of the most secure information in the intelligence agencies' computer systems.

Specifically, the inspector general told members of Congress that two emails should have been classified as top secret, with one of them designated "TOP SECRET//SI//TK/NOFORN." Officials familiar with the nomenclature said that "SI" stood for "special intelligence," usually indicating an intercepted communication, and that "TK" was routinely used as an abbreviation for Talent Keyhole, showing that the communication or an image was obtained from a satellite.
AP ("AP EXCLUSIVE: Top secret Clinton emails include drone talk"):
Neither of the two emails sent to Hillary Rodham Clinton now labeled by intelligence agencies as "top secret" contained information that would jump out to experts as particularly sensitive, according to several government officials.

One included a discussion of a U.S. drone strike, part of a covert program that is widely known and discussed. A second conversation could have improperly referred to highly classified material, but it also could have reflected information collected independently, U.S. officials who have reviewed the correspondence told The Associated Press.

Still, it's looking increasingly likely the issue of whether Clinton mishandled classified information on her home-brew email server will have significant political implications in the 2016 presidential campaign.

Clinton, who has been seen from the outset as the front-runner for the Democratic nomination, agreed this week to turn over to the FBI the private server she used as secretary of state. And Republicans in Congress have seized on the involvement of federal law enforcement in the matter as a sign she was negligent in handling the nation's secrets.

On Monday, the inspector general for the 17 spy agencies that make up what is known as the intelligence community told Congress that two of 40 emails, in a random sample of 30,000 messages that Clinton gave the State Department for review, contained information deemed "Top Secret," one of the government's highest levels of classification.

While neither of the emails was marked classified at the time they were sent, they have since been slapped with a "TK" marking, for "Talent Keyhole," suggesting material obtained by spy satellites. And they also were marked "NOFORN," meaning information that can only be shared with Americans with security clearances.

The two emails got those markings after consultations with the CIA and other agencies where the material originated, officials said. Some officials said they believed the designations were a stretch — a knee-jerk move in a bureaucracy rife with over-classification.
Big Tent Democrat argues that all of this absolves Mrs. Clinton:
The idea that an email discussing a news article could be deemed "Top Secret" is ludicrous of course. But the IC is nothing if not ludicrous when it comes to classification issues.

[…]

Let's review this again – (1) Clinton did not transmit the sensitive information herself and (2) nothing in the emails she received makes clear reference to communications intercepts, confidential intelligence methods or any other form of sensitive sourcing.

Frankly, this puts Clinton completely in the clear. This story SHOULD be over as far as Hillary is concerned. IS that true for other State personnel? I think so. But there can be no doubt as to Clinton.
While it's certainly true that there's an IC tendency to over-classify, a discussion within the IC about details of a news story could very well be legitimately highly classified. A discussion of how the reporters could have known the details could quite easily slide into sources and methods.
Beyond that, as noted in the lede, the key issue here is that Clinton's wanton disregard for the rules that apply to everyone else in government is to blame here. Had she followed protocol and received her emails on her government account—as does everyone else who deals with classified information—rather than setting up a private server under her own control and funneling all of her communications there, there would be no issue. This is all the result of that bad act. It is, among others, the very rationale behind the protocols.
To use an analogy, if you're driving your car 25 miles per hour over the speed limit or while intoxicated, you're very much liable for the consequences of an accident that otherwise wouldn't be your fault. By breaking rules put in place to enhance safety, you're showing reckless disregard for safety. That you had no intention of causing anyone harm and were merely serving your own convenience or pleasure doesn't absolve you of the foreseeable consequences of that conduct.
That said, based on the evidence publicly available now, it's unlikely any real harm to the national security came from Clinton's actions. She should be censured for breaking the rules but criminal prosecution would be a wild over-reaction here absent some compelling new evidence.
The fact that she's a legitimate—if not the leading—contender to be the next president of the United States makes all of this rather awkward. Ordinarily, the chief punishment for this sort of breach would be to take away the offender's security clearance or at least degrade said clearance. It would, of course, be unthinkable to deny the president access to any and all intelligence they desire, both from a chain of command standpoint and given their role as the ultimate decisionmaker. If the American public doesn't find this disqualifying (and, even one who's far from a fan of Mrs. Clinton, I'm not sure that I do) then there will and almost certainly should be no real consequence to her actions.