State Department Inspector General Faults Hillary Clinton, State Dept. In Email Probe
A bad day for the Clinton campaign.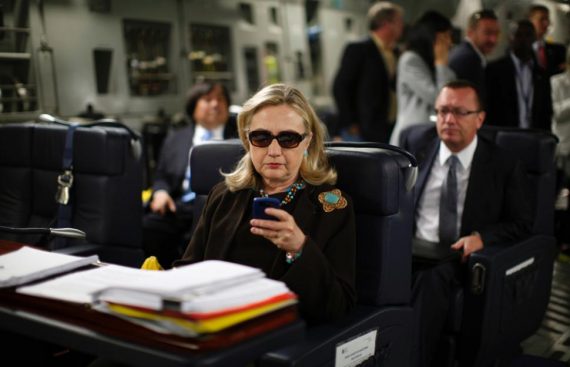 The State Department's Inspector General has issued their long awaited report on former Secretary of State Hillary Clinton's use of a private email server while in office, a report that is highly critical of both Clinton and of how the State Department handled the decision and likely to revive the email issue just as Clinton is on the verge of clinching the Democratic nomination for President:
WASHINGTON — The State Department's inspector general has sharply criticized Hillary Clinton's exclusive use of a private email server while she was secretary of state, saying she had not sought permission to use it and would not have received it if she had.

In a report delivered to members of Congress on Wednesday, the inspector general said that Mrs. Clinton "had an obligation to discuss using her personal email account to conduct official business" with officials responsible for handling records and security but that inspectors found "no evidence" that she had.

The review "found no evidence" that Mrs. Clinton had requested or received approval from anyone at the department to conduct her state business on a personal email.

It said that she "had an obligation" to do so, given the well-known security risks involved in using a personal account. And it also said that department officials "did not — and would not — approve her exclusive reliance on a personal email account to conduct Department business."

It also added new detail about Mrs. Clinton's motivation for using the private server, which she has said was set up for convenience. In November 2010, her deputy chief of staff for operations prodded her about "putting you on state email or releasing your email address to the department so you are not going to spam." Mrs. Clinton, however, replied that she would consider a separate address or device "but I don't want any risk of the personal being accessible."

The report, as well as an F.B.I. investigation and other legal challenges seeking information about her use of the server, is certain to keep alive a controversy that has shadowed Mrs. Clinton's campaign for the presidency. The events have all come to a climax just as she is close to defeating Senator Bernie Sanders for the Democratic presidential nomination.

Mrs. Clinton and her aides have played down the inquiries, saying that she would cooperate with investigators to put the email issue behind her. Even so, through her lawyers, she declined to be interviewed by the State Department's inspector general as part of his review. So did several of her senior aides.

Mrs. Clinton's campaign spokesman, Brian Fallon, issued a statement emphasizing the findings that the problems with record keeping extended beyond Mrs. Clinton's tenure.

"Contrary to the false theories advanced for some time now, the report notes that her use of personal email was known to officials within the Department during her tenure, and that there is no evidence of any successful breach of the Secretary's server," Mr. Fallon said in the statement.

The report broadly criticized the State Department as well, saying that officials had been "slow to recognize and to manage effectively the legal requirements and cybersecurity risks" that emerged in the era of emails, particularly those of senior officials like Mrs. Clinton.

It said that "longstanding systemic weaknesses" in handling electronic records went "well beyond the tenure of any one secretary of state" but the body of the report focused on the 30,000 emails that Mrs. Clinton sent and received on her private server.

The State Department issued numerous warnings dating back a decade about the cyber-security risks of using personal emails accounts for government business, the report said, and Mrs. Clinton was personally sent a memo in 2011 warnings of hackers trying to target unclassified, personal email accounts. She was also given a classified, in-person briefing on the dangers, the report said.

The report found that while dozens of State Department employees used personal email accounts periodically over the years, only three officials were found to have used it "exclusively" for day-to-day operations: Mrs. Clinton; Colin Powell, the secretary of state under President George W. Bush; and Scott Gration, the ambassador to Kenya from 2011 to 2012.

The review "found no evidence" that Mrs. Clinton had requested or received approval from anyone at the department to conduct her State Department business on a personal email. But it said that she "had an obligation" to do so, given the well-known security risks involved in using a personal account. And it also said that department officials "did not — and would not — approve her exclusive reliance on a personal email account to conduct Department business."

But while State Department officials never directly told Mrs. Clinton or Mr. Powell that they needed to end their use of personal email, the report found, they did do so with Mr. Gration, a lower-level diplomat who did not have their political clout.

The response to Mr. Gration's situation "demonstrates how such usage is normally handed when Department cybersecurity officials become aware of it," the report said.

(…)

The report did not delve deeply into the issue that has become the focus of the F.B.I.'s investigation — the references in dozens of emails to classified information, including 22 emails that the Central Intelligence Agency considered "top secret."

But it called into question the security risk of using a private server for what were clearly sensitive discussions of the nation's foreign policy. It noted that Mrs. Clinton sent or received most of the emails that traversed her server from a mobile device, her BlackBerry.

Security and records management officials told the inspector general's office that "Secretary Clinton never demonstrated to them that her private server or mobile device met minimum information security requirements," the report said.

The report also disclosed an attempt to hack into Mrs. Clinton's server in January 2011.

It said a "nondepartmental adviser" to Bill Clinton, apparently Bryan Pagliano, informed the department that he had shut down the server because "someone was trying to hack us and while they did not get in, I didn't want to let them have a chance."

The attack continued later that day, prompting another official to write to two of Mrs. Clinton's top aides, Cheryl Mills and Jake Sullivan, to warn them not to send Mrs. Clinton "anything sensitive." She explained that she would "explain more in person."

The report also criticized Mrs. Clinton for not adhering to the department's rules for handling records under the Federal Records Act once she stepped down in January 2013.

"Secretary Clinton should have surrendered all emails dealing with Department business before leaving government service and, because she did not do so, she did not comply with the Department's policies that were implemented in accordance with the Federal Records Act," the report said.

The inspector general also said that while Mrs. Clinton had turned over her email, she had not included those she sent and received in her first months as secretary from January to April 2009. In 2015, the Department of Defense also turned over 19 emails between Mrs. Clinton and David H. Petraeus that had been sent from his official email account to her private account but had not been included among those turned over.
It's important to note that this report is not related to the ongoing investigation by the Department of Justice and F.B.I. regarding the private email server and the issue of whether or not Clinton or anyone associated with her may have mishandled classified information by sharing it on her non-government, private, unsecured email server. That investigation has been ongoing for the better part of a year now and while there is no real indication of how much longer it might continue, the fact that it has been reported that the investigation has moved on to interviews of people close to Clinton and that immunity has been granted to the person who maintained the server for Clinton and to a Romanian hacker known as "Guccifer" who claims to have hacked into Clinton's server on more than one occasion while she was Secretary of State would seem to indicate that the DoJ investigation is nearing its end, and it has been reported that investigators are likely to request an interview with Clinton herself. After that, the general course of action would be to decide whether or not anyone should be charged criminally based on what the investigation uncovered. This could include anyone from one of Clinton's aides to Clinton herself, which would obviously be an event that would constitute something of a political earthquake. There have been plenty of rumors on that point from both sides, but anyone who tells you they know what will happen and how the investigation will end is, without question, making things up.
Notwithstanding that, the report is hardly good news for Clinton at this point in her campaign, especially given the fact that it contradicts many of the assertions she has made about her use of a private server since the story first broke more than a year ago. For one thing, the report concludes that, contrary to the claim Clinton has made from the beginning, Clinton did not have permission from the State Department to use not only a private email account but also a private network outside the control of the proper network security personnel for official State Department business. Instead, it appears that what happened is that Clinton had the network set up and began using it without anyone outside her inner circle really knowing about it, meaning that by the time it was discovered it was a fait accompli which both the powers that be in the State Department and the White House decided to acquiesce in rather than fighting her over it.  The report also found that Clinton failed to comply with the relevant record keeping laws in that she should have turned over all of her work-related email after leaving office. Instead, she initially had a review of the email on the server conducted by people working for her who turned over some, but not all, of the work-related email that was on the server. It wasn't until the story about the server became public in the spring of last year that Clinton finally turned over the last of the email, and eventually the server itself.
Given the fact that we're in the middle of a campaign for President, the inevitable question is going to be what impact this report will have on Clinton's political fortunes. Obviously, someone who is a die hard Clinton loyalist is unlikely to have their mind changed even by this scathing report, and even Bernie Sanders supporters are unlikely to be influenced very much by it given that they seem to share their savior's dismissive attitude toward the entire email story. Therefore, this report is unlikely to have any impact on the race for the Democratic nomination. It could be a very different matter beyond that, though, especially given the fact that polling has already indicated that General Election voters already have a high level of distrust when it comes to Clinton. Even with an opponent like Donald Trump, a report like this could do real damage to Clinton going forward, as Chris Cillizza points out:
The report, which you can read in its entirety here, badly complicates Clinton's past explanations about the server and whether she complied fully with the laws in place governing electronic communication. And it virtually ensures that Clinton's email practices will be front and center in Donald Trump's fusillade of attacks against her credibility and honesty between now and Nov. 8.

(…)

Clinton used an inappropriate method of preserving her documents. Her approach would not have been approved if it had been requested by a more junior member of the State Department staff.  The report also suggests that despite a Clinton aide's insistence that the method of preserving her emails had been submitted to a legal review back in 2010, there is no evidence that such a review took place. And, here's the kicker: Clinton refused to sit for a formal interview.

Oomph. Double oomph. Heck, that might merit a triple oomph.
Cillizza also notes that the report blows a hole through one of the primary defenses that Clinton's campaign has taken advantage of since this story broke, namely that she wasn't the only recent Secretary of State to use private email to do official business:
There are two very important differences among Clinton, Secretary of State John F. Kerry, and former secretaries Powell and Condoleezza Rice when it comes to email practices.

The first is that Clinton is the first and, to date, only secretary of state to exclusively use a private email address and server to conduct her business as the nation's top diplomat.  All of the other names above maintained both a private and a government-issued email address. That alone doesn't make her guilty. But it does make her unique.

Second, Clinton is the only one of that group who is currently (a) running for president and (b) the very likely nominee for one of the country's two major parties.

Because of her elevated status in our political world, she is — and should be — subject to more scrutiny than, say, Powell, who hasn't voiced an interest in running for president in 20 years. That's particularly true because Clinton has put her time at State at the center of her argument for why she should be elected the 45th president of the United States. Look at what I have done and judge me by it, she says. That has to include the bad as well as the good.

This is a bad day for Clinton's presidential campaign. Period. For a candidate already struggling to overcome a perception that she is neither honest nor trustworthy, the IG report makes that task significantly harder. No one will come out of this news cycle — with the exception of the hardest of the hard-core Clinton people — believing she is a better bet for the presidency on May 25 than she was on May 23.
This doesn't mean that Clinton's campaign is fatally wounded, of course, but it does mean that one of the primary arguments she makes in favor of her qualification for the job of President is being further undercut, this time by a decision she obviously made to protect her own privacy at the expense of complying with applicable law and State Department policy. How the voters will react to that is anybody's guess, but you can bet Donald Trump and the Republicans are going to make sure they don't forget about it.
Here's the report:
State Dept. Inspector General Email Investigation Report by Doug Mataconis