White House Aides Using Personal Devices, Private Email For Official Communication
While there are real differences between what's being reported about White House officials such as Jared Kushner and what Hillary Clinton did, the charge of hypocrisy is well-founded.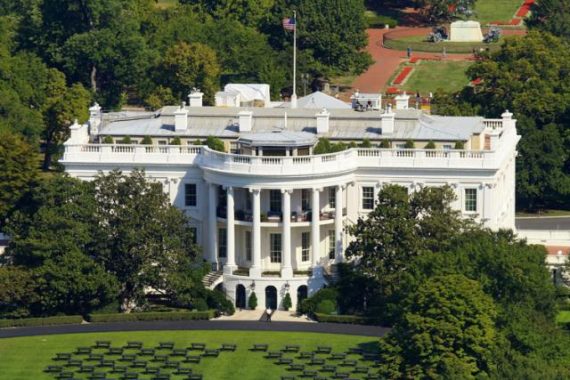 During the campaign for President Trump, along with pretty much every other Republican, attacked Hillary Clinton on a regular basis for using a private email server while serving as Secretary of State. Now, it's being reported that several top Trump White House aides have been using either personal electronic devices or private email services for official government business:
WASHINGTON — At least six of President Trump's closest advisers occasionally used private email addresses to discuss White House matters, current and former officials said on Monday.

The disclosures came a day after news surfaced that Jared Kushner, the president's son-in-law and adviser, used a private email account to send or receive about 100 work-related emails during the administration's first seven months. But Mr. Kushner was not alone. Stephen K. Bannon, the former chief White House strategist, and Reince Priebus, the former chief of staff, also occasionally used private email addresses. Other advisers, including Gary D. Cohn and Stephen Miller, sent or received at least a few emails on personal accounts, officials said.

Ivanka Trump, the president's elder daughter, who is married to Mr. Kushner, used a private account when she acted as an unpaid adviser in the first months of the administration, Newsweek reported Monday. Administration officials acknowledged that she also occasionally did so when she formally became a White House adviser. The officials spoke on the condition of anonymity because they were not authorized to discuss the matter with reporters.

Officials are supposed to use government emails for their official duties so their conversations are available to the public and those conducting oversight. But it is not illegal for White House officials to use private email accounts as long as they forward work-related messages to their work accounts so they can be preserved.

During the 2016 presidential race, Mr. Trump repeatedly harped on Hillary Clinton's use of a private account as secretary of state, making it a centerpiece of his campaign and using it to paint her as untrustworthy. "We must not let her take her criminal scheme into the Oval Office," Mr. Trump said last year. His campaign rallies often boiled over with chants of "Lock her up!"

The F.B.I. closed its investigation into Mrs. Clinton's handling of classified information and recommended no charges. But even after becoming president, Mr. Trump has prodded the Justice Department to reinvestigate.

While the private email accounts spurred accusations of hypocrisy from Democrats, there are differences. Mrs. Clinton stored classified information on a private server, and she exclusively used a private account for her government work, sending or receiving tens of thousands of emails. The content and frequency of the Trump advisers' emails remain unknown, but Trump administration officials described the use of personal accounts as sporadic. The emails have not been made public.

"All White House personnel have been instructed to use official email to conduct all government related work," Sarah Huckabee Sanders, the White House press secretary, said Monday in response to questions about the emails. "They are further instructed that if they receive work-related communication on personal accounts, they should be forwarded to official email accounts."

The acknowledgment of private email use came as the White House is responding to a wide-ranging Justice Department request for documents and emails as part of the special counsel investigation into Russian election meddling. The use of private emails has the potential to complicate that effort, but the White House said it was confident in its process.

"I am dealing with honorable professionals and getting what I need," said Ty Cobb, the White House lawyer leading the response to the investigation. "I am doing all I can to ensure the special counsel receives the materials they request."

It is not clear why even sporadic use continued after a campaign in which email habits became a source of controversy. A former administration official noted, though, that in many cases, people received emails to their personal accounts. In some instances, officials used their private accounts to talk with reporters.

Most of Mr. Trump's aides used popular commercial email services like Gmail. Mr. Kushner created a domain, IJKFamily.com, in December to host his family's personal email. That domain was hosted by GoDaddy on a server in Arizona, records show.

James Norton, a former senior homeland security official during the George W. Bush administration, said private accounts pose security risks — a criticism often raised against Mrs. Clinton.

"These private email accounts become targets of phishing attacks or other types of ways of collecting information," he said. "It's an issue not only for the person who owns that account, but the person who is receiving the emails. It is introducing risk into the system."

Richard W. Painter, a chief White House ethics lawyer under Mr. Bush who is now the vice chairman of Citizens for Responsibility and Ethics in Washington, a watchdog group, said that there is often a "gray area" over what is considered official business. But, he said, "If it has anything to do with the president's policy, including defending the president's policy to the press, it's very difficult to escape that being official."

"I think Kushner was sloppy to do this," he said. "I think Hillary was sloppy. I don't think any of it was criminal."
Not surprisingly, many Democrats and Trump critics are jumping on this news, as is Hillary Clinton herself:
Reports that several current and former top White House staff members, including Jared Kushner, Reince Priebus and Steve Bannon used their private email accounts for official business puts on display the "rank hypocrisy" of the Trump administration, Hillary Clinton said Monday night.

(…)

Clinton, the former Democratic presidential candidate, was attacked regularly on the campaign trail for her use of a private email server during her tenure as secretary of state. President Donald Trump frequently used the email server issue as a brush with which to paint Clinton as dishonest and opaque.

"The hypocrisy of this administration, who knew there was no real scandal, who knew that there was no basis for all their hyperventilating. Republican members of Congress who politicized the deaths in Benghazi," Clinton told SiriusXM radio Monday in an interview picked up by The Huffington Post. "No, we're finding with the latest revelations ― they didn't mean any of it. It's just the height of hypocrisy."

POLITICO reported over the weekend that Kushner, Trump's son in law and one of his top advisers, had used his personal email to interact with other administration officials on White House business several times since the president's inauguration. Bannon and Priebus, both former White House officials, had also used their personal email accounts for administration matters, POLITICO found.

"It is something that if they were sincere about I think you'd have Republican members of Congress calling for an investigation," she said. "I haven't heard that yet."
To be fair, Trey Gowdy, the Republican chair of the House Oversight Committee has joined his Democratic counterpart in calling on the White House to identify any officials who used private email or devices for official communication. At the same time, though, there is somewhat of a difference between what's being reported here and what Clinton did, as The Washington Post's Aaron Blake properly notes:
As the Times's Matt Apuzzo and Maggie Haberman noted in their story, her private emails were problematic 1) because she set up her own server and used private email exclusively, and 2) because she was discussing potentially sensitive national security matters on that private server. That latter one was the big one — and the focus of the FBI investigation — because it meant classified information could potentially have been jeopardized.

Clinton had maintained that she never sent or received classified email on the server. She later amended that statement to clarify that she never "knowingly" did. So this added credibility issues to her email issues.

[Former F.B.I. Director James] Comey added that there was "evidence that [Clinton and her colleagues] were extremely careless in their handling of very sensitive, highly classified information." And he added that "we assess it is possible that hostile actors gained access to Secretary Clinton's personal email account." They just had no proof.

If this issue were just about Clinton flouting transparency and record-keeping rules, that would be one thing. But what really got her in trouble was the possibility that this could have jeopardized national security (not to mention her handling of the matter, which even aides admitted she botched). And even in letting her off the hook, Comey said it was possible she did just that.

Given her position as secretary of state and the extent of her private server use, Clinton's private server was inherently problematic. The Times reports that Trump administration sources say their use of private email, meanwhile, has been "sporadic," and there's no evidence that it may have compromised classified information. Indeed, the named aides probably don't deal in classified and national security information nearly as much as Clinton did.
While it's tempting to jump on the Trump team based on these new reports, Blake is correct that there are important distinctions to be drawn between what's being reported here and what we know Clinton did. There's a difference between occasionally, and perhaps arguably absent-mindedly, using private email or a non-government device for official correspondence and using a private email address and a private run and maintained server for essentially all of one's official correspondence over the course of four years. Additionally, Clinton's private server only really became a problem for her politically when it was revealed that she was using the private email to send and receive what turns out to have been classified information, although it's worth noting that at least some of that information was only identified as classified after the fact and was not identified as such at the time Clinton or her aides sent or received the information in question. Notwithstanding that, though, as James Comey noted in his initial report on the F.B.I. investigation, Clinton's handling of classified information was, at the very least, extremely careless.
Notwithstanding these differences, Clinton is correct to call out the Trump team for its hypocrisy. It is hypocritical for the White House to be dismissive of these reports given the fact that the President and other Republicans spent the better part of two years attacking Clinton over her use of private email and a private server while Secretary of State. Additionally, using a private email account or device is problematic in any case because it potentially violates the laws governing the archiving of official communications. The White House has said that the individuals involved forwarded any official communications to their government accounts so that it could be properly archived by the official email system as required by law, but we don't know if that representation is true without at least some examination of the appropriate accounts and devices by an independent source. Additionally, based on the report from The New York Times it appears that Jared Kushner at least was using a private email server to host the account that he used outside of official channels. Arguably, that server was even less secure than what Clinton used given that he didn't have physical custody and control of that server but instead utilized GoDaddy for his private account. Furthermore, we don't know whether or not Kushner or any of the other White House officials identified in this report may have mishandled classified or secret information in the same manner that Clinton did, which is why the matter should be thoroughly investigated before simply dismissing it as an oversight. Given all of this, the charges made in these reports certainly ought to be investigated and the persons involved should receive whatever admonishment or punishment is appropriate.