Ivanka Trump Used Private Email For Government Communications
In news replete with irony, it's being reported that Ivanka Trump used a private email account to communicate about government business.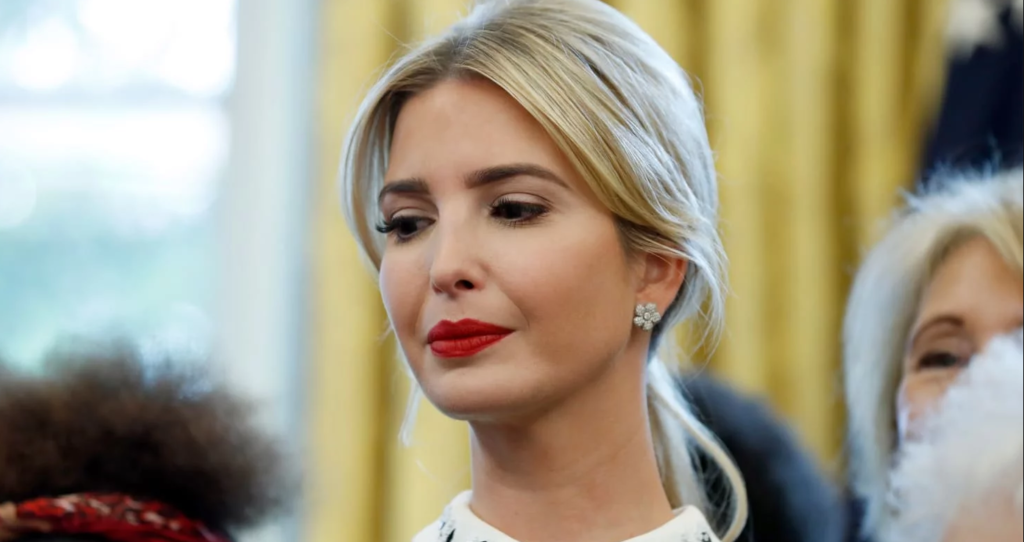 Ivanka Trump, in addition to being the President's eldest daughter also serves as a Senior Advisor to the President and is arguably one of the most powerful people inside the West Wing, apparently used a private email account to communicate with other White House and government officials in apparent violation of Federal record-keeping lawyers:
Ivanka Trump sent hundreds of emails last year to White House aides, Cabinet officials and her assistants using a personal account, many of them in violation of federal records rules, according to people familiar with a White House examination of her correspondence.

White House ethics officials learned of Trump's repeated use of personal email when reviewing emails gathered last fall by five Cabinet agencies to respond to a public records lawsuit. That review revealed that throughout much of 2017, she often discussed or relayed official White House business using a private email account with a domain that she shares with her husband, Jared Kushner.

The discovery alarmed some advisers to President Trump, who feared that his daughter's prac­tices bore similarities to the personal email use of Hillary Clinton, an issue he made a focus of his 2016 campaign. He attacked his Democratic challenger as untrustworthy and dubbed her "Crooked Hillary" for using a personal email account as secretary of state.

Some aides were startled by the volume of Ivanka Trump's personal emails — and taken aback by her response when questioned about the practice. She said she was not familiar with some details of the rules, according to people with knowledge of her reaction.

The White House referred requests for comment to Ivanka Trump's attorney and ethics counsel, Abbe Lowell.

In a statement, Peter Mirijanian, a spokesman for Lowell, acknowledged that the president's daughter occasionally used her private email before she was briefed on the rules, but he said none of her messages contained classified information.

"While transitioning into government, after she was given an official account but until the White House provided her the same guidance they had given others who started before she did, Ms. Trump sometimes used her personal account, almost always for logistics and scheduling concerning her family," he said in a statement.

Mirijanian said Ivanka Trump turned over all her government-related emails months ago so they could be stored permanently with other White House records.

And he stressed that her email use was different from that of Clinton, who had a private email server in the basement of her Chappaqua, N.Y., home. At one point, an archive of thousands of Clinton's emails was deleted by a computer specialist amid a congressional investigation.

"Ms. Trump did not create a private server in her house or office, no classified information was ever included, the account was never transferred at Trump Organization, and no emails were ever deleted," Mirijanian said.

Like Trump, Clinton also said she was unaware of or misunderstood the rules. However, Clinton relied solely on a private email system as secretary of state, bypassing government servers entirely.

Both Trump and Clinton relied on their personal attorneys to review their private emails and determine which messages should be retained as government records.

(…)

Austin Evers, executive director of the liberal watchdog group American Oversight, whose record requests sparked the White House discovery, said it strained credulity that Trump's daughter did not know that government officials should not use private emails for official business.

"There's the obvious hypocrisy that her father ran on the misuse of personal email as a central tenet of his campaign," Evers said. "There is no reasonable suggestion that she didn't know better. Clearly everyone joining the Trump administration should have been on high alert about personal email use."

Ivanka Trump and her husband set up personal emails with the domain "ijkfamily.com" through a Microsoft system in December 2016, as they were preparing to move to Washington so Kushner could join the White House, according to people familiar with the arrangement.

The couple's emails are prescreened by the Trump Organization for security problems such as viruses but are stored by Microsoft, the people said.

Trump used her personal account to discuss government policies and official business fewer than 100 times — often replying to other administration officials who contacted her through her private email, according to people familiar with the review.

Another category of less-substantive emails may have also violated the records law: hundreds of messages related to her official work schedule and travel details that she sent herself and personal assistants who cared for her children and house, they said.

People close to Ivanka Trump said she never intended to use her private email to shroud her government work. After she told White House lawyers she was unaware that she was breaking any email rules, they discovered that she had not been receiving White House updates and reminders to all staffers about prohibited use of private email, according to people familiar with the situation.

Using personal emails for government business could violate the Presidential Records Act, which requires that all official White House communications and records be preserved as a permanent archive of each administration. It can also increase the risk that sensitive government information could be mishandled or hacked, revealing government secrets and risking harm to diplomatic relations and secret operations.

(…)

After discovering the extent of her email use in September 2017, White House lawyers relied on Lowell, Ivanka Trump's attorney, to help review her personal emails to determine which were personal and which were official business, according to the people.

The White House Counsel's Office did not have access to her personal account and could not review it without invading her privacy and possibly violating privileged communications with her attorneys, people familiar with the review said.

After his review, Lowell forwarded emails that he had determined were related to official business to Ivanka Trump's government account, a move he viewed as rectifying any violations of the records law, they said.

Lowell's review found fewer than 1,000 personal emails in which Trump shared her official schedule and travel plans with herself and her personal assistants, according to two people familiar with the review.

Separately, there were fewer than 100 emails in which Trump used her personal account to discuss official business with other administration officials.

The scope of her personal email use had not emerged in response to American Oversight's records request, which sought Trump's correspondence with Cabinet agencies in early 2017. Most internal White House communications are not subject to the Freedom of Information Act.

"I'm disappointed — although not entirely surprised — that this administration disregarded clear laws that they more than anyone should have been aware of," Evers said.
Leaving aside for the moment the question of the seriousness of her violation of the Presidential Records Act, the revelations about Ivanka's use of a private email account to conduct government business carries with it no small degree of irony due to the fact that the same practices by Hillary Clinton played a central role in his campaign for the Presidency and they have come up repeatedly since he became President. The rallies that President Trump held as a candidate and in the past year and a half, for example, have often devolved into chants of "Lock Her Up!" from the crowd in reference to Clinton. Given that, the fact that the President's daughter did essentially the same thing as Secretary Clinton, albeit with the caveat that she did not utilize a private email server and there has, as of yet, been no allegation that she may have mishandled classified in the process of using her non-government, insecure, account to conduct business. At the very least, the fact that the President, who also happens to be her father, spent so much time talking about the Clinton matter and that the issue received significant coverage during the campaign makes it somewhat hard to believe that Trump was unaware of the problems that might be created by using private email in this context. In any case, the truth of the matter is that there doesn't appear to be any kind of criminal or civil penalty associated with failing to comply with the records keeping laws at issue here, so it's not clear that Trump faces legal trouble here. Nonetheless, given that ignorance of the law is generally not an excuse and that it seems utterly implausible in this case, one does have to chuckle at the obvious schadenfreude that Democrats must be feeling at the moment.
Ivanka Trump is hardly the first person to fall victim to this provision of Federal law, of course. In addition to the problems that Clinton created for herself when she decided to set up a private email server and use it for official State Department business, a decision that at the very least was a serious lapse in judgment from my perspective, there have also been reports over the years of other government officials who have done the same thing. One of the most notable examples other than Clinton, of course, is Colin Powell, who admitted years after the fact to having used his private account to communicate regarding government business. That happened, though, in the early days of email when the State Department's internal email system was primitive to say the least. Nonetheless, one has to wonder why it is that government officials cannot get it through their heads that government business should not be discussed on private accounts except perhaps in an emergency situation and even then only sparingly.
In the grand scheme of things, this doesn't seem like an egregious error on Trump's part. Given the extent to which her father has used this issue as a political cudgel, though, it's clear that she should have known better and that this repooft is likely to be something that Democrats are likely to want to know more about when they take control of the House in January.