Second Freddie Gray Trial Ends In Acquittal Of Baltimore Cop
An acquittal in one of the six Freddie Gray cases, but not an unexpected one.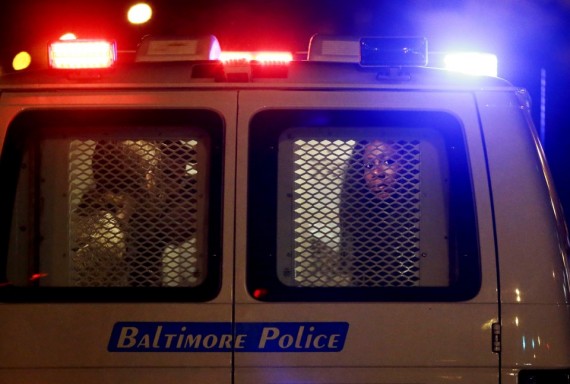 The second of six officers involved in the arrest that led to the death of Freddie Gray last year, an even which sparked a week of protests and rioting, ended with the officer being acquitted of the charges against him:
BALTIMORE — A police officer was acquitted of all charges on Monday in the arrest of Freddie Gray, a black man who sustained a fatal spinal cord injury while in police custody. The verdict is likely to renew debate over whether anyone will be held responsible for Mr. Gray's death.

The officer, Edward M. Nero, sat with a straight back and stared forward as Circuit Judge Barry G. Williams, who ruled on the case after the officer opted to forgo a jury trial, read his verdict on the charges of second-degree assault, misconduct and of reckless endangerment.

"The verdict on each count," said Judge Williams, concluding his reading after about 30 minutes, "is not guilty."

"The state's theory has been one of recklessness and negligence," Judge Williams said. "There has been no evidence that the defendant intended for a crime to occur."

"The state's theory has been one of recklessness and negligence," Judge Williams said. "There has been no evidence that the defendant intended for a crime to occur."

Officer Nero, who was implicated not in the death of Mr. Gray but in the opening moments of his arrest, then stood and hugged his lawyers as supporters pressed forward to congratulate him. He wiped away tears and, at one point, embraced Officer Garrett E. Miller, who is also charged in connection with the arrest of Mr. Gray

Perhaps a dozen protesters gathered outside the courthouse in the moments after the verdict was rendered, and some chanted the familiar protest cry, "No justice, no peace."

"To see that officer walk away, and still no accountability, that hurts me the most," said the Rev. Westley West, a frequent presence at demonstrations related to Mr. Gray's death. "That could be me."

The verdict, the first in any of the six officers implicated, comes a little more than a year after Mr. Gray died in April 2015. The first trial, against Officer William G. Porter, ended with a mistrial in December. Mr. Gray's death embroiled parts of Baltimore, which has a history of tension between the police and its residents, in violent protest and became an inexorable piece of the nation's wrenching discussion of the use of force by officers, particularly against minorities.

Many demonstrators had felt vindicated last year when the city's top prosecutor, Marilyn J. Mosby, announced charges against the officers, but legal specialists have questioned whether they were too ambitious.

Peter Moskos, a former Baltimore police officer who teaches at John Jay College of Criminal Justice in New York, said that Ms. Mosby had "overplayed her hand."

Charges were filed too quickly, he said. adding that prosecutors should have spent more time bolstering cases against one or two officers who may have been most culpable. "Someone dying doesn't always make it a crime," Mr. Moskos said. "The prosecutors are trying to find social justice, but these are trials of individual cops."

A lawyer for Officer Nero, Marc Zayon, called for the charges against the remaining officers to be dropped.

"The State's Attorney for Baltimore City rushed to charge him, as well as the other five officers, completely disregarding the facts of the case and the applicable law," Mr. Zayon said in a statement.

"Like Officer Nero," Mr. Zayon added, "these officers have done nothing wrong."

Concerned about reaction within the community, Mayor Stephanie Rawlings-Blake, in a statement, asked residents to be patient as the legal process played out, but added that the city was prepared to respond to any disturbances.

The Police Department said in a statement Monday that the internal review of Officer Nero, 30, who remains on administrative leave, will not be resolved until after the trials of the other officers involved.

The trial had shifted the focus from the injuries that killed Mr. Gray, which was a crucial point in Officer Porter's trial, to the opening moments of his arrest. It was never going to be the highest-profile prosecution in the case related to Mr. Gray; that will be Caesar R. Goodson Jr., the driver of the police wagon in which Mr. Gray is believed to have broken his neck. But, in a city that is already the subject of a federal civil rights investigation into whether officers use excessive force and discriminatory policing, Officer Nero's trial renewed questions about when an officer can stop a private citizen and what an officer is allowed to do.

"I would say the trial has engendered a wider conversation about how police operate in poor communities, particularly poor communities of color that raises critical issues about society," said David Jaros, a law professor at the University of Baltimore.

Judge Williams focused his rulings on Officer Nero's specific actions, Mr. Jaros said, rather commenting on the broad legal theory underpinning the prosecution's case.

Paul Butler, a former federal prosecutor and a law professor at Georgetown University Law Center, called the charges an unusual — and possibly unprecedented — attempt by a prosecutor to convict a police officer for making an arrest that lacked probable cause.

The attempt may have been fueled in part by public anger over the death of Mr. Gray. Mr. Butler said said such calculations were a normal part of prosecutors' decision making before handing down indictments. That tactic was essentially negated, he said, when Officer Nero's defense team opted for a bench trial.
More from The Baltimore Sun:
ltimore Circuit Judge Barry Williams on Monday rejected the state's case against Officer Edward Nero, acquitting him on all counts for his role in the arrest and death of Freddie Gray.

The judgment, which followed a five-day bench trial, is the first in the closely-watched case. Nero, 30, had faced four misdemeanor charges of second-degree assault, reckless endangerment and two counts of misconduct in office.

Prosecutors argued that Nero committed an assault by detaining Gray without justification, while the reckless endangerment charge related to Nero's role in putting Gray into an arrest wagon without buckling a seat belt. In closing arguments Thursday, Williams had skeptically questioned prosecutors about their theory of assault, which legal experts said was unprecedented.

Williams on Monday said there were "no credible facts" to show that Nero was directly involved in Gray's arrest, and said testimony showed Nero's role in putting Gray in the van was minimized by the actions of others and not unreasonable given his training.

Nero leaned forward after the verdict was read and wiped his eyes. He hugged his attorneys.

Marc Zayon and Allison Levine, Nero's attorneys, said Nero and his family "are elated that this nightmare is finally over."

"The State's Attorney for Baltimore City rushed to charge him, as well as the other five officers, completely disregarding the facts of the case and the applicable law," the attorneys said in a statement. "His hope is that the State's Attorney will re-evaluate the remaining five officers' cases and dismiss their charges. Like Officer Nero, these officers have done nothing wrong."

Prosecutors remain bound by a gag order and did not comment. State's Attorney Marilyn Mosby did not attend the reading of the verdict, and a spokesperson did not respond to questions about her absence.

Gray's twin sister, Fredericka, left the courthouse visibly upset but declined comment. Billy Murphy, the attorney for the Gray family, said prosecutors face an "enormous standard of proof" and commended Williams for "not bending to public opinion."

Williams "stood tall and did what he believed was just" while being "very careful" to make clear findings specific to Nero case," Murphy said.

The state's theory for the assault charge had been described by legal observers as "novel" or even "radical." When the constitutionality of a police stop is questioned, the typical remedy is for charges to be dropped or evidence suppressed. Officers can also be sued.

But prosecutors sought to criminalize the interaction, with Deputy Chief State's Attorney Janice Bledsoe remarking that people were "jacked up all the time" and that officers must justify all of their actions. Williams closely questioned prosecutors on the theory in closing arguments, but made no conclusion on it in finding Nero had no involvement.

Prosecutors initially charged Nero and Officer Garrett Miller with wrongly arresting Gray for having an illegal knife, which they said was legal under state law. They later backed off that theory after defense attorneys noted the knife was banned under city code, and instead said the officers did not follow legal requirements in how they went about stopping Gray before finding the knife.

The time frame for what prosecutors said constituted an illegal touching was less than three minutes. Gray was placed in a prone position and handcuffed, which prosecutors said went too far.

Zayon said in closing arguments that countless court decisions backed the officers' actions, saying officers may chase a suspect in a "high-crime" area and detain them while seeking to confirm or dispel their suspicions. Another officer, Lt. Brian Rice, had initially begun chasing Gray, and Miller and Nero had responded to his call for help.

Miller, who faces the same charges as Nero, was given immunity and forced to testify by prosecutors. But on the stand Miller said he alone had caught and handcuffed Gray, minimizing the involvement of Nero, who he said went to retrieve their bicycles from another area as he handled Gray. Prosecutors pointed to Nero and Miller's use of the word "we" to describe the events as indication that both actively took part.

Williams said "Miller stated unequivocally" that he had detained Gray, and noted that Brandon Ross, one of Gray's friends, also backed the account in his testimony. Prosecutors alleged Miller had twisted his story to help his "buddy" Nero, but Williams noted Ross had no such incentive to lie. Williams also said he believed that Miller and Nero had said "we" to describe their collective actions — but not assign joint responsibility.

Prosecutors also argued Nero could be convicted on under a theory of "accessory liability," which Williams said would require showing Nero knew a crime was being committed and either participated or deliberately allowed it to continue. Bledsoe had argued while there was no case law to support the argument, there was also none prohibiting it.

Williams said it was "not an appropriate application of the law."

Nero also helped place Gray back into the van, shackled but restrained. Prosecutors said Nero had a "duty" to keep Gray safe, and presented testimony about police training and policies designed to keep arrestees safe. Just three days before Gray's arrest, a new directive went out that required police to seat belt detainees, removing their discretion.
Zayon said there was no evidence to show Nero had received the new directive, and a sergeant testified that it had not been distributed or read at daily roll calls. Other officers testified that it is the van driver's responsibility to ensure that a detainee is secure — audits performed in 2014 to ensure compliance targeted van drivers, not arresting officers.

Rice had climbed into the van to pull Gray in, while Nero helped with his legs and did not enter the van.

Williams said the law required him to judge the "reasonableness" of Nero's actions, and he found it was not unreasonable for Nero to defer to supervisor's determination about whether to belt Gray.

"There is no evidence that it was part of his training, or that a reasonable officer would do the same," Williams said.
Heading into this trial, it was clear that the effort to convict Nero would prove to be among the most difficult of the six cases that the Baltimore State's Attorney took on when they charged these officers. As noted, Nero was not involved in the alleged "rough ride" that apparently resulted in Gray being tossed around the inside of the police van, an action that resulted in the spinal cord injuries that led to his death. Instead, Nero was one of the many officers involved in originally detaining Gray and putting Gray under arrest, an arrest that has now been determined to have been made without probable cause. That fact alone, however, has rarely if ever been the basis for a criminal charge in and of itself. Instead, as noted above, an illegal arrest generally means that any evidence obtained as a result of that arrest would not be admissible at trial and that, potentially, the officer(s) involved, along with the Department and the City, could potentially be subject to charge of having violated someone's civil rights, as well as facing potential civil judgment related to those charges. Instead of doing that, though, the prosecution sought to turn an unlawful arrest into a crime using a legal theory that was unique to say the very least. Given this, the defense's decision to seek a bench trial before a Judge and waive the right to a jury trial was a smart decision since the Judge was much more likely to focus as much on the law as on the facts of what happened to Gray. Additionally, Nero's interaction with Gray was so brief, and so far removed from the events that lead to his death that holding him responsible for that death seemed from a distance to be quite a stretch indeed. For these reasons, it's not all that surprising that Nero was acquitted and one must believe that the prosecution isn't entirely surprised by this outcome.
So far at least, the reaction to the ruling in this case seems to be rather muted compared to the state the city was in just a year ago prior to the arrest of the six officers. A good part of the reason for that may be the fact that the Gray family has been quite vocal in saying that they don't want to see the city to turn back into what it was a year ago, and the statement that was released immediately after today's verdict in which the family, while disappointed, seemed to largely accept the outcome in this case and look forward to the trials yet to come of the officers deemed to be the most culpable in the death of their loved one. Additionally, it does genuinely appear as though a lot of the tensions associated with last year's riots has diminished in the wake of the arrests and the fact that prosecutors do seem to be following through on their promise to prosecute these officers to the best of their ability within the bounds of the law. For example, there was also no real rise in social tension back in December when the trial of the first officer ended in a mistrial due to a hung jury. Hopefully this is an indication that things are improving in that area of Baltimore at least to some degree.
The next trial in the Gray case is the trial of Baltimore Police Officer Caesar Goodson Jr., the officer who drove the van that Gray was injured in. This is likely to be a trial that garners much more attention than Nero's since Goodson was arguably one of the officers charged with an affirmative duty to ensure that Gray was safe in the rear of the van and because it was allegedly his driving behavior that led to the injuries that killed Gray. That trial is currently set to begin June 6th.