Hillary Clinton Turns Over Server After New Classified Emails Are Revealed
Hillary Clinton has turned over her private email server in the wake of reports about highly classified information in her email.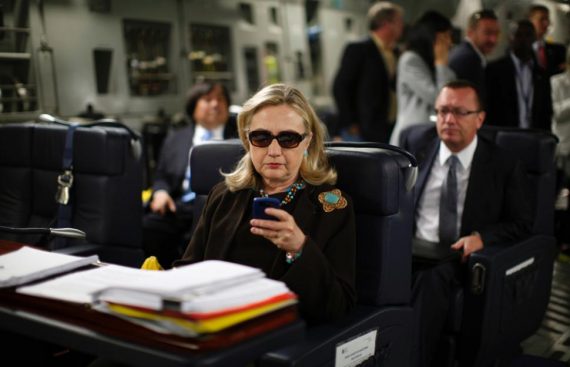 Late yesterday, Hillary Clinton directed her aides and her attorney to turn over the server she had used for official email while Secretary of State, along with a thumb drive containing many of those email communications, to the Justice Department in the wake of reports that investigators had found email with "Top Secret" information in them among those turned over by Clinton:
Hillary Rodham Clinton has directed her aides to give the Justice Department an email server that housed the personal account that she used exclusively while secretary of state, along with a thumb drive that contained copies of the emails, her presidential campaign said on Tuesday.

The Justice Department and the F.B.I. have sought the server and the thumb drive as they investigate how classified information was handled in connection with the account. Earlier on Tuesday, the inspector general for the intelligence community told members of Congress that Mrs. Clinton had "top secret" information — the highest classification of government intelligence — in two emails among the 40 from the private account that the State Department has allowed him to review.

The State Department has declined to give the inspector general, I. Charles McCullough III, access to the entire trove of roughly 30,000 emails that Mrs. Clinton handed over to the department last year. Mrs. Clinton deemed those emails work-related, and said she deleted an additional 30,000 messages that were personal.

ince the account was revealed in March, Mrs. Clinton has been widely criticized for creating an email system that she said was more convenient for her, but that also helped shield her correspondence from Congress and the news media. She said she had never had any classified information on the account, though Mr. McCullough's findings raise questions about that claim.

"I am confident that I never sent or received any information that was classified at the time it was sent and received," she said at an event in Iowa in July. "What I think you're seeing here is a very typical kind of discussion, to some extent disagreement among various parts of the government, over what should or should not be publicly released."

The House committee looking into the 2012 attacks in Benghazi, Libya, asked Mrs. Clinton earlier this year to turn over her server to a third party so it could determine whether she had deleted emails that might have included government records.

In late March, Mrs. Clinton's lawyer, David Kendall, told the committee that there was no reason to do so because the emails had been deleted from the server. It is unclear whether technical experts could recover any deleted emails.

Mr. McCullough alerted the F.B.I. in July that classified information was on the account. Mrs. Clinton decided to hand over the server and the thumb drive to the authorities after the F.B.I. began investigating the matter.

In a statement on Tuesday, a spokesman for Mrs. Clinton, Nick Merrill, said that she has "pledged to cooperate with the government's security inquiry, and if there are more questions, we will continue to address them."

The campaign did not say whether the server and the thumb drive had been handed over yet to the authorities. And it did not say if the server was the one she had set up in her home in Chappaqua, N.Y., to house the private email account.

In addition to the home server, information was stored with a small technology company in Colorado called Platte River Networks.

Mr. Kendall has told government investigators that the server at Platte River Networks has been wiped clean. Nevertheless, F.B.I. agents went to the company this month to inquire about it.

A spokesman for the F.B.I. declined to comment.
This news came mere hours after it was reported that at least two of the messages included in the Clinton emails turned over to the State Department were classified as "Top Secret," which is among the nations highest levels of classification. Unlike some other material that was sent publicly and then classified at a later date, this material was apparently already marked "Top Secret" which means that it should have been transmitted via un-secure means such as a privately controlled server at Clinton's home in Chapaqua. These emails appear to be part of the group sparked to Inspectors General to call for a Justice Department investigation into how classified information was handled in Clinton's private server, an investigation that has reportedly led agents to talk both with Clinton's attorney and with the technology company that was providing technical support during the period after Clinton left office in January 2013. While reports have made clear that there is no criminal investigation at this point, it's worth noting that mishandling of classified information if a Federal crime that has brought down more than a few well known people, most recently including retired General David Petraeus, who essentially got a slap on the wrist for Espionage Act violations that would have gotten nearly anyone else at least some degree of prison time. It's far too early to say whether Clinton, or more likely one of the aides she was communicating with, is in danger of anything approaching Petraeus's fate, of course, but every new revelation on this email story seems to make clear that this is likely to be a far bigger headache for her than either she or her reflexive supporters would prefer to believe.
Perhaps the biggest of this news, of course, is the fact that Clinton is backing away from the position she has taken in March since this story broke that she would not turn over the server for examination by any third-party, instead claiming that she had turned over all of her work-related emails to the State Department and allegedly deleted some 30,000 email communications that she and her aides deemed to be private. When the story first broke, Congressman Trey Gowdy, who chairs the Select Committee investigating the Benghazi attack, and Speaker John Boehner, called on Clinton to turn the server over,  and made clear that they were considering a subpoena if she refused to do so. Clinton remained adamnant, though, and has continued to say that she already turned over all email regarding her time as Secretary of State. The fact that they are backing down now, and that it came so quickly, seems to be a fairly obvious admission on their part that the previous strategy was not working and that this story is not going away any time soon.
It's been five months now since the email story broke, and while Clinton continues to lead in the polls for the most part, her favorability numbers have taken a huge hit and every month seems to bring something new that calls what she did in question. From the beginning, Clinton's claim that she utilized a private server for the "convenience" of not having to use two separate mobile devices is one that strained credulity, of course. The most important part of her claims at the beginning, though, was that she never utilized the system to knowingly share classified information. Now, after an examination of just 40 emails it's been found that at least 10% contained classified information. If that ratio held up across the roughly 30,000 emails that Clinton turned over to the State Department when she left office, that would be 3,000 pieces of classified information. Even if it was not done knowingly, it displays a disregard for security that really ought to call Clinton's judgment into question even among the most ardent supporters, and probably would if she were anyone other than Hillary Clinton.
The most immediate question, of course, is what impact all of this will have on Clinton's political fortunes. So far at least, it doesn't seems to have had much of an impact at all. While Clinton's unfavorable numbers continue to rise, she leads in nearly all the polls, although there are at least some signs that the Bernie Sanders insurgency is causing her harm. At the same time, though, this latest development seems to guarantee that the slow drip of stories about this case will continue for some time. The examination of the content of the emails for classified information will continue, for example, and we are likely to hear of yet more examples of such information being improperly handled. Additionally, physical examination of the server may make it possible to recover some or all of the nearly 31,000 "private" emails that Clinton deleted after leaving office.  More importantly, as Chris Cillizza points out this morning, the fact that server is out of Clinton's hands means that the story is now completely out of her hands. And that's not a good position to be in when you're running for President.