Federal Inspectors General Call For Criminal Investigation Of Hillary Clinton's Emails
Did Hillary Clinton mishandle classified information while Secretary of State? Two Inspectors General want to find out.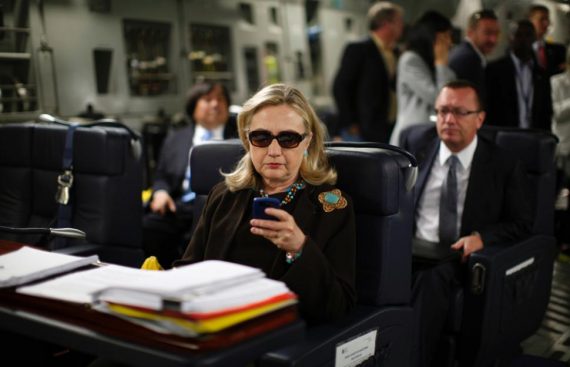 Two Federal Inspectors General are urging that the Justice Department conduct a criminal investigation into Hillary Clinton's use of a private email server while she was Secretary of State, specifically to look into whether or not she may have improperly handled classified information:
WASHINGTON — Two inspectors general have asked the Justice Department to open a criminal investigation into whether sensitive government information was mishandled in connection with the personal email account Hillary Rodham Clinton used as secretary of state, senior government officials said Thursday.

The request follows an assessment in a June 29 memo by the inspectors general for the State Department and the intelligence agencies that Mrs. Clinton's private account contained "hundreds of potentially classified emails." The memo was written to Patrick F. Kennedy, the under secretary of state for management.

It is not clear if any of the information in the emails was marked as classified by the State Department when Mrs. Clinton sent or received them.

But since her use of a private email account for official State Department business was revealed in March, she has repeatedly said that she had no classified information on the account.

The initial revelation has been an issue in the early stages of her presidential campaign.

he Justice Department has not decided if it will open an investigation, senior officials said. A spokesman for Mrs. Clinton's campaign released a statement on Twitter on Friday morning. "Any released emails deemed classified by the administration have been done so after the fact, and not at the time they were transmitted," it read.

At issue are thousands of pages of State Department emails from Mrs. Clinton's private account. Mrs. Clinton has said she used the account because it was more convenient, but it also shielded her correspondence from congressional and Freedom of Information Act requests.

She faced sharp criticism after her use of the account became public, and subsequently said she would ask the State Department to release her emails.

The department is now reviewing some 55,000 pages of emails. A first batch of 3,000 pages was made public on June 30.

In the course of the email review, State Department officials determined that some information in the messages should be retroactively classified. In the 3,000 pages that were released, for example, portions of two dozen emails were redacted because they were upgraded to "classified status." But none of those were marked as classified at the time Mrs. Clinton handled them.

In a second memo to Mr. Kennedy, sent on July 17, the inspectors general said that at least one email made public by the State Department contained classified information. The inspectors general did not identify the email or reveal its substance.

The memos were provided to The New York Times by a senior government official.

The inspectors general also criticized the State Department for its handling of sensitive information, particularly its reliance on retired senior Foreign Service officers to decide if information should be classified, and for not consulting with the intelligence agencies about its determinations.
The Wall Street Journal  reports that a review indicates that hundreds of classified messages containing classified information have apparently been found among Clinton's declassified emails:
WASHINGTON—An internal government review of former Secretary of State Hillary Clinton's email archive has revealed that hundreds of those messages contain potentially classified information.

Due to concerns about the potential mishandling of classified information on Mrs. Clinton's personal email server, the inspectors general for the Department of State and intelligence community have asked the Justice Department to consider a criminal investigation, a Justice Department official said.

A memorandum from both inspectors general viewed by The Wall Street Journal found that an investigation discovered "hundreds of potentially classified emails within the collection" of Mrs. Clinton's emails.

The inspectors general also found that at least one of Mrs. Clinton's emails already publicly released on the State Department's website contained apparent classified information.

Mrs. Clinton "followed appropriate practices in dealing with classified materials. As has been reported on multiple occasions, any released emails deemed classified by the administration have been done so after the fact, and not at the time they were transmitted," a spokesman for Mrs. Clinton said.

News of the request for a potential criminal investigation was first reported by the New York Times.

When she was secretary of state, Mrs. Clinton used her own email account that was run through a personal server for all of her work-related correspondence. Though the arrangement was legal at the time for routine and unclassified correspondence, it has prompted questions from lawmakers and watchdogs about her compliance with federal records laws.

Mrs. Clinton has said that she preferred to use a personal server for convenience. In a March news conference, she insisted that no classified information had been sent or received from her personal email account.

"I did not email any classified material to anyone on my email. There is no classified material," she told reporters. "I'm certainly aware of the classified requirements and did not send classified material."

It isn't clear from the inspectors-general report whether the instances of classified material uncovered were considered classified at the time Mrs. Clinton sent the messages. In several instances, the State Department decided to classify an email rather than release it to the public, but the material was unclassified when she initially sent it.

"It's not uncommon that something that you're sending now on an unclassified network could in later years or later months be deemed to be classified either because the passage of time made it so or because events on the ground have borne out," a State Department spokesman said earlier this month.
At the outset, it should be made clear that the Inspectors General are not saying that it's certain that Clinton was improperly handling classified material while she was Secretary of State. As both articles above make clear, it's possible that what were we're talking about here are situations where information that was not previously classified was designated as such after the State Department reviewed her email and decided that certain correspondence should not be made public at this time. Information that falls into this second category, of course, isn't necessarily problematic because you really can't fault someone for improperly handling classified information when the information in question wasn't classified at that time. That situation though, isn't what the Inspectors General who wrote this report appear to be talking about. Instead, their concerns are directed at information that was in fact classified which Clinton failed to properly handle, a situation that obviously was made more likely due to the fact that she was corresponding with State Department employees using a private, unsecured, email server that was outside the supervision or control of government IT officials. At the very least, it was sloppy and, while being sloppy may not be criminal, but as Chuck Todd noted this morning, Clinton lost any high ground on this issue when she refused to turn over the server when this story first broke. Frankly, I'd argue that she lost high ground when she decided to use a private email server to conduct business as the Secretary of State to begin with, even though it may have perfectly legal it seems from the outside to be short-sighted in terms of security and a move designed more to allow her to protect her personal reputation than a means to allow her to do her job more easily.
At this point, obviously, it is impossible to say with any certainty whether any laws were broken in this situation. At the very least, though, it would seem clear that this is something that ought to be investigated. From the beginning, the idea of a Secretary of State using an email system outside the State Department's control or ability to monitor is something that should have been raising concerns regardless of which side the political aisle one falls on. Which it seems clear that such as arrangement did not violate applicable State Department procedures and rules, it seemingly so unusual and potentially risky that one can wonder why the procedures and rules were so out of date as to allow something like this to happen. Perhaps in the beginning of the email era it would have been acceptable for government employees and even officials as high-level as the Secretary of State, to use private email for official correspondence. By the time Clinton took office in 2009, though, the email era was sufficiently mature that there should have been no rational reason why she or anyone else in her position should have permitted to do this.
If does turn out that Clinton mishandled classified documents, it will most likely be the case that she won't face any serious legal consequences for it. As Conor Friedersdorf notes, the nation's "state secrets" laws are applied in such a arbitrary manner at times that it is unlikely that someone so highly placed will face serious consequences except in the most egregious of cases. The recent case of David Petreaus is a good example of that. At the same, though, that doesn't mean the manner should not be investigated and that Clinton should not be required to provide better answers for why she chose to do something like this than the rather unbelievable idea that she only did it because she didn't want to carry more than two mobile devices.
Update: Friday afternoon, The New York Times has issued a clarification to the original report stating that the request by the Inspectors General was not necessarily directed against Mrs. Clinton personally. Nonetheless, if there was classified information that was improperly handled via her private email account, it's hard to imagine how she would not have been involved in that.