David Petraeus Pleads Guilty To Sharing Classified Information
The most widely honored General from the Iraq and Afghanistan War has plead guilty to sharing classified information with his mistress.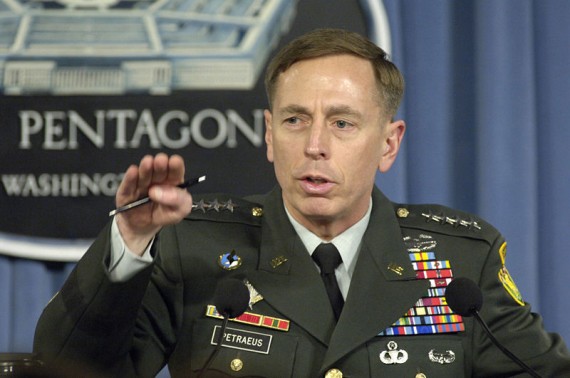 Retired General, and former CIA Director, David Petraeus has entered a guilty plea in connection with charges that he shared classified information with the woman he was having an affair with while serving at the Central Intelligence Agency:
WASHINGTON — David H. Petraeus, the best-known military commander of his generation, has reached a plea deal with the Justice Department and admitted providing his highly classified journals to a mistress when he was the director of the C.I.A.

Mr. Petraeus has agreed to plead guilty to one count of unauthorized removal and retention of classified material, a misdemeanor. He is eligible for up to one year in prison but prosecutors will recommend two years of probation and a $40,000 fine.

The plea deal completes a spectacular fall for Mr. Petraeus, a retired four-star general who was once discussed as a possible candidate for vice president or even president. He led the wars in Iraq and Afghanistan and was the architect of a counterinsurgency strategy that at one time seemed a model for future warfare.

But the deal also ends two years of uncertainty and allows Mr. Petraeus to focus on his lucrative post-government career as a partner in a private equity firm and a worldwide speaker on national security issues. Even while under investigation, he has advised the White House on Iraq and terrorism issues.

The mistress, Paula Broadwell, is a former Army Reserve officer who had an affair with Mr. Petraeus in 2011, when she was interviewing him for a biography, "All In: The Education of General David Petraeus."

During one of the interviews for that book, Ms. Broadwell asked about his "black books," the notebooks that contained handwritten classified notes about official meetings, war strategy, intelligence capabilities, and the names of cover officers.

"They are highly classified, some of them," Mr. Petraeus replied, according to an excerpt from the taped interview included in court documents. Three weeks later, Mr. Petraeus emailed Ms. Broadwell and agreed to share the black books. He gave them to her the next day.

When questioned by the F.B.I., Mr. Petraeus denied providing Ms. Broadwell with classified information. "These statements were false," federal prosecutors wrote. "Defendant David Howell Petraeus then and there knew that he previously shared the black books with his biographer." A lawyer for Mr. Petraeus did not respond to a message seeking comment.

Mr. Petraeus resigned as the director of the C.I.A. in 2012, three days after President Obama was re-elected. At the time, Mr. Petraeus acknowledged the affair, but denied any criminal wrongdoing.

The plea deal spares Mr. Petraeus a high-profile trial where embarrassing details about the affair would have been presented to the jury and made public. Mr. Petraeus is still married to Holly Petraeus.
Ken White, an attorney in California with extensive experience in Federal criminal practice, comments on the plea deal over at Popehat:
If Petraeus were some no-name sad-sack with an underwater mortgage and no connections and no assets to hire lawyers pre-indictment, he'd almost certainly get charged a lot more aggressively than he has been. This administration has been extremely vigorous in prosecuting leakers and threatening the press.

So why is Petraeus getting off with a misdemeanor and a probable probationary sentence? Two reasons: money and power. Money lets you hire attorneys to negotiate with the feds pre-charge, to get the optimal result. Power — whether in the form of actual authority or connections to people with authority — gets you special consideration and the soft, furry side of prosecutorial discretion.
Ken's points are well-taken, of course, and it is certainly true that if the facts alleged against Petraeus, which he has now admitted to, were alleged against your average government worker or reporter then it's unlikely that they would get so generous a plea deal out of Federal prosecutors. At the very least, one presumes that they would end up serving at least some jail time for what they did. The fact that Petraeus is who is, has political and personal connections with people in power and, most importantly, has the assets needed to hire top-notch criminal defense attorneys means that he got a much better deal than if his name were David Smith. At the same time, though, I'm not  sure that this means that the former General should have gotten a harsher sentence. His offense, while exceedingly stupid, did not lead to classified information ending up in the hands of a foreign nation or other potential adversaries of the United States. The fact that he would have gotten a harsher sentence were he an ordinary person, then, strikes me as being an indictment of federal sentencing procedures generally.
In any case, while Petraeus seems to be well-settled in the private sector, it's quite clear that his career in the public sector is effectively over. Considering the fact that this is a person that some people were openly talking about as a potential Presidential candidate only a few years ago, that's quite a fall from grace.