F.B.I. Investigating Security Of Clinton's Private Email Server
The F.B.I. seems to be looking in to just how secure. Hillary Clinton's private email server was while she was Secretary of State.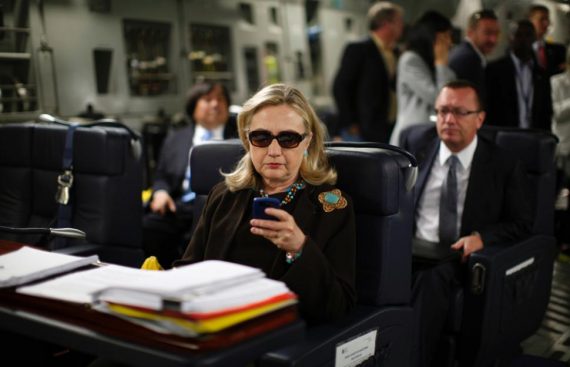 The Washington Post reports that the FBI is investigating the security issues related to Hillary Clinton's use of a private email server while Secretary of State:
The FBI has begun looking into the security of Hillary Rodham Clinton's private e-mail setup, contacting in the past week a Denver-based technology firm that helped manage the unusual system, according to two government officials.

Also last week, the FBI contacted Clinton's lawyer, David Ken­dall, with questions about the security of a thumb drive in his possession that contains copies of work e-mails Clinton sent during her time as secretary of state.

The FBI's interest in Clinton's e-mail system comes after the intelligence community's inspector general referred the issue to the Justice Department in July. Intelligence officials expressed concern that some sensitive information was not in the government's possession and could be "compromised." The referral did not accuse Clinton of any wrongdoing, and the two officials said Tuesday that the FBI is not targeting her.

Kendall confirmed the contact, saying: "The government is seeking assurance about the storage of those materials. We are actively cooperating."

A lawyer for the Denver company, Platte River Networks, declined to comment, as did multiple Justice Department officials.

The inquiries are bringing to light new information about Clinton's use of the system and the lengths to which she went to install a private channel of communication outside government control — a setup that has emerged as a major issue in her campaign for the Democratic presidential nomination.

For instance, the server installed in her Chappaqua, N.Y., home as she was preparing to take office as secretary of state was originally used by her first campaign for the presidency, in 2008, according to two people briefed on the setup. A staffer who was on the payroll of her political action committee set it up in her home, replacing a server that Clinton's husband, former president Bill Clinton, had been using in the house.

The inquiries by the FBI follow concerns from government officials that potentially hundreds of e-mails that passed through Clinton's private server contained classified or sensitive information. At this point, the probe is preliminary and is focused on ensuring the proper handling of classified material.
Of particular concern seems to be the manner in which the Clinton's set up the server and the lack of concerns they seemed to show for the security of Mrs. Clinton's communications while she was Secretary of State:
Responsibility for setting up and maintaining the server that handled personal e-mail communications for Bill and Hillary Clinton passed through a number of different hands, starting with Clinton staffers with limited training in computer security and eventually expanding to Platte River.

In 2008, responsibility for the system was held by Justin Cooper, a longtime aide to the former president who served as a personal assistant and helped research at least two of his books. Cooper had no security clearance and no particular expertise in safeguarding computers, according to three people briefed on the server setup. Cooper declined to comment.

"The system we used was set up for President Clinton's office. And it had numerous safeguards. It was on property guarded by the Secret Service. And there were no security breaches," Hillary Clinton said in March.

Those briefed on the server setup say the device installed for Bill Clinton was deemed too small for the addition of a sitting Cabinet official. Instead, a server that had been purchased for use by Hillary Clinton's 2008 campaign was installed at the Chappaqua home.

With the new server came an additional specialist: Bryan Pagliano, who had worked as her campaign's IT director. According to federal campaign finance records, Pagliano was paid by Clinton's Senate leadership PAC through April 2009. The next month, he went to work for the State Department as an IT specialist, a department official said. The people briefed on the server indicated that he continued to act as the lead specialist responsible for it.

The e-mail system was not always reliable, these people said, with Pagliano summoned at various times to fix problems. Notably, the system crashed for days after New York was hit by Hurricane Sandy in October 2012, while Hillary Clinton was secretary of state.
It's important to note from the start that the fact that there is an FBI investigation does not mean that a crime was committed, and indeed doesn't necessarily mean that the investigation that is being conducted is a criminal investigation per se. Instead, from the reports, it appears that at the moment at least the Bureau is investigating the security surrounding the server at the time that Clinton was Secretary of State and thereafter, most likely to determine if it was being maintained in a manner consistent with the security that should be expected for even  non-classified communications by the Secretary of State. Theoretically, of course, this is something that the State Department's own IT department should have been on top of while Clinton was Secretary of State, but based on the information that has come out over the past several months about how Clinton conducted her electronic communications it seems rather apparent that this was not the case. Indeed, the fact that server was maintained by someone who had started out at a campaign worker on Clinton's 2008 Presidential campaign makes it seem clear that he had divided loyalties and, at the very least, that the task should have been handed off to career employees who didn't have any direct loyalty to the Clintons.
While this is a different issue from the referral that two Inspectors General made to the Justice Department last week regarding the handling of specific communications that were deemed classified, it is related to the overall issue of how Clinton conducted herself as Secretary of State. As I've said before, the idea of a sitting Secretary of State conducting official business through an email server that was not controlled by the government is something that just seems laughably absurd. Clinton's initial defense for why she took this route, that she didn't want to use two different mobile devices for private and official correspondence, was so laughable at the time she made it in March even some of her strongest supporters didn't entirely buy it. From the beginning, it was clear that the primary motivation behind the decision was Clinton's desire to have some control over her correspondence. To no small degree, of course, this was likely motivate by her experiences as First Lady and the multiple investigations that both she and her husband were subjected to that included the review of things as mundane as her billing records from when she worked as a private attorney. Those concerns pale, though, when compared to the rather obvious security risks inherent in anyone having access to the email communications of the Secretary of State and the people who work closest to her. Even if the information communicated isn't classified, it could still contain information that should not be widely disseminated and which certainly shouldn't be available to potentially hostile nations. While by no means perfect, government IT systems are designed to deal with these issues. We have no assurances that a private system set up for the personal benefit of the Secretary of State and maintained on her private property was similarly secure, and apparently neither does the FBI at this point. What Clinton's motivation for handling her correspondence this way, though, and even disregarding the fact that what she did was legal, this kind of end run around official government computer systems is something that never should have been acceptable, and it ought to at least raise some questions about just how forthcoming with the truth Clinton will be should she be elected President. If the way she handed her email as President is any indication, I think its safe to say that transparency will not be the watchword.