Michael Flynn Pleads Guilty To Lying To The F.B.I.
Ominous news for the Trump Administration today out of Federal Court in Washington, D.C.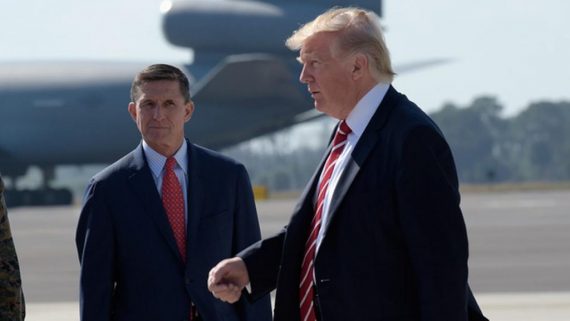 Former Lt. General Michael Flynn, who was one of President Trump's closest advisers during the 2016 Presidential campaign and served as Trump's National Security Adviser for less than a month, has pled guilty to a charge of lying to the Federal Bureau of Investigation in what appears to be a plea deal with special counsel Robert Mueller:
WASHINGTON — President Trump's former national security adviser, Michael T. Flynn, pleaded guilty on Friday to lying to the F.B.I. about conversations with the Russian ambassador last December during the presidential transition, bringing the special counsel's investigation into the president's inner circle.

The plea by Mr. Flynn, who appeared in federal court in Washington, is the latest indication that Mr. Flynn was cooperating with the investigation by the special counsel, Robert S. Mueller III, into Russian interference in the 2016 election. His plea agreement suggests that Mr. Flynn provided information to prosecutors, which may help advance the inquiry.

The development came at a particularly sensitive moment for the White House, just as Mr. Trump and Republican congressional leaders are toiling to hold together a tenuous coalition to push through a large tax cut plan. It marked an unwelcome headline at a time when the president's team is hoping to focus public attention on what they argue is an impressive list of accomplishments in his first year.

The White House had no immediate response on Friday to requests for comment on Mr. Flynn's plea.

Mr. Flynn's lawyers recently told the president's legal team that they could no longer discuss the special counsel's investigation as they had been — a sign that Mr. Flynn had decided to cooperate with the prosecution. The investigation has dogged Mr. Trump's first year in office.

Mr. Flynn is the fourth Trump associate to be charged. He was accused of making false statements to F.B.I. agents about two discussions with the Russian ambassador to the United States, Sergey I. Kislyak. Lying to the F.B.I. carries a penalty of up to five years in prison.
More from The Washington Post, which notes that this is an ominous sign for the White House:
Former national security adviser Michael Flynn pleaded guilty Friday to lying to the FBI about his contacts with Russian Ambassador Sergey Kislyak, marking another milestone in the wide-ranging probe of Special Counsel Robert S. Mueller III.

Flynn's admission to the charge Friday in federal district court in D.C. is an ominous sign for the White House, as court documents indicate Flynn is cooperating in the ongoing probe of possible coordination between the Trump campaign and the Kremlin to influence the 2016 election. The plea relates to false statements Flynn made to the FBI on January 24 — four days after President Trump was inaugurated — about his conversations with Kislyak during the transition.

Flynn admitted making false statements to the FBI about asking the ambassador in late December to "refrain from escalating the situation in response to sanctions that the United States had imposed on Russia that same day." Flynn also told authorities he did not recall the ambassador "subsequently telling him that Russia has chosen to moderate its response to those sanctions as a result of his request," according to a court filing. That would suggest there was a second, previously unknown contact between Flynn and Kislyak.

Separately, authorities say Flynn lied about asking the ambassador to delay a vote on United Nations Security Council resolutions.

lynn is the highest-profile Trump ally — and the first aide who worked in the White House — to face charges in Mueller's investigation. Trump developed a close rapport with Flynn on the campaign trail, where the general delivered fiery denunciations of Hillary Clinton, including leading a "lock her up" chant at the Republican National Convention, and he gave Trump much-needed national security credentials. Flynn, however, had a mixed reputation among other Trump aides, who thought he gave the president questionable information and questioned some of his business dealings.

(…)

Flynn's negotiations to cooperate with Mueller's team began early last month, according to two people briefed on the discussions. Days after former campaign chairman Paul Manafort was indicted, Mueller's investigators warned Flynn's lawyers they planned to indict Flynn and also could charge his son, according to the two people who spoke on the condition of anonymity to discuss private deliberations. Flynn's lawyers, Kelner and Stephen Anthony, provided a proffer of what information Flynn could provide and then Flynn met with Mueller's team.

The Wednesday before Thanksgiving, White House lawyer John Dowd contacted Flynn's team in a sporadic "check-in" call he made to other defense counsel in the Russia probe every few weeks, people familiar with the matter said. Kelner told Dowd on the call that he could no longer communicate with the White House lawyers. That signaled Flynn had begun to cooperate or was already actively seeking to cooperate with the special counsel's office because his lawyers have a duty to shut off communications with other defense teams in either case.

As part of Flynn's negotiations, his son, Michael G. Flynn, is not expected to be charged, according to a person with knowledge of the talks.
This news doesn't come entirely as a surprise, of course. It's long been known that Flynn was the focus of at least part of Mueller's investigation due to factors that are completely separate from the Russia investigation itself. Long before he started working for Trump on the campaign and at the White House, Flynn had spent a good part of his post-military career working as a lobbyist and part of that work included lobbying on behalf of foreign governments and foreign business interests, including in nations such as Russia and Turkey. Under Federal law, people who lobby for foreign governments are required to disclose such arrangements on specific legal documents, and Flynn also would have been required to disclose such lobbying on any relevant security clearance application for a position in the Trump Administration. As was the case with former Trump campaign manager Paul Manafort, Flynn failed to report much of his foreign lobbying as required by law and did not do so until his failure to do so came to light. Flynn's son, Michael T. Flynn Jr, was also involved in many of these foreign lobbying jobs and similarly failed to properly disclose them These are serious transgressions that could expose Flynn and his son to substantial criminal liability. The fact that they are not being charged with anything in regard to these failings is a strong indication that Flynn has been given a very generous deal in exchange for his cooperation.
In addition to his failure to disclose his foreign lobbying, and more pertinent to today's developments is the fact that Flynn lied to campaign officials and to Vice-President Pence regarding his contacts with the Russian Ambassador to the United States. This led to his departure as National Security Adviser only two weeks into the Administration. It was shortly after this, course, that President Trump asked F.B.I. Director James Comey if he could end the investigation of former Trump National Security Adviser Michael Flynn and later when he fired Comey abruptly just days after he had testified about the investigation into Russia and the Trump campaign before a Senate committee. As we know now, Trump later openly admitted that he took that later action specifically because of the Russia investigation. We now know that Flynn also lied regarding his meetings with Russian Ambassador Kislyak to agents of the F.B.I. and these lies occurred on January 24, 2017, just four days after President Trump's Inauguration at a time when Flynn was already serving as head of the National Security Council inside the White House. This is the closest that Mueller's investigation has gotten to the President himself and it suggests quite strongly that there's much more to come.
Finally, of course, we learned last week that Flynn's legal team had ended an information sharing agreement with President Trump's legal team. As I noted at the time, this was a strong indication that Flynn had either reached a plea agreement with Mueller and his prosecutors or that they were seeking or negotiating the terms of such a deal. The fact that we're seeing a plea deal this close in time to that revelation would indicate that the deal had likely already been reached by the time the cooperation agreement was ended. Prior to that time, though, Flynn and his lawyers would have gained access to information that Trump's team had as well as some idea of their legal strategy. While much of that information would remain protected by the attorney-client privilege and could not be disclosed, there are other things that could have been learned through that agreement that Mueller would find to be of value.
All of this leaves open the question of what Flynn has to offer to Mueller. At the most, all we know at the moment is that Flynn confirmed in a statement released by his lawyers after this morning's hearing that the plea was being entered into in connection with an agreement with Mueller and his office that Flynn would cooperate with the investigation. The nature of that cooperation and what Flynn has to offer are unclear, however, there is a strong reason to believe that it's significant. Given everything that Flynn could have been charged with (i.e., the stuff regarding his foreign lobbying) the fact that he's pleading guilty to this one charge indicates that Flynn is being treated very well. In that regard, Flynn and his lawyers likely would have been required to give a proffer (a preview of what Flynn can testify to) to prosecutors. If they didn't give something good, the deal wouldn't be this generous. This suggests Mueller either thinks or know that Flynn has significant information with relevant to the investigation, including information that could implicate others involved in the Trump campaign who are close to the President. Who those people are and what Flynn knows is something only time will tell. However, it is significant that the Mueller team revealed that Flynn was in contact with top members of the Trump transition team regarding his conversations with the Russian Ambassador while they were occurring and that Flynn was operating under instructions from a senior transition official regarding his contact with the Ambassador. This suggests he was in contact with people very close to the President-Elect, if not the President-Elect himself. Where that takes us from here is something only time will tell.
Update: ABC News is reporting the Flynn is prepared to testify that it was then President-Elect Trump who ordered him to contact the Russians:
JUST IN: @BrianRoss on @ABC News Special Report: Michael Flynn promised "full cooperation to the Mueller team" and is prepared to testify that as a candidate, Donald Trump "directed him to make contact with the Russians." https://t.co/aiagnvr8eS pic.twitter.com/r8u2LWAd0O

— ABC News (@ABC) December 1, 2017
NBC News meanwhile is saying that Kushner gabe the orde:
BREAKING: Jared Kushner is the "very senior member of the presidential transition team" mentioned in the statement of offense as speaking to Flynn on
Dec 22nd about the UN resolution regarding Israel, two people familiar with the matter tell @NBCNews

— NBC Politics (@NBCPolitics) December 1, 2017
In reality, both could be correct since at the time an order from Kushner was seen as equivalent to an order from Trump himself.
Here's a copy of the Criminal Information filed against Flynn in advance of today's hearing:
United States v. Michael T. Flynn by Doug Mataconis on Scribd
And here's the Statement of Offense:
United States v. Michael T. Flynn Statement of ffense by Doug Mataconis on Scribd
Amd here's the Plea Agreement
Michael T. Flynn Plea Agreement by Doug Mataconis on Scribd