Jim Comey Explains Himself
F.B.I. Director James Comey testified yesterday on the reasons he chose to publicly speak out just days before the 2016 election about the reopened Clinton email investigation.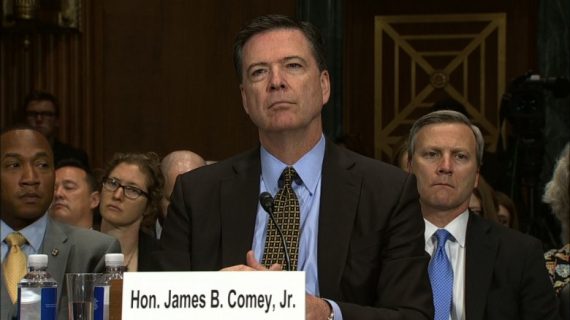 In a marathon hearing yesterday, F.B.I. Director James Comey appeared before the Senate Judiciary Committee for what was supposed to be a routine hearing but turned into a day-long session focused on Comey's decision to announce that the Bureau had reopened its investigation of Hillary Clinton's private email server just days before the 2016 election and its investigation into alleged Russian interference with the election and contacts between the Trump campaign and Russian officials:
WASHINGTON — James B. Comey, the F.B.I. director, sharply defended his decision to notify Congress about new emails in the Hillary Clinton investigation just before Election Day, reopening on Wednesday the still-raw debate over whether he cost her the presidency.

Mr. Comey's remarks at a Senate Judiciary Committee hearing were his first public explanation for his actions, which roiled the campaign in its final days and cast a harsh spotlight on him. He acknowledged that revealing the renewed inquiry and enduring the torrent of criticism that followed had taken a toll.

"It makes me mildly nauseous to think that we might have had some impact on the election," he told the senators. "But honestly, it wouldn't change the decision."

Mr. Comey's handling of the Clinton investigation is likely to be as crucial to his legacy as his 2004 standoff at a hospital bedside over the Bush administration's wiretapping. He was then the acting attorney general, and with his ailing boss, John Ashcroft, nearby, he refused the request of White House aides to reauthorize a program for eavesdropping without warrants.

But while the hospital showdown earned him bipartisan praise, Mr. Comey has been widely criticized for his decisions in the final days of the 2016 campaign.

He displayed unusual emotion Wednesday in explaining his motives. By turns animated and defensive, at one point throwing his arms up to punctuate a point, the typically unflappable Mr. Comey argued that he had been left with no choice when he sent a letter to Congress on Oct. 28 disclosing that his agents had just uncovered emails that might have been relevant to the Clinton investigation.

"Concealment, in my view, would have been catastrophic," he said, adding later that he knew the decision would be "disastrous for me personally."

Senator Dianne Feinstein of California, the ranking Democrat on the panel, pounced on Mr. Comey, saying he had taken a huge gamble in sending the letter to Congress without knowing how the newly discovered emails might shape the investigation.

"We need to hear how the F.B.I. will regain that faith and trust," she said. "We need straightforward answers to our questions, and we want to hear how you're going to lead the F.B.I. going forward. We never, ever want anything like this to happen again."

She demanded to know why his treatment of the Clinton investigation had been so "dramatically different" from his treatment of an investigation into Russian efforts to meddle in the election.

Mr. Comey rejected her claim.

He said that the F.B.I. had confirmed the existence of the investigation into Mrs. Clinton's emails months after it began, and said nothing more until after it was closed. Similarly, Mr. Comey said, the F.B.I. revealed its Russia investigation months after it was opened in the summer, and only after it had been widely reported in the news media. And, as with the Clinton inquiry while it was still underway, the bureau has refused to talk about what it has found with regard to Russia.

"We're not going to say another peep about it until we're done," Mr. Comey said, acknowledging that the inquiry was continuing. "And I don't know what will be said when we're done, but that's the way we handled the Clinton investigation, as well."

(…)

Wednesday's proceeding, unlike a hearing in March in which Mr. Comey took the rare step of confirming the existence of an investigation into Russian election interference, was supposed to be routine congressional oversight. But little has been routine for the F.B.I. over the past 10 months, as the dramatic moment from Mr. Comey showed.

Mr. Comey plunged himself into the campaign when he announced in July that the F.B.I. was closing the Clinton email investigation. Though he said he would not recommend charging Mrs. Clinton or her aides, he also criticized her for how she had handled government information. So when the new messages emerged in October, he felt he had to inform lawmakers.

"Somehow, her emails were being forwarded to Anthony Weiner, including classified information," Mr. Comey said. Later, he added, "His then-spouse Huma Abedin appears to have had a regular practice of forwarding emails to him for him to print out for her so she could deliver them to the secretary of state."

But several current and former government officials familiar with the investigation said that while some emails had been forwarded, the vast majority had instead been backed up to Mr. Weiner's computer.

What Mr. Comey saw as concealing, Justice Department officials saw as following the rules. The F.B.I. does not normally confirm open investigations. Senior departmental officials urged him not to tell Congress.

His decision continues to weigh on the nominees themselves, as they made apparent in comments less than a day before Mr. Comey's testimony on Capitol Hill. Mrs. Clinton spoke of her efforts to grapple with her loss, heaping blame on the F.B.I. and Russian-backed hackers.

"The reason why, I believe, we lost were the intervening events in the last 10 days," she said Tuesday at an event in New York.

"If the election had been on Oct. 27," she said, meaning before Mr. Comey's revelation, "I'd be your president."
As we've discussed before, where you stand on this issue depends largely on where you sit politically and which candidate you supported in the Presidential election. For Democrats and other Clinton supporters, Clinton's decision to publicly disclose the fact that the Bureau had uncovered what at least appeared to be additional emails from Clinton's private email server was an unprecedented and unconscionable interference in the election that may well have taken victory away from Clinton by shifting just enough votes in just enough states to hand Donald Trump a victory. This is especially true they argue because Comey simultaneously failed to disclose the fact that at the same time he sent his now famous October letter to Congress, the Bureau was also investigating the twin and perhaps intertwined issues of Russian interference in the election and contacts between people affiliated with Donald Trump. Comey's explanation, while it honestly does seem to be sincere, will likely be accepted or rejected based on these pre-existing positions.
My own position is basically sympathetic to Comey on both counts. As James Joyner noted in a post last month, Comey was faced with a dilemma when he was advised of the fact that an unrelated investigation of former Congressman Anthony Weiner revealed the existence of what appeared to be hundreds if not thousands of emails that had originated from Clinton's private server. Either he reveals the fact that the Bureau had reopened the investigation it had closed back in July of last year and potentially impact the election, or he could have kept that information secret until either the reopened investigation was complete or the election was over. With respect to the Trump/Russia investigation, the dilemma Comey faced was whether to comment on an issue that could have a real impact on the election by implying that one of the candidate's campaigns may be consorting with an adverse foreign power, or to follow standard procedure and not comment on ongoing investigations, especially those involving counterintelligence as is the case here. With respect to the issues surrounding the letter, and as I said in a comment to James's post , I'm largely sympathetic to Comey's decision to reveal the existence of the new emails at the time that he did despite the fact that he knew it could have an impact on the election:
It's worth noting what happened between the July press conference and the late-October release of the letter regarding the reopened investigation. It was just about a week after the press conference that Comey testified under oath to Congress regarding the investigation and the conclusions he announced at that press conference. Among other things, he had testified under oath that the Bureau had examined all of the emails connected to Clinton's server it was aware of before reaching the conclusion he announced. Once these additional emails were found — apparently as part of a separate investigation of Huma Abidin's estranged husband Anthony Weiner — he was under a legal obligation to supplement his sworn testimony. Had he not done so, he would have been potentially subject to legal sanctions. To the Bureau and Comey's credit, they were able to conclude their investigation in a short period of time and a second letter was sent to Congress indicating that there were no new emails found among those mentioned the week before.

As you say, Comey was put in an impossible situation. If he didn't inform Congress, he'd have broken a promise and thus endangered his own and the FBI's credibility with Congress and the public and he would have potentially been subject to legal sanctions. If he did, he'd be accused of trying to influence the election. In the end, I think he made the right choice.
This is essentially the same thing that Comey said in his testimony yesterday, and whether or not one accepts it depends largely on whose political ox is getting gored.
With respect to Comey's decision not to reveal the existence of the Trump campaign/Russia investigation strikes me as equally difficult but just as easy to understand as his decision regarding the Clinton email investigation. It's worth noting, of course, that there are significant differences between the Clinton investigation and the Russia investigation. In the first case, we're talking about an investigation that had been closed for three months and which Comey had previously stated under oath to Congress had been thorough and complete in that the Bureau had investigated all of the emails going to and from Clinton's server and had which involved the questioning of dozens of witnesses, including Clinton herself. The Trump/Russia investigation, on the other hand, was apparently still only a few months old at the time of the General Election and was far from complete. Even today, we don't really know what the whole story is, and it's likely to be some time before we do. Additionally, unlike the Clinton investigation, this investigation is essentially a counterintelligence investigation that involves far more sensitive sources and methods that could have been exposed just by Comey acknowledging that there was an ongoing investigation. This is one reason why he was rather circumspect in answering any questions on that topic yesterday, deferring most of them to what would have to be a closed-door hearing where classified information could be discussed. Furthermore, it's generally Bureau policy not to comment on ongoing investigations out of concern that to do so could impute criminal conduct to people who end up being entirely innocent. Finally, it's worth noting that, unlike the Clinton investigation, Comey had not previously testified regarding any investigation regarding Russian election interference and didn't face the same potential legal liability that he did in connection with the Clinton case. Therefore, it was appropriate for him to refrain from commenting on that investigation until it had concluded.
In the end, Comey had difficult choices to make in both cases, and while it's clear that his decisions with respect to both investigations had at least a marginal impact on the election, I don't think it would have been good for him to have acted differently in either case.