Michael Flynn Out As National Security Adviser
An unsurprising 'resignation' from the shortest-serving National Security Adviser in history.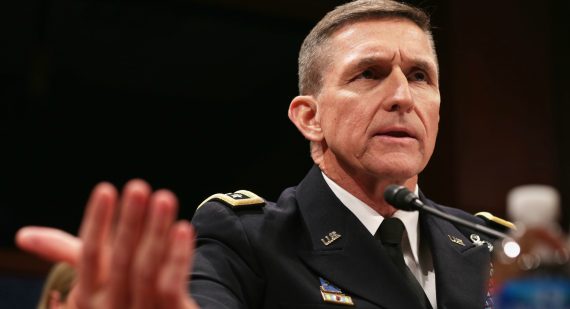 Retired Lt. General Michael Flynn, a close adviser to Donald Trump throughout the campaign who became a Trump's National Security Adviser just over three weeks ago, has resigned amid allegations that he discussed sanctions policy with the Russian Ambassador to the United States prior to taking office and then lied about it to transition officials and incoming Vice-President Mike Pence, resigned late last night after his actions and misrepresentations were becoming a serious problem for the Trump Administration:
Michael T. Flynn, the national security adviser, resigned on Monday night after it was revealed that he had misled Vice President Mike Pence and other top White House officials about his conversations with the Russian ambassador to the United States.

Mr. Flynn, who served in the job for less than a month, said he had given "incomplete information" regarding a telephone call he had with the ambassador in late December about American sanctions against Russia, weeks before President Trump's inauguration. Mr. Flynn previously had denied that he had any substantive conversations with Ambassador Sergey I. Kislyak, and Mr. Pence repeated that claim in television interviews as recently as this month.

But on Monday, a former administration official said the Justice Department warned the White House last month that Mr. Flynn had not been fully forthright about his conversations with the ambassador. As a result, the Justice Department feared that Mr. Flynn could be vulnerable to blackmail by Moscow.

In his resignation letter, which the White House emailed to reporters, Mr. Flynn said he had held numerous calls with foreign officials during the transition. "Unfortunately, because of the fast pace of events, I inadvertently briefed the vice president-elect and others with incomplete information regarding my phone calls with the Russian ambassador," he wrote. "I have sincerely apologized to the president and the vice president, and they have accepted my apology."

"I am tendering my resignation, honored to have served our nation and the American people in such a distinguished way," Mr. Flynn wrote.

The White House said in the statement that it was replacing Mr. Flynn with retired Lt. Gen. Joseph K. Kellogg Jr. of the Army, a Vietnam War veteran, as acting national security adviser.

Mr. Flynn was an early and ardent supporter of Mr. Trump's candidacy, and in his resignation he sought to praise the president. "In just three weeks," Mr. Flynn said, the new president "has reoriented American foreign policy in fundamental ways to restore America's leadership position in the world."

But in doing so, he inadvertently illustrated the brevity of his tumultuous run at the National Security Council, and the chaos that has gripped the White House in the first weeks of the Trump administration — and created a sense of uncertainty around the world.

Earlier Monday, Sean Spicer, the White House press secretary, told reporters that "the president is evaluating the situation" about Mr. Flynn's future. By Monday evening, Mr. Flynn's fortunes were rapidly shifting — his resignation came roughly seven hours after Kellyanne Conway, a counselor to the president, said on MSNBC that Mr. Trump had "full confidence" in the retired general.

And when he did step down, it happened so quickly that his resignation does not appear to have been communicated to National Security Council staff members, two of whom said they learned about it from news reports.

Officials said Mr. Pence had told others in the White House that he believed Mr. Flynn lied to him by saying he had not discussed the topic of sanctions on a call with the Russian ambassador in late December. Even the mere discussion of policy — and the apparent attempt to assuage the concerns of an American adversary before Mr. Trump took office — represented a remarkable breach of protocol.

The F.B.I. had been examining Mr. Flynn's phone calls as he came under growing questions about his interactions with Russian officials and his management of the National Security Council. The blackmail risk envisioned by the Justice Department would have stemmed directly from Mr. Flynn's attempt to cover his tracks with his bosses. The Russians knew what had been said on the call; thus, if they wanted Mr. Flynn to do something, they could have threatened to expose the lie if he refused.

The Justice Department's warning to the White House was first reported on Monday night by The Washington Post.

In addition, the Army has been investigating whether Mr. Flynn received money from the Russian government during a trip he took to Moscow in 2015, according to two defense officials. Such a payment might violate the Emoluments Clause of the Constitution, which prohibits former military officers from receiving money from a foreign government without consent from Congress. The defense officials said there was no record that Mr. Flynn, a retired three-star Army general, filed the required paperwork for the trip.

Representative Adam B. Schiff of California, the top Democrat on the House Intelligence Committee, said in a statement late Monday that Mr. Flynn's resignation would not close the question of his contact with Russian officials.

"General Flynn's decision to step down as national security adviser was all but ordained the day he misled the country about his secret talks with the Russian ambassador," said Mr. Schiff, noting that the matter is still under investigation by the House committee.

Two other Democratic lawmakers — Representative John Conyers Jr. of Michigan and Representative Elijah E. Cummings of Maryland — called for an immediate briefing by the Justice Department and the F.B.I. over the "alarming new disclosures" that Mr. Flynn was a blackmail risk. "We need to know who else within the White House is a current and ongoing risk to our national security," they said in a statement.

Representative Devin Nunes, Republican of California and the chairman of the House intelligence committee, was supportive of Mr. Flynn until the end. "Washington, D.C., can be a rough town for honorable people, and Flynn — who has always been a soldier, not a politician — deserves America's gratitude and respect," Mr. Nunes said in a statement.
In retrospect, of course, Flynn's "resignation," which was most likely neither voluntary nor a spontaneous idea that Flynn came up with on his own, was neither unexpected nor surprising, even though it's being characterized as such by the media this morning. Once it became clear that Flynn had not only discussed the lifting of sanctions with the Russian Ambassador to the United States before taking office but that he had also apparently lied about it to transition officials in general and Vice-President-Elect Pence in particular. This is important because both those officials and Pence himself went before the media and repeated what Flynn had told them even though he knew that they were relying on his lies to communicate to the public and push back against press reports that turned out to be true. As the day went on yesterday, though, the Administration continued to insist that Flynn's position was secure, even as late in the day as four in the afternoon when Kellyanne Conway was appearing on cable news to say that President Trump had full confidence in Flynn. Shortly after that appearance, though, signs began to appear in the media that made it clear that something had happened inside the White House that caused the winds to shift and that Flynn was in a far more precarious position than Conway was indicating. By 11:00 p.m. last night, the winds had shifted completely and Flynn had submitted his resignation. It was an inevitable development that made Flynn the shortest-serving National Security Advisor in the sixty-three-year history of the position.
In addition to the allegations regarding his contact with Russia, there were other factors that have come out that may have induced the Administration to dump Flynn so early on in the President's tenure. According to those reports, Flynn's transition into his role as National Security Adviser, whose official title is Senior Adviser to the President for National Security Affairs,  was rocky to say the least. For example, Flynn apparently came into office completely unaware of exactly what it was he was supposed to be doing and completely unaware of some aspects of the NSA's role in the Administration, such as how to call up national resources to deal with a natural disaster or other emergencies. This would be consistent with Flynn's tenure at the Defense Intelligence Agency, from which he was reportedly dismissed by President Obama largely due to a lackluster at best management style. While it is true that Flynn had only just begun settling into his role at the White House, these apparent problems, added to the allegations about Russia, it was likely part of the issue of what was going on behind the scenes. At the very least, though, this entire affair calls into question Trump's ability as a manager himself and his claims that he only hires "the best" to work for him. Given how the first month of his Administration is going, that hardly seems to be the case.
Flynn's resignation doesn't necessarily mean the end of this story, of course. If the reaction from Members of Congress and the Senate this morning is any indication, in fact, it's likely to spur further investigation of the ties between the Trump campaign, transition team, and Administration to Russia as manifested in personnel that goes beyond Flynn, including former campaign strategist Paul Manafort and others. Also relevant is the question of exactly when the Administration became aware of Flynn's apparent misrepresentations and what the initial internal response was to that information. As noted above, The Washington Post reported last night that Sally Yates, who was serving as Acting Attorney General until being fired by Trump after she publicly spoke out against his immigration Executive Order, warned the Administration back in January that the Department of Justice's own investigation had discovered that Flynn had lied about his contacts with the Russian Ambassador and that this made him a potential target of Russian blackmail. Already there are investigations gearing up in both the House and Senate Intelligence Committees, and Senator John McCain is reportedly set to open an investigation by the Senate Armed Services Committee. Other investigations are sure to follow, even with Republicans in charge of both Houses of Congress simply because Russia policy is one of the few areas where Republicans on Capitol Hill part ways with the President. It's hard to say at this point where all of these investigations will lead, but it is clear that the President is going to be unable to avoid them simply by getting rid of Flynn.